43 killed as massive blaze sweeps through four-storey building in north Delhi
新德里北部4层大楼发生严重火灾,造成43人死亡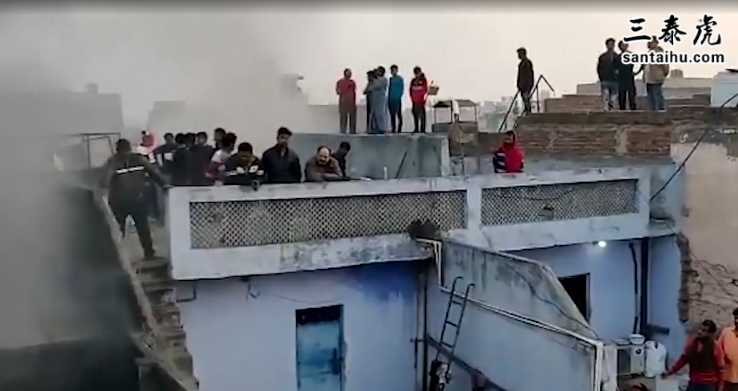 NEW DELHI: In one of the worst fire accidents in the city, 43 people were killed after a massive blaze ripped through a four-storey building housing illegal manufacturing units in north Delhi's Anaj Mandi area on Sunday morning, police and fire offi als said.
新德里:印度警方和消防表示,星期日早晨一场大火吞噬了德里北部阿纳杰曼迪地区一座四层建筑,造成43人死亡。这是新德里发生的最严重火灾事故之一。
Most of the people working in the units were fast asleep when the fire broke out in the second floor of the building in the early hours and 30 fire tenders were pressed into service, fire offi als said. A preliminary probe suggested that short circuit triggered the blaze, they said.
消防称,凌晨时分大楼二楼起火,大部分工人在熟睡,30名消防队员紧急出动。初步调查显示,火灾是由短路引起的。
Nearly 150 fire personnel carried out the rescue operation and pulled out 63 people from the building. While 43 labourers died, many others were injured including two fire personnel, fire offi als said. They said none of the units had a No-Objection Certificate (NOC) from the fire department and the congested area made rescue operations difficult. Firemen had to cut window grills to access the building.
近150名消防员展开救援行动,从大楼中救出63人。消防称,43名工人死亡,还有多人受伤,包括两名消防人员。该大楼没有消防部门颁发的证书(NOC),而且地方拥挤给救援行动带来了困难。消防队员不得不切断窗棂才能进入大楼。
Prime Minister Narendra Modi announced an ex-gratia of Rs 2 lakh each for the next of kin of those who lost their lives in the fire. The prime minister also approved Rs 50,000 each for those seriously injured in the fire, his office said. The amount will be paid from the Prime Minister National Relief Fund, the PMO said in a tweet.
莫迪总理宣布向每位火灾遇难者的家属发放20万卢比的抚恤金。总理办公室表示,总理还批准为每位火灾重伤者发放5万卢比。总理办公室在推特上表示,这笔钱将由总理国家救助基金支付。
The Delhi go nment ordered a probe into the in dent and sought a detailed report within seven days. An ex-gratia of Rs 10 lakh each has been announced for the next of kin of those killed and Rs 1 lakh for those injured. North Delhi Mayor Avtar Singh said he has asked the municipal commissioner to form a team which will visit the site and probe the cause of fire. Police said they have registered a case ag inst the property owner. Chaotic scenes were witnessed at the site of the fire accident which was clogged with bystanders and po iticians arriving in convoys.
德里政府下令对该事件展开调查,并要求在7天内提交详细报告,并宣布向每位死者的近亲发放100万卢比抚恤金,向每位伤者发放10万卢比。北德里市长辛格称,他已经要求市政专员成立一个小组,前往现场调查起火原因。警方表示,他们已经对业主立案。火灾现场出现了混乱的场面,现场挤满了围观群众和车队护送来的政客。
印度时报读者的评论:
译文来源:三泰虎 http://www.santaihu.com/48931.html 译者:Jessica.Wu
外文:https://timesofindia.indiatimes.com
Satya • 2 hours ago
Why can't the ₹10 lacs be paid from the sry of local Councillor,local MLA,local MP & Fire Department senior offi als?........why should the tax payers pay for the apathy of administration????
为什么不用当地议员和消防的工资支付这10万卢比,为什么要让纳税人买单?
Suresh Kth • 2 hours ago
hope these OFFICIALS in Authority be SACKED en mass for such dereliction of DUTY and all such Compensation be recovered from their .
希望解雇那些玩忽职守的,让他们支付抚恤金金
Rohit K • 1 hour ago
They always talk of increasing taxes why dont they cut parliament canteen subsidies sries of Ministers MPs MLAs MLCs.
总是说要加税,为什么不削减议会议员的餐贴和工资?
Rohit K • 1 hour ago
canteen subsidy already gone
食堂津贴已取消
Raghu • 3 hours ago
not educated even after several such in dents.
即使发生了多起类似事故,我们也没有吸取教训啊。
Sunil • 3 hours ago
Population is the root cause of this type of crisis.
人口太多是发生此类事故的根源。
Sudhakar • 2 hours ago
Catch hold of factories inspector and health inspector first.
首先逮捕工厂检查员。
Parthasarathy TN • Chennai, India • 1 hour ago
Respect for the departed souls and condolences to the families.
对逝去的灵魂表示敬意,对死者家属表示慰问。
sanjeeb kumar• 2 hours ago
Why we ourselves are not responsible for this situation.. Why po iticians are responsible for this.
为什么自己不承担责任?为什么政客要对此负责?
Dheer Raju• 3 hours ago
Very sad and emotional precautions are important.
非常难过。预防措施是很重要的。
Nanksn • Planet earth • 1 hour ago
Usual story will be told..No valid licence, no clearance from Fire dept..etc..like in BMC.. This has become as common as rape..
原因还是那几个,没有消防部门的许可
Krishna • 2 hours ago
Modi. Bjp are the culprits.
莫迪和人民党是罪魁祸首。
Asok Datta • 2 hours ago
Another glaring example of gross administrative apathy and massive co ption - but they will this on some innocent scapegoat
又是玩忽职守,*造成的。但他们会将此归咎于一些无辜的替罪羊
Satish • 2 hours ago
Sad accident. All offer money to gain popularity. In fact money never reaches to victims.
不幸啊。发放抚恤金是做做样子的。事实上,受害者永远拿不到钱。
Vijay Naidu • Location • 2 hours ago
Many old shop areas in Delhi area are prone for fire hazards. Examples: underground shop centre near connaught circle; the huge rcal shop area (near Chandini Chowk?)where the fire trucks can't access the buildings because the streets were narrow and the people cant get out of the buildings in case of fire
德里地区的许多老商业区容易发生火灾。消防车无法进入大楼,因为街道狭窄,一旦发生火灾,人们无法离开大楼
Murari Das • 2 hours ago
It is said that the cost of life of a human being in India is only 2 lakh which is 3000 dollars. India is run by idiots and old people.
在印度,一条人命只值20万卢比,也就是3000美元。印度是由一群笨蛋和老家伙统治的。
Aishvaraya Gupta• 2 hours ago
humans are abundant in India..that's why there is no value of human life here.. population control is the need of hour.. Indian geography cannot sustain a population above 50 crores
印度人很多…这就是生命低贱的原因。控制人口需要时间。印度养不活超过5亿的人口
Nilendu Sarkar • Durgapur • 2 hours ago
everything is just got destroying by the po itics and the po iticians who just wanted to make money and that's why I didn't care about any people.
一切都被破坏了,政客们只想赚钱,不关心民众的死活。