RBI's downgrading of FY20 growth means the $5 trillion GDP goal may have to wait longer
印度储备银行下调2020财年的经济增长预期,意味着5万亿美元的GDP目标可能需要更长的时间才能实现
The Reserve Bank of India has once again downgraded the growth forecast to 5 per cent in its fifth bi-monthly policy from 6.1 per cent two months ago. It has revised the growth to 4.9-5.5 per cent in H2 and 5.9-6.3 per cent for H1 2020-21.
印度央行在其第五次双月政策会中,再次将经济增长预期从两个月前的6.1%下调至5%。该机构将第二季度的经济增长率修正为4.9- 5.5%,并将第一季度的增长率修正为5.9- 6.3%。
While improved monetary transmission and a quick resolution of global trade tensions are possible upsides to growth projections, a delay in revival of domestic demand, a further slowdown in global economic activity and geo-po itical tensions are downside risks.
虽然货币政策带来的的改善和全球贸易紧张局势的迅速解决可能对增长预测有利,但国内需求复苏的延迟、全球经济活动的进一步放缓和地缘紧张局势带来了下行风险。
The third revision of the full year economic growth estimate by the RBI comes in the backdrop of the second quarter GDP growth falling to 4.5 per cent from 5 per cent in the first quarter.
印度央行对全年经济增长预测的第三次修正,是在第二季度国内生产总值增幅从第一季度的5%降至4.5%的背景下做出的。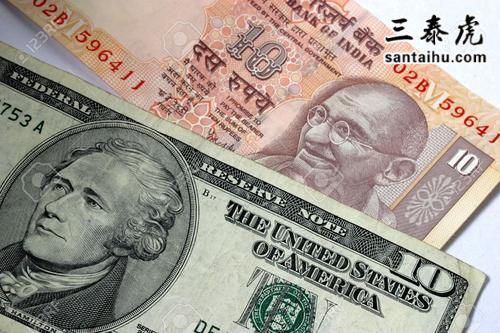 Second quarter GVA was reported at 4.3 per cent.
第二季度的GVA为4.3%。
Experts feel that there will be a pick up in the coming quarters on the back of steps taken by the go nment in the form of infrastructural boost, corporate tax cut, liberalising FDI, ensuring flow of credit to non-banks and more capital infusion. However, the ultimate outcome is yet to be achieved in terms of real time growth.
专家们认为,在政府采取的措施的支持下,未来几个季度将会出现回升。这些措施包括:基础设施建设、企业减税、放开外国直接投资、确保非银行信贷流动以及更多的资本注入。然而,就实时增长而言,最终结果还有待实现。
A 12 percent nominal growth was required to achieve the $5 trillion economy by 2024-25. However, with economy growing at 6.1 per cent which is almost as half the estimation, it has become more challenging to accomplish the set target.
要在2024- 2025年之前实现5万亿美元的经济规模,需要12%的名义增长率。然而,随着经济增长率降到6.1%,几乎只有预期的一半,实现既定目标变得更具挑战性。
Almost all lead indicators for the second quarter painted a picture of gloom. The index of industrial production showed contraction in the months of August and September, led by contraction in the manufacturing and capital goods sector.
第二季度几乎所有的领先指标反映的都是一片黯淡景象。工业生产指数显示,在8月和9月,制造业和资本货物部门的收缩是主要原因。
The investment rate in the economy measured by Gross Fixed Capital Formation (GFCF) col psed to just 1 per cent in the second quarter from 11.8 per cent in the same period last year.
第二季度,以固定资本形成总值(GFCF)衡量的经济投资率仅为1%,去年同期为11.8%。
The go nment has undertaken a number of measures to revive investments. In September, it announced a cut in the corporate tax rate to 22 per cent from 30 per cent. It also lowered the tax rate for new manufacturing companies to 15 per cent to attract new foreign direct investments.
政府已经采取了一系列措施来恢复投资。今年9月,印度宣布将企业所得税率从30%下调至22%。为了吸引新的外国直接投资,印度还将新成立的制造企业所得税率下调至15%。
Revisions in the growth forecast for FY20 by various rating agencies:-
Rating agency Crisil sharply cut its growth forecast for the current financial year to 5.1 per cent from an earlier estimate of 6.3 per cent.
各评级机构对20财政年度增长预测的修订:-
评级机构Crisil大幅下调了本财年的增长预期,从此前估计的6.3%下调至5.1%。
The current fiscal year forecasts by Nomura has massively cut its GDP forecast to a low 4.9 per cent for the year from 5.7 per cent earlier, saying the economy is going through a "deeper trough" and even a sub-par recovery is at least a year away.
野村证券对当前财年的GDP预测,已大幅下调至4.9%的较低水平,而此前的预测为5.7%。野村表示,印度经济正在经历一个"更深的低谷",即便是低于平均水平的复苏,也至少需要一年时间。
"India Ratings and Research has revised its GDP growth forecast for FY20 to 5.6 per cent. This is the fourth revision and has come in after the agency had revised its FY20 GDP growth forecast only a month ago to 6.1 per cent," the rating agency said in a statement.
该评级机构在一份声明中表示:"印度评级和研究机构已将其20财年的GDP增长预测调高至5.6%。这是第四次调高,而就在一个月前,该机构还将20财年的GDP增长预测调高至6.1%。"
《印度经济时报》网站读者评论:
译文来源:三泰虎 http://www.santaihu.com/48930.html 译者:Joyceliu
外文链接:https://economictimes.indiatimes.com/news/economy/policy/rbis-downgrading-of-fy20-growth-means-the-5-tn-gdp-goal-may-have-to-wait-longer/articleshow/72378898.cms
India First
In 2014 he promised Acche Din which of course never came , in 2019 - 5 trillion $ economy .....enjoy the hoodwinking
2014年,他承诺在2019年实现5万亿美元的经济……哈哈,大忽悠
Vikram
Looks like RBI too are clueless and only slowly downgrading the GDP forecast. Truth is that this BJP gt has fudged data so much, now nobody has authentic data. The idiots Modi and Shah from BJP are only taking India backward.
看起来印度央行也无能为力,只能缓慢下调GDP预期。事实是这个人民党政府捏造了很多数据,现在没有人掌握真实的数据。来自印度人民党的莫迪和沙阿只会让印度倒退。
Dilip
Push it to 2029.
推迟到2029年。
Indian Only
I am confident that Jhumla Raja will take us to 5 trillion economy by next year - only 5 trillion INR, not USD.
我有信心,明年我们的经济将达到5万亿——不过是5万亿印度卢比,非美元,哈。
Shadi Katyal
Why is it difficult for anyone to understand that no one is willing to invest in India where there is no Law and Order and Judiciary is impent and sold out to ruling . Modi has neither any talented economist nor financier who can tell him what to do. Planning commission was abolished as it was Nehru'd but M\Niti Ayoug has produced nothing.Modi did not pay any attention to Economy but just empty talk adn was busy to control parliament and thus can pass any bill on voi e and need not worry about any opposition. Vers blindly ved and now the question is : ARE WE BETTER OFF THEN WHEN MODI TOOK OVER OVERALL?World has no respect for India and that is why Make in India failed.
为什么每个人都不能理解没有人愿意在印度投资,因为印度没有法律和秩序,司法系统无能,被执政党掌控。莫迪政府没有任何有才能的经济学家或金融家可以告诉他该怎么做。尼赫鲁废除了计划委员会,但是M\Niti Ayoug什么也没做。莫迪不关心经济,只会空谈,忙于控制议会,因此可以通过任何法案,不用担心任何反对。选民们盲目地投票,现在的问题是:当莫迪全面时,我们的情况会比现在好吗?世界不尊重印度,所以"印度制造"失败了。
Iyerravishankar Iyer
There was intense exchange of views about Onion Crisis. We should use simple logic. A Company manufactures products and sells products. Each and every stage of production has certain portion of costs involved. This is the case of Manufactured products. What about Fresh Produce. It is produced by farmers (it involves several stages in case of manufacturing). Farmers toil a lot and give Onion or other commodity. In case of Onion may be Rs. 2 or Rs. 3/-. From Farmers to Consumers, what value addition takes place? Nothing. Price to Farmer Rs. 2 to Rs. 3 or Rs.5. The Onion is sold in Mumbai at Rs.150. Who is eating away Rs.145/-. In case of Manufacturer, it is called Profiteering and several Companies were punished.Nobody is PUNISHING TRADERS- WHOLESALE/RETAILER. IN EACH EVERY STAGE, POLITICIAN IS INVOLVED. SOME POLITICIAN COLLECT "AFTA" FROM RETAIL TRADERS. THERE IS HUGE PROFITEERING ON NOT JUST ONIONS BUT ALL VEGETABLES / FRUITS.
他们就洋葱危机进行了激烈的交换意见。我们应该使用简单的逻辑。一家制造产品和销售产品的公司。生产的每一个阶段都涉及到一定的成本。这是制成品的情况。新鲜农产品呢?它是由农民生产的(它涉及到生产的几个阶段)。农民为了洋葱和其他商品辛苦劳作。以洋葱为例,也许2卢比,也许3卢比。从农民到消费者,出现了什么增值?什么都没有。给农民的价格是2到3卢比或5卢比。这种洋葱在孟买的售价为150卢比。剩下的145卢比被谁吃掉了?没有人惩罚交易商——批发/零售商。在每一个阶段,家都参与其中。不仅在洋葱上,所有的蔬菜/水果都有巨大的利润。
Anand Deshpande
$5 trillion economy is day dreaming of current gt. It shouldnot happen that economy slide to $0.5 trillion.
5万亿美元的经济是当前政府的白日梦,不会发生,经济会下滑到0.5万亿美元。
Surendra Sachdeva
All experts failed to manage onion price .Its impossible to achieve 5trillion $ economy with this team.
所有的专家都没能管理好洋葱的价格。
Hemant Pisat
$ 5 trillion economy was an agenda of Modi ji, and that is good on lips. The real economy was lum at the time of this thum in public. Modi completely entrusted the reins of finance to a person who doesn't have worldview neither a pragmatist. It is obvious, such decision making with bunch of babus have taken the economy to a slope where braking means tumbling down faster.So dreaming $5 trillion should be kept for another day.
5万亿美元的经济是莫迪的一个噱头,只是嘴上说说。在公众面前遭受重创的时候,实体经济却步履蹒跚。莫迪完全把财政大权托付给了一个既没有世界观也不是实用主义者的人。因此,梦想中的5万亿美元只能寄希望于未来了。
Ash Man
The way things are going $5t looks like a target for 2029 instead of 2024.
按照目前的发展趋势,5万亿应该是2029年的目标,而不是2024年。
Sr Chauhan
I believe one of the main reasons behind slowdown is uncertainty, this is causing hindrances in new investments, small or large.
我认为经济放缓的主要原因之一是不确定性,这阻碍了新的投资,无论投资规模大小。
Disappointed Indian
It was just a jumla for ions now wait for a new one next time.
这只是的噱头,现在等待下一次新的吧。
Truth Is Bitter
When Onion price reaches Rs 1000/-
当洋葱价格涨到1000卢比时,会实现的。
Truth Is Bitter
5 Trillion ONIONS ???
5万亿洋葱?
Sundarv
Wait ? Right . But for how long is the question .
等等,没错。但问题是能持续多久。
Aishvaraya Gupta
who says current gdp is 5% ...no industry is growing at 5% currently...in fact most are seeing degrowth..wonder from where this 5 trillion dollar figure is coming from
谁说现在的GDP增长率是5%…目前没有任何一个行业增长率高于5%…事实上,大多数行业都在衰退。想知道这5万亿美元的数字是从哪里来的。
Jasder Singh
India will reach 5 trillion mark someday, but not in present re gie. Feku can promise anything without analyzing data.
印度总有一天会达到5万亿经济规模,但不是现在。莫迪可以在不分析数据的情况下做出任何承诺。
Jasder Singh
This gt has lost its credibility. People at the helm are the biggest liers.
这个政府已经失去了信誉。掌舵人是最大的骗子。
Benoy Kumar Kumar
RBI is Frauder no 1 ,their Offi al Frauded me Rs.1,34,700 for transferred of my Fund which is under Custody of RBI.But they have not transferred of my Fund. They have digested my Rs.1,34,700. Matter has been reported to Governor RBI cepcbelapur and cepcnewdelhi no action has been taken still to day.
印度储备银行是第一号骗子,他们的转移了我在印度储备银行保管的资金,骗了我1,34,700卢比。但是他们没有转移我的资金。他们只是吞掉了我的1,34,700卢比。此事已报告给印度央行行长cepcbelapur和cepcnewdelhi,但至今未采取任何行动。
Gross Bollywood Product
We're fast approaching recession. (We might actually be in one now). BJP sarkar has proved that it cannot manage the country's affairs, except for handling masjid-mandir issue, triple tq issue. It has failed miserably on every other front.
我们正迅速走向衰退(现在也许已经开始衰退了)。人民党已经证明,除了处理问题、三重塔拉格问题外,他们无法管理国家事务。人民党在其他所有方面都输得一塌糊涂。
V N
Well, at the current growth rate of 5%, it will take 15 years for the economy to grow to $ 5 trillion. Of course, there is no harm in dreaming about it in the meantime!
按照目前5%的增长率,印度经济需要15年才能达到5万亿美元规模。当然,在这段时间做做梦也没有害处!
Enagula Nath
Till recently our NDA was boasting of jobless growth of6.5 %, not realizing that people were buying by withdrawing from their hard earned savings.Even today tax collected from middleclass is not used for infrasteuc development which would create jobs,instead it'sexcessively being used on welfare schemes.
直到最近,我们的团结进步联盟还在吹嘘6.5%的失业率增长,却没有意识到人们是在用他们辛苦挣来的钱来买单的。到现在,从中产阶级征收的税收也没有用于基础设施建设(基础设施建设本可以创造就业机会),相反,这些钱被挥霍在福利计划中。
SRI
BLACK ECONOMY IS DEFINITELY SLOWING. REAL ESTATE IS CONFIRMING THAT.SOME PEOPLE ARE GREATLY UPSET AS THEY ARE HIGHLY DEPENDENT ON BLACK ECONOMY.WHITE ECONOMY IS DOING FINE AND STOCK MARKET IS SHOWING THAT AND GOOD FOR COMMPON MAN AND THE COUNTRY.
黑市经济正在放缓。房地产市场证实了这一点。一些人非常沮丧,因为他们高度依赖黑市经济。白色经济发展良好,股票市场表现良好,这对整个国家和人民都有好处。
Shaleen Nath Tripathi
INDIA has grown more than 200% in the last 7 yrs in GDP at constant price terms after 2012... In 5yrs economy will more than double to $5 trillion...
2012年以后,按不变价格计算,印度过去7年的GDP增长超过200%。5年的经济将翻倍,达到5万亿美元。
Kl Jain
So this is the excuse for not reaching GDP of US$5T ? This is certain that one day India will achieve US$5T irrespective of re gie !
所以这就是没有达到5万亿GDP的借口喽?这是肯定的,有一天印度会实现5万亿经济规模的,不管谁当政!
Shaleen Nath Tripathi
It doesn't matter that the Gt or RBI provide stimuli... The market forces of demand/supply or scale and prices are on autocorrect... Suppose real interest rates are high and investment is not increasing supply could go down and increase inflation which would cut the real interest rate...
政府或印度央行是否提供刺激并不重要…需求/供应的市场力量或规模和价格都在自动调整…假设实际利率很高,而投资没有增加,那么供给就会下降,通胀就会上升,从而降低实际利率。
P N N
Pipe dream about 5tn economy need efficient go nment not hallow /-false promise go nment.
5万亿经济的白日梦需要高效的政府,而不是虚假的承诺。
Abc
What is the use of "forecasting" if you reduce your so called "forecast" every quarter?!
如果你每个季度所谓的"预测"都减少,那么"预测"又有什么用呢?