Bengaluru: Auto driver braves rain, travels 12km to return iPhone to passenger
班加罗尔:三轮车司机冒雨奔波12公里将iPhone归还乘客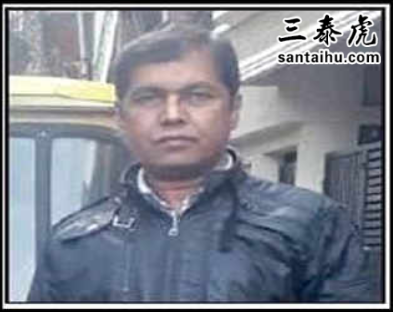 BENGALURU: On October 18, an autorickshaw driver in the city went out of his way to return the phone of a passenger who forgot it in his vehicle.
班加罗尔:10月18日,一名三轮车司机特意将乘客落在车上的手机送还。
Around 9.30pm on Friday, Aprajita Gaurav, 23, hailed an auto from Indiranagar - where she had a with colleagues - to reach her MG Road office. Aprajita, who works at an IT firm, had forgotten her iPhone 7 Plus in the auto. "The very thought it made me sad as it was a gift from my mother," Aprajita told TOI .
星期五晚上9点30分左右,23岁的阿普拉吉塔·高拉夫和同事聚会结束后,从英迪拉纳加尔打了一辆三轮车回到她在MG路的办公室。在一家IT公司工作的阿普拉吉塔把她的iPhone 7 Plus忘在了车上。阿普拉吉塔对《印度时报》说:"落了手机让我很难过,因为这是我妈妈送我的礼物。"
"I tried calling my number from the office reception but the calls went unanswered. Later, I took the office cab and reached my home in Sanjaynagar," she said.
我试着打公司前台的电话,但无人接听。后来,我坐上出租车,回到了我位于Sanjaynagar的家中。"
However, a pleasant surprise awaited her. Auto driver Wajid Pasha, 45, who had driven till Commercial Street after drop Aprajita, found the phone in the back seat. "It had started raining heavily and I was trying to cover the seats. It was then that I found the phone. But it was switched off. I immediately drove back to MG Road in a friend's auto as rainwater had entered the engine of my vehicle," he added.
然而,一个惊喜在等着她。45岁的三轮车司机瓦吉德·帕夏把阿普拉吉塔(Aprajita)送到商业街后,在后座上发现了这部手机。"那时雨开始下得很大,这时我看到了那部手机,但是已经关机了。我开着朋友的车返回MG路,因为我的三轮车发动机已经进水了。"
It was around 11pm when Wajid reached Aprajita's office. When the secu rity guard informed him that the employee had already left, Wajid decided to meet her and hand over the phone personally.
晚上11点左右,瓦吉德来到阿普拉吉塔的办公室。当保安告诉他阿普拉吉塔已经离开时,瓦吉德决定去找她,并亲手把手机交给她。
Both Aprajita and her father Kumar Birendra Tiwari were elated to receive Wajid, who arrived with the iPhone. "The in dent has restored my fa th in humanity. I take auto rides frequently. In fact, this is the second time I had left my phone after the ride. I wan't lucky during the first time," said Aprajita.
瓦吉德带着iPhone去找阿普拉吉塔,阿普拉吉塔和她的父亲库马尔·比伦德拉·蒂瓦里很高兴地招待了瓦吉德。"这件事恢复了我对人性的信心。我经常坐三轮车。事实上,这是我第二次在乘车后忘带手机。第一次我可没那么幸运。"阿普拉吉塔说到。
Tiwari said, "The resale value of the phone is around Rs 35,000. I really appreciate honest people like Wajid who travelled at least 12km to return my daughter's phone, that too at 11.30pm braving the rain. It is rare to find such honest people."
蒂瓦里称:"这款手机价值约为3.5万卢比。我真的很欣赏像瓦吉德这样的老实人,他冒着雨跑了至少12公里才把我女儿的手机送回来。这样诚实的人是很少见的。"
印度时报读者的评论:
译文来源:三泰虎 http://www.santaihu.com/48655.html 译者:Jessica.Wu
外文:https://timesofindia.indiatimes.com
Kinnu BLR3 hours ago
Very rare species among Bangalore auto drivers. He needs to be really appreciated for his honesty. Hope people stop blaming a community. There are good people every where around you
这么老实的班加罗尔三轮车司机,还是非常罕见的。他的诚实,值得赞赏。我们身边也不乏好人。
Anand KumarBengaluru3 hours ago
Whatever the DOUBTERS may say about this act of the Auto Driver,it was indeed A NOBLE and COURAGEOUS ACT.
不管怎么说,不管你如何质疑,这样的行为都是高尚的,都是需要勇气的
Guest4 hours ago
he reached her home? who provided the address? isn't that security risk in general. Btw I am not saying he is bad or anything like that. what he did is awesome.
他是怎么找到乘客的家的?
谁提供的地址?
这不是有安全风险吗?
顺便说一句,我并不是说这个司机是坏人。他做得太棒了。
Jayakumar Pil1 hours ago
Hats off to the honest driver; he is indeed an exception among the greedy, arrogant auto drivers in Bangalore..
向这位诚实的司机致敬。和班加罗尔其他贪婪傲慢的司机比起来,他确实是个例外。
Speaking honestly3 hours ago
Why do women carry their phones in their hands? Why don''t they tuck it in their handbags after use? I have seen most women actually holding their phones all the time.
为什么女人要把手机拿在手上?
为什么不在用完后塞进手提包里呢?
我看到很多女性一直拿着手机
Navratan AgrawalJaipur50 minutes ago
The Auto Driver is among 10 Percent of Good Drivers ,the Owner should have to pay at least 24 KM running cost to help a low income person.
只有10%的司机是好司机,这位就是其中之一。乘客应该支付至少24公里的路费,来补贴这位低收入的司机。
R Murti Paluri1 hours ago
Honest people deserve appreciation, even if it is, 1 in 10,000 instances.
老实人真的是万里挑一,值得赞赏。
Noor Muhammad1 hours ago
Heartwarming to see glimpses of honesty and upness in this materialistic world.
在这个物欲横流的世界里,我看到了诚实和正直的闪现,暖心
Viji Cheri2 hours ago
HUMANITY AT ITS BEST !!!
人性最好的一面!
John VergheseMumbai17 minutes ago
Good. Very rare to find such people in the present world. I hope the lady must have given him some cash reward or a lunch or a dinner , God bless the driver and his family
如今这样的人很罕见了。我希望那位女士给他一些现金作为感谢,或者请他吃一顿午餐或晚餐,愿神保佑司机和他的家人
ausa usaaDelhi26 minutes ago
Make him next finance minister
任命他为下一任财政部长吧
HappyTimes User1 hours ago
Hats off to the auto driver
向这位司机致敬
A Singh1 hours ago
The state Gts should have special category awards to recognize such kindness and honesty.
邦政府应该设立特别奖项来表彰这种善良和诚实的行为。
Mansoor1 hours ago
Great to hear such honest Auto drivers est
看到还有这么诚实的司机,真是太好了
Amit Agrawal1 hours ago
SALUTE
致敬
KettapaiyanDUBAI4 hours ago
7 plus, new phone is around 28000/-, for this phone just 14, 000 to 18000/- is the resale value. However his act has to be appreciated
全新iphone 7 Plus的价格约为28000卢比,而这部旧手机的二手价格仅为14000至18000卢比。司机这样做,值得赞赏
AakashUnited We Stand2 minutes ago
Though appreciation is the best...but she must have rewarded him with at least 20% of the Iphone's price..Money matters to poor people..
乘客至少应该拿出Iphone价格20%的钱,感谢这位司机。钱对穷人很重要
Edwin28 minutes ago
Same thing happened with me but I was not as lucky as this woman when I forgot the mobile in the rickshaw my mi max 2 I lost forever even though I compnt in police but no use not all rickshaw driver is honest only few bas
同样的事情也发生在我身上,但我没有这个女人幸运,我把手机忘在三轮车上了,但是没找回来,尽管我向警察报案了但没用,不是所有三轮车司机都是老实人,只有少数几个是吧
Laxmi Pandit33 minutes ago
How did the woman forget the phone a second time? That shows she is careless. The driver returned the phone as he knows that it can be easily tracked by the police using the IMEI number.
这个女人是第二次忘记拿手机的?
那说明她很粗心。司机之所以归还手机,是因为他知道警方可以很容易地通过IMEI号码追踪到手机。
Matt 57 minutes ago
A honest person like him is rare to find in today''s fact paced greedy world.
像他这样诚实的人,在当今这个贪婪的世界里是很少见的。
Rajendra Jasathy1 hours ago
Very nice
非常好
DavidMumbai1 hours ago
We need more people like pasta
我们需要更多像瓦吉德这样的人。
Indian5 hours ago
lost phone in auto once and careless enough to lose in auto the second time as well. you can't be lucky everytime.
it just takes a moment to look back at the seat while getting down from an auto to ensure that you are not leaving anything behind.
把手机落在车上两次,你不可能每次都那么幸运的。
下车时,你只需要稍微回头看看座位,就不会丢三落四了。
Kumar5 hours ago
Because iPhone is so complicated and he decided to return...
if it was Nokia, he would have kept it..
因为iPhone的操作太复杂了,他才决定物归原主……
如果是诺基亚,他会留下的