Japan officially withdraws from the International Whaling Commission to resume commercial hunting, sparking fears other countries will follow
日本正式退出国际捕鲸委员会以恢复商业捕鲸,外界担忧其他国家将效仿
Japan has officially left the International Whaling Commission and is preparing to resume commercial hunting for the first time in 30 years.
日本已正式退出国际捕鲸委员会,30年来首次准备恢复商业捕鲸。
The country's withdrawal opens up a one-month window during which the other 88 IWC member states, including Russia, the UK, the US and Australia, can indicate if they also wish to leave.
日本的退出打开了一个月的窗口期,在此期间,国际捕鲸委员会的其他88个成员国,包括俄罗斯、英国、美国和澳大利亚等国家可以表明是否也想退出。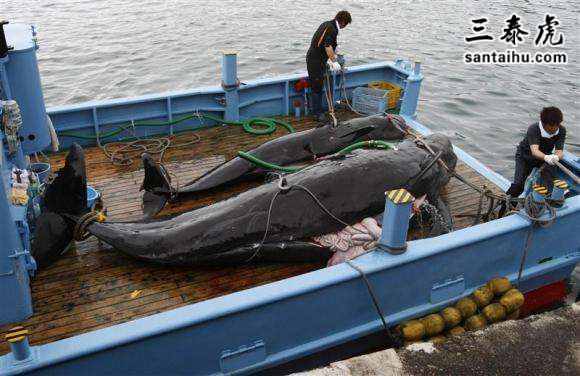 Japan announced last month that it was intending to leave the IWC and are due to resume commercial whale hunting later this year.
上个月日本宣布打算退出国际捕鲸委员会,并将于今年晚些时候恢复商业捕鲸活动。
Kitty Block, President of Humane Society International says: 'Japan would like to present itself as the wounded party, forced to leave the IWC because its reasonable requests are not being listened to.
'But the fact is, commercial whaling is completely unnecessary; in fact, there is no pressing economic need for it and there is plummeting demand for whale meat in Japan itself.
'We cannot allow one country to step outside of the IWC and recommence commercial whaling.
'If other countries, following Japan's example, start to do likewise, then we may see a return to the lawless days of previous centuries and the world's whales will suffer.'
国际人道协会主席基蒂·布洛克表示:"日本想把自己表现成受害方,因其合理要求没有得到听取,被迫离开国际捕鲸委员会。但事实是,商业捕鲸是完全没有必要的。事实上,对鲸鱼肉没有迫切的经济需求,日本自身对鲸鱼肉的需求也在急剧下降。我们不能允许一个国家退出国际捕鲸委员会,重新开始商业捕鲸。如果其他国家效仿日本的做法,开始采取同样的行动,那么我们可能会看到几个世纪前目无法纪的日子重现,世界上的鲸鱼将受到伤害"
Experts fear South Korea and Russia, and potentially other countries, may be buoyed by Japan's withdrawal and inspired to make the same move in the coming weeks.
专家担心,韩国、俄罗斯以及其他国家,可能会受到日本退出的影响,在未来几周采取同样的行动。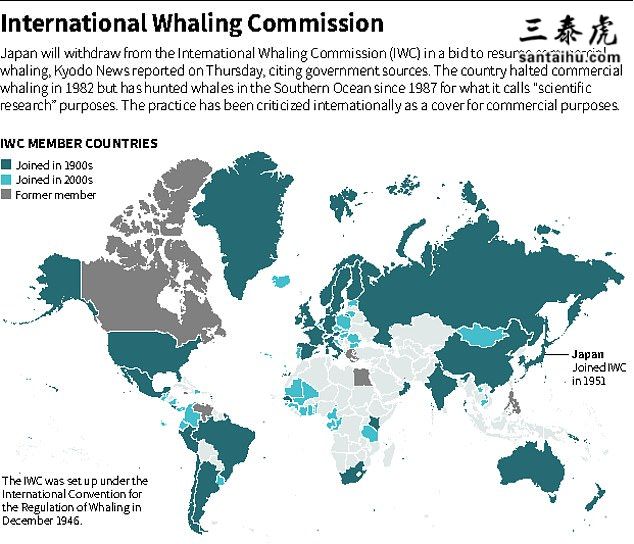 The Japanese go nment said last month the country will resume commercial whaling in July 2019 after a 30-year absence.
日本政府上月表示,在禁捕30年后,该国将于2019年7月恢复商业捕鲸活动。
The hunts will be limited to Japan's territorial waters and its 200-mile exclusive economic zone along the country's coasts, and Japan will stop its annual whaling expeditions to the Antarctic and north-west Pacific oceans.
捕鲸活动将仅限于日本领海及该国沿海200英里的专属经济区,日本将停止每年在南极和西北太平洋的捕鲸活动。
The IWC imposed a commercial moratorium in 1986 due to a dwindling whale population.
由于鲸鱼数量减少,国际捕鲸委员会于1986年颁布了商业禁令。
The withdrawal from the IWC may be a face-saving step to stop Japan's ambitious Antarctic hunts and scale down the scope of whaling to around the Japanese coasts.
退出国际捕鲸委员会可能是为了阻止日本雄心勃勃的南极捕鲸行动,并将捕鲸范围缩小到日本海岸附近,也是为了保全颜面。
Fisheries officials have said Japan annually consumes thousands of tons of whale meat from the research hunts, mainly by older Japanese seeking a nostalgic meal.
渔业官员曾表示,日本每年消耗数千吨鲸鱼肉,主要供那些寻求怀旧大餐的年长日本人,这些鲸鱼肉都来自科研捕鲸活动。。
But critics say they doubt commercial whaling could be a sustainable industry if Japanese young people do not see whales as food.
但批评人士表示,如果日本年轻人不把鲸鱼视为食物,他们怀疑商业捕鲸业能否成为一个可持续的产业。
英国每日邮报读者评论:
译文来源:三泰虎 http://www.santaihu.com/46882.html 译者:Jessica.Wu
外文:https://www.dailymail.co.uk/news/article-6592917/Japan-officially-withdraws-International-Whaling-Commission-resume-commercial-hunting.html
Broadstone, Stockport, United Kingdom, 42 minutes ago
Once again is showing itself a disgrace to humanity.
再一次表明日本是人类的耻辱。
Henry Wilson, Manchester, United Kingdom, 1 hour ago
Managed fishing in territorial waters is Japans prerogative not the bunny huggers
在领海内捕鲸是日本的特权。
Rowan_tree, Inverness, United Kingdom, 2 hours ago
I can't bear it, those poor whales. Why can't humans just leave things alone. So distressing.
无法容忍,可怜的鲸鱼,为什么人类就不能顺其自然呢?
SuzieSeaweed, Tofino, Canada, 2 hours ago
Get on the Team Japan! The whales are ours, all of ours to protect. They are not there for your own personal greed. They are our Global responsibility.
让日本归队!我们要保护鲸鱼,鲸鱼是大家的,不是为了你个人的果腹之欲而存在的。保护鲸鱼是全球的责任。
jadown, Somewhere quiet and peaceful , Australia, 3 hours ago
And we are supposed to like and respect them?
难道我们要尊重他们的决定?
Jakeman20, Kl, Malaysia, 3 hours ago
Seriously can you let those beautiful giants thrive ? Just sickening from such an advance nation ... It's time china take the lead and do something ... Like mobilising the Navy and start shooting those boats on sight ... Me and those giants will be eternally grateful for such a gesture
说真的,就不能放过大鲸鱼吗?对于一个先进国家来说,这种行为真是恶心。
中国是时候带头做点什么了,比如集结海军,一看到捕鲸船就开枪……那些鲸鱼将永远感激。
Elizabeth Ng, Singapore, Singapore, 4 hours ago
The faster they go extinct, the lesser suffering they will go through. So much plastic inside the sea, so many fishing nets, their bellies clogs with plastic, toxic sea water, humans trying to kill them, global warming, scarcity of food, .....
鲸鱼越早灭绝,遭受的苦难就越少。海里有这么多塑料,渔网,它们的肚子塞满了塑料,有毒的海水。人类、全球变暖、食物短缺都会将它们赶尽杀绝……
Promidi, Adelaide, 4 hours ago
Oh well, I guess whales will be extinct by the mid 21st century. Nice going humankind.
我想鲸鱼会在21世纪中期灭绝,人类太牛了。
Duchesses00, Moorpark, United States, 5 hours ago
Such savagery. This simply cannot go on.
如此野蛮,不能让这种情况继续下去。
brave dave, coogee, 7 hours ago
They should be sunk......a terrible nation of people with no empathy for any other living thing on the planet, there should be a globally enforced law against this.
应该把他们击沉。日本是一个可怕的国家,对地球上的任何其他生物都没有同情心,应该有一项全球性的法律来禁止这种行为。
Grammy, Igo, 7 hours ago
Further proof Japan won WWII
进一步证明日本赢得了二战
MGL, Loudoun, United States, 7 hours ago
The whales belong to the planet not the Japanese.
鲸鱼属于这个星球而不是日本。
Ordervstheother, Crestline, United States, 8 hours ago
Soulless, and greedy people...
没有灵魂、贪婪的人……
Nibbleriswatching, Portland, United States, 8 hours ago
This is disgusting and an outrage!
太恶心了,令人发指!
glpage, Texas, 9 hours ago
Disgusting, there is no reason to kill whales. Whaling ships should be torpedoed and sunk where ever they are found.
真恶心,无论什么理由都不能杀鲸鱼。无论在什么地方发现捕鲸船,都应该用鱼雷把它击沉。
whentheworldends, Not telling you, United Kingdom, 10 hours ago
Absolutely sick, stupid and disgusting. The number of whales in our seas is falling! Culture and tradition is NO excuse for rendering a species endangered or extinct. Do these simpletons not know that in time there will be no whales left! What are they going to do then? And we will have lost another natural wonder of this world, due to our own human arrogance and entitlement. This must be stopped.
恶心、无法接受!海洋中的鲸鱼数量正在下降!文化和传统不能成为使一个物种濒危或灭绝的借口。这些傻瓜难道不知道,过不了多久,鲸鱼就会灭绝吗?之后,他们要怎么办?由于人类的傲慢,我们将失去这个世界的又一个自然奇观。必须制止这种情况。
an everyday person, scotland, United Kingdom, 10 hours ago
Do not visit and boycott anything from Japan.
抵制日本的一切东西,不要去日本旅游。
Fyo_Dostoyev, Tiny little island, French Polynesia, 11 hours ago
Boycott all Japanese products. Make it hurt.
抵制日货,让日本尝点苦头。
KingKong_98, Stanford CA, United States, 11 hours ago
It's time for the world's navies to blow up all Japanese whaling vessels.
世界各国海军是时候炸毁所有日本捕鲸船了。
Keef , Kingston Upon Hull , United Kingdom, 11 hours ago
Torpedo any vessel found whaling.
发现捕鲸船就用鱼雷击沉。
Aspen90, Rugby, United Kingdom, 11 hours ago
We should withdraw from our agreement to keep consciously buying Nissan, Honda, Toyota, Mitsubishi, Mazda, Lexus, Subaru, Suzuki and Infinity - see how they like that.
抵制尼桑、本田、丰田、三菱、马自达、雷克萨斯、斯巴鲁、铃木和英菲尼迪——看看他们作何感想。
Ghost, Essex, 12 hours ago
Do not buy Japanese products
抵制日货
antmcc74, Manchester, United Kingdom, 12 hours ago
There is no need to kill or eat these beautiful creatures. There is no famine in japan or lack of food. Boycott them. Maybe hunt the japanese fisherman at sea. Is any country going to stand up
没有必要杀死或吃掉这些美丽的生物。日本没有闹饥荒,食物也不短缺。
抵制日本,在海上追捕日本渔民,有哪个国家愿意站出来?
POME Brisbaner, Brisbane, Australia, 12 hours ago
Boycott Japan.
抵制日本
Eyes Open, Florida USA, 12 hours ago
Has anybody ever tried it? I¿ve always wondered what it tastes like. Might explain their avarice for it.
有人尝过鲸鱼肉吗?我一直想知道它是什么味道。这也许能解释他们为什么这么想捕鲸鱼。
KMD1991, Dublin, Ireland, 13 hours ago
Their country, their customs. What can anyone else do?
这是他们的传统,别人能拿他们怎么样?
antmcc74, Manchester, United Kingdom, 12 hours ago
Send them another atom bomb
再送他们一颗原子弹。
Black Cat UK, Nottingham, United Kingdom, 14 hours ago
Horrible nation China
中国太可怕了
Amyc, london, 14 hours ago
Yes but this is japan
@Black Cat UK 没错,但文章说的是日本
Love my dogs, BRIDLINGTON, United Kingdom, 10 hours ago
Both these countries don't like animals
@Amyc这两个国家都不喜欢动物
zvers, chicago, 14 hours ago
Sink the ships with torpedoes.
用鱼雷击沉捕鲸船。
farageiselite, Ashford, United Kingdom, 14 hours ago
Stop buying Japanese products
抵制日货
farageiselite, Ashford, United Kingdom, 14 hours ago
Sink the whalers ships!
击沉捕鲸船!
null, 15 hours ago
In the words of the Japanese Prime Minister 'the world is watching'
用日本首相的话来说,"全世界都在关注"此事
SteMo, London, United Kingdom, 15 hours ago
Japan doesn't play by the rules, they proved that in WW2
日本不按规则办事,他们在二战中证明了这一点