Konstancja Mikutaniec, lives in India (2014-present)
In my oion is dangerous for females.
Generally in, at least Europe it is common for women to go out, travel and so on, without being harrased or teased.
In India it may happend. Especially by young males.
Many Indian men belives in myth, that Western women are "easy".
More body revealing clothes (coz of heat) may be seen as provoking, while women may not realise it.
Things seen as normal in Western-for example naked legs are kind if taboo in India.
Naked belly, seen in Europe as nudity is normal in India.
In India they must be more careful.
Also foreigners used to high level of safety, may behave naively or foolishly, (going alone in abandoned places, trusting every person they meet).
在我看来,对女性来说很危险。
一般来说,至少在欧洲,妇女外出、旅行等是不会受到骚扰或戏弄的。
在印度,这种情况可能发生。尤其是年轻男性会做出这些行动。
许多印度男人相信西方女人很容易上手这种鬼话。
穿着稍微暴露一些(因为天气炎热)可能被视为挑逗,而妇女自己可能完全没有意识。
在西方被视为正常的事情—例如,在印度,露出大腿是一种禁忌。
露出小腹这种在欧洲被视为裸体的行为,在印度反而是正常的。
在印度,他们必须更加小心。
同样,习惯了高度安全的外国人,可能在行为举止上过于天真愚蠢,(独自一人在荒地旅行,相信遇到的每一个人)。
Som Saxena, Writer. at Writers and Authors (2015-present)
We were colonized by British people, so we are ready to kill them with a blink of an eye.
Really?
Last year, I went to pushkar fair with friend to spend a week. In case you don't know, Pushkar is a small town near Jaipur, India. Located just adjacent to Ajmer. Pushkar is cmed to be a holy place with re gious values. Pushkar fair is huge. It takes place every year. Pushkar receves a considerable amount of tourists every year.
We met a guy there, he was an American citizen. We were just chilling on a rooftop hel when we met have. We smoked together, he told us how much he loved India. Especially, the hospitality he received here. He said he want to spend his rest of life here in India.He has even applied for an Indian citizenship. We had a great time with him there.
我们被英国人殖民统治过,所以我们做好准备,眨眼之间就杀了他们。
真的么?
去年,我和朋友去普什卡博览会玩了一个星期。可能你并不清楚,普什卡是印度斋浦尔附近的一个小镇。位于阿杰梅尔附近。普什卡是一个宗教圣地。普什卡博览会规模巨大。每年都会举办,接待大量的游客。
我们在那里遇到一个人,他是美国公民。我们在一家屋顶旅馆初次见面时,就觉得很激动。我们一起抽烟,他告诉我们他有多么热爱印度。尤其是他在这里感受到的热情好客。他说他想在印度度过余生。他甚至申请了印度国籍。我们在那里和他玩得很开心。
So are we Indians bad people?
Do we have foreigners?
Do we hate Britishers, in particular?
No, we don't. Infact, you will find us Indians the most socializing people.
We never hold any grudges.
We spread positivity.
Welcome to India.
那么我们印度人是坏蛋吗?
我们有外国人吗?
我们真的特别讨厌英国人吗?
不,我们没有。事实上,你会发现我们印度人最善于交际。
我们从不记仇。
我们传播正能量。
欢迎来印度。
Stephanie Gomes
No!!! India cannot be Called a dangerous country, when compared to its neighbors. Now India is much more safer than many of the European nations.
Though there are some Indians who want to defame nations pride and honor but it cannot be called as a dangerous company as majority of the Indians are friendly.
India has been a favorite destination for foreigners for their holidays. Even more and more foreign companies are investing in India. Many of the IT services are increasing at a rapid growth.
不!!!!与邻国相比,印度决不能被称作危险的国家。现在印度比许多欧洲国家要安全得多。
虽然有些印度人想诋毁国家的自豪感和荣誉,但是因为大多数印度人都很友好,所以不能称之为危险。
印度一直是外国人最喜欢度假的地方。越来越多的外国公司在印度投资。IT服务行业正在快速增长。
Anish Kumar, Dreamer at Chirst University
India is only as dangerous to foreigners as much as foreigners are dangerous to indians abroad…
There are a few unfortunate events that get highlighted, get media attention and whole country is stereotyped.
if each of the wonderful experiences of the foreigners were to get media attention, media could do nothing else but this probably….
India is a safe and friendly place… All are welcome here.. just like the grass is greener on the other side, most of the times the unknowns are not as bad as it is made out to be…
印度对外国人的危险程度不亚于外国人对印度人的危险程度……
有些不幸事件被媒体特别关注,整个国家都背负上了这种刻板印象。
如果每个外国人的美好经历都能引起媒体的注意,那么媒体就无能为力了……
印度是一个安全友好的地方……欢迎大家来到这里。这就好比外国的月亮更圆一样,大多数时候,未知事物并不像人们想象的那么糟糕……
Ashley Benson, HR Manager at Vivo (2014-present)
NO.
I have visited India 2 times and believe me I enjoyed my 15 days visit a lot.
People are very kind and helpful in India and they have a very rich culture. I think everyone should go to India at least once in their life. I was an wonderful experience and I enjoy a lot especially their hospitality is zing. If again I will get a change to visit India I would love to go there and this time I would take my mom too.
一点都不危险。
我去过印度两次,相信我,我在15天的访问期间内都非常愉快。
印度人非常善良,乐于助人,他们有着非常丰富的文化。我认为每个人一生中至少应该去印度一次。我很享受这段美妙的经历,尤其是他们的热情好客。如果再有机会去印度,我还是会很想去,还要带上我妈妈一起去。
Nirmal Singh, former Consultant at Cnce
Lets answer it with facts and not being an emotional Indian.
Is India safe for anyone? Yes or No.
It is safe, if you are going to restrict yourself to tourist places and do not travel solo.
It is not safe for anyone, be it Indian or foreigner if you are going to explore the streets of a small city of UP or Bihar or the infamous jungles of Jharakand with full of Naxalites or the abandoned villages of Kashir (OMG - this should really get going the Indian in us).
让我们用事实来回答这个问题,不要做一个情绪化的印度人。
印度对任何人都安全吗?也是也不是。
如果你只去旅游景点,不独自旅行,印度是安全的。
任何人,无论是印度人还是外国人,如果你非要去小城市的街道或北方邦/比哈尔邦或贾拉坎邦到处都是纳萨尔派的臭名昭著的丛林,或克什米尔地区废弃的村庄,那绝对是不安全的。
Nathan Kond, Educator at iLearn IAS (2016-present)
Prejudice is Ignorance. Possibly the question must be " Is a foreign country dangerous to foreigners…."
And the possible answer would be , yes and a no. Its circumstantial, especially in India, any foreigner and the native are bound to have certain Culture shocks.
Having said that, its completely erroneous to generalize. On the whole India is not dangerous to foreigners. On the whole its possibly the most welcoming and accomodative
偏见是无知。可能这个问题必须这么问"外国人去国外危险吗"
可能的答案是,是也不是。这要看情况的,尤其是在印度,任何外国人和本地人都必然会有一定的文化冲击。
话虽如此,以一概全是完全不对的。总的来说,印度对外国人来说并不危险。总的来说,它可能是最受欢迎和最适合居住的国家。
Yash Mayank Modi, I. Sc from Loyola Convent School
I am a proud Indian.
It makes me sad and sometimes I feel just to cry when i see rape, stealing, murder cases of foreign tourists in India as it disglorifies the glory, pride and respect of my mother nation.
Kee this in mind, I feel that though a little, India is unsafe for foreigners.
And upto some extent, these foreigners are responsible for this. Their invasions and wrong doings in India made some of Indians hate them which is justified.
But today is the time for not ask is india safe but we should ask how we can make it safe.
我是一个自豪的印度人。
当我看到外国游客在印度遭遇强奸、偷窃、谋杀时,我感到很难过,有时我都想哭,因为这有损我祖国的荣耀、骄傲和尊重。
我觉得印度对外国人来说有点不安全。
在某种程度上,这些外国人应该对此负责。他们在印度的侵略和错误行为使一些印度人憎恨他们,这是有正当理由的。
但今天不是要求印度安全,而是我们该问问要如何才能使它安全的时候了。
A P Sinha, Cyber Security Manager (2005-present)
At least south India is not. South India is 1000 times more secure than Africa, Latin America, East Asia(Phillies, Mysia etc not Singapore and ) and South Asian countries like Pakistan, bangdesh and Nepal. It can be compared to Western Europe and America in terms of tourist safety. Only place which is more safe for tourists than South India is Middle east Asia ( the six ex GCC COUNTRIES NOT IRAQ OR SYRIA HAHA)
至少南印度是安全的。南印度的安全系数是非洲、拉丁美洲、东亚(菲律宾、马来西亚等,而非新加坡和香港)以及南亚国家(如巴基斯坦、孟加拉国和尼泊尔)的1000倍。在旅游安全方面可以与西欧和美国相比。唯一比印度南部更安全的地方是中东(海湾合作委员会六个前成员国,而非伊拉克或叙利亚)
Varun Nair, studied at Cochin University Of Science and Technology
India is not dangerous to foreigners as tourists. But yes it is dangerous to single foreign women. I totally think this statement is true because I know so many of my friends who walk out alone and come back telling stories. For all of you that say my India is incredible etc., For single women we must accept that our country isn't the best place to be in. And men do behave badly ( many time not all the time) when they spot a woman who is alone.
作为游客,印度对外国人来说并不危险。但对单身的外国女性来说很危险。我完全相信这个说法是正确的,因为我认识很多朋友,他们独自外出,回来后讲了很多故事。你们都说印度美的不可思议,对于单身女性,我们必须接受我们的国家不是最好的旅游目的地。当男人发现女人落单的时候,他们确实会表现得很糟糕(很多时候,并非一直如此)。
Rahul Shah, B. Tech. from Indian Institute of Technology, Bombay
No its not! It is one of the most visited countries by international tourists. The western media exaggerates crimes in India. The thing is the population of our country is large so the absolute numbers of crimes maybe bigger but the proportion of crimes, say per 100,000 people is really small and it is highly unlikely for you to face any sort of such troubles in our country!
不,印度是安全的!它是国际游客到访最多的国家之一。西方媒体夸大了印度的犯罪问题。问题在于我们国家人口众多,所以犯罪的绝对数量可能更大,但是犯罪率,比如说每十万人犯罪的比例真的很小,在我们国家,你几乎不可能遇到这种麻烦!
Brendon Rownak to, HR at Pratham Motors (2017-present)
Hell no.
We Indians respect everyone and everyone seems to like our culture.
You can see a lot of foreigners coming to India for vactions.
They like our food our culture and us.
India is definitely a safe and lovely place for everyone.
Incase you are a foreigner and thinking of visiting India please do come.
不,一点不危险。
我们印度人尊重所有人,所有人似乎都喜欢我们的文化。
你可以看到,很多外国人来印度旅游。
他们喜欢我们的食物、文化和人民。
对每个人来说,印度绝对是一个安全可爱的地方。
如果你是外国人,考虑到印度来旅游,请一定来哦。
Kundan Dhayade, studied at G. G. Khadse Collage of Science (2017)
India is safe for tourists, for foreigners. India is the world fastest growing economy with GDP of 6.5 more than United States of America. India is a vast and big country. India ranked 7th in area behind Russia, , Australia, Brazil, United States of America, India.
印度对游客和外国人来说是安全的。印度是世界上增长最快的经济体,GDP超过美国6.5个百分点。印度是一个幅员辽阔的国家。印度在国土面积上排名全球第七,排在俄罗斯、、澳大利亚、巴西、美国、印度之后。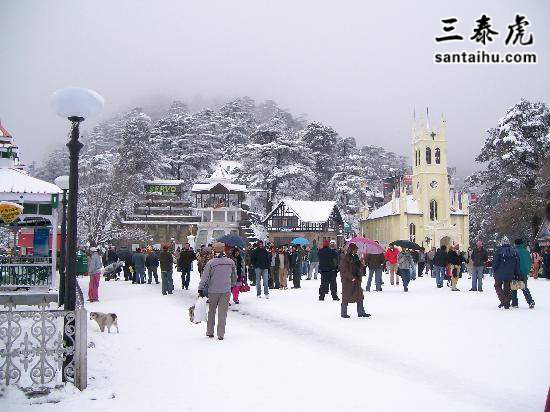 外文链接:https://www.quora.com/Is-India-dangerous-for-foreigners