India is building a £12 billion state capital from scratch - but three years later work on the new homes for 11 million people has barely begun
印度欲新建一座耗资120亿英镑的邦首府,而在开工3年后,这个为1100万人构建的新首府,几乎没有进展
India's £12 billion project to build a modern leafy metropolis with fountains, bridges, gardens and glass skyscrapers to rival Singapore, but three years on little work has begun on the city billed to house 11 million.
印度安得拉邦计划斥资120亿英镑计划建设一个能比肩新加坡,有喷泉、桥梁、花园和摩天大楼的现代化首府。但是3年过去了,这个号称为1100万人构建的新首府却几乎没有进展。
The southern capital of Amaravati - which means 'abode of the gods' is little more than empty concrete blocks and cleared agricultural land as its crusaders resort to crowdfunding to turn the pipe dream into reality.
安得拉邦首府阿马拉瓦蒂,意为"众神之家",满是空空如也的混凝土街区和空旷的农田,有志之士正借助众筹将新建白日梦变成现实。
Billions are needed to transform Amaravati from the few new buildings which stand on the periphery of the esting village which is surrounded by thousands of acres of agricultural land into the envisioned capital of Andhra Pradesh, one of India's largest states.
阿玛拉瓦蒂位于印度最大的邦之一,安得拉邦(Andhra Pradesh),周围有数千英亩的农田。要把它改造成预想中的首府,需要上百亿资金。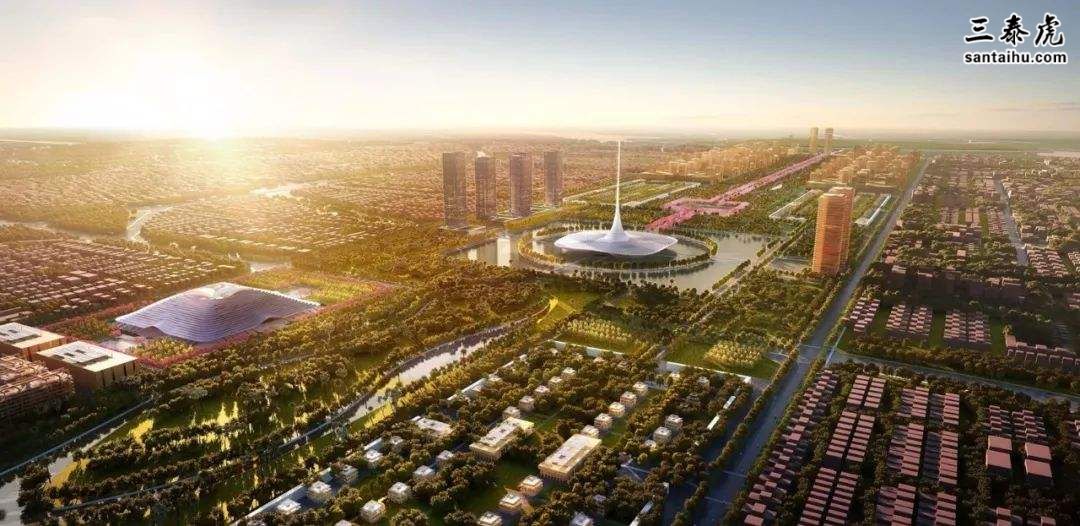 The website for the project proudly boasts there will be more than 8,000 hectares of resi ntial land, a 5,500 hectare industrial quarter which will be surrounded by 1,600 hectares of water features and miles of roads and motorways.
宣传该项目的网站自豪地宣称,超过8000公顷的住宅用地,5500公顷的工业区,将被1600公顷的水景、长达数英里的公路和高速公路环绕。
Andhra once had another capital, the booming tech and business powerhouse of Hyderabad, which pulses with IT know-how and a startup culture.
安得拉邦曾经的首府是科技和商业中心海得拉巴,那里充斥着信息技术和创业文化。
But the revenue-rich city was assigned as the capital of a brand new state, Telangana, when it was carved out of Andhra in 2014 following a populist movement to secede. The two states were to share Hyderabad until Andhra chose another city as its capital.
但在2014年安得拉邦的民粹主义运动退出后,这个创收城市从安得拉邦分离出来,被指定为特伦甘纳邦的首府。但在安得拉邦选好另一个城市作为首府之前,这两个邦将共享海德拉巴。
But authorities decided to build a grand new seat of power some 170 miles away on the banks of the river Krishna.
但是当局决定在170英里外的克利须那河岸边建造一个新的政治中心。
While India has a tradition of planned cities, including Sir Edwin Lutyens' New Delhi and Chandigarh in the north which was designed by Franco-Swiss modernist trailblazer Le Corbusier, nothing of this scale has been tackled for decades.
尽管印度有规划城市的传统,包括埃德温•卢特恩斯爵士设计的新德里和法国-瑞士现代主义先驱勒•柯布西耶设计的昌迪加尔,但已有几十年没经手过这种规模的城市。
Amaravati was envisioned as a metropolis free of the chaos, traffic and air pollution that plagues India's urban centres.
阿玛拉瓦蒂被构想为一个没有混乱、交通拥堵和空气污染的大都市,而这些问题困扰着印度的城市中心。
'It'll be an Indian city like no other,' said Sreedhar Cherukuri, commissioner of Andhra's Capital Regional Development Authority.
安得拉邦首府区域发展局局长Sreedhar Cherukuri称,这将成为一个独一无二的印度城市。
Amaravati's many millions would enjoy efficient public transport including a monorail and metro network, while trees would shroud half the city with a green zone akin to New York's Central Park, Cherukuri said.
Cherukuri称,阿玛拉瓦蒂数百万人口将享受高效的公共交通,包括单轨铁路和地铁网络,而树木将覆盖半个城市,形成一个类似纽约中央公园的绿色区域。
Consultants from Amsterdam provided advice about an extensive canal sy em and expert oion was sought from Singapore and Japan, among others.
来自阿姆斯特丹的顾问就广阔的运河系统提供了咨询意见,并征求了新加坡和日本等国的专家意见。
'Everything has been planned to the last detail. We've taken the best ideas from around two dozen global cities but this perhaps comes closest to Singapore in its inspiration,' Cherukuri said.
"一切都计划得很周密。我们从大约24个全球城市中汲取了最好的创意,但其灵感最接近新加坡。"Cherukuri说到。
However, nearly three years after Prime Minister Narendra Modi d the foundation stone, Amaravati is largely deserted.
然而,在印度总理纳伦德拉·莫迪奠基将近三年之后,阿玛拉瓦蒂的建设基本上被设置了。
An island of modern office buildings in the middle of fields hosts Andhra's chief minister and state go nment, which relocated there after Telangana cmed Hyderabad.
But there is still scant evidence of the promised utopia as it runs severely behind schedule.
在海得拉巴成为特伦甘纳邦的首府之后,安得拉邦首席部长和邦政府搬到了阿玛拉瓦蒂。但由于乌托邦计划严重落后于计划,仍缺乏证据证明它是一个理想的乌托邦。
Half-finished settlements dot farmlands, most not connected by proper roads and plans for the promised riverfront, housing and public transport have been marred by delays.
已经完工一半的定居点散布在农田里,大部分都没有适当的道路连接,承诺修建的河滨、住房和公共交通的计划也因延误而受阻。
'We came here because it really has the plans and pential to become a global city,' said a university offi al at a huge but largely empty campus in the planned city.
'The on-ground infrastructure development, particularly the roads, has been slow,' he said, asking not to be named.
一位不愿具名的大学官员在该市一所面积很大但基本上空无一人的校园里说:"我们来这里是因为这里确实有成为一个全球性城市的计划和潜力。但是这里的地面基础设施的建设进展一直很慢,尤其是道路"。
Nageshwar, an independent legislator in Telangana, said: 'Nothing much has happened on the ground in Amaravati. It is still more dream than reality.'
特伦甘纳的一名独立议员K.Nageshwar,称,阿马拉瓦蒂没有什么进展,仍然是梦想,没有成为现实。
Chief Minister N Chandrababu Naidu ambitiously suggested in 2014 that the project - unlike anything ever seen in India - could be completed within five years.
But since then offi als have been reluctant to offer a timetable for its completion.
安得拉邦首席部长N Chandrababu Naidu在2014年雄心勃勃地表示,该项目可能在五年内完工,将是印度前所未见的。但自那以后,官员们一直不愿提供完成该项目的时间表。
Naidu, who today governs Andhra from a high-tech office in Amaravati, insists a magnificent city will one day rise from the pns.
Naidu在阿马拉瓦蒂的一个高科技办公室里管理着安得拉邦。他坚持认为,终有一天,一座宏伟的城市将平地而起。
'I am not changing any plans for Amaravati. I only have to work harder to make it a reality,' the brainchild of the nascent capital told AFP earlier this year.
今年初他告诉法新社:"我不会改变任何关于阿马拉瓦蒂的计划。我需要更加努力地工作,让它成为现实。"。
Cherukuri, the offi al overseeing Amaravati's development, said contracts worth £4 billion had been issued, spurring the first phase of development.
Cherukuri是监督阿马拉瓦蒂的进展的官员,他说价值40亿英镑的合同已经发布,将刺激第一阶段的建设。
It was hoped the project would also attract foreign investment, he added. But funds are running low.
他补充称,希望该项目也能吸引外国投资。但现有资金即将用尽。
Naidu blamed the national go nment for reneging on promises made during the Telangana split that would have conferred a special status and ensured a stream of financial aid and incentives to bankroll the dream city.
Naidu指责中央政府背弃了在特伦甘纳地区分离出去时做出的承诺,这些承诺本能确保提供一系列经济援助和激励措施,为阿马拉瓦蒂这座梦想之城提供资金。
The dispute soured ties with New Delhi, culminating with Naidu going on a hunger strike in April and severing ties with Modi's ruling .
这场争端恶化了与新德里的关系,最终导致安得拉邦首席部长Naidu 在4月进行绝食抗议,并与莫迪的执政党断绝关系。
'This is a prestigious project for the nation and if go nment of India had supported it, we could have showcased it to the world,' Naidu said.
Naidu说,这是印度享有盛誉的项目,如果印度政府支持,我们本可以向世界展示。
Finance Minister Arun Jaitley has rejected assertions Andhra was double crossed, saying it got all it was promised.
印度财政部长阿伦·贾特里驳斥了有关安得拉邦被欺骗的说法,并表示对安得拉邦的所有承诺已经兑现。
Naidu remains broadly popular in Andhra but has been accused of pursuing the eye-wateringly extravagant project for personal prestige.
Naidu在安得拉邦仍广受欢迎,但有人指责他为了个人声望而追求这个极其奢侈的项目。
'Naidu very clearly projected Amaravati more as an instrument of ioneering,' said K. Nageshwar, the independent legislator.
独立议员K. Nageshwar表示,Naidu更多的是将阿马拉瓦蒂作为竞选工具。
Unflagging in optimism, the chief minister declared earlier this year that his new city would be among the happiest in the world, promising a dedicated commission to gauge the wellbeing of its future citizens.
今年初,这位首席部长毫不懈怠地乐观地宣布,他的新城将是世界上最幸福的城市之一,并承诺为未来市民的福祉成立一个专门委员会。
'He can't disown the capital now. I won't be surprised if he's still talking about it in 2019 and 2024 ions.'
'This is all optics and not substantial,' said Nageshwar.
Nageshwar说:"这些都不是实质性的。他现在不能和首都断绝关系。如果他在2019年和2024年的选举期间仍在谈论这个项目,我也不会感到意外。"
英国每日邮报读者评论:
译文来源:三泰虎 http://www.santaihu.com/46727.html 译者:Jessica.Wu
外文:https://www.dailymail.co.uk
AcrossthePond, ex pat, United States, 2 days ago
I presume the broke British taxpayers are paying for this building. For goodness sake, stand up and be counted, and STOP aide going to a Country who DOES NOT need it. Britain needs all the money it can get to help those who live there to live a decent life.
我觉得是破产的英国纳税人在为建设这个首府埋单。不要再去援助这个国家了。英国自己也需要资金,让本国人民过上体面的生活。
nowexpat, Silves, Portugal, 2 days ago
Nice to see our aid money to this massive economy is at last going into bricks and mortar rather than blasted off into space or invested in aircraft carriers.
很高兴看到我们对这个庞大经济体的援助资金最终投入到建设城市中,而不是用来搞太空计划,或用来修航空母舰。
Water Glass, Base Cydonia, Canada, 2 days ago
Best of luck.
祝你们好运
LisaLAd, London, Morocco, 2 days ago
All made with uk aid money.
建这些都靠英国的援助金。
James, Sunny Somerset By The Sea, United Kingdom, 2 days ago
So that's where the aid money is going.
这就是我们给的援助资金的去向。
Mzungu, Sodden-on-the-Water, United Kingdom, 2 days ago
And we continue to give them aid. Britain truly is a nation of mugs.
而我们还在继续向他们提供援助。英国确实是一个没脑子的国家。
James, Surrey, United Kingdom, 2 days ago
Interesting project and I would like to have read about it, but the format is terribly designed and doesn't suit resolutions over 1920x1080. Can you please stop using, or perhaps change, this full width-format?
这是一个有趣的项目,我很往下看,但是文章版式很糟糕,图片不适合1920x1080以上的分辨率。就不能换个格式?
Tommy Walker, DeplorableOpalis, United States, 2 days ago
If any first world countries are giving aid to India, it must stop immediately.
任何一个向印度提供援助的第一世界国家都必须立即停止援助。
Tom, Swansea, United Kingdom, 2 days ago
When our Overseas Aid pays to support their poor it frees up money for this, their nuclear and space programs.
我们援助印度,是让他们救济穷人的,他们却把这笔资金用来推动核计划和太空计划
YorkshireTyke, Goole, United Kingdom, 2 days ago
Just what the world needs now, more space for indias population to grow
这正是他们现在需要的,为印度人口增长腾出更多空间。
Brooker, SOUTHAMPTON, 2 days ago
So this is where our aid money goes. Time to stop it
这就是我们援助资金的去向。是时候停止对他们的援助了
andrew, 2 days ago
Nice with all the aid money hard working up taxpayers fund this with ...
靠的都是我们这辛勤劳动纳税人给他们的援助金
Gar74, Cakovec, Croatia, 2 days ago
The aid money the UK sends with easily cover the costs
英国的援助,随便都够他们建这个首府
enoughsenoughsdotcom, Ellesmere, United Kingdom, 2 days ago
Don't you think its time that we stopped sending financial aid to countries that have more money than we have... and that we actually have to BORROW the money for overseas aid in order to GIVE it to these countries. / / Come on... let them APPLY for aid and only expect to receive it in only as British Goods or British services.
这些国家比我们有钱,以后我们别援助他们了。为了援助这些国家,我们也是要借钱。他们要是再来要,我们就只送东西,送服务,不送钱了。
frank 2, Wrexham, United Kingdom, 2 days ago
can anyone expn to me that a country who can afford to build a city from scratch,d have a space program and nuclear wons needs aid from broken Britain
有谁能向我解释一下,一个能够负担得起从零开始建设一座城市、有实力推动太空计划和发展核武器的国家,还需要英国的援助吗?
AndrewRao, Akhand Bharat, India, 2 days ago
the projects didn't take off as the central govt. refused to allot funds to the state for the city despite promising them prior to the ions. As usual po itics take an front seat.
这些项目没有启动,是因为中央政府拒绝向邦政府拨款,尽管在选举前承诺过要这么做。但是像往常一样,政治占据了上风。
kev, nottm, 2 days ago
Nice if you can afford it ,,or someone nice helps you out a little .
如果你们能拿得出这么多钱那还好,要么就得有好心人帮你们一把。
itsamess, London, United Kingdom, 2 days ago
I believe the UK supplies some of this money - as aid.
我相信这些钱有一部分是英国援助的