14 Punjabis among 15 Indians saved from gallows in UAE
15名印度人中有14名旁遮普人免受阿联酋绞刑
JALANDHAR: Fourteen Punjabis and one person from Bihar, who were awarded capital punishment in two separate cases of bootlegging and murder, were saved from the gallows by Dubai-based helier and philanthropist. While 14 have already been reunited with their families, one is expected to return in a few days as his documents are still being prepared.
贾朗达尔:迪拜酒店经营者和慈善家从绞刑架上救十四名旁遮普人和一名比哈尔邦人,他们分别在两起盗窃和谋杀案中被判刑。虽然已有14人与家人团聚,还有一人的文件还在准备中,预计将在几天内返回。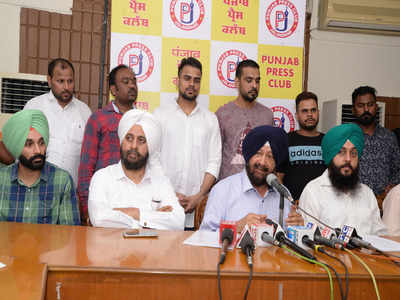 图片来源:印度时报
Presenting them before the media here, Dubai-based S P Singh Oberoi said Punjabi youths who go to UAE should learn to not fall into the trap of bootleggers. He said bootlegging was leading to clashes between groups and if somebody dies in a clash, it would lead to capital punishment due to tough laws of the land.
位于迪拜的S P Singh Oberoi在媒体面前说,前往阿联酋的旁遮普青年不要有盗窃行为。盗窃导致了团体之间的冲突,若有人致死,鉴于本土强硬的法律,他将被判刑。
He said that five men — Harvinder Singh of Ajn in Amritsar district, Ranjit Singh of sra in Nawanshahr, Dalwinder Singh of Mahilpur in Hoshiarpur, Sucha Singh of Jasso Majara in Pati and Dharmendra Kumar of Chhapra district of Bihar — were facing capital punishment in Sharjah for murder of Virendra Chauhan, who hailed from Azamgarh district of Uttar Pradesh in November 2011.
他说,在沙迦有五人,他们是阿姆利则区阿则加的Harvinder Singh,纳万斯哈赫尔区京什拉的Ranjit Singh,霍斯希亚尔普尔马希尔普尔的Dalwinder Singh,伯蒂亚拉佳索马加拉的Sucha Singh和比哈尔邦恰普拉的Dharmendra Kumar -2011年11月因谋杀来自北方邦阿扎姆加尔的Virendra Chauha而面临死刑。
In another case, 10 Punjabis faced the gallows for murder of Pakistani national Mohammad Farhaan in Al Ain of Abu Dhabi. They were sentenced to death in October 2016. These men included Satminder Singh of Thikriw village of Barn, Chander Shekhar from Nawansahhr, Chamkaur Singh from Malerkotla in Sangrur, Balwinder Singh from Cholang in Ludhiana, Dharmveer Singh of Samr in Ludhiana, Harder Singh of Mohali, Tarsem Singh of Mudh village in Amritsar, Jagjit Singh of Gurdaspur and Kuldeep Singh of Tarn Taran.
在另一起案件中,10名旁遮普人因在阿布扎比的艾恩杀害了巴基斯坦公民Mohammad Farhaan而面临绞刑。他们于2016年10月被判刑。这些人包括巴尔纳拉的第可立瓦拉村的Satminder Singh,纳万斯哈赫尔的Chander Shekhar,桑格鲁尔马莱尔科特拉的Chamkaur Singh, 卢迪亚纳崇朗的Balwinder Singh,卢迪亚纳萨姆拉拉的Dharmveer Singh,莫哈里的Harder Singh ,阿姆利则慕达哈村的Tarsem Singh,古尔达斯普尔的Jagjit Singh和塔恩塔兰的Kuldeep Singh。
Oberoi said he had approached the families of the deceased and negotiations were held to persuade them to accept the blood money as provided by the law there. He said a hefty amount was paid through Sarbat Da Bh Trust as blood money and the courts in UAE accepted the compromise after which the men were released.
Oberoi说,他接触死者家属,并进行谈判,劝说他们接受法律判给的赔款。他说,萨尔巴特达巴拉信托支付了大笔金钱作为赔款,阿联酋法院接受和解之后,这些人被释放。
Oberoi, who has till now saved 93 Indians, most of them from Punjab, from gallows in UAE after paying blood money of around Rs 20 crore, said his trust had offices in all districts and before going to UAE people could check with them to know the credentials of companies and the genuineness of employment offer. "Most of the youths reach there after taking loans and many are not able to earn much. In desperation to pay back the money, they get into bootlegging and get caught in the vicious cycle of illegal activity," he said. "They must stay away from any illegal activities there and go on proper employment visa. They should also have clarity about their sry," he added.
在支付约20亿卢比后,Oberoi 迄今为止从阿联酋的绞刑架上救出了93名印度人,其中大部分来自旁遮普。他表示,他的信托在所有地都设有办事处,在去阿联酋之前,人们可以与他们核对公司的资质以及就业机会的真实性。 『大多数青年在通过贷款到达那里,许多人却无法赚取很多。他们不顾一切去偿还这笔钱,却陷入了非法活动的恶性循环,并陷入盗窃的泥潭,』他说, 『他们必须远离在那里的非法活动,拿到合适的工作签证。他们还应该清楚他们的薪水,』他补充道。
印度时报读者的评论:
来源:http://www.santaihu.com/45378.html
外文:https://timesofindia.indiatimes.com/city/chandigarh/14-punjabis-among-15-indians-saved-from-gallows-in-uae/articleshow/64705031.cms
1 BAR DANCER 1 FOOL
Excellent from the man. But on another ne. Does kuran also allows criminals to go free by paying money. WOW. Did not know about that master clause.
这男人很优秀啊。不过从另一个角度看,库兰允许犯罪分子通过支付赔款为自己赎身。哇,真不知道居然有这样的条款。
Sushil Kumar
I would call this person "A man with a Golden Heart". Salute you dear friend for hel the unknown.
这实在难能可贵。帮助不认识的人,向这位亲爱的朋友致敬。
Suresh MB
Salute the Sardar who saved the life of these Indians even though they have committed an henious crime.history of Sardars are full of such humanitarian events and we should be proud of them.
即使他们犯罪,萨达尔人还是拯救了这些印度人的生活,向他致敬。萨达尔人的历史充满了这样的人道主义事件,我们应该为他们感到骄傲。
Vikram Singh
The helier saved 14 Indians and that calls for a standing ovation.
这个酒店经营者救下了14名印度人,值得喝彩。
BLUESTeye
that is why i respect Sikh people , they are really philanthropic.
因此我特别尊敬印度锡克教徒,他们真的很博爱。
Sheik Mohamed
We are grateful to Mr.Oberoi who saved precious human lives. Convey our saluation to him. Kudos for him.
感谢Oberoi 救下那些人的生命。向他致敬。荣誉是属于他的。
Honest
God bless you
愿上帝保佑你
Joe Philip
Spend the money on starving children in india if u could..not on criminals.
在印度,如果你没把钱用在罪犯身上,那就资助饥饿的孩子们吧。
Redo Goa
All Sardars and punjabis are good at heart
所有萨达尔人和旁遮普人都是好人。
Rajaali
May Allah grant you a long and healthy and pleasant life
愿真主赐予你健康长寿。
MUHAMMAD IKRAM BANKAR
Once again, Sikhs are rally big hearted Hats off to you sir, The only re gion is following their Guru re giously
锡克教徒真的很博爱,再次向你们致敬。他们唯一的是虔诚地追随他们的宗师。
Ratan S
Great man, with such a large heart and love for his countrymen !
很伟大,对自己的同胞如此大方和珍爱。
Vijay Banga
Such is generosity and greatness of Punjabis. No Gujrat guy would in wildest dreams would spend a cent to save his countryman.
旁遮普人很慷慨和伟大。没有一个古杰拉特人会为了同胞花一分钱。
Bchandramenon Vengasserry
This sy em of blood money seems to be awkward. Actually accused shall be punished properly or else if the accused has connections with rich philanthropists he can easily escape. Pls think about escapade of cruel rapists and criminals on such occasions.
这种赔款制貌似不合适。起诉就要得到相应惩罚,不然有钱人可以轻易地逃罪。。请考虑这种情况下那些的强奸犯和他们的罪行。
Jagdish Madan
Hats off to SP Singh for his generosity. Indians must respect the laws of the land they reside. Each Indian is an ambassador of his country when he steps out!
对SP Singh的慷慨表示敬意。印度人要遵守居住地的法律。在国外每个人都是国家的代表。
Shiuli Deb
Criminals should be punished.. As simple as that. There should be no other option
犯罪了就要接受惩罚。就是这么简单,没有其它选项。
Balmukund Shah
Good work done by Bhartiya in foreign country. Nskar. However, I pray God that the Indian saved by him will correct themselves.
在国外,巴蒂亚做的不错。然而,我祈祷那些被救的印度人以后能改过自新。
Yashpal Gambhir
Great man with a golden heart.He has done exemplary work to save many lives and many families from ruin.But shouldn''t we Indians who go abroad for earning their livelihood be trained and cautioned beforehand to be careful not to put their country into disrepute and put their lives in danger
伟大的人,难能可贵的心。他为挽救许多生命和家庭做出了实质性的工作。但是,出外谋生的印度人是不是应该接受培训,并被告知要小心行为,不要将自己的生命置于危险,将国家的名声败坏。
Nemo
Appreciate your love for our nation fellows and pulling them out of trap is an ACT OF REAL HERO not a fake movie star.
感谢你对同胞们付出的爱,把他们从深渊里救出,你是真英雄,不是在演戏。
D V Amla
Great contribution in saving human lives , All appreciation and hats off to Great Oberoi ji.
在拯救人类生命方面做出巨大贡献。向Oberoi 表示最大的感谢和敬意。
Jackal Delhi
Had it been in Bharat maa, these murder convicts would have walked free !
要是在巴拉特玛阿,这些罪犯已经获释了!
Ankit
Sikhs were best men/women chosen from Hindus to defend them from foreign invaders. This great Sikh is just upholding that great Sikh tradition...Well done Sir....
锡克教徒是从印度教徒中选取的最好的男人/女人,捍卫他们免受外来者的侵害。伟大的锡克教徒保持着伟大的锡克传统……做得好!
Indiankitty
Our duty is to salute and congratulate any one who saves lives of people in any manner. Here is a hero. Sadly, readers have activated their brain to write negative comments.
不管是谁,只要救了别人的命,我们就该表示敬意。这个人是英雄。但可悲的是,读者在这里负面评论。
Himmat Sandhu
A True Punjabi. I wonder if a Bania or a Gujrati would have heart to do this .
这是个真正的旁遮普人。我想知道巴尼亚人或古吉拉特人会不会这么做。
Natarajan D
indulge in criminal acts and face capital punishment. this is not india where the death sentence goes on without execution. anyway good gesture by the man who uses blood money for release
沉迷于犯罪行为并面临死刑。这里不是印度,不是一个判了死刑却可以不执行的地方。无论如何,这个男人用金钱买得释放是一种好的姿态。
Hindu Hindu
hindu will never forget supreme sacrifice of Guru Tegh Bahadur ag inst forced conversion of Hindu
印度教徒永远不会忘记宗师得格巴哈都尔为抵抗改变印度教作出的巨大牺牲。
Rkrihna Sidhantham
Great Man.Kudos to him. Please dont make him to lose money by not indulging in crimes
太伟大了。向他致敬。请不要让他因沉迷于此而损失金钱。