Tourism from SCO countries could easily be doubled: Modi
莫迪:来自上合组织成员国的游客将轻松翻一番
QINGDAO: Prime Minister Narendra Modi today said only 6 per cent of foreign tourists in India are from the SCO countries and this number could easily be "doubled" as he underlined the need to boost tourism among members of the grouping.
Speaking at the restricted session of the Shanghai Cooperation Organisation Summit, Prime Minister Modi said that increasing awareness of the shared cultures can help boost the number of tourists.
He said that India's foreign tourism from the SCO countries just constitute for 6 per cent, which he said could easily be doubled.
莫迪今天表示,前往印度的外国游客,只有6%来自上合组织成员国,这一比例能轻松翻一番。他强调了促进成员国旅游业发展的必要性。
他在上合组织峰会上表示,印度来自上合组织成员国的游客只占了6%。他说这一比例能轻易翻一番。
The SCO currently has eight member countries which represents around 42 per cent of the world's population and 20 per cent of the global GDP.
目前,上合组织有8个成员国,人口占世界的42%,GDP占全球的20%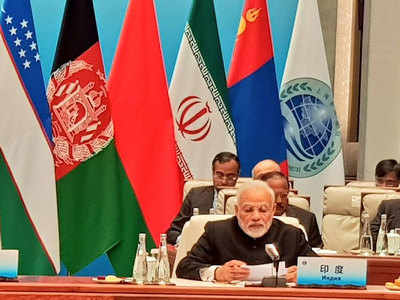 印度时报读者的评论:
来源:http://www.santaihu.com/45229.html
外文:https://timesofindia.indiatimes.com
Rajesh
Modi Sir, Tourism from SCO countries is fine. Pakistan however, where they will send "tourists" like Ajmal Kasab and his mates. Please Sir, we can do without such "tourists".
Reply 7 1 Flag

莫迪先生,吸引上合组织国家的游客是好事。

不过巴基斯坦那边的就算了,他们给我们送来的"游客"还是算了
Ajay Varma
7980
Ajay - 2 hours ago -Follow

Modiji pointing out on Tourism growth in SCO nation is definitely far-sighted as with growth of tourism.

莫迪指出上合组织国家的旅游发展是颇有远见的。
Gaurav Barman
1465
Gaurav - India - 2 hours ago -Follow

Indian tourism needs a boost. It will generate lot of revenue for the country
Reply 6 0 Flag

印度旅游业需要提振下了,旅游业能为国家带来大量收入
universal
6655
Universal - usa - 2 hours ago -Follow

seems modi became pm to become a tourist.
Reply 6 11 Flag

看来莫迪当总理,就是去国外玩的游客
Uday Gohil
21487
Uday - Gujrat - 2 hours ago -Follow

Tourism is main interesting hobby of PM Modiji !
Reply 6 9 Flag

去旅游是莫迪总理的主要爱好啊
Sampath Kumar
Sampath - 35 mins ago -Follow

Yes, tourism but not terrorism, should be doubled for better economic front. We must be very careful with some of those member countries.
Jai Hind.
Reply 1 0 Flag

是旅游业该翻一番,不是恐怖主义哦。

有些成员国的游客,我们必须加以小心
Pkm
21800
Pkm - Lagos - 6 mins ago -Follow

Without any security and safety no one will ever turn up. Terrorists and rapists are the new axis of evil today.
Reply 0 0 Flag

没有安全保障,没有外国游客会来的。

今天,恐怖分子和强奸犯是新的邪恶轴心
Ansh
819
Ansh - 7 mins ago -Follow

good
Reply 0 0 Flag

很好
Ark Here
5103
Ark - Chennai, Tamil Nadu - 19 mins ago -Follow

Crimes in Goa has created much harm to tourism and government has shown no intention to bring criminals to justice. Only safe place for tourist in India is Kerala