Comparison of India's AMCA and F 35.! Will the AMCA be able to compete with the F35 Fighter Jet ?
印度AMCAvs F-35:AMCA竞争得过F-35吗?
India's HAL Picks up Engine for its new 5th Gen AMCA Fighter Jet.
印度斯坦航空公司(HAL)将为本国第五代战机AMCA开发发动机。
AMCA
India is close to sealing an agreement with France for the joint development of a 125KN engine for the indigenous fifth-generation Advanced Medium Combat Aircraft (AMCA), according to defense officials.
印度国防官员称,印度即将与法国签署一项协议,为本土第五代先进中型战斗机(AMCA)联合开发125KN发动机。
The Defense Research Organization (DRDO) and Safran, a French engine maker, may be collaborating on the aforementioned transaction, which is likely to be finalized in the next two months.
印度国防研究组织(DRDO)和法国发动机制造商赛峰集团或就上述协议进行合作,很可能在未来两个月内敲定。
The Advanced Medium Combat Aircraft programme is an Indian effort to produce fifth-generation fighter aircraft for the Indian Air Force and Navy, as well as sixth-generation specialty technology.
AMCA项目由印度自主研发,为印度空军和海军生产第五代战斗机以及第六代战机的专业技术。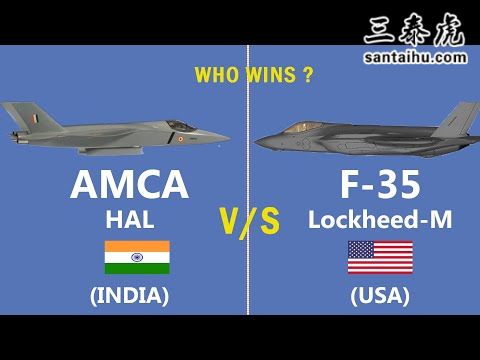 F 35
The F-35 increases national security, promotes international alliances, and propels economic growth. It is the world's most deadly, survivable, and linked fighter aircraft, providing pilots an advantage over any foe and allowing them to complete their mission and return home safely.
F-35增强了国家安全,促进了国际联盟,并推动了经济增长。F35是世界上最致命、生存能力最强的战斗机,为飞行员提供了对敌优势,使他们能够完成任务并安全返回。
The F-35 is crucial to retaining air superiority for decades to come as adversaries advance and ageing aircraft age.
随着对手的进步和飞机的老化,F-35对于保持未来几十年的空中优势至关重要。
以下是Youtube上印度网民的评论:
Vinay Kumar
The US has a long history of building hitech jets, we started very late but hopefully we can catch up to the best out there.
美国在制造高科技飞机方面有着悠久的历史,而我们印度起步很晚,希望我们能赶上。
Ayush
It's interesting to see that AMCA carries less fuel than F35 still it's able to cover longer distance than F35
有趣的是,AMCA比F35携带的燃料更少,却能比F35飞更远
Murali Mahidhara
Modi Ji made the best decision of manufacturing defense equipment in India. This reduces cost, delays
莫迪做出了在本土造武器的明智决定。能降低成本,减少延误。
Ankur Sharma
Really a nice comparison. Though i actually feels that comparison should be done once AMCA IS IN SERVICE.
Still i just want to add one point that AMCA suppository will come in full fledged sqd on it before 2030 and it's first flight would be by the end of next year
PK得好。
我觉得应该在AMCA服役后进行比较。
尽管如此,我还是想补充一点,AMCA在2030年之前可以服役,首飞将在明年年底
sagar ujjainwal
AMCA looks stronger in terms of combat and range and with more hard points it can carry more weapons.
在战斗和航程方面,AMCA看起来更强,而且可以携带更多的武器。
Just a Random guy on Internet
AMCA's first test flight will be conducted by 2023 or first quarter of 2024.
AMCA的首次试飞将于2023年或2024年的第一季度进行。
Arnab Bhattacharya
Of course. We INDIANS can do it. We must develop our own stealth fighter and Bombers of 6th and 7th generation series along with naval base. That'll ensure our hegemony on the INDIAN Ocean, Antarctic Ocean and Pacific Ocean.
当然能和F-35竞争。我们印度人能做到,我们务必自主开发第六代和第七代隐形战斗机和轰炸机,确保我们在印度洋、南冰洋和太平洋的霸权。
Aryan Yadav
AMCA would be 5.5 Gen Aircraft
AMCA是5.5代战机
Kural Ovien
F35 isn't very cost effective and isn't cheap to maintain either, it's not fit for countries with less GDP or military budget as the amount spent on maintenance itself throughout the service years of F35 would be higher than that of its cost.
F35的成本效益不高,维护成本也不低,不适合军事预算较少的国家,F35服役期间的维护费用太高了
Deependra Pratap Singh
It is just the matter of time ....in next 15-20 years our airforce will be equivalent with most elite fighter aircraft .
在未来15-20年里,我们的空军将配备最先进的战斗机,这只是时间问题....
Astitva Kumar Singh
Its always cheaper and better to build your own fighter...rest countries simply bought it from us...india now has tech and a top of the line manufacturing unit will be ready by 2024..and amca is actually a 5.5 th generation fighter
自己造战机更便宜也更好,其他国家可从我们这里买现成的…印度现在有技术了,一个顶级的军火公司会在2024年建立。AMCA实际上是第5.5代战斗机
peace and security
Bro USA invest 1.5 trillion USD to develop f35 more advanced fighter JET And the Government of India has spent only 150 billion USD for AMCA fighter JET
美国投资1.5万亿美元研发F35战机,一种更先进的战机
印度政府只投了1500亿美元研制AMCA喷气式战机
AD
AMCA will much cheaper than F35 means it will be very cost effective made in India fighter aircraft and also maintainance cost will be low
AMCA的价格会比F35便宜得多,非常划算的战机,而且维护成本也很低,而且是印度本土制造的
Amrit Raj
Time will tell about the performance but one thing is sure that price of AMCA will be less than F-35
时间会告诉我们其性能如何,但有一点是肯定的,AMCA的价格将低于F-35
P B
Hats off to Modi ji for his make in India mission.
为莫迪的"印度制造"点赞
Titanium Baalak
AMCA is coming with 2 variants first will be 5th generation and the second will be 5.5th generation say officials of india
印度官员称,AMCA将推出两种型号,第一种是第五代,第二种是第5.5代
Ashish Parashar
F-35 is a present and AMCA is a upcoming 5 plus generation aircraft.
Ho AMCA is fullfill the demand of IAF.
USA is a one of biggest aircraft manufacturer and having more experience than us but we are started to build our own aircraft as per our own requirement.
F-35是现有的战机,AMCA是即将到来的5.5代战机。
希望AMCA能够满足印度空军的需求。
美国是最大的飞机制造商之一,经验比我们更丰富,不过我们已经开始按照自己的要求造战机。
Vader X1
AMCA's real competiton is with the F-22 Raptor not the F-35.
AMCA真正的竞争对手是F-22猛禽,而不是F-35。
a good man
Depends on pilot and detection range
取决于飞行员的技术
SKYMAN
Comparison between yet to be born and already established Fighter Aircraft is hypothetical
拿尚未完工的战机和已经服役的战机相比,完全是假设
Saptarshi Chakraborty
Its very early to compare our amca with f35. It is yet to b built. It will b really amazing if it really matches with the capabilities of the US high tech stealth jets
现在拿我们的AMCA和F35比较还为时过早。AMCA还没有完成,如果真的能与美国高科技隐形战机相媲美,那就太棒了
My India
Dont worry AMCA 1st prototype will ready by 2024.. and production will commence form 2028 if not by 2030.. (this is as per indian government officials news)
别担心,AMCA的第一个原型机将在2024年完成。生产如果不是在2030年开始,那就是2028年。(这是印度政府官员透露的消息)
SHIPRA DEY
Building philosophy of AMCA is different than F-35 amca is designed for multirole mission on the other side F 35 has designed for ground strike its not capable for air to air engement or dogfight. So you cannot compare them they are totally different interms of role and capability.
AMCA的设计理念与F-35不同,AMCA可以完成多种任务,而F-35主要是进行地面打击,不具备空对空或空战能力。所以不能进行比较,它们的角色和能力是完全不同的。
First Step Education.
AMCA is better then f-35 because of AMCA making in 2023 and f-35 made in 1985 so new technology available in AMCA f-35 is very costly for our country. And big problem. We can't use US fighter jet on Pakistan us always supports Indian enemies. Rus is our best friend
AMCA比F-35更好,因为AMCA是在2023年制造的,而F-35是在1985年制造的,AMCA 使用了新技术,F-35对我们国家来说价格昂贵,这是个大问题。
我们不能用美国战机对付巴基斯坦,美国总是支持印度的敌人。俄罗斯是我们最好的朋友
Random Videos
AMCA better be much superior than F35 or even F22 because these planes was developed several decades ago and AMCA is going to be produced in the future
AMCA比F35更好,甚至比F22都更好,因为后者是几十年前开发的,而AMCA还没生产出来
Steve Steve
By the time amca comes into service, F35 will be further upgraded.
等AMCA服役时,F35将进一步升级。
vijay madaka
AMCA would be more powerful
AMCA将更加强大
MMP008
AMCA is still a concept. Not sure how you can be so sure of it's capabilities . F-35 is the best !
AMCA仍是一个概念。不知道你怎么能这么肯定它的性能。F-35是最好的!