India successfully test scramjet technology for hypersonic missiles
印度成功测试超燃冲压发动机技术,用于高超音速导弹
NEW DELHI: India on Monday successfully tested an indigenously-developed hypersonic technology demonstrator vehicle (HSTDV) powered by a scramjet engine, which will serve as a critical building block for next-generation hypersonic cruise missiles.
新德里:星期一,印度成功测试了一架自主研发的高超声速技术验证器(HSTDV),该飞行器由超燃冲压发动机驱动,将成为下一代高超声速巡航导弹的关键部件。
The HSTDV test, conducted from the Dr Abdul Km Island off the Odisha coast at 11.03 am to demonstrate the autonomous flight of a scramjet integrated vehicle, propelled India into an extremely exclusive hypersonic club consisting of the US, Russia and as of now.
HSTDV测试于上午11点03分在奥里萨邦海岸的阿卜杜勒·卡拉姆博士岛进行,演示了超燃冲压发动机集成飞行器的自主飞行。目前为止,该测试使印度跻身由美国、俄罗斯和组成的高超音速俱乐部。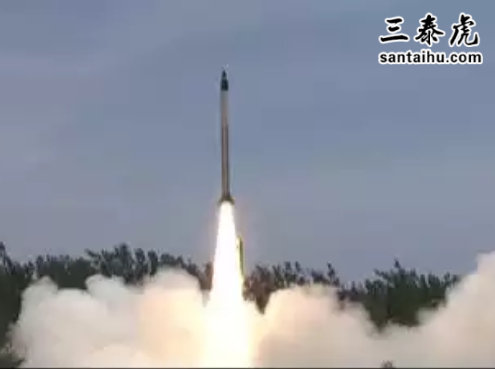 The three countries, of course, are leagues ahead in the race to develop aerodynamically manoeuverable hypersonic (over Mach 5 speeds) wons that can defeat enemy missile defence sy ems. , in fact, flaunted its DF-17 missile with a hypersonic glide vehicle at its national military parade last year.
当然,这三个国家在开发空气动力机动高超音速(超过5马赫速度)武器的竞赛中遥遥领先,这种武器可以击败敌人的导弹防御系统。事实上,在去年的阅兵仪式上用高超音速滑翔器炫耀了"东风-17"导弹。
In the Indian test on Monday, the hypersonic `cruise vehicle sustained its scramjet-powered flight path at a velocity of six times the speed of sound (Mach 6, or nearly 2-km per second) for 22-24 seconds. It auto-ignited to fly on its own after separating from the `launch vehicle', which took it to an altitude of 30-km. The launch vehicle, in turn, was powered by the proven solid-propellant rocket motor of an Agni ballistic missile.
在印度星期一的测试中,高超音速巡航飞行器以6倍音速(6马赫,或近2公里/秒)的速度飞行了22-24秒。它在与"运载火箭"分离后自动点火自主飞行,飞至30公里的高空。运载火箭由"烈火"弹道导弹的固体推进剂火箭发动机提供动力。
"It's a major technological breakthrough. The air-breathing scramjet engine was successfully flight-tested at hypersonic speed within the atmosphere, meeting all technical parameters. The test paves the way for development of many more critical technologies, materials and hypersonic vehicles," said DRDO chairman Dr G Satheesh Reddy, speaking to TOI.
DRDO(印度国防研究与发展组织)主席雷迪博士对《印度时报》表示:"这是一项重大的技术突破。该喷气冲压发动机在大气中以高超音速飞行,测试成功,满足了所有技术参数。该测试为开发更多关键技术、材料和高超音速飞行器铺平了道路。"
Congratulating DRDO, PM Narendra Modi tweeted, "The scramjet engine developed by our scientists helped achieve a speed of 6 times the speed of sound! Very few countries have such capability today."
莫迪总理在推特上向DRDO表示祝贺:"我们科学家研发的超燃冲压发动机帮助实现了6倍音速的速度!目前很少有国家具备这样的能力。"
Defence minister Rajnath Singh, in turn, said it was a "landmark achievement" towards 'Atmanirbhar Bharat'. It's now time to progress to the next phase with "all critical technologies" being established by the successful HSTDV flight test, using the indigenously developed scramjet propulsion sy em, he added.
印度国防部长拉杰纳特•辛格则表示,这是迈向"自力更生"的"里程碑式的成就"。他还说,现在是时候进入下一阶段了,"所有关键技术"都将通过成功的HSTDV飞行测试建立,使用自主开发的超燃冲压发动机推进系统。
The next phase will be to develop long-range hypersonic cruise missiles, which DRDO scientists said would be possible in the next five to six years. The complex technology behind the HSTDV, the maiden launch of which had failed in June last year, also has civilian applications like low cost launching of small satellites.
下一阶段将是研发远程高超音速巡航导弹,DRDO科学家称,这将在未来五到六年内实现。去年6月的首次发射失败,HSTDV背后的复杂技术也有民用应用,比如小型卫星的低成本发射。
India, of course, still has to achieve sustained scramjet-powered hypersonic flight for a few minutes, which has been demonstrated by the US, Russia and .
当然,印度仍然需要实现持续几分钟的超音速冲压发动机驱动的高超音速飞行,美国、俄罗斯和已经实现了。
印度时报读者的评论: 译者:Jessica.Wu
ASHOK Dogra
India and Indians can do it. Jai Jawan Jai Hind
印度可以做到,印度人能行。印度必胜!
Guest
congratulations DRDO
祝贺DRDO
Piyush Kant
ISRO and DRDO are Super Heroes of the nation. Congratulations!!
ISRO和DRDO是印度的超级英雄。祝贺! !
Vikas Moudgil
Bharat Mata Ki Jai. watch out soon we will match you and then will surely overtake you.
要小心了,我们很快就会赶上你们,然后超过你们。
Dr. Gupta
This is the difference between the Congress go nments and this one. The desire to be second to none was not there earlier, in fact they were happy to play second fiddle and import everything as that was very lucrative for themselves.
这就是国大党政府和现任政府的区别。国大党政府什么都进口,因为他们有利可图。
Biduth Chakraborty
Very next target should be to come up with BVRAAM more than 250 KMS....with SFDR technology.....And ofcourse the hypersonic version of Brahmos...
下一个目标应该是射程超过250公里的超视距空空导弹…SFDR技术……当然还有超音速版布拉莫斯导弹…
Harshad B Chauhan
Dr MMS made DRDO a dead elephant. In last 5-6 years, the same DRDO is doing excellant job.
在辛格的领导下,DRDO变成了一头死象。但在过去的5-6年里,DRDO完成了出色的工作。
Waste Your Time Blogging
Congratulations DRDO.. This project was on for a while, this is critical and important strategic achievement...
祝贺DRDO . .这个项目进行的时间不长,这是至关重要的战略成就……
aaaa bbbb
Congratulations to all DRDO scientists. Feel very proud and happy.
祝贺DRDO的所有科学家。感到非常自豪,非常高兴。
Rajiv Banerjee
Now we need to fire PLA with the same
可以用来对付
Bharti
HEARTY CONGRATULATIONS TO DRDO AND PM MODI! FIRST TARGET SHOULD BE CHINA!
衷心祝贺DRDO和莫迪总理! 第一个目标应该是!
Prabhakar Naidu
Kudos to our scientists and DRDO!
向我们的科学家致敬,向DRDO致敬!
Balhans Jayaswal
This indigenous tech places India on the high pedestal internationally for tectonic powers wanting to woo India on to their side. ..... The beggar neighbour is left high and dry far behind.
这种本土技术提高了印度的国际地位,技术强国想拉拢印度站在自己这边。我们那个乞丐邻居将被远远地抛在后面。
Amit Mishra
Jai hind ke scientists ... Carry on . Realy boost gt should continue for strengthening army.
科学家们,再接再厉。政府应该继续提升军队实力。
bijay roy
Congratulations! Proud moment for all Indians.
祝贺!这是所有印度人的骄傲时刻。
Krishnamurti Narrainen
INDIA ON THE MOVES. GOOD NEWS BEST TO COME YET
印度在行动,好消息来了
Rajesh Singhal
Now,we believe that India can do it. Being the fourth Nation to have successfully manufactured the HSTDV, it is a proud moment for our PM and as well for the 130 crores people of the country. India is no less, as expected, India will be the Super Power one day and will just look on.
现在,我们相信印度无所不能。我们是第四个成功制造HSTDV的国家,这对我们的总理以及13亿人民来说都值得骄傲。正如预期的那样,印度终有一天会成为超级大国,而只能干瞪眼。
RedChilly
Another sleepless night for CHINI PAK bhai bhai countries..
和巴基斯坦又睡不着觉了…
Mohini Madhukar
Does Raul Vinci know what is this ?
拉胡尔知道这是什么吗?
Nick
Great achievement by Modi gt
这是莫迪政府的伟大成就
R S waraich
What has Modi done?
莫迪做了什么贡献?