HONGQI H9 introduction (static demonstration and function display)
红旗H9轿车介绍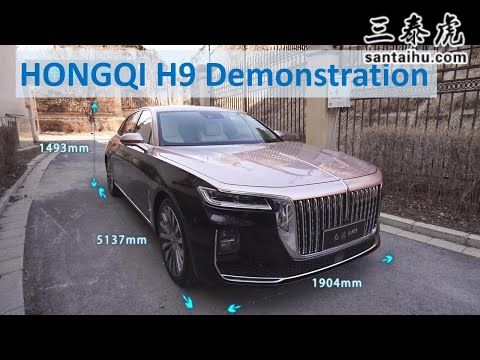 以下是youtube网友的评论:
译文来源:三泰虎 http://www.santaihu.com/p/50730.html
meowsky lev
Chinese car has four wheels, this design must have been stolen from the West!
中国汽车有四个轮 子,肯定是抄袭了西方的设计
JadeRabbit
very nice design, a true achievement of chinese automotive industry
设计非常不错,是中国汽车工业的真正成就
Mert Çalıcı
It's designed by Giles Taylor (Former head of design in Rolls Royce Motor Cars [owned by BMW])
红旗H9是由贾尔斯·泰勒(前劳斯莱斯汽车设计总监设计的
Ray Shezzy
Price: Start with 350,000 RMB, which is about 49,417 usd or 45,796 euro
起价35万人民币,大约是49417美元,45796欧元
World Is Awesome
Can you get this model in EU?
在欧盟能买到吗?
James Wayne
seems only sell in China
好像只有在中国卖
JZ VR
Best car out there, looks zing.
好车,看起来不错
박수민
But if you get into an accident, you won't survive because Chinese cars aren't safe.
中国车安全性做得不好。一旦发生事故,你就完了
董章隽
@박수민 South Korean cars are the worst
你们韩国车是最差的
Leon Cranson
Looks like a major step up compared to the L5. The creature comforts for both driver and passengers.
看起来比L5有了很大的进步。司机和乘客坐起来都很享受。
I support you
Excellent design for both the outside and the inside.
内外设计都很不错
범진
Fake rolls royce hahaha
山寨的劳斯莱斯,哈哈哈
Tony Paca
zing
这车太帅了
Ahmed Alrashdi
WOW
哇塞!
Marzougui Hamza
i need price of euro €
我想知道这车卖多少欧元
Qing Ike
About 50k Euro in china.
在中国大约卖5万欧元
Marzougui Hamza
This is very much, thank you for the clarification
那很贵哦,谢谢
Owlman Chan
cher than 5 series
比宝马5系更便宜
Jacob Li
50000 dollar. do the math。
卖5万美元,你自己算一下
Kanyea Kweh Oulaye
Hmmmmm this time the Chinese did their own thing no copy. I think the west have to copy from this
这一次,中国人做了他们自己的设计,没有抄袭。看来轮到西方抄袭了
ezequiel Alberto
If it runs good for quite some time, I would totally buy it for 50k.
如果跑一段时间没问题的话,我愿意花5万美元买一辆
RANDYS REVIEWS
I like!
我喜欢
dazzaburger
It will be considerably cher than the L5
价格肯定比L5便宜多了
Doni
Nice
不错
M M
Thank you for this great review, but what about the price?
谢谢。价格多少呢?
aoqq E
M M 50k usad
5万美元
Akairo Hoshi
50.000€ without taxes, but it might be around 70/80k when it comes to Europe because the Chinese price is only so low so people can afford it with the notoriously high Chinese automobile tax (this car costs around 100.000€ in China with taxes)
不含税的话5万欧元,卖到欧洲的话,大约七八万欧元。
elton zandamela
RR copy
模仿了劳斯莱斯
Zone6TV
Great review. Great car! Greetings from America.
好车。
NK DoSon
where did you get the design? :)
设计是从哪里来的
Bart Simpson
They hired Audi designers...
聘请了奥迪设计师
Hank Hill
It looks like a Lincoln and a Bentley continental had a baby
看起来像是林肯和宾利大陆的混合
TONY MG
Honestly, they look completely different to me. The design language used on H9 is different from these two brands. and stop saying copy, it's not. If u want find daddy of a car design, u will find every design is copied, the point is u need to tell the unique design language, then it's a great design on a car. btw h9 is beautiful car
老实说,在我看来他们完全不同。红旗H9使用的设计语言与这两个品牌不同。别再说复制了,不是的。
仔细看一款车的设计,你会发现每一个设计都是抄袭的,关键是你需要有独特的设计语言,这才是一款好车的设计。
总的来说,红旗h9这车漂亮
sidney ani
Only Americans buy Lincoln.. No one gives a fuck about Lincoln outside America... American cars =unreliable
只有美国人买林肯车。在美国之外没人在乎林肯车,美国车不可靠
Hank Hill
sidney ani u do know Buick is one of the best selling cars in China. Lol.
你知道,别克车是中国最畅销的车之一吗,哈哈哈
han green
I saw many Lincoln in china,recently
我最近在中国看到很多林肯车
Michael Khung
seat leather sewing skill needs improvement.
座椅皮革缝制技术有待提高。
Mughal Darvesh
I love the car. It's a beauty. Heaters gonna hate it.
我喜欢这车,美啊
박윤석
I cant trust China cars
Agree?
我对中国车没有信心。大家同意吗?
Mike Coxlong
Lets see how long this 'Made in China' diarrhoea of a car last. 5 months? Or less?
这辆中国车能开多久,5个月?
George Schmid
I would not drive this car even it would be costless. Chinese cars you can forget. Its always very low under European standard. In all points.
即使不要钱,我也不会开这车。中国车还是算了,没有达到欧洲标准
Gua Gua And Lily
Too bad only in China
可惜只有在中国才有卖
Amicus Ad Aras
Chinese people have magic to make all luxuries look cher
中国人有魔法啊,能让各种豪华车看起来廉价
视频:https://www.youtube.com/watch?v=-cblNVuNBpA