Which major Indian cultures will die soon?
哪些主要的印度文化将很快消失?
以下是Quora读者的评论:
Pratik Bhatt, M.S Computer Engineering, Wayne State University College of Engineering
I can talk about a culture that i come from. I come from Mid-west state Gujarat. We have a festival of "Navratri" which is devoted to "Amba" goddess in which girls age from 5–25 forms a circle and does a graceful dance known as "Garba/Raas/Dandiya"
我可以谈谈我的文化背景。我来自中西部的古吉拉特邦。我们有一个节日的"Navratri",祭祀"安巴"女神,5到25岁的女孩围成一个圈,跳起优雅的舞蹈。
When i was growing up i used to go with my parents and brother to watch them because it used to be set up at "EVERY CORNER OF THE ROAD" .
在我成长的过程中,我经常和我的父母和哥哥一起观赏节日盛况,因为"每个街角"都有人庆祝。
This culture is crushed down by large party plots having disco music and people dancing and doing "Garba" in weird way just to make financial profit for the organisers. Every big city of Gujarat like Rajkot(my home city) ,Ahmedabad , Vadodara, Gandhinagar, Surat, Anand , Mehsana, Junagadh has almost 40 different "Disco Dandiya" party plots where thousands of people go to dance or watch them without realising the true value behind it.
可惜这种文化已经被大型派对摧残了,迪斯科音乐和人们以奇怪的方式跳舞庆祝,只为了给组织者带来经济利益。古吉拉特邦的每一个大城市,比如拉杰科特(我的家乡)、艾哈迈达巴德、瓦多达拉、甘达那加、苏拉特、阿南德、梅萨纳、朱纳加德,都有近40个不同的"迪斯科舞会"场地,成千上万的人去那里跳舞或观看,却没有意识到其背后的真正文化价值。
The whole culture is going down each year and the value behind it. I am so lucky that i have seen all of this and could make a good decision and always stayed away from "disco dandiya culture".
整体文化氛围一年不如一年,文化价值也在下降。我很幸运,我见证过这一切,能够做出正确的决定,远离"迪斯科舞厅文化"。
Rishabh Priyadarshi, Once an Indian Always an Indian
Rogan Printing
This rare craft is practised by a lone Muslim family in India, the Khatris, who call the sleepy hamlet of Nirona in Gujarat's Kutch district their home. This family of traditional artists has steadfastly kept this intriguing craft alive for over three centuries, protecting it from vanishing into the folds of history.
罗根印刷
在印度古吉拉特邦库奇区寂静的尼洛那村,有一个名叫哈特里斯的家庭在练习这种罕见的手艺。这个传统艺术家的家族在三个多世纪的时间里,一直保持着这一有趣的工艺,保护它不消失在历史长河中。
The Prime Minister of India, Narendra Modi, gifted a couple of exquisite handcrafted Rogan paintings to the US president, Barack Obama, during his visit to the US in 2014.
印度总理纳伦德拉·莫迪在2014年美国总统巴拉克·奥巴马访美期间,送给他两幅精美的罗根手工画。
Rogan printing involves using a thick bright paste to paint on plain cloth. The paste is prepared by boiling the oil of safflower, castor or linseed and pouring it into water.
罗根印刷会使用一种厚而明亮的浆糊在普通的布上作画。这种糊状物是由红花油、蓖麻油或亚麻籽油煮沸后倒入水中制成的。
This paste is mixed with chalk, coloured pigment and a binding agent to form a thick dye. The painting on the cloth is done using a stick, a rod or a metal block. Yellow, blue and red are the most frequently used colours.
这种糊状物与粉笔、颜料和粘合剂混合,形成一种浓稠的染料。布上的画是用一根棍子、一根杆子或一块金属块作画的。黄色、蓝色和红色是最常用到的颜色。
To prepare the paint, castor oil is heated in a vessel and continuously stirred for more than 12 hours till it catches fire. The paint-maker takes extreme care to ensure it doesn't get burnt.'The residue is then mixed with cold water until it thickens into a sticky elastic paste called rogan.
为了准备颜料,人们把蓖麻油放在容器中加热并持续搅拌超过12个小时,直到着火。油漆匠非常小心地确保不会烧焦。"然后将残渣与冷水混合,直到它变稠,变成一种叫做罗根的有弹性的粘性糊状物。"
Delicate and precisely painted, Rogan paintings are often created from the artist's own imagination. The artists, who prefer sitting on the floor while working, place a small amount of the paint paste on their palms. Next, they use oversized blunt needles or rods to gently stretch some strands, which they place on the fabric in elaborate patterns. The artists' fingers under the fabric help the paint spread and shape the design. As the design are mostly created towards one edge of the fabric, the cloth is then folded to create a mirror image on the other side.
罗根的画十分精致,常常是由艺术家自己的想象创作出来的。艺术家们工作时喜欢坐在地板上,在手掌上涂上少量的颜料。接下来,他们用特大号的钝针或木棒轻轻蘸取颜料粘液,并将它们以精致的图案描绘在织物上。艺术家的手指在布料下帮助颜料扩散并塑造图案。由于设计主要是在织物的一侧进行的,然后将织物折叠,在另一侧形成镜像。
An extraordinary aspect about this technique is that during the entire process of the gummy paint being carefully twisted into motifs, the blunt needle never comes into contact with the cloth.
这项技术的一个特别之处在于,在将粘稠的颜料绘制成图案的整个过程中,钝针从未与布料接触。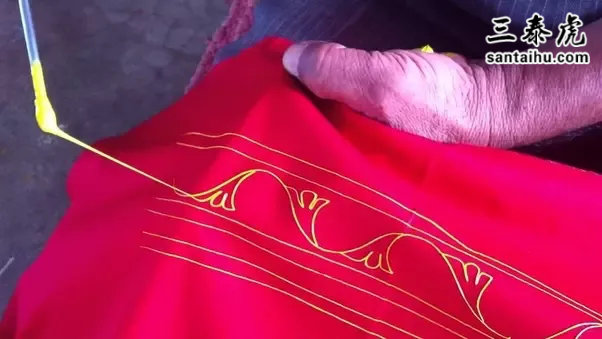 Prya, Consultant
Men wearing dhoti or lungi at home.
Women always sporting a bindi.
Lighting the lamp in the evening.
男性在家穿腰布或头巾。
女人总是在眉心点上红点。
晚上点灯。
Loud bhajans by the children in the family after the traditional lamp is lit at dusk.
Young ladies in full skirts and dhavanis as a mainstream dress as it used to be till 90s in south india; These dresses given way to western attire and kurtas.
傍晚,传统的灯笼点亮后,孩子们发出响亮的祈祷声。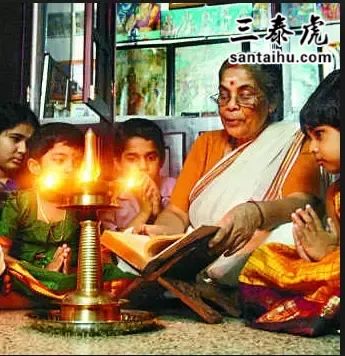 年轻的女士们穿着长裙,达卡是主流服饰,在印度南部直到90年代都是如此;现在这些服装被西方服装和库塔服装取代。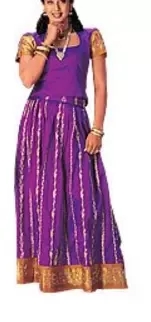 Combined effort of kith and kin for a wedding or any other family function. These days event management companies provides even the brides-maid.
亲朋好友互相帮助,举办婚礼或其他家庭活动。如今,活动策划公司甚至提供伴娘服务。
Young couple staying with parents or in-laws.
年轻小夫妻与父母或公婆住在一起。
Usually birthday celebration menu amongst hindus in Kerala were pure vegetarian. It's no more that!
喀拉拉邦印度教徒的生日庆祝菜单通常是纯素食。现在再也不是那样了!
译文来源:三泰虎 http://www.santaihu.com/49186.html 译者:Joyceliu
Murali Krishna N, studied at The Institute of Chartered Accountants of India
Future Indians will miss the following things:
Children enjoying delicious mom-made food. ( As the last generation of cooking moms have not transferred their knowledge to either their sons or daughters)
未来的印度人会怀念以下东西:
孩子们享用妈妈做的美味食物。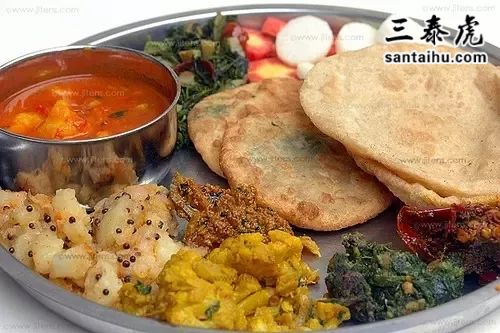 Kids having a knowledge about their mother-tongue. (Apparently English is so cool)
The boon and bane- being a part of sibling rivalry. (Most young couples I've known are happy having only a single child. Most are not open to adoption either)
了解母语的孩子。(显然,说英语很酷)
欢乐与烦恼——手足间的竞争。(我认识的大多数年轻夫妇都很高兴只有一个孩子。大多数也不接受收养)
Risk averse behavior of the middle class masses. Middle classes are slowly becoming motivated to open up entrepreneurial ventures.
中产阶级大众的风险规避行为。中产阶级正慢慢地有了创业的动力。
Lavish weddings. People are getting increasingly saner. No body wants to spend on a grand weddings only to be pointed out by a distant relative later as to how the cab arrived 5 minutes late on their arrival.
奢华的婚礼。人们越来越理智了。没有人愿意为盛大的婚礼一掷千金后,被远亲抱怨出租车迟到了5分钟。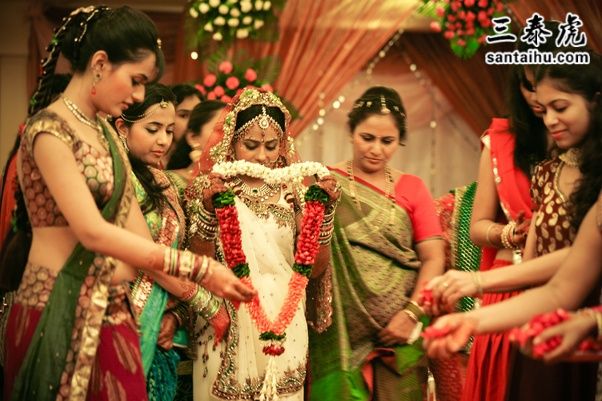 Dheeraj Gupta, studied at MBA in Human Resource Management
There are many Indian Cultures which are on the verge of dying - sooner or later:
Visiting others home (neighbor, friends, relatives etc) and distributing sweets on festivals (such as Diwali), happy occasions (birth of a child, getting a job, going abroad, etc).
印度有许多文化濒临灭亡——迟早都会:
拜访别人的家(邻居、朋友、亲戚等),在节日(如排灯节)、喜庆的日子(生孩子、找工作、出国等)分发糖果。
Wishing friends and relatives on birthdays, festivals etc. over phone calls. Rather we do it now only through facebook, whatsapp which is a lesser interactive method than calling that person over phone.
Having gupshups (group 'face to face' long chats) in a mitramandli (Friend circle).
电话问候亲朋好友生日、节日等。相反,我们现在只通过facebook和whatsapp来做这件事。
3.在朋友圈里进行"群视频"。
Wearing Saarees: Earlier ladies used to wear saarees on regular basis even at homes while carrying out their daily chorus. Saarees are beneficial in the following ways:
a) It is very graceful.
b) It is hygienic as air ventilation is very proper instead of having Jeans/leggings etc.
Living in a united family
4.穿纱丽:早期女士们经常穿着纱丽,甚至在家里也会穿。沙丽有几个有点: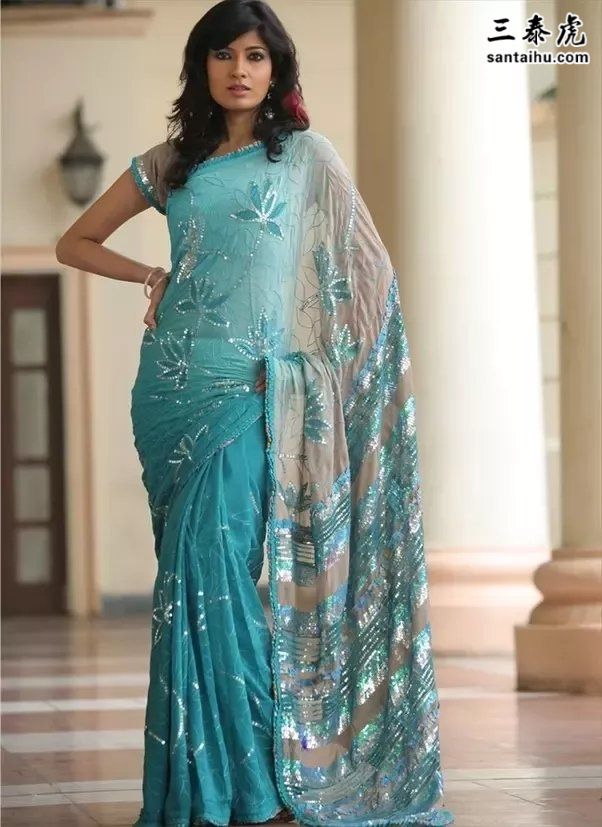 a)非常优雅。
b)卫生,因为与穿着牛仔裤/打底裤等相比,沙丽很透气。
生活在一个大家庭
Almost all the Indian festivals are now loosing their sheen. None of them is as enjoyable as it would be in the past. For example, Holi (colour festival of North India).
Earlier it is a whole day affair - we used to play the colours the whole day with all the neighbor, friends etc. But now it is not extended past 2-3 hrs and that is also to very limited extent.
6.几乎所有的印度节日现在都渐渐失去了光彩,不像过去那样有趣了。例如,胡里节(印度北部的颜色节)。
早些时候这个节日可以庆祝一整天——我们会和邻居、朋友玩一整天的颜色游戏。但现在不会超过2-3小时,范围也非常有限。
Preparing Sweets at home on special occasions (viz. festivals etc.) – this culture is now dying.
7.在特殊场合(如节日等)在家准备糖果——这种文化正在消亡。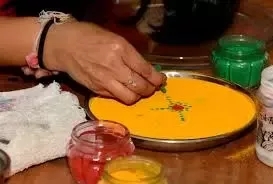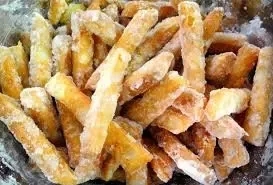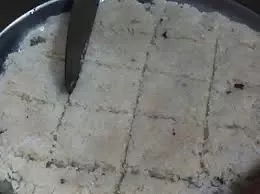 Dinesh Reddy, Associate Software Engineer (2017-present)
I read the answers of my fellow quorans and I would like to add a few points. In my view following Indian cultures will die soon.
我读了Quora同胞的答案,我想补充几点。在我看来,追随印度文化很快就会消亡。
Doing pradakshina round the tulasi plant.
Applying cow dung on the walls and floor
在图拉西工厂附近进行绕拜仪式。
把牛粪涂在墙上和地板上。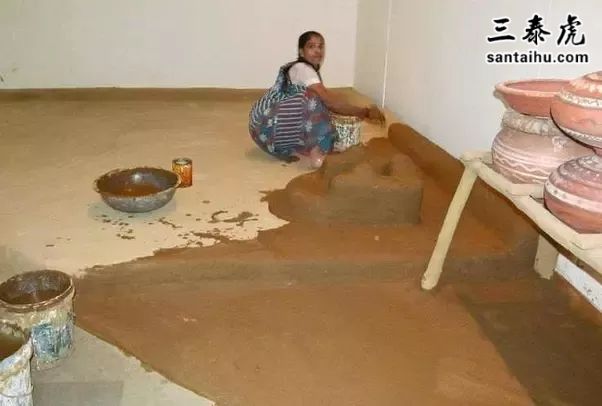 A cow is considered very sacred in Hinduism and it is called Gow Maata (Cow, The mother). Cow dung and cow urine are considered holy in India.
在印度教里,牛被认为是非常神圣的,它被称为"母亲牛"。牛粪和牛尿在印度被认为是神圣的。
Applying Cow Dung is part of the cleaning process in Indian villages. In festivals also, after cleaning their houses, rural people implant cow-dung paste on walls and floors for making their houses pure just like urban people make their houses painted for getting the festive feel.
在印度的村庄里,使用牛粪是清洁过程的一部分。在节日里,农村人打扫完房子后,会在墙上和地板上涂牛粪膏,就像城市人粉刷房子一样。
Benefits Of Applying Cow Dung
The recent researches have proved that Cow dung has the power to kill bacteria which are harmful to humans. Cow Dung is considered good for health. It is very rich in minerals and a great factor of anti-bacterial. It prevents people from various diseases and health issues.
使用牛粪的好处
最近的研究证明,牛粪具有杀灭对人体有害的细菌的能力。牛粪有益于健康。它富含矿物质,是很好的抗菌因子,可以预防各种疾病和健康问题。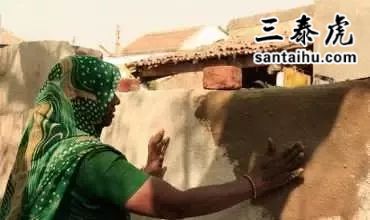 Small insects like scorpions, centipedes etc don't come near to the places which are coated with the paste of Cow dung.
小昆虫,如蝎子、蜈蚣等,不会靠近涂有牛粪的地方。
Cow Dung acts as a natural mosquito repellent. Mosquitoes stay away from such places.
The floor which is coated with cow Dung remains warm in winters and cold in summers
牛粪是天然的驱蚊剂。会让蚊子远离。
铺有牛粪的地板,冬暖夏凉。
cooking food in earthen pots
在砂锅里做饭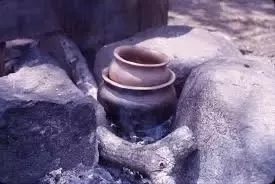 Vinod
Upanayana
Upanayana is one of the traditional rites (samskara) that marked the acceptance of a student by a guru (teacher) and an individual's entrance to a school in indan culture. The tradition is widely discussed in ancient sanskrit texts of India.The sacred thread(yajnopavita) is received by the boy during this ceremony, that he continues wearing across his chest thereafter.
在印度文化中,入教礼是一种传统仪式,标志着学生被古鲁(老师)接纳,进入学校。这个传统在印度的古梵文文献中频繁出现。仪式上这条神圣的线(耶诺帕维塔)会交给男孩,之后他会一直戴在胸前。
Pray before eating lunch/dinner.
Before starting a meal, Hindus offer food to God and thank God for the meal they are about to receive.
午餐/晚餐前祷告。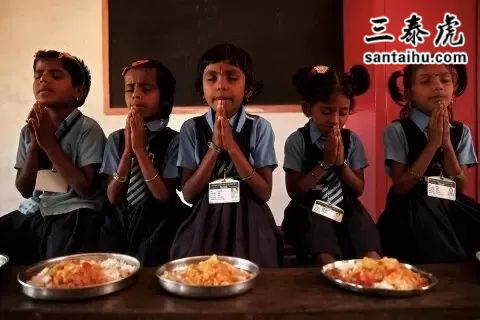 在开始用餐前,印度教徒将食物献给上帝,并感谢上帝赐予他们即将享用的大餐。
Gilli Danda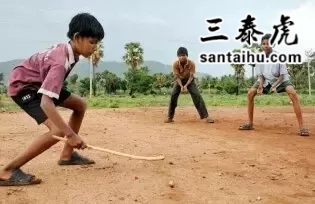 Kancha or Marbles or goli
Kancha弹珠或迷宫滚球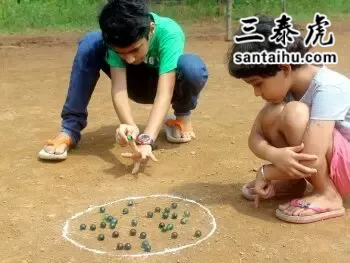 Bullock cart
It is a two-wheeled or four weeled vehicle pulled by bull. It is a means of transportation used since ancient times.
Tilak or vibhooti on men's forehead
牛车
它是一种由公牛拉动的两轮或四轮的交通工具。它是自古以来使用的交通工具。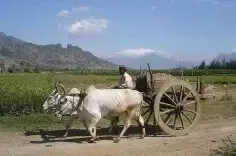 男士额头上的小红点或维布胡提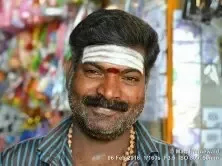 Sindhoora/ bindi on women forehead、
女人的额头上的辛德珀拉或眉心红点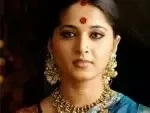 Namaste of this style .
合十礼。