Nasa's LRO camera spots Chandrayaan-2 lander Vikram's debris on Moon surface
NASA的月球勘测轨道器相机在月球表面发现"维克拉姆"号着陆器的碎片
BENGALURU: Analysis of the images taken by Nasa's Lunar Reconnaissance Orbiter (LRO) Camera, released early on December 3 (IST), for the first time, has indicated the debris of Vikram , the Chandrayaan-2 lander that hard-landed on Moon on September 7.
班加罗尔:美国宇航局12月3日发布的月球勘测轨道飞行器(LRO)相机拍摄的图像分析首次显示出"月船2号"着陆器"维克拉姆"号的碎片。"月船2号"是9月7日在月球上硬着陆的。
In a statement, Nasa said: "Vikram lander found." An image of Moon with blue and green dots show the impact point of Vikram and an associated debris field.
NASA在一份声明中表示:"维克拉姆号着陆器找到了。"一张有着蓝点和绿点的月球图像显示了"维克拉姆"号的硬着陆点以及碎片区域。
"Green dots indicate spacecraft debris (confirmed or likely). Blue dots locate disturbed soil, likely where small bits of the spacecraft churned up the regolith. "S" indicates debris identified by Shanmuga Subrnian," the statement read (see image).
声明称:绿点表示残骸(已确认或疑似)。蓝点表示扰动土壤,很可能是小碎片搅动的浮土。"S"表示碎片是由萨勃拉曼尼亚发现的。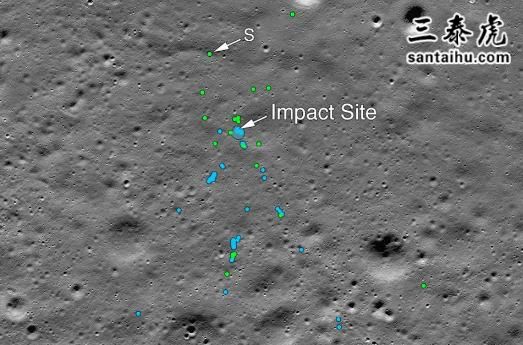 印度时报读者的评论:
译文来源:三泰虎 http://www.santaihu.com/48897.html 译者:Jessica.Wu
外文:https://timesofindia.indiatimes.com/india/nasas-lro-camera-spots-vikram-debris-on-moon-surface/articleshow/72340565.cms
Top Comment
India must look forward... Chandrayan-3 is ready and will blast off shortly... We shall rectify the errors... and be successful in landing on moon soon.
印度务必向前看……"月船3号"已经准备好了,不久将发射…我们将纠正错误,成功登月。
avijit hi• 6 hours ago
Come on ISRO, Come on. Good Attempted. Ready for the NEXT. All the best.
加油,ISRO。准备下次登月,愿一切顺利!
K Mohan• 7 hours ago
And this proved Vikram nearly landed on Moon and mission was 98 percent sucess
这证明了"维克拉姆"号几乎在月球上着陆成功了,这次任务98%是成功的
king• 6 hours ago
i like your maths..lol...are you one of the paid IT cell here..lol.. now you know the difference between the indian thinking and the westerners thinking..it is more prudent and strong to accept defeat than say stupid things like 99 or 98 or 97 success.accept and move forwards and learn from past mistake so you are successful the next time than be arrogant.
接受失败比说出98%成功之类的蠢话更明智。接受失败,继续前进,从过去的错误中吸取教训,这样下次你才能成功,不要傲慢自大了。
ASHISH CHOUDHARY• 6 hours ago
seems instead of slow descent it just rammed into moon surface like a missile
似乎不是缓慢着陆的,而是像一枚导弹一样撞向月球表面
PutSomeNameHere • 6 hours ago
Yes, it likely fell from 2km above
很可能是从2千米高的地方坠落的
ONE LINER Challenge• 7 hours ago
WHAT USE IS ISRO IF SOMEONE ELSE HAS TO FIND FOR US!!!!!!
靠别人帮我们找到的,要ISRO干嘛!!
Paramjit Singh • 2 hours ago
A Chennai techie, Shanmuga Subrnian, used lunar images from Nasa's Moon's Lunar Reconnaissance Orbiter and studied them to locate the debris of the lander
Better read this news and then comment. We are proud Indians and NASA has 38% Indian techies
是金奈技术人员萨勃拉曼尼亚使用NASA月球勘测轨道飞行器拍摄的月球图像,并对其进行了研究,才确定了着陆器碎片的位置。最好看清楚了再发表评论。我们是自豪的印度人,NASA38%的技术人员是印度人
Common Man• 6 hours ago
Dear isro we love you. Please stay away from po iticians and babaji etc type of people. These baba etc anyway never believe in science no matter what you do. Call them after mission success like you did in the past.
亲爱的Isro,我们爱你。请远离政客。政客从不相信科学的。任务成功后再给他们打电话。
Mudi Ji • 4 hours ago
Well Modi barged into mission control room uninvited. What scientists supposed to do?
莫迪不请自来闯进了登月控制室。科学家能怎么办?
Surya boy• 7 hours ago
Now our desperate useless Finance minister may call a press conference to declare 99% success instead of 98%
现在我们绝望而无能的财政部长可能会召开新闻发布会,宣布印度登月99%是成功的,而不是98%
Truth Seeker• 7 hours ago
What has FM got to do with this? She may be useless but your comment is also useless.
印度财政部长确实无能,但这和财政部长有什关系?
PutSomeNameHere• 5 hours ago
We should also take time to analyze our mistakes, so we can avoid them later. NASA learned that way.
我们也应该多花时间分析错误,这样就可以避免以后犯同样的错误。NASA就是这样过来的。
Deepak Tripathi• 5 hours ago
all this while our scientist were trying to contact the debris? there was also a report by ISRO that it is lying on moon in a tilted position. quite sad that ISRO faked news
印度空间研究组织(ISRO)有一份报告称,"维克拉姆"号正以一种倾斜的姿势躺在月球上,很遗憾ISRO说谎了。
Sanjay• 3 hours ago
Good! Thanks NASA for locating it.
I assume by now ISRO has found out the root cause of crash landing and planning to fix in next mission. All the best for chandrayaan 3.
好!感谢NASA。
我想现在ISRO已经找到了月船2号坠毁了的根本原因,并计划在下一次任务中修正。祝"月船3号"一切顺利。
nanksn • 6 hours ago
Hope this helps ISRO to identify issues, resolve for a successful next flight..
希望这能帮助ISRO找到问题,解决问题,下次就能成功。
Kumar Sundar • 6 hours ago
Why NASA has to find?
why can't we?
为什么NASA能找到,而我们不能呢?
Sourabh Chatterjee • 3 hours ago
by publishing this message, now it is confirmed that isro has sent the spaceship to moon successfully. though it is unfortunately crashed. we are proud Indian agency could achieve it indigenously. it will also stop those people who have been making doubt and mocking on isro.
well done isro. continue your work in this field. we wish for all the success.
现在可以确认Isro已经成功将"月船2号"送上了月球,尽管不幸坠毁了。我们为印度能够自主实现这一目标感到自豪,这也会让那些质疑、嘲笑Isro的人闭嘴。干得好Isro,再接再厉,祝一切顺利。
Murli• 3 hours ago
Failures are the step stone to success. Forget about the past con trate on the present and what needs to be achieved
失败是成功的垫脚石。忘记过去,专注于现在,专注于需要实现的目标
Nationalist • Mumbai • 3 hours ago
Modi hai toh mumkin hai. Proud of u Modi ji
莫迪万岁。为莫迪感到骄傲
Mathaia • 4 hours ago
all this happened because of feku
都怪莫迪,月船2号才坠毁的
truth hurts • USA • 5 hours ago
landed on the moon twice in 2 tries without much fanfare. It shows how far India is behind in technology.
曾两次尝试登月,两次都成功了。这表明印度技术远远落后于。