IT companies may shed 30,000-40,000 mid-level staff: Mohandas Pai
莫汉达斯·帕伊:IT公司或裁减3 -4万名中层员工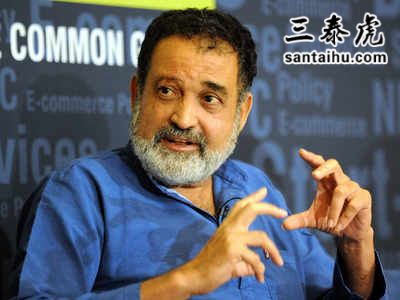 BENGALURU: India's information technology services companies may shed 30,000 to 40,000 middle-level employees this year as growth slows down, IT industry veteran T V Mohandas Pai said on Monday.
班加罗尔:IT行业资深人士莫汉达斯·帕伊星期一表示,随着增长放缓,印度信息技术服务公司今年或裁减3万至4万名中层员工。
The former chief financial officer of IT major Infosys Ltd termed these job losses as once-in-five-years normal phenomenon with maturing of the industry.
这位IT巨头印孚瑟斯前首席财务官(cfo)表示,随着IT行业日趋成熟,五年一次裁员是正常现象。
"As in all sectors in the West, in India too when a sector matures so many people will be there in the middle level who will not be adding value to the sry they get," Pai said.
帕伊称:"就像西方所有行业一样,印度也是如此。当一个行业成熟时,很多人将停留在中层岗位,无法提升自己的价值实现升职加薪。"
Promotions are okay when companies are growing fast but when it slows down, people getting fat sries will aggregate at the higher level, prompting companies to periodically reset their pyramids, and shedding people, he said.
他说,当公司发展迅速时,升职是可以实现的,但当公司发展缓慢时,获得高薪的人就会聚集在更高的职位上,这就会促使公司定期调整金字塔结构,然后裁员"
"It's going to happen again and again and again every five years," said Pai, chairman of Aarin Capital and Manipal Global Education Services.
Aarin Capital和Manipal全球教育服务公司董事长帕伊表示:。"这种情况每五年就会发生一次。"
"Nobody is entitled to a fat sry and high-paying job unless you perform, ? You have to deliver value".
"没有人有资格获得一份高薪工作,除非你表现出色,对吗?你必须提供价值"。
"All across industry, may be 30,000 to 40,000 in a year ... ," he said when asked about the number of middle-level staff who would lose their jobs.
当被问及将失业的中层员工人数时,他说:"整个行业一年可能会裁3万到4万人……"
But Pai said about 80 per cent of those who lose jobs would have employment opportunities in industries in general if they are specialists.
帕伊表示,如果是专业人士,大约80%的失业者将在一般行业获得就业机会。
印度时报读者的评论:
译文来源:三泰虎 http://www.santaihu.com/48823.html 译者:Jessica.Wu
外文:https://timesofindia.indiatimes.com
Sarcastic Bee • Pune • 2 days ago
Mr. Mohandas Pai, a staunch Modi supporter has started giving pessimistic view. Think how bad the shape of economy must be for a blind bhakt like Pai to be giving such prediction.
莫迪的坚定支持者莫汉达斯·帕伊开始表达悲观看法。经济形势一定很糟糕,他才会做出这样的预测。
RT• 2 days ago
in Modi rule he is not getting any Domestic gt project and TCS & Wipro bagging all domestic projects... People like you will even blame Modi for forgetting to flush your toilet
在莫迪执政期间,他没有获得任何政府项目,塔塔和威普罗包揽了所有国内项目……他这样的人甚至会指责莫迪忘记冲厕所
rajesh kp• 2 days ago
Every 5 year it may happens !!! But we didnt see such things under MMS 10 year go nment..Last 5 years ,every one loosing job or job at risk because of this stupid demonetization ...
每五年就会发生一次!!
辛格总理执政的10年里,我们没有看到这样的裁员啊。
过去5年,"废钞令"导致很多人失去工作或面临失业危险。
Rational View• 2 days ago
Dont mask layoffs due to poor economic condition by saying its regular phenomena or such clarifications. How come we never heard of this phenomena before. Pn and simple, business climate is bad.
说这是正常现象,不要澄清了,不要掩盖由于经济状况不佳而导致的裁员。我们以前怎么从未听说过这种正常现象呢?说白了,就是因为商业环境很差。
Prashanth Rao• 2 days ago
What he is saying is what happens in the IT industry. A significant part of the revenue of the IT industry is driven by $ or € coming in. The rates are not increasing for the last 15 years. Actually has reduced in actual $ terms due to competition. But sries increase by 6-10% every year. So effectively in 5 years, the sry would have increased between 35 to 60%. So at an individual level the profits would reduce, so companies clean up. Nothing to do with the economy here or outside
他说的是IT行业。IT行业的很大一部分收入来自于美元或欧元的流入。在过去的15年里,这个比例并没有增加。由于竞争,美元实际上已经减少了。但是工资每年增长6-10%。所以实际上在5年内,工资会增长35%到60%。利润减少,公司会裁员。这与国内外的经济形势无关
Bigde Thakur• 2 days ago
What Mr. Pi has stated is absolutely correct, most of the middle level managers in IT companies do not add any value to the organizations. They neither have technical competency nor have any willingness to learn any new technology. You would often find them indulged in office po itics.
帕伊先生所说的是绝对正确的,大多数IT公司的中层管理人员并没有为公司增加任何价值。他们既没有技术能力,也没有学新技术的意愿。
Joydeep Bairagi• 2 days ago
this pi guy i also one among these incompetent people.. otherwise why he hired and retained them for so long.. he should shed some of his personal wealth to pay for these unfortunate people''s retirement benefits..
这个叫帕伊的家伙也是这些无能之辈中的一个。他应该拿出一部分个人财产来支付这些不幸被裁人员的退休金
Rabahuto • 2 days ago
Mr. Mohandas, from your position it is very easy to say this but it is very very unfortunate for the sufferers. People like you will never understand the plight of middle and lower income groups.
莫汉达斯先生,从你的立场来看,说得很轻松,但对被裁者来说,这是非常不幸的。你这样的人永远不会理解中低收入群体的困境。
Sumith K• 2 days ago
First he should be fired being so insensitive
首先应该被解雇就是他,他太麻木不仁了
Citizen• 2 days ago
Mid-level lazy staff who only indulge in po itics and is utterly useless for the company must be FIRED and should DIE STARVING IN GUTTER!
懒惰的中层员工对公司毫无用处,必须解雇,让他们饿死在贫民窟!
Sasi Dash• 2 days ago
They should follow Japanese practices where employees are not thrown out.
Every body shares in the pain.
他们应该效仿日本的做法,不裁员。
大家一起分担痛苦。
Sundarv• 2 days ago
You have raised a very valid point. Why come the top level staff and the management do not take any pay cuts ? And how come none of them is ousted ?
你提出的观点很有道理。为什么员工和管理层不接受减薪?为什么他们没有一个被裁?
Angry Man • 2 days ago
All Rajeev Gandhi''s fault. If he did not introduce computers then 20 million people would not be working in IT sector in India today. Then 40 thousand would not love their jobs. All Rajeev Gandhi''s fault. Mitron mai zero tolerance aur zero jobs ki taraf India ko lay jaunga.
都是拉吉夫·甘地的错。如果他不引进电脑,那么今天的印度就不会有2000万人在IT部门工作,那么这4万人就不会失业。全是拉吉夫·甘地的错
Manu • 2 days ago
Mr Mohan das pai have you added any value when you were in infosys or have your company spend any money on transforming skills of employee.Have you deserved such a fat sry.
帕伊先生,你在印孚瑟斯的时候有没有为公司产生任何价值,你的公司有没有提升员工的技能?你配获得这么高的薪水吗?
Saqib Munees• 2 days ago
who needs a job we just need jio free data1.5 GB per day
谁要工作,我们只要免费流量,每天1.5 GB