What are the main problems faced by Indian Railways
印度铁路面临的主要问题是什么?
以下是Quora读者的评论:
Abhishek Lakra, B.Tech Mechanical Engineering, Indian Institute of Engineering Science and Technology, Shibpur (2018)
I was on a vacation to Chennai with my family . We booked our train tickets in a 2 tier coach 4 months prior to our journey. We had our returning train on 18th June from Egmore station. Our train (Chennai Egmore-Guwahati Express) was expected to arrive at 10:15 pm and depart at 10:30 pm.
The coach display boards on the platform were not functional. Had they been working it would have saved the rush among the passengers. The train was few minutes late. We waited for the passengers to board at first as we already had our seats booked. I wanted to crash on my seat after a long tiring day. The train halted and there was no sign of our coach. We searched till the last coaches to find ours. The passengers of 2 tier coach were stranded on the platform. While searching, I saw an attendant directing the passengers towards a 3 tier coach. On enquiring we got to know that the 2 tier coach was degraded to 3 tier coach without informing the passengers.
Nonetheless, we got on board. After we had settled, put off our luggages, there came a lady who cmed our seat to be hers. We had confirmed tickets and there was no possibility of two persons having the same seat number. The lady said that she had booked the tickets only a day ago. We checked our PNR number online and it said that our confirmed seat has been changed to some other seat and our original seat has been allocated to that lady.
我和家人去钦奈度假。我们在出发前提前4个月订了二等车厢火车票。我们于6月18日从埃格莫尔车站返回。我们的火车预计晚上10点15分进站,晚上10点半出站。
站台上的显示屏幕坏了。如果显示屏能正常显示,就可以避免乘客之间的拥挤。火车晚点了几分钟。因为我们的座位已经提前订好了,我们就让其他乘客先上车。经过漫长而疲惫的一天,我只想一屁股坐到座位上。火车停了下来,我们的车厢不见踪影。我们一直找到最后一节车厢才找到。2等车厢的乘客被困在站台上。在寻找的过程中,我看到一名乘务员引导乘客走向3等车厢。经询问,我们得知在没有通知乘客的情况下,2等车厢被降级为3层车厢。
尽管如此,我们还是上了车。我们安顿好行李后,来了一位女士,说我们占了她的位置。我们已经确认过火车票,不可能有两个人买到同一个的座位号。那位女士说她一天前才订的票。我们在网上查询了我们的旅客订座记录号,显示我们确认过的座位已经更改为其他座位,原来的座位被分配给了那位女士。
The chaos could have led the passengers to miss the train. All this could have been avoided if the staff performed their duty responsibly and saved the passengers from unnecessary harassment.
The fares of the A/C coaches are now almost at par with the flight fares still there isn't any improvement in the services they provide. The passengers pay such huge fares to get security, privacy, comfort and an overall good experience while traveling in these A/C coaches but the services are same since last decade.
混乱可能导致乘客误了火车。如果工作人员尽职尽责,避免乘客受到不必要的骚扰,这一切本来是可以避免的。
现在空调车厢的票价几乎与机票价格持平,但服务却没有任何改善。乘客们为了安全、隐私、舒适和整体良好的体验而支付如此高昂的费用,乘坐这些空调车厢出行,但所享受到的服务还是与过去十年前一样。
Srinivas Kagita, Traveled almost all major Indian rail routes.
Railways think we are all 'Thief's".
Look at this mug. It costs just Rs.10 or even less if you buy it in wholesale.
But Indian railways don't dare to provide these in the sleeper coach lavatories with a lame reason - People will steal it.
For a 10 seconds assume they are .
A long distance Indian train will typically have 13 sleeper coaches. In each coach, there's 4 lavatories. And 13*4 = Total 52 lavatories.
So it costs just Rupees 520 to provide mugs for the entire train.
Even if the Indian railways badly think each & everyday all these super-hot lavatory mugs will get stolen by its passengers, it's costing them less than half the price of a single long distance ticket.
It don't cost them a hell lot of money even if all the mugs are getting stolen everyday & they have to provide new mugs for each new journey.
But I seriously doubt a passenger who bought a Rs.1300 ticket will like to steal a Rs.10 bathroom mug & put that in their luggage bag.
铁路认为我们都是小偷。
看看这个杯子。它的成本只要10卢比,如果是批发采购,甚至还不用那么多。
但是印度铁路公司不敢在卧铺车厢的厕所里提供这些东西,理由很站不住脚—人们会顺走的。
花10秒钟假设他们是对的。
印度长途火车一般有13节卧铺车厢。每节车厢有4个厕所。13*4 =总共52个厕所。
所以为整个列车提供马克杯只需要520卢比。
即使印度铁路认为每天都会有乘客顺走这些杯子,也只要不到一张长途车票的一半钱。
即使马克杯每天都会被偷,他们也不会花很多钱,他们必须为每一次新的旅程提供新的马克杯。
但是我非常怀疑一个花了1300卢比票价的乘客会去偷一个10卢比的浴室马克杯并藏到他们的旅行袋里?
Neelmani Shrivastava, works at Indian Institute of Technology, Bhubaneswar
*Indian Railways Catering Fraud*
In India if someone want to travel to large distances one has very limited affordable options left like:
Air travel (Flights) - For relatively rich ones and
Trains – For middle and lower classes
As I also belong to middle class and mostly use train to travel anywhere.
Recently I went to Bangalore for my internship.
To come back I booked ticket in 12649 - YESVANTPUR - H NIZAMUDDIN Karnataka Sampark Kranti Exp.
I boarded the train and after sometime one of the serviceman came with water bottles, I asked for one on printed price but he refused to give and I had to buy on demanded price. This same continue for whole day as I had no options left and had to pay the demanded price i.e. 40Rs for breakfast instead of 30Rs, 100Rs for Veg. Meal (lunch) instead of 50Rs and 130Rs for Non- Veg Meal (dinner) instead of 55Rs. I argued every time and even showed the offi al menu of IRCTC (downloaded from IRCTC PORTAL HOME PAGE) but every time they refused to give and every time I had to pay
*印度铁路餐饮欺诈*
在印度,如果有人想去很远的地方旅行,人们的选择非常有限,比如:
航空旅行(航班)—相对富裕的人群
火车—中下层阶级人群
因为我也是中产阶级,所以我经常坐火车出行。
最近我去班加罗尔实。
我预定了12649号的回程火车票—YESVANTPUR - H NIZAMUDDIN Karnataka Sampark Kranti Exp。
我上了火车,过了一会儿,一个服务人员拿着水瓶来了,我要求以标价购买一瓶,但他拒绝给我,我只好按他索要的价格支付了。这种情况持续了一整天,因为我没有任何选择余地,必须支付索要的价格。早餐要价40卢比,而非标价的30卢比;素餐(午餐)要价100卢比,而非标价的50卢比;非素餐(晚餐)要价130卢比,而非标价的55卢比。我每次都和他们争论,甚至给他们看印度铁路餐饮和旅游公司的官方菜单(从印度铁路餐饮和旅游公司门户网站主页下载的),但每次他们都拒绝我,最后我不得不照单付钱。
译文来源:三泰虎 http://www.santaihu.com/48780.html 译者:Joyceliu
Solutions –
1- They should make some app or web link through which the menu items (price showed there itself) can be ordered directly and one don't has to face the serviceman regarding the payment.
2- All the food items should come with the labelled MRPs like breakfast, Meals, Biryani, etc.
Edit- After reading the suggestions in the comment box, if such things are happening to you should do the following
Firstly clearly mention that you want the food item which is in the IRCTC MENU. If they refuse to provide the items at the price fixed by IRCTC(i.e. for mail/exp Veg meal-50, Non veg-55)
-Please Tweet (railway ministry and Zonal IRCTC as well) the matter along with your PNR, response time is very less(as far as i heard).
-Ask for compnt book as it is mandatory to carry the IRCTC menu items.
-You can also call on toll free number 1800–111–321 (for compnts/suggestions to catering services mon oring cell (CSMC) function at zonal railways level and in Railway Board)
解决方案:
1-他们应该做一些应用程序或网络链接,通过这些菜单项(显示价格)直接订购,而不必通过服务人员来支付。
2-所有的食物都应该贴上标签,如早餐、正餐、印度饭等。
编辑:在阅读了评论框中的建议后,如果这些事情发生在你身上,你应该做以下的事情。
首先要清楚地说明你想要印度铁路餐饮和旅游公司(IRCTC)菜单上的食物。
-如他们拒绝按IRCTC制定的价格出售,请将这种情况连同旅客订座记录号发推文回复还挺迅速(据我所知)。
-要求提供投诉记录簿,因为列车上必须配备记录簿。
-你亦可致电免费电话1800-111-321(向区级铁路部门及铁路委员会的饮食服务监察小组功能提出投诉/建议)
Parameswaran B Annapoorani, Proud Indian
Nothing's wrong with the Indian Railways my brother/sister. If there's something wrong, then that's with you, the Indian public!
Take a look at this:
Indian railways launched Tejas express, a semi high speed train with modern facilities. The train runs at 160 kmph, bio-vacuum toilets, water level indicators, tap sensors, hand dryers, integrated braille displays, LED TV for each passenger with phone sockets, local cuisine, celebrity chef menu, WiFi, tea and coffee vending machines, magazines, snack tables, CCTV cameras, fire & smoke detection. Here's how it looks:
印度铁路没什么问题,我的兄弟/姐妹们。如果有什么不对,那就是你们这些印度公众的错!
看看这个:
印度铁路公司推出了拥有现代化设施的半高速列车Tejas express。列车以每小时160公里的速度运行,配备了生物真空厕所、水位指示器、水龙头传感器、手干机、综合盲文显示器、为每位乘客配备的带电话接口的LED电视、当地美食、名厨菜单、WiFi、茶和咖啡自动贩卖机、杂志、快餐台、闭路电视摄像机、火灾和烟雾探测装置。请看下图: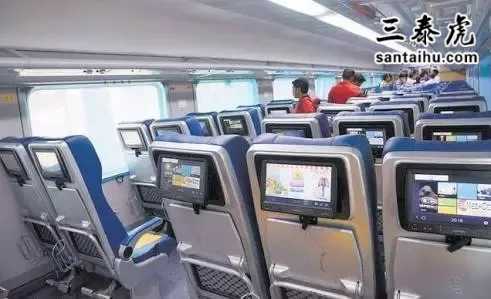 It was introduced in 3 routes and made its maiden journey on 23rd May 2017 and during the maintenance of the coaches after the first journey, the offi als reported that they found cracked LED screens and also reported that some headphones were stolen. The people who were there in the second journey of the train reported were the toilets were not clean and were not flushed. People also threw stones and dged the window of the train.
2017年5月23日,分3条线路推出,并进行了首次旅行。在第一次旅行后的车厢维护期间,们报告说,他们发现LED显示屏有裂缝,还报告说一些耳机被盗。第二批乘坐地铁的乘客反映说厕所不干净,没有冲水。人们还投掷石块,砸坏了火车的窗户。
Now these trains are not used by uneducated or poor people who don't have any idea about the importance of public asset prection because the fares for the journey is 20% to 30% more than shatabdi fare. Hence it's used by fairly rich people who have education and common sense (I blindly assume this). Such people are expected to be the role models
Remember that Indian railways is much cher compared to the railways of developed western countries like UK or USA, where the cost of a 500 km journey would be around £40-£50 (Rs 3500-Rs 4000) compared to that of Rs 1000-Rs 1200 in India.
The public has an extreme shitty mentality. You'll pay less, not care to flush the toilet, steal and throw stones at the train and then crib by coming to Quora, asking questions like "What's wrong with Indian Railways?". Long answer short, it's your attitude and mentality.
PS: Indian Railways is one of the best railway networks in the world, connecting hook and corner of the nation. Day by day, they are improving and it's only a matter of time before it raises to world class standards. Also, by "you" in the answer, I mean the Indian public.
现在,没有受过教育或贫穷的人不能乘坐这些火车,他们对保护公共资产的重要性一无所知,因为这趟旅程的票价比沙特布迪高20%到30%。因此,乘客都是相当富有的人,他们受过教育,有常识。希望这些人能成为榜样。
请记住,印度铁路比英国或美国等西方发达国家的铁路便宜得多,这些国家500公里的旅行成本大约是40- 50英镑(3500- 4000卢比),而印度才1000- 1200卢比。
公众有一种极端糟糕的心态。你希望少花钱,不会冲厕所,顺手牵羊,向火车扔石头,然后还要到Quora上提问诸如"印度铁路怎么了?"的问题。长话短说,这就是你们的态度和心态。
PS:印度铁路是世界上最好的铁路网之一,连接着国家的每个角落。他们每天都在进步,提高到世界水平只是时间问题。另,我说的"你们"指的就是印度公众。
Kargal Gurumurthy, Professor at Dayananda Sagar College of Engineering, Bangalore
1.Trains should run without any accidents
2.They should run as per the schedule on time without a minute's delay
3.The comfort inside the train must be enhanced in terms of cleanliness and seats
4.The quality of the toilets should be upgraded to aircraft toilets
5.No hawker to be allowed inside
6.The speed of the trains to be increased
7.Improve the quality of food served in the pantry car
8.Provide more security for the passengers in the sensitive area
9.Keep all the train stations clean and tidy and noiseless (remove all the TVs which make so much of noise)
10.No beggars and dogs inside the station
11.No body should sleep, litter, urinate …….in the platform
12.No littering on the rails.
13.No body to use the toilet in the station ( it is ok ,if it is a aircraft toilet)
14.No stalls on the platforms
1.火车运行期间不应发生任何事故
2.火车应该按照时间表准时运行,零延误
3.车厢内的舒适度必须在清洁和座位方面得到提高
4.厕所的质量应该升级到飞机厕所
5.小贩不得入内
6.火车的运行速度要提高
7.提高餐车里的食物质量
8.在敏感区域为乘客提供更多的安全保障
9.保持所有的火车站干净整洁,没有噪音(把所有制造噪音的电视都拿走)
10.车站内禁止乞丐和狗入内
11.不许人们在站台上睡觉,乱扔垃圾,小便……
12.禁止在轨道上乱丢垃圾。
13.进站时无人使用厕所(如果是飞机厕所也可以)
14.月台上没有摊点
Srikanth Jayasankar, works at L&T Construction
There is nothing wrong in indian railways. To maintain such a large network of rails( tracks and fastening sy ems) that connects every nook and corner of the country it takes huge sacrifice and commitment.
印度铁路没什么问题。要维持如此庞大的铁路网络(轨道和连接系统),将这个国家的每个角落连接起来,需要付出巨大的牺牲和承诺。
Vijay Sharma, worked at Indian Railways (1973-2013)
The basic wrong is that Indian Railways is run in non professional way and partially as charitable org. To start with see the example of parliament canteen. If yu read the price menu it will look like a free bee sy em. And this is subsidised by Indian Railways. Only God knows who pay for numerous free journeys of MPs MLAs and other privileged free travellers.
Free stay at Railway platforms , bathing, encroachment on Railway land is a common activity.
Apart from from above there are many social obligations which are carried by Railways being big and generous organisation. Hence best option is to privatise Indian Railways by kee only operation portion under Go nment.
印度铁路的根本错误在于其运营方式不专业,有点慈善组织的意味。以议会食堂为例。如果你看价格菜单,它看起来就像免费似的。这是由印度铁路公司资助的。只有上帝知道谁为国会议员和其他享有特权的免费旅行者无以计数的免费旅行买单了。
在铁路站台上随意停留、沐浴、侵占铁路用地是很普遍的行为。
除此之外,铁路作为一个庞大而慷慨的组织承担着许多社会责任。因此,最好的选择是将印度铁路私有化,只将运营部分留给政府来负责。
Anubhab Kundu, Trains are my fascination...curiosity and special interest
Basically many.
1.Lack of infrastructure and investment.
2.Lack of cleanliness in rly premises, especially major terminal stations.
3.Very low average speed of trains.
4.Lowest grade of track, train and overall maintainance
问题有很多。
1.缺乏基础设施和投资。
2.清洁度不如人意,特别是那些大型终点站。
3.火车的平均速度很慢。
4.轨道、列车和整体维护水平极低。