Why is China much larger and more-developed than India economically but there are far more Indian CEOs in the US and the technology industry than Chinese CEOs?
为什么中国在经济上比印度更大、更发达,但美国和科技行业内的印度CEO却比中国多得多?
以下是Quora读者的评论:
Anonymous
First Of All … QUALITY Matters Not QUANTITY
This statement is correct upto starting of Civilization to mid 19th century
But as time change revolution changes and needs changes …
Any concept is not fixed for life time. It changes from time to time. As economists say, in olden days, when there was no much technology, and agriculture being main occupation, people needed more children. Where as food, resources are surplus. Also due to some epidemic like cholera, etc they used to loose children. Much change now in our ppl, limited to one or two. But some never change as they still believe fools for wicked reasons. But now more ppl means more needs, their future and survival. Today many things are available, what our forefathers dreamed, like good medical services, living conditions, good communication, employment, housing. But not easy for many. Competition. Resources went down. Our stomachs don't know what is technology, it needs only food.
"As technology grows and devoloped by humans itself. Now 1000 Humans work can done by single computer or Industries are runed by machines robotic arms "
Now More hand , more People ≠ MORE Money , MORE resource
Now More hand more people= less resources , no More money to feed
People below Poverty brings MORE children to starvation..
首先,质量比数量更重要
这句话从文明伊始到19世纪中期,都是正确的。
但随着时代的变化,革命也在变化,需要变化……
任何概念都不是固定不变的。它随时都在变化。正如经济学家所说,过去没有太多的技术,农业是主要的职业,人们需要更多的孩子。哪里有食物,哪里就有资源过剩。也由于一些流行病,如霍乱等,他们过去常常遭遇孩子早夭。现在我们有了很大的变化,只生一到两个孩子。但有些人永远不会改变,因为他们仍然相信愚人有邪恶的理由。今天很多东西都是我们祖先的梦想,但我们已经能享受到,比如良好的医疗服务,生活条件,良好的通信,就业,住房等。但对很多人来说并不容易。这导致了竞争。我们的胃不懂何谓技术,它需要的只是食物。
"随着科技的发展和人类自身的发展。现在1000人的工作只需要一台电脑就可以完成,工业制造由机器,机械手臂控制"
现在更多的手,更多的人≠更多的钱,更多的资源
现在更多的手更多的人=更少的资源,没有更多的钱来养活生活在贫困线以下的人让更多的孩子忍饥挨饿。
Nikhil Bhaskaran, 7 years of China and its closed culture taught me a lot
Having lived in both countries and as part of the technology industry here is my take :
India and China both produce some high quality talent in technology like any other country but even a small % from these countries translate to a huge number because of sheer population size.
Now what are the opportunities for these smarties ?
Indians :
1)Take a job in USA or Europe the best of all options , because it is merit based , well paid and comfortable life .Try to compete,go up the corporate ladder and feel first class citizen of different country.
2)Try to do something in India and there is a small chance u may succeed but it way way too hard compared to option 1 and the quality of life is nowhere near to west.
Chinese:
1)Start something of their own in China, growing domestic market , great infrastructure , talent pool availability , ease of doing business , easy capital availability , feel like first class citizen since it is their own country where westerners find it hard to compete with them.
2) Move to corporate America , work crazy hard always feel like a second class citizen .Miss their country and culture .
我在这两个国家都生活过,是科技行业的从业人员,以下是我的看法:
印度和中国都像其他国家一样,在技术方面培养出了一些高质量人才,但由于人口规模巨大,即使来自这些国家的一小部分人才也意味着巨大的人数。
那么,这些聪明人有哪些机会呢?
印度人:
最好的选择是在美国或欧洲找一份好工作,因为那里的工作有价值,薪水高,生活舒适。
中国人:
1)在中国开创自己的事业,不断增长的国内市场,完善的基础设施,充足的人才库,经商便利度,资金充裕度,因为在中国,西方人很难与他们竞争,所以感觉自己是一等公民。
2)去美国工作,拼命工作,但总感觉自己是二等公民,想念自己的国家和文化。
Summary : So for Indians corporate America/Europe is the only good option available so most try for it and give it their best and get to top CEO posts while for Chinese there are Chinese companies , their own startups and many other options within China so many of them give it a pass and try to compete with American corporations instead of working for them.
简介:因此对印度人而言,美国/欧洲的企业是唯一不错的选择,所以大多数愿意尝试,努力获得CEO的职位,但对中国人而言,他们在中国有中国企业,能自己创业公司,还有许多其他的选择,很多人希望与美国公司竞争而不是为他们工作。
Alyasa Gan, Chief Operating Officer
China are more developed because they attract their brains back to China by paying them huge money and making them millionaires. Chinese happily return to China because they are more comfortable in China than the west.
Indians bring their family out of India and stayed in the west after they succeed in their study and make their home there.
Brainy Indian people are more comfortable in the west and thrive in those area. Indian people therefore thrive the west and brainy Chinese people return to their root more.
Chinese people litsen to the call of the motherland and thats the Chinese culture though not all generally speaking.
There are a lot of scientist that return to China from the west that combined Chinese technology with the west which they call copy bùt of cause is learned not copy. These explosion of knowledge pemeated rapidly in China and widely too.
India is having the effect of brain drain while China is having brain growth. The effect of brain drain is a divider and and brain growth exponential. The different is for example 2×2×2=8 and on the other side 2÷2÷2 =1/2…one the fusion and one of the opposite.
When 2 tech combine the effect is exponential and when technology is lost in one area the other stagnant. Remeber NASA have lost the technology to go to the moon. True or false but the news is intriguing.
中国更发达,因为他们用高薪吸引人才回国,让他们成为百万富翁。中国人很乐意回到中国,因为他们在中国比在西方更舒适。
印度人把他们的家人带出印度,学有所成后留在西方,并在那里安家。
聪明的印度人在西方生活得更舒服,在那些地区发展得更好。因此,印度人帮助西方蓬勃发展,而更多聪明的中国人回归祖国。
中国人民响应祖国的召唤,这就是中国文化,虽然不是全部。
有很多科学家从西方回到中国,他们把中国的技术和西方结合起来,他们称之为复制,但当然了,他们是学习而非复制。这些知识的爆炸在中国迅速而广泛地传播开来。
印度的人才正在流失,而中国人才不断增长。人才流失的影响是除数,人才增长是指数。差距就在于,例如2×2×2=8,而相对的2÷2÷2 =1/2…。
当两种技术结合在一起时,效果是指数级的。记住,NASA已经丢失了登月技术。这消息的真假扑朔未知,但这则新闻引人深思。
Sanchit Agnihotri, lives in India
You can get the answer by looking at the above picture.
China is producing billion dollars companies which are producing jobs to their country, which are providing development to their country.
But India is producing millions of engineers out of which only few are extraordinary and those extraordinary go to USA and work for American companies and earn for themselves and somehow they manage to get citizenship of USA.
Indian CEOs are producing jobs in USA whereas Chinese students after completing their studies go back to their country and start business and help their nation. I don't blame Indians I will blame the go nment as go nment is unable to provide good infrastructure and better funding Indians go and stay abroad with a sustainable future.
In simple terms we have brain drain whereas China doesn't.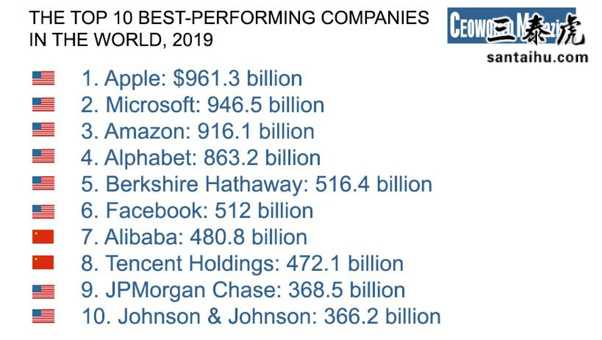 你通过上面的图片就能得到答案。
中国正在培育数十亿美元市值的公司,这些公司为他们的国家创造了就业机会,为他们的国家提供发展机会。
但印度正在培养数以百万计的工程师,其中只有少数是杰出的,那些杰出的人去往美国,为美国公司工作,为自己赚钱,他们努力获得美国公民身份。
印度CEO在美国创造工作,而中国学生在完成学业后回国创业,帮助国家。我不责怪印度人,我责怪政府,因为政府无法提供良好的基础设施和更好的资金环境。
简单地说,我们的人才不断流失,而中国没有这个问题。
Sashank Reddy, Systems Software Engineer at Neato Robotics. Bay area CA
This question is a myth. Indians do hold high positions in US corporations mainly due to the immigration system.
The green card and naturalization process is so long that one ends up stuck in a high paying corporate ladder which is the only way to grow independently.
The chinese pretty much start a small business and grow their own business. China's economic success means there are more educated millionaire in China than in India. So many of them come for higher education to US and others come as investors. Most are not keen on the corporate ladder. The Chinese consume more investor visas and green cards than Indians. You will find a lot more Chinese small and medium business in US than Indians. Also, a lot of Chinese move back to China to start an Enterprise there than Indians moving back. So they are more likely to be the CEO of a Chinese company than a US one.
译文来源:三泰虎 http://www.santaihu.com/48619.html 译者:Joyceliu
这个问题是不存在的。印度人在美国企业中占据高位,原因主要在于移民制度。
绿卡和入籍程序太过漫长,以至于一个人会卡在高薪公司的晋升阶梯上,而这是独立成长的唯一途径。
中国人基本上都是自己创业,发展自己的事业。中国经济的成功意味着中国受过教育的百万富翁比印度多。他们中的许多人是来美国接受高等教育的,其他人是来投资的。大多数人并不热衷于晋升。比起印度人,有更多中国人通过办理投资签证获得绿卡。你会发现在美国的中国中小企业比印度多得多。而且,很多中国人会回国创办企业,印度人不会。因此,他们更有可能成为中国公司的首席执行官,而不是美国公司的首席执行官。
Prashant Chandravanshi, Lives in Bihar, India
Indians have a sl ve mentality. Since time immemorial we have been ensl ved, first by the Islamic rulers, and then by the Britishers, now it is the American tech giants. They love being sl ves. They love working for American companies, because they don't want to risk it, they play it safe, so instead of innovating, instead of creating anything new, they get settled for foreign companies, they start toiling for their American masters.
This sl ve mentality permeates our culture, it is inherent to every Indian. Everyone here wants to play it safe, to traverse the most traveled road.
Chinese, on the other hand, are innovative and ingenious. They create their own FB, Google, YouTube and become CEOs of these.
Which of these is better for one's country?, I ask you.
印度人有努力心态。从远古时代起,我们就被奴役了,先是被ysl统治者,然后是英国人,现在是美国科技巨头。他们喜欢当努力。他们喜欢为美国公司工作,因为他们不想冒险,他们喜欢打安全牌,所以他们不会创新,没有创造任何新东西,他们在外国公司安顿下来,为他们的美国主人辛苦工作。
这种努力心态渗透了我们的文化,它是每个印度人与生俱来的。这里的每个人都想安全一点,选择人迹最广的那条路。
另一方面,中国人具有创新精神和独创性。他们创建了自己的FB、谷歌和YouTube,并成为这些公司的首席执行官。
哪一个对国家更好?我问你。
M.V.S. Murty
I may be wrong but it is my feeling that Asians in general are more intelligent than people of rest of the world, and among Asians, Indians are cut above the rest. Add to that India has good educational institutes, some indigenous, some others set up and groomed in initial years by Advanced nations such as Germany (IITM), UK (IITD) etc. It is, therefore, not very surprising that NRIs occupy top positions in foreign companies as they have good grinding in India and they go on to acquire higher qualifications in foreign universities. But Indians lack in innovation and Industrial growth depends vastly on this. Without Industrial growth, there can't be great development.
我可能说的不准确,但我的感觉是,亚洲人总体上比世界上其他地方的人更聪明,而在亚洲人中,印度人的智商高于其他地区。此外,印度有良好的教育机构,有些是本土的,有些是由德国(IITM)、英国(IITD)等发达国家在早期建立和培养的。因此,印度侨胞占据外国公司的高层职位也就不足为奇了,因为他们在印度得到了很好的磨砺,又在外国大学取得了更高的学历。但印度缺乏创新,工业增长在很大程度上依赖于此。没有工业的增长,就不会有大的发展。
Jiangjun Ling, lives in China
The world's 20 largest Internet technology companies, 11 in the United States and 9 in China, that's the answer!
Excellent Indian talents for American technology enterprises, excellent Chinese talents for Chinese technology enterprises!
世界上最大的20家互联网技术公司,11家在美国,9家在中国,这就是答案!
优秀的印度人才为美国科技企业服务,优秀的中国人才为中国科技企业服务!
Ishwor Gurung
I think it has to do with fluency in english. Most of the Chinese students tend to have very poor fluency in english while Indian students have much better english.
The racial profiling and bigotry towards ethnic chinese surely isn't helping them either. This has increased exponentially during the Trump administration . Ethnic chinese working in the high tech sector is always suspected to be a spy or a thief. The american go nment also have prohibited Chinese students to work in certain high tech sector after graduation while there is no such restriction for indians.
Also The chinese domestic market is also very promising ,many chinese students opt to go back while the opposite is true for Indian counterparts. so much so that more than 80% of the chinese students go back after their graduation.
when you have so much odds against you , it will be very difficult to get Job in the first place leave alone being the CEO of that company in the future.
So many of the Chinese students decide to go back home and succeed there and the result is there for you to see. The rise of the Chinese companies second only to the mighty american companies.
我认为这与英语流利度有关。大多数中国学生的英语往往很不流利,而印度学生的英语要好得多。
种族定性和对华人的偏见肯定也帮不了他们。在特朗普执政期间,这一数字呈指数级增长。在高科技行业工作的华人总是被怀疑是间谍或小偷。美国政府还禁止中国学生毕业后在某些高科技领域工作,而印度学生则没有受到这样的限制。
此外,中国国内市场也很有前途,许多中国学生选择回国,而印度学生则相反。超过80%的中国学生学成毕业后选择回到中国。
当你面对这么多的不利条件时,将很难找到工作,更不用说将来成为某家公司的首席执行官了。
所以很多中国学生决定回国,在中国谋求成功,结果你可以看到。中国公司的崛起仅次于强大的美国公司。
Salman Iqbal
Ellie, your question makes very good logic, but the answer has to be at best conjectural.
One of the reasons seems to me to connect with the fact that China is not fully trusted by the financial influencers and the security establishment of the West. On the contrary, it is perceived as a competitor to the West.
Ellie,你的问题很有逻辑性,但答案也许只是推测。
在我看来,其中一个原因与这样一个事实有关:中国并没有得到对金融行业有影响的机构和西方安全机构的充分信任。相反,它被视为西方的竞争对手。
Dev Gupta, lives in The United States of America (1975-present)
The short answer is Language & Cultural Adaptability rather than raw technical talent.
English is just one of the Indo European languages and is therefore no sweat for most Indians to pick up ( though accent is quite another matter ). Chinese is as different as Swahili and therefore could be a handicap when it comes to communication in English and picking up cultural nuances, a skill critical to a CEO in a US Corp.
But you need to also understand why there are now so many more large Corp.s in China compared to India.
outsourcing of US manufacturing to China and along with it the creation of about 100 million new jobs and trickle up wealth in China, a huge Trade Surplus of $350 billion per year for the last 15 years even as it crippled the US Middle Class. With so much free technology and the new wealth to invest in tech start ups like Alibaba, Baidu etc. ( which cloned Silicon Valley majors like Google etc. while protected by both the Chinese language as well their Govt. ), China now has many successful large businesses headed by the Chinese themselves. Easy availability of capital due to above reasons has allowed China to establish itself also in capital intensive Manufacturing in a big way. The world now knows about China's very modern and extensive High Speed Railway network. But how many know that the technology was strong armed out of the original developers in Japan, France & Germany by first promising them large orders if only they could first train Chinese engineers. NOTE : historically the Chinese have been far ahead of India in mass production, even for quality products e,g. Silk and Ceramics, but they were clueless when it came to modern manufacturing methods ( e,g. Six Sigma, Computer vision based automatic Inspection, Robotics, , etc. ) many of which had been developed in the US, often by Indian American Engineers.
一个很简单的回答是语言和文化适应性,而不仅是技术人才。
英语只是印欧语系的语言之一,因此对大多数印度人来说,学习英语并不难(尽管口音完全是另一回事)。中文和斯瓦希里语一样不同,因此,在用英语交流和了解文化差异方面,中文可能会成为一个障碍,而文化差异对美国公司的首席执行官来说是一项至关重要的技能。
但你也需要明白,为什么中国的大型企业比印度多得多。
将美国制造业外包给中国,并随之在中国创造了约1亿新的就业机会和财富的涓涓细流,在过去15年里,美国对中国每年的贸易逆差高达3500亿美元。有这么多免费的技术和新财富投资于阿里巴巴、百度等科技创业。中国现在有很多成功的大型企业都是中国人自己担任高管。由于上述原因,中国可以很容易地获得资本,这使得中国也可以大规模地在资本密集型制造业中立足。世界现在知道中国非常现代化,拥有庞大的高速铁路网。但有多少人知道,这项技术最初是由日本、法国和德国的开发人员研发的,他们先是向这些人承诺,只要能培训出中国工程师,就能获得大量订单。注:历史上,中国在大规模生产方面一直遥遥领先于印度,即使是在高质量的产品,例如丝绸和陶瓷,但他们对现代制造方法一无所知。六西格玛,基于计算机视觉的自动检测,机器人等)其中许多是在美国由印度裔工程师研发的。