3 foreign entities bids for Jet Airways as deadline ends; Etihad, Hindujas stay away
最后期限已到,三家外国公司竞购捷特航空,阿提哈德航空和辛杜佳集团未参与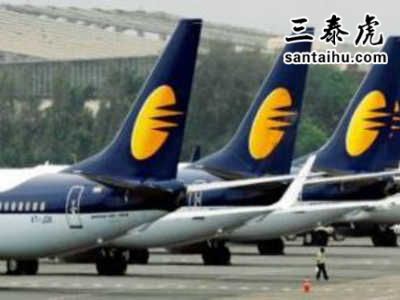 NEW DELHI: Three foreign entities have submitted bids for reviving grounded Jet Airways till Saturday — the deadline set by the resolution professional (RP) to do so. However, Etihad and Hinduja Group are learnt to not have submitted their exp ion of interest (EOI), dimming hope for Jet to fly again.
新德里:截止周六,三家外国公司已投标,希望恢复停飞的捷特航空的运营。周六是专家设定的最后期限。然而,据了解,阿提哈德航空和辛杜佳集团没有提交意向书,这降低了捷特航空再次起飞的希望。
The EOIs are learnt to have been submitted by strategic and financial players, and not any airline, and they come from places like Pan and the United States.
据悉,意向书是由战略和金融公司提交的,而非航空公司,这些战略和金融公司来自巴拿马和美国等地。
Sources say the RP will examine the three EOI over the weekend before advising the next course of action. Etihad said in a statement: "This process is being managed by the resolution professional. We have no comment at this time."
消息人士称,决议机构将在周末审查这三份意向书,然后给出下一步行动的建议。阿提哈德在一份声明中表示:"这个过程由决议专家负责。目前我们无可奉告。"
印度时报读者的评论:
译文来源:三泰虎 http://www.santaihu.com/48220.html 译者:Jessica.Wu
外文:https://timesofindia.indiatimes.com
D Senapathy d senapathy-mumbai-6 hours ago
to me tatas or singapore air/vistara looks best choice
在我看来,塔塔集团和新加坡航空公司成立的Vistara航空是最佳选择
Vikrditya Rao677 Vikrditya Rao-Location-7 hours ago
Can v see some hope at the end of the tunnel at least for the employees n the beleaguered creditors n not the lender banks!
对陷入困境的债权人和员工来说,能看到一希望吗?
Nanksn23185 nanksn-Planet earth-7 hours ago
Buy one Get one.. why not offer Air India free to whoever buys Jet..??!!
何不买一送一,买捷特航空送印度航空呢?
OldAndCynical2266 Oldandcynical-2 hours ago -Follow
Jet Airways was a very good airline.
捷特航空是一家非常优秀的航空公司。
Scl Premi1055 Scl-India-1 hour ago -Follow
Jet and King Fisher were good airlines for travellers. Now AI and both Jet and KF have gone down the drain. Somewhere somewhat at least govt policies are responsible for this mess.
捷特航空、翠鸟航空都不错,现如今印度航空、捷特航空和翠鸟航空都已经完蛋了。某种程度上,是政府政策造成了这种混乱。
Ajay Jackson180 Ajay Jackson-Spring-4 hours ago -Follow
Bring back Jet!!!!!
让捷特航空恢复运营!
Sheik Mohamed8593 Sheik Mohamed-4 hours ago -Follow
It is strange to see that saffronized govt. led by NAMO, has not initiated any kind of action ag inst management of Jet airways for diverting funds from company to their personal needs/investments which mean that they had paid substantial amount to saffronized in name of donations.
奇怪的是,莫迪领导的人民党政府并没有对捷特航空管理层采取任何行动,他们把资金从公司挪用到个人身上,也就是说他们以捐款的名义向人民党了很多钱。
Jolly LLB5473 Jolly-16 mins ago -Follow
no takers for this sick airline like AIDS INFECTED khangress 's presi nts post
没人愿意接受这种病入膏肓的航空公司
Abcd1393 abcd-del-24 mins ago -Follow
Indian Aviation Is Going To Die Soon. We Indians Deserve Bullock Carts Only.
印度航空业即将消亡。我们印度人只配坐牛车。
RAJ Nayak334 Raj-Mumbai, Maharashtra, Ind-25 mins ago -Follow
Jet Airways was my favourite airline....hope it flies again
捷特航空是我最喜欢的航空公司……希望它能再次起飞
Aam Aadmi326 Aam Aadmi-1 hour ago -Follow
To buy JET at this juncture of time is not a bad deal !
在这个节骨眼上收购捷特航空是笔不错的交易!
Subbu India6225 Subbu India-Bengal-1 hour ago -Follow
Is there any chance of revival of Jet air or is it just a story in the news paper.
捷特航空还能起死回生吗?还是说说而已?
Rakesh Mital1539 Rakesh Mital-Delhi NCR-5 hours ago -Follow
nothing is going to happen....banks and other creditors will have zero recovery
什么也不会发生……银行和其他债权人都没法回本了
Sanjoy Pandey14033 Sanjoy Pandey-Kolkata-6 hours ago -Follow
These bids should be examined properly and a decision taken.
这些标书应得到适当审查,再做决定。
Mrunal Bhatt246 Mrunal-11 mins ago -Follow
Pan based companies are normally she'll companies of other. now let's watch who is the real owner investing in through she'll company. Guess Mr. Naresh Goel
巴拿马公司通常是空壳公司。先查清楚看谁是通过空壳公司投资的。
N Renganathan18897 N-Location-21 mins ago -Follow
neable that no airlines are bidding but some financial entities from places afar like U S and Pan .
值得注意的是,除了来自美国和巴拿马等地的一些金融实体外,没有航空公司参与竞标。
Dev S808 Dev S-27 mins ago -Follow
At least keep away the saudis and from indian skies
至少不要让沙特和资本进入印度航空业
Ketan Dattani3606 Ketan Dattani-32 mins ago -Follow
We are customers who have bought tickets in advance and paid the airlines we have neither got our journey or our refunds 11 months have gone .dgca also not coming to our rescue
我们是之前提前购票的旅客,11个月过去了,还没收到退款,印度民航总局也不帮我们解决问题
Pkm10962 Pkm-Lagos-35 mins ago -Follow
Hindujas know the drawbacks so kept away
辛杜佳集团知道其中的弊端,所以不参与竞标
Sainath Kalpathy Sainath Kalpathy-Vijayawada-1 min ago -Follow
JET AIRWAYS was one of the better managed and run AIRLINES and certainly their service was better than many ! SAD this industry is passing trhu DEATH SENTENCE of sorts !
捷特航空是管理和运营较好的航空公司之一,他们的服务比许多航空公司都好!
可悲的是,这个行业正在经历生死关头!
Gaana User168 Gaana User-4 mins ago -Follow
Good news for airlines in India
对印度航空公司来说是个好消息
Dolly Sharma15 Dolly Sharma-4 mins ago -Follow
Hope jet airways starts again
希望捷特航空东山再起
Pappu Pass Or Fail14354 Pappu Pass or Fail-8 mins ago -Follow
Etihad and Hinduja are front facia for Congress NCP po itical fund organizer, they felt heat....now kept out of this cartel business
阿提哈德和辛杜佳集团是国大党的赞助者,迫于压力,他们无法参与竞标
Anish James357 anish james-16 mins ago -Follow
What happened to achha din
好日子呢?
Arun Choudhary7146 Arun Choudhary-1 hour ago -Follow
Just see who is luckiest winner for jet
看看谁是最幸运的赢家
Mark Quinn1080 Mark Quinn-2 hours ago -Follow
Nobody is questioning the Banks. How the money of these banks is going to be recovered.
银行怎么收回贷款?
Chivukula Rajagopal1265 Chivukula Rajagopal-3 hours ago -Follow
End of the road for Jet which which has to follow the path of KF.
捷特航空完了,重蹈翠鸟航空的覆辙
Asian Highway4856 asian highway-kuiper belt outer space-3 hours ago -Follow
the banks already have their money blocked. which entity would want to start with so much lossess upfront that too in an industry with tough competition around.
银行早就已经冻结资金了。在一个竞争激烈的行业里,谁会希望一开始就亏损如此之多?
Rocker5075 Rocker-India-3 hours ago -Follow
RIP JET AIRWAYS!
安息吧,捷特航空!