Mumbai-Ahmedabad bullet train project to be completed by 2023: Piyush Goyal
皮尤什•戈亚尔:孟买-艾哈迈达巴德高铁项目将于2023年完工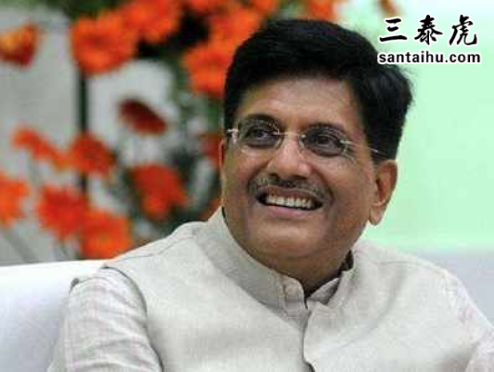 NEW DELHI: Mumbai-Ahmedabad High-Speed Rail (MAHSR), also known as Bullet Train Project, has been sanctioned with a target to be completed by 2023, the Rajya Sabha was informed on Friday.
新德里:周五,上议院收到通知,孟买-艾哈迈达巴德高铁已获批准,计划2023年完工。
In a written reply to Dr Vikas Mahatme, Railway Minister Piyush Goyal said that the MAHSR project of 508-kilometre length has been sanctioned by the Government.
在给Vikas Mahatme博士的书面答复中,印度铁道部长皮尤什•戈亚尔表示508公里长的孟买-艾哈迈达巴德项目已获政府批准。
"This project is being executed by a special purpose vehicle namely National High-Speed Rail Corporation Limited (NHSRCL), with the financial and technical assistance from the Government of Japan. The total estimated cost of the project is Rs 1,08,000 crore," he said.
"在日本政府的财政和技术援助下,这个项目由印度国家高铁公司(NHSRCL)执行。该项目的总成本估计为10800亿卢比。"
So far, the expenditure of Rs 3226.8 crore has been incurred on the project up to June 2019, he said in his statement.
他在声明中表示,截至2019年6月,该项目已支出322.68亿卢比。
Responding to when will the Government expand the bullet train network all over the country, the Minister of Railways informed: "Bullet Train or High-Speed Rail Projects are highly capital and technology-intensive, and therefore, their proposals for other sections are subject to technical feasibility, financial and economic viability and availability of funding".
在回复政府何时在全国各地扩大高铁网络这一问题时,他表示:"高铁项目是高度资本和技术密集型的,因此在其它地区修建高铁须视技术可行性、财政和经济可行性以及资金情况而定。"
印度时报读者的评论:
译文来源:三泰虎 http://www.santaihu.com/48194.html 译者:Jessica.Wu
外文:https://timesofindia.indiatimes.com
Ashish Bagade•Melbourne•9 days ago
Awesome...Great news !! It will look soooo good that other bullet rain projects will come up everywhere across india :)
好消息,太棒了……! !如果印度各地都能修高铁,那就太好了。
Lashtam Pashtam•10 days ago
Criminal waste of money, effort and time on this bullet train. Modi''s ego is the reason for this. Forcefully acquiring prime fertile agricultural land and displacing thousands of people. Instead of improving the existing infrastructure and trains, this is all being done because China has bullet trains, so India should also have.
修高铁就是浪费钱,浪费精力和时间,是犯罪行为。莫迪太自负了。强行征用肥沃的农业土地,使成千上万的人流离失所。印度修高铁不是为了改善现有的基础设施,而是看到中国有高铁,印度也想有。
pradeep pal• Lashtam Pashtam•10 days ago
Where your home stand there was fertile land some time ago.please raze your home and do farming before giving further advise.
你建房子的地基以前也是一片肥沃的土地。请先把你的房子夷为平地,再种地吧。
Sunil Mohandas•11 days ago
Bullet train for the benefit of Gujarat with more stations . If terminus was constructed in railway land in either Kurla or bandra or panvel it would have saved MMRDA crores of rupees.
古吉拉特邦的高铁站点更多。如果终点站建在库尔拉、班德拉或潘维尔,就能省下数千万卢比。
Pradip Kamdar•11 days ago
To coment on bullet train without proper knowlage is not good.,This train will run by electricity. Less traveling time then Airplane. There will be many benift we will observe after 2023.
不懂的就不要说高铁不好。高铁将由电力驱动,旅行时间比飞机短。2023年后,我们将看到高铁将带来许多好处。
Punit Issar•11 days ago
B$ put this money in desalination project.. get water to the dry places in maharastra.. who wants bullet train at the expense of cutting trees and clearing forest ....
把这笔钱投入到海水淡化工程中去。把水送到马哈拉施特拉邦干旱的地方去。为了修高铁,还要砍伐树木,谁会要这样的高铁?
Tech Support By Cp•11 days ago
woh what a nice project it is bahut hi badiya mja aa gaya aisa hona hi chhaye tabhi good rhega
哇,高铁是一个多好的项目啊,
Rohit K•11 days ago
Next tax burden for tax payers in advance.
纳税人的负担又要加重了。
Azaad•11 days ago
Bullet Train is nice move to connect between big cities. Next should be run between Mumbai and New Delhi the two major and most important cities of India. It''s very difficult to get train or plane tickets. Always need to book much in advance.
高铁是连接大城市的好方式。下一步应该在印度两个主要也是最重要的城市,孟买和新德里之间修高铁。目前,很难买到往返这两个城市的火车票或飞机票,总是要提前预订。
Saurav Yadav•Gorakhpur•11 days ago
BUT i think the bullet train is coming in India after too long it will not good and After sometime new train will come in world
我认为印度高铁修得太迟了,等修好了,又有更先进的交通工具出现了。
Guru Ghantal• Saurav Yadav•11 days ago
May be flying train!
可能是会飞的火车!
Deepak Soni•Unknown•11 days ago
Goyalji please reverse the year. It should be 3202.
不是2023年完工,应该倒过来写,是3202年完工吧
A•11 days ago
Hope that people do not oppose this forward looking and modern approach to travel, needed for an aspiring country with different standards of living.,Ultimately all cities will be linked by high speed trains may be in next 2 decades. Imagine how India will look like.,Similar to how metro is now being done though late, let us start bullet train at least. Already so many nations have it and all tourists love it.
希望人们不要反对这种前瞻性的现代化出行方式。在未来20年内,所有城市最终将由高铁连接起来。想象一下印度将会是什么样子。虽然晚点了,但至少要开始修吧。已经有很多国家有高铁了,游客都喜欢坐高铁。
Shivkumar Mohite•RAJKOT•11 days ago
By that time, the population will be so much that they will convert the bullet train into local train.
印度人口这么多,到时会高铁跑着跑着就会变成慢车。
Anurag•11 days ago
country do not need bullet train project shall be scrapped and Money can be utilized for upgrade of existing infra
印度不需要高铁,废弃这个项目吧,资金可以用于升级现有基础设施
Vibhakar• Anurag Garg•11 days ago
China is expanding because of bullet train,we have population as big consumer,and cities,many people were opposing metro but now they are supporting in the same way
高铁推动了中国发展。我们人口多,有消费基础,之前很多人反对修地铁,现在他们不都支持了
Prafs•Unknown•11 days ago
GREAT PILLAR OF NDA Mr Pitush Goyal. Great hopes from him
皮尤什•戈亚尔先生是人民党的骨干。对他寄予厚望
A• Sunil Nair•11 days ago
Please don't oppose modern travel projects just because something else is not working well. If your argument was right even modern metro and airports and solar projects are a waste.,You must support forward looking ideas if you want a modern country for future generations
请不要因为其他事情不顺利就反对高铁项目。如果想为后代建立一个现代化的国家,就应支持高铁这一前瞻性的东西
Govisampath•Unknown•11 days ago
Indian has to start with at least one bullet train to understand the technology behind such trains and also to improve safety in the other sectors of the railway. Air travel is likely to become prohibitive soon as the fossil fuels run out and in any case, they are heavily polluting.
印度务必修高铁,并掌握高铁技术,提高铁路安全性。
abhay patel•11 days ago
Very nice rain transportation is changing
非常好,铁路运输正在改善
Ulhas•11 days ago
Mumbai-Pune is a route of VITAL importance. Nothing has been done to improve services on this route for last SEVERAL decades!
孟买至普纳是一条极其重要的路线。在过去的几十年里,这条路线上的通勤没有得到改善。
A• Ulhas Kulkarni•11 days ago
FYI Sir, high speed train is coming between Mumbai Pune - only 2 hours - like Train 18
从孟买到普纳,Train 18只要两个小时