Railways mulls inviting private firms to run trains on some routes
印度铁路公司考虑邀请私企运营部分路线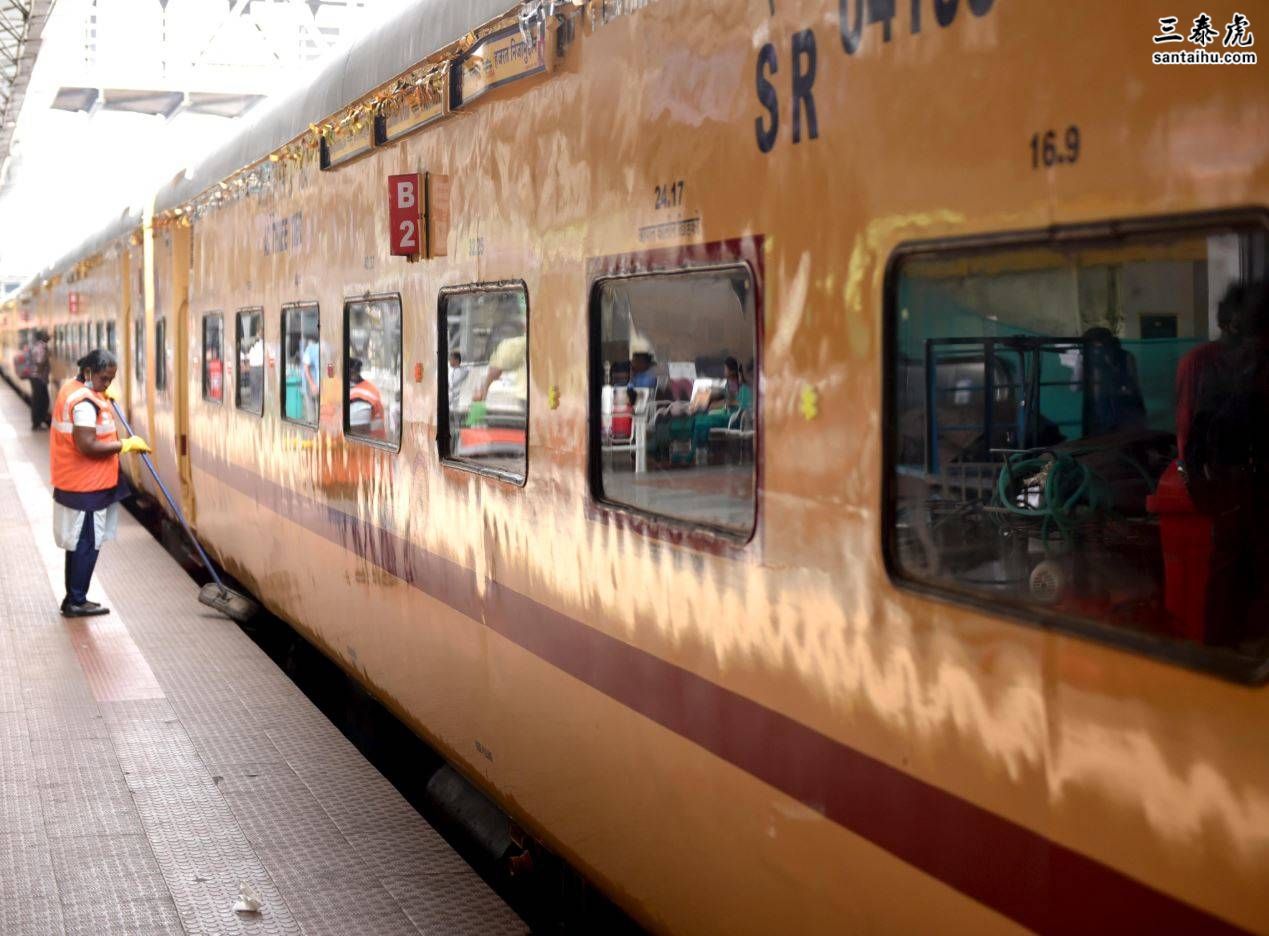 NEW DELHI: The go nment is seriously exploring a plan to induct private operators to run passenger trains on low congestion and tourist routes and will invite bids in the next 100 days, a Railway Board document shows.
新德里:印度铁路局的一份文件显示,政府正认真研究一项计划,鼓励私人运营商在低拥堵和旅游线路上运营客运列车,并将在未来100天内招标。
印度时报读者的评论:
译文来源:三泰虎 http://www.santaihu.com/47863.html
Hell • 8 hours ago
People are always ready for good service, quality, comfort, efficient and reduction in travel times. Increased competition will compel railways to modernize track infra, build track fencing, upgrade the systems and run modern high speed trains to make train travel highly economic sense.
人们旅行总是希望获得优质,舒适,高效的出行体验。竞争的加剧将迫使印度铁路对铁路进行现代化改造,修建轨道护栏,升级系统,投入现代化的高速列车,让坐火车旅行变得高效、经济。
Neville Jerome• 5 hours ago
Private players don''t have to hire illiterate quota products. So they''ll be effective.
私企不搞预留制,不会雇佣文盲,效率会很高的
Shiva Holla• 4 hours ago
There is something called reference in private... Hope u are aware
跟你说吧,在私企,也有靠介绍进去的…
Fierce Prince• 6 hours ago
Sir this is where you have encourage private operators to kill the monopoly in market. when you have threat of competition service tend to improve.
鼓励私营企业打破市场垄断。有竞争后,服务会改善的
Hell • Hell • 8 hours ago
Railways still in 1960s doing 50-60 kmph while world is going high speed trains ith 350kmph. There is such huge demand but the capacity, supply of trains just not available. Indian Railways should upgrade, modernize
火车仍然是1960年代每小时50-60公里的龟速运行,而其他国家的高铁飚出了每小时350公里的高速。印度旅客的需求这么大,但列车的运力不足,车次不够。印度铁路应该进行现代化升级
thottufj thottufj• 2 hours ago
NIce idea, please help in land acquisition for new lines and see how fast that will go.
好主意,先征地吧,看看进展能有多快。
Jp • 5 hours ago
better sell india to east india company. govt. can not run practically anything in this coountry. they just want to sit and eat and let private companies exploit and drink the blood of the ordinary people. shame on the govt.
当初还不如把印度卖给东印度公司。印度政府几乎毫无建树,只想坐享其成,让私企压榨普通人。以这种政府为耻!
Mumbaikar• Mumbai • 3 hours ago
East India Company was also privately owned. I don''t know what you are smoking man. You really need to learn a bit of history.
老兄,东印度公司也是私企,你该学点历史了
Indian Snake• 11 mins ago
Most MPs MLAs are rich or become rich. They don''t need govt money to serve the nation, which, by the way, most of them don''t. Not poor but everyone enjoys subsidized products and services in India.
大多数议员要么已经很有钱,要么就快发财的节奏。他们为国家服务,不是为了那点工资,他们中的大多数人不需要工资。在印度,不仅仅是穷人,而是每个人都享受补贴
Chander Srinivasan• 8 hours ago
Privatisation has financial benefits provided SAFETY of PASSENGERS&legal coverage are ensured.
私有化具有经济效益,前提是要确保乘客安全。
Nationcomesfirst• Mother INDIA • 7 hours ago
STRONGLY AGREE
强烈赞同
Sl • Secunderabad • 5 hours ago
Railway in india largely cater for poor n underprivileged class of people. Can they afford a price that needs to be charged by private players to make this viable? Giving away tourism trains is like giving away desserts off ur meal
印度铁路很大程度上是为贫困阶层服务的。铁路让私企运营后,老百姓买得起票吗?
Sl • Secunderabad • 5 hours ago
Railway going private is a mixed issue...cost of travel, safety issues n compensation in case of accident as blame shifting will come once a tragedy occurs. Private players will blame track conditions or bad signals obviously controlled by IR n escape payment of compensation n then there is always London to fly out
铁路私有化是个复杂的问题……票价会不会太高,安全问题能保障吗,出事故后如何赔偿等等,一旦发生悲剧,只会互相推卸责任。私企会将责任归咎于铁路状况不佳,归咎于信号问题,然后拒绝支付赔偿金。
Indian • Mumbai • 2 hours ago
why can't our MLAs/ MLCs and MPs forgo their subsidy before asking common people to do it?? They earn in lacs without any taxes etc.
为什么我们议员不能在要求普通民众放弃补贴之前先放弃他们自己的补贴呢,做个表率啊? 他们的巨额收入都没交税。
Ravi Raj Palani• Chennai • 8 hours ago
Who has the know how and the experience to operate trains in our country except for the railways itself?
This will bring in another load of co ption, various other issues.
除了铁路公司,还有什么公司有在印度运营火车的经验?
铁路私有化后,会滋生附败,会带来各种各样的问题。
Raj Kumar• 6 hours ago
Japan railways is completely privatized, people have to change
日本铁路已经完全私有化,不也运营好好的,人们应改变观念
sam mm• 5 hours ago
Hahaha ,learn something from Japanese people also before commenting on their railways and our railways
哈哈,别只顾评论日本铁路和印度铁路,日本人好的东西我们该学。
ONE LINER Challenge • 9 hours ago
A COMMON MAN''s TRANSPORT IS ALWAYS CALLED "PUBLIC" TRANSPORT- NEVER "PRIVATE" TRANSPORT
普通老百姓的交通工具总是被称为"公共"交通工具,而不是"私人"交通工具
Kashyapj• 3 hours ago
why doesn't the go nment ask all the MPs and MLAs to give up subsidiaries first.
为什么政府不要求所有议员首先放弃补贴。
manikandan• 6 hours ago
This is public transport system and for a country like ours where there is huge difference between poor and rich, railways is a service ,not a profit making enterprises. What big incs will do. they will just increase the fare,they won't care about the poor.
铁路是公共交通系统,对于我们这样一个贫富差距巨大的国家来说,铁路是一种服务,不是用来盈利的。私企会怎么做,私企只会抬高票价,才不关心穷人的死活呢
Rakesh Singhal • 6 hours ago
Entry of Pvt players have brought down cost improve quality every where
it's a eternal or universal rule
just look at telecom and aviation
think we had only bsnl and Air india
私企的加入将降低运营成本,提高服务质量
这是一个永恒的规则
看看印度电信和印度航空就知道了
jitendra kumar• 5 hours ago
Aviation industry is profit making field. Railway is a basic requirement and purpose should not be profit making as many needy can not afford.
航空业是盈利行业。铁路是一项基本要求,其目的不应是营利,否则会有很多穷人买不起票
Jack Saunders• Mum Bhai • 3 hours ago
should we privatise govt i am sure it will build better country
我们应该把政府私有化,这样我们就能建设一个更美好的国家
Arijit• 9 hours ago
Give all the Trains to Ambani's.
把所有火车都交给安巴尼运营。
Yashodhan Patwardhan• Mumbai • 6 hours ago
Give entire country to ambani and adani..
把整个国家都交给安巴尼和阿达尼…
Indira Ramakrishnan • Chennai • 6 hours ago
please dont privatise railways...the poor man will never be able to afford the high cost of the tickets due to greed of the private operators. Please dont privatise.
请不要把铁路私有化…私人经营者太贪婪,穷人会买不起票的。请不要把铁路私有化。
Kvs Sarma• 3 hours ago
they will siphon off all funds and declare bankrupt.
私企将抽走所有资金,然后宣布破产。
外文:https://timesofindia.indiatimes.com/india/railways-mulls-inviting-private-firms-to-run-trains-on-some-routes/articleshow/69849236.cms