SpiceJet hires 500 Jet Airways employees, including 100 pilots
百捷航空雇佣500名捷特航空的员工,其中包括100名飞行员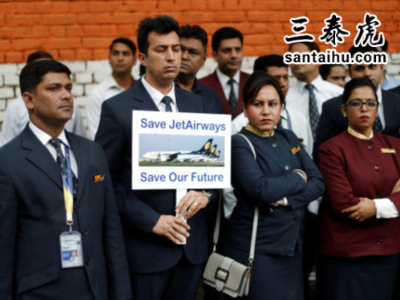 MUMBAI: Budget carrier SpiceJet on Friday said it has already absorbed over 500 employees, including 100 pilots, of the grounded carrier Jet Airways and it is open to induct more as it adds more aircraft and routes in the times ahead.
孟买:上周五,廉价航空公司百捷表示,已从停飞的航空公司捷特吸纳了500多名员工,其中包括100名飞行员。随着百捷航空增加更多飞机和航线,该公司对吸纳更多员工持开放态度。
The Gurugram-based no-frills airline has already announced induction of 27 more planes -22 Boeing 737s and five turboprop Bombardier Q400s - in the fleet to help overcome to an extent the capacity deficit due to Jet Airways temporarily withdrawing its domestic and international services.
这家总部位于古鲁葛拉姆的廉价航空公司已经宣布,将在机队中再增加27架飞机,包括22架波音737和5架庞巴迪Q400涡轮螺旋桨飞机,以在一定程度上帮助克服由于捷特航空暂时停止国内和国际服务而造成的运力不足。
SpiceJet chairman and managing director Ajay Singh in a statement Friday said that his carrier is giving "first preference" to Jet Airways staff in recruitment.
星期五,百捷航空董事长兼总经理阿杰伊·辛格在一份声明中表示,该公司在招聘员工时优先考虑捷特航空公司的员工。
"As we expand and grow, we are giving first preference to those who have recently lost their jobs due to the unfortunate closure of Jet Airways," Singh said.
辛格称:"随着我们的扩张和发展,我们首先优先考虑那些最近由于捷特航空公司不幸关闭而失业的人。"
He said that SpiceJet has already provided jobs to more than 100 pilots, over 200 cabin crew and 200 plus technical and airport staff recently.
辛格称,百捷航空最近已经为100多名飞行员、200多名机组人员以及200多名技术人员和机场工作人员提供了工作机会。
"We will do more. We will also induct a large number of planes in our fleet soon," Singh added.
"我们还将在不久的将来为我们的机队引进大量飞机,我们会招更多人"辛格补充到
印度时报读者评论:
译文来源:三泰虎 http://www.santaihu.com/47443.html
外文:https://timesofindia.indiatimes.com
Rchandran - 1 day ago -Follow
Well done pls keep the good work I thank you for not playing with human misery may god bless you and your airline.
做得好,请再接再厉。感谢百捷航空,愿神保佑你们。
Jagdeep Singh - 1 day ago -Follow
Good Job Mr Ajay Singh.
He is the one who revived Spicejet when it started making losses under Maran''s.
He is a gentleman.
干得好,Ajay Singh先生。
当百捷航空公司在马兰的领导下开始亏损时,是你使公司起死回生的。
你是个绅士。
Manish - 1 day ago -Follow
Well done.. I am sure you would recruit only the qualified!!
Good example of corporate social responsibility.
做得好. .我相信你们只会招募合格人才!!这是承担社会责任的典范。
A True - Chandigarh - 1 day ago -Follow
another TATA in the making
又一个"塔塔"
Shloka Bhatt - Delhi - 1 day ago -Follow
Good....quality employees will get the job. those crying outside Jantar Mantar are either those with no skillset or those who are paid 50-60% over market rate. skilled employees are not worried
很好....优秀员工能得到一份工作。那些在哭喊的人要么是没有技能的人,要么是工资比市场水平高出50-60%的人。有技能的员工并不需要担心。
Sdas - 1 day ago -Follow
Jet Chairman Goyal HAS to be investigated - no options.
必须调查一下捷特航空的董事长戈亚尔。
Easwaran - Coimbatore, Tamil Nadu - 1 day ago -Follow
Good move by Spice jet. They have respected the professional competence
百捷航空做得好!他们重视专业人才。
Ramesh M - 1 day ago -Follow
I am happy for the Jet employees and their dependents. And kudos to spice jet for giving preference to the jet staff.
For guys questioning about the ''low'' sries that may be paid... Understand that having a job at this juncture for jet employees is more important than sitting idle with no job or waiting for a high paid one...
我为捷特员工及其家属感到高兴,百捷航空的做法也值得称赞。
那些怀疑工资低的家伙要明白,对于航空公司的员工来说,在这种节骨眼上有一份工作总比无所事事或等待高薪工作更好。
M Wood - 1 day ago -Follow
Thanks Modi ji. That''s call the modi magic.
谢谢莫迪。这就是所谓的莫迪魔法。
Ravi - 1 day ago -Follow
22000-500=21500
22000 - 500 = 21500,还有21500人没工作。
Chowkidhaar - Vadnagar - 1 day ago -Follow
JetAir is the victim of Modi''''s failed economic policies and his TAX greed. Upto 95% of Airlines operational costs are because of Aviation Fuel costs. Rupees is weakened to its historic lows ag inst Dollar, hiking the Aviation fuel prices. Adding extra burden Modi TAX on Petrol, Diesel, and Aviation fuel means the costs are increased further. While Modi was extracting money from all sources, few companies like JetAir, BSNL, HAL, etc were dying. Now 22000 direct Jobs for JetAir. Next in line is BSNL 40,000 Job loss for Reliance Jio. After that HAL 30,000 Job at risk because orders diverted to Anil Ambani. Enjoy your Ache Din. Learn making PAKODA and buy radio to listen monkey baath.
捷特航空是莫迪失败的经济政策和贪婪税收的受害者。高达95%的航空公司运营成本是航空燃料成本。卢比兑美元汇率跌至历史低点,航空燃料价格随之走高。莫迪对汽油、柴油和航空燃料征收的额外税收意味着进一步提高成本。当莫迪从所有渠道榨取资金的时候,捷特航空、BSNL、印度斯坦航空公司等公司濒临倒闭。现在捷航有22000人下岗。接下来,信实Jio将裁员4万人。
Sanjeev - 1 day ago -Follow
Good! SpiceJet, it will help you win customer preference and confidence, nice gesture, we hope other airlines too will follow the same gesture.
很好,这将帮助百捷航空赢得客户的青睐和信心,希望其他航空公司也能这样做。
Bonny Moraes - Goa - 1 day ago -Follow
Thanks to Modi 500 jobs created!
多亏莫迪创造了500个就业岗位!
Naresh - 1 day ago -Follow
Both Goyal and Mallya to be brought to be justice as they r habing lavish lifestyle, leaving their staff to suffer
戈亚尔和马尔雅都将被绳之以法,他们生活奢侈,让员工受苦。
Raga Bosdka - 1 day ago -Follow
Good.. hope all Jet employees come out of this trauma at the earliest.
希望所有捷特员工都能尽早走出这段创伤。
Dheeraj Hazarika - 1 day ago -Follow
We need more good strategists and innovative thinkers like Mr.Ajay Singh in the aviation industry today.
在当今的航空业,我们需要更多像阿杰伊·辛格这样的优秀战略家和创新思想家。
Varun - rajpura - 1 day ago -Follow
good news
好消息
Anil Misquith - Mangalore - 1 day ago -Follow
I am waiting for my refund for cancelled flight of Jet . Nobody knows when the passengers get refund . DGCA / Aviation ministry just doing meeting as formalities and they did not serve any purpose of hel passengers or Jet Airways.
我取消了捷特航班的机票,我在等退款。没有人知道乘客什么时候能收到退款。印度民航总局只是例行公事地开会,并没有打算帮助乘客,也没打算帮助捷特航空公司。
Meenakshi Mane - 1 day ago -Follow
Goyal should be punished
戈亚尔(捷特航空董事长)应该受到惩罚。
Nurul - 1 day ago -Follow
Good! But it would have been better if Jet Airways would have been saved as it was by the Govt. Why Modi Govt. did not come forward to save Jet Airways? Was it to help Mr. Ajay Singh, owner of Spicejet & a BJP supporter?
好! 如果政府能拯救捷特航空就好了。为什么莫迪政府不站出来拯救捷特航空?是为了帮印度人民党支持者、百捷航空的老板阿杰伊·辛格吗?
D Snta - 1 day ago -Follow
It is First Aid treatment, not solution Govt is not so serious about job & general public/travellers
这是救急,不是解决方案。
Nissan - 1 day ago -Follow
well played... Hiring and buying people and planes on a rock bottom prices.
高明,以最低的工资吸纳捷特员工,白菜价收购捷特飞机。
Peeush Trikha - India - 1 day ago -Follow
Great deed by Spicejet. Kudos to them.
百捷做得好,向你们致敬
Patz - 1 day ago -Follow
Not yet heard Air India hiring people from jet... There is always a shortage in air India
还没听说印度航空公司从捷特航空招人…印度航空总是缺人手……
Sanjay Sehgal - Noida - 17 hours ago -Follow
I am not happy with the choice of planes the 737 have no reputation.
选了波音737,我不满意,名声太差了。
Anon - 1 day ago -Follow
Hope the pilot sry stays at 50 lakh per annum
希望飞行员的年薪保持在每年500万卢比。