India aviation authority grounds Boeing 737 MAX airplanes
印度民航总局下令停飞波音737 MAX
India joined late Tuesday a global ban on flying the Boeing 737 MAX plane after this week's crash of this aircraft type in the African skies, increasing the likelihood of a further rise in domestic fares that remain high due to unrelated flight cancellations by some carriers.
星期二晚些时候,印度加入了一项全球禁飞波音737 MAX的行列。一架波音737 MAX本星期在非洲上空坠毁。由于部分航空公司取消了一些航班,国内机票价格本就居高不下,停飞波音737 MAX加大了机票进一步上涨的可能性。
"(Industry regulator) DGCA has taken the decision to ground the Boeing 737-MAX planes immediately. These planes will be grounded (until) appropriate modifications and safety measures are undertaken to ensure their safe operations. As always, passenger safety remains our top priority. We continue to consult closely with regulators around the world, airlines, and aircraft manufacturers to ensure passenger safety," the aviation ministry tweeted late evening.
航空部深夜发推特:"(行业机构)印度民航总局已决定立即停飞波音737-MAX。这些飞机将停飞,直到采取适当的修改和安全措施以确保其安全飞行。一如既往,乘客安全仍然是我们的首要任务。我们将继续与世界各地的机构、航空公司和飞机制造商密切磋商,确保乘客安全。"
The ban comes a day after the Directorate General of Civil Aviation (DGCA) had allowed the Boeing 737 MAX aircraft to fly under stricter conditions.
此前一天,印度民航总局(DGCA)允许波音737 MAX在更严格的条件下飞行。
The ban would impact SpiceJet the most. SpiceJet and troubled Jet Airways are the only two airlines operating the Boeing 737 MAX in the country.
这项禁令对百捷航空的影响最大。百捷航空和陷入困境的捷特航空是印度仅有的两家运营波音737 MAX的航空公司。
Grounding of 12 such aircraft operated by the local carriers could disrupt the operations and increase domestic fares that are already high due to flight cancellations by Jet Airways and IndiGo.
印度国内航空公司运营的12架737 MAX全部停飞,可能会扰乱运营,并推高本已很高的国内机票票价。此前由于捷特航空和IndiGo的航班取消,国内机票价格已经很高。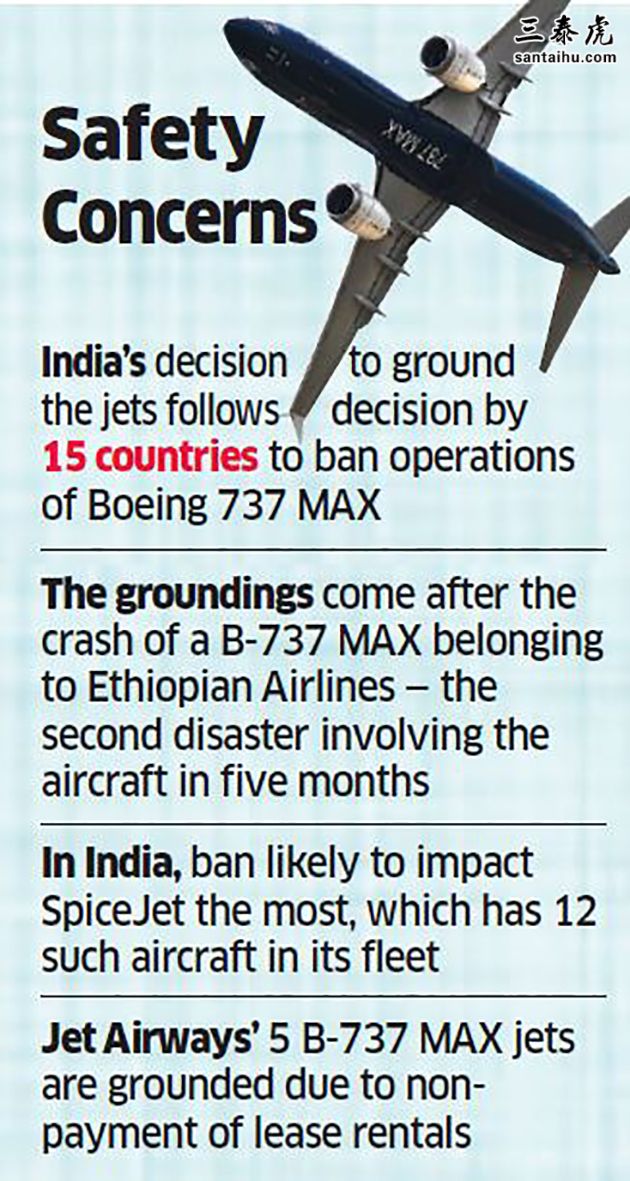 Separately, the European Union's aviation safety agency EASA suspended all flights in the bloc by Boeing's 737-8 and 737-9 airplanes, Reuters reported late Tuesday.
另外,据路透社星期二晚些时候报道,欧盟航空安全局EASA暂停了波音737-8和737-9在欧盟的所有航班。
"EASA has decided to suspend all flight operations of the two affected models," the Reuters report said, citing the agency.
路透社援引该机构的话报道称:"EASA已决定暂停两款受影响机型的所有航班运营。"
Jet's aircraft are grounded due to financial problems. SpiceJet, earlier on Tuesday, had said that it would continue to fly the MAX with precautionary measures in place.
捷特航空的飞机因财务问题停飞。星期二早些时候,百捷航空曾表示,在采取预防措施的情况下,它将继续运营737 MAX。
The UK, Germany and France on Tuesday joined the international ban on flying the Boeing 737 MAX, one of which operated by Ethiopian Airlines crashed Sunday killing all 157 people on board. , Indonesia, Ethiopia, Australia and Brazil had announced bans on Monday, a day after the crash, taking the total number of countries restricting flights by this aircraft type to 16.
星期二, 英国、德国和法国加入了禁飞波音737 MAX的行列。埃航运营的波音737 MAX于星期日坠毁,机上157人全部遇难。、印度尼西亚、埃塞俄比亚、澳大利亚和巴西在飞机坠毁后的第二天,即星期一,宣布了禁飞令,这使得限制这类飞机飞行的国家总数达到16个。
The market believes that curbs on Boeing 737 MAX operations in India would bring problems for SpiceJet, which plans to expand in West Asia through this aircraft type.
市场认为,限制波音737 MAX在印度的飞行,将给百捷航空带来问题。百捷计划通过这种机型在西亚业务。
"If India also imposes curbs on the use of Boeing 737 MAX aircraft, SpiceJet may face a bigger problem. Right now, SpiceJet is in a sweet spot because Jet Airways is facing problems," said Sanjiv Bhasin, executive VP-markets and corporate affairs at IIFL. He spoke to ET before the DGCA announced the late evening ban.
IIFL执行副总裁兼企业事务负责人巴辛表示:"如果印度也限制使用波音737 MAX,百捷航空可能面临更大的问题。"。
SpiceJet shares fell on Tuesday on concerns that grounding of these aircraft would hurt the airline's revenue and profitability. Shares closed at Rs 78.80, down 5.29%, on a day the Sensex rose 481.56 points. Shares of SpiceJet have fallen 41.6% in the past year. On the NYSE, Boeing shed 5.28% to $378.71 a share.
由于担心停飞会减少公司的收入和削弱盈利能力,百捷航空的股价星期二下跌,收于78.80卢比,下跌5.29%,Sensex指数上涨481.56点。百捷航空的股价在过去一年下跌了41.6%。在纽交所,波音股价下跌5.28%,至378.71美元。
"The aircraft (type) has flown hundreds of thousands of hours globally and some of the world's largest airlines are flying this. We are actively engaged with both Boeing and DGCA and will continue to put safety first, as always. We have already implemented all additional precautionary measures, as directed by the DGCA on Monday," SpiceJet had said earlier in a statement Tuesday.
星期二早些时候百捷航空在一份声明中表示:"这一机型已经在全球飞行了数十万小时,全球最大的一些航空公司也在运营这一机型。我们积极参与波音和印度民航总局的工作,并将一如既往地把安全放在首位。我们已经按照印度民航总局星期一的指示,实施了所有额外的预防措施。"
The Ethiopian Air tragedy is the second disaster involving the new model in less than five months and has raised questions on its safety.
埃塞俄比亚的空难是不到5个月来该新机型遭遇的第二次灾难,这对其安全性提出了质疑。
印度经济时报读者评论:
译文来源:三泰虎 http://www.santaihu.com/47193.html 译者:Jessica.Wu
外文: https://economictimes.indiatimes.com
mukesh
Agree there is no price for human life and it''s down ridiculous to hear Spice jet talk about their bottom line being hit instead of passenger safety.What a bunch of morons.
生命是无价的,而百捷航空的底线不是乘客的安全,太荒谬了。真是一群白痴。
Avinash Gupta
4 hours ago
follow suit .
跟风
Magesh Vel
4 hours ago
Interestingly, US has not banned the 737. In fact FAA administrator said that the review "thus far shows no sy ematic performance issues and provides no basis to order grounding aircraft."
有趣的是,美国并没有禁飞737。事实上,美国联邦航空局局长表示,"到目前为止,审查没有显示出系统性的性能问题,也没有为下令停飞提供依据。"
Iyer Venkatakrishnan
4 hours ago
Today the flying technology advancement, the drones are flying for various purposes.Unfirtunately, the Boeing company is witnessing setback in its model 737Max which met aircrash in quick successions. Many countries have shown displeasure over this model. Looking at the feedback, many have not understood to identify the problems in the design bearing defects or poor workmanship. Unless Boeing sorts out this serious technical flaw, Boeing cannot flourish in the years to come.
如今,随着飞行技术的进步,无人机可以用于各种各样的用途。不幸的是,波音公司正在见证其737Max型飞机遭遇挫折,该机型在短时间内相继遭遇空难。许多国家对此表示不满。从反馈来看,很多人都没有认识到设计中存在的轴承缺陷或工艺问题。除非波音公司解决这一严重的技术缺陷,否则在未来几年将无法发展。
Piyush Maheshwari
5 hours ago
No Indian airline worth travelling now!! Indigo and one more airline have A320Neo issues.. now planes with Spice have issues.. Jet and Air India are in their own separate league... Indian aviation sector.. Fastest growing yet not worth considering investment options..
没有一家印度航空公司的航班可以放心乘坐! Indigo航空公司的空客A320Neo出了问题…现在百捷航空的飞机也有问题…捷特航空和印度航空各有各的问题…印度航空业虽然增长最快,但不值得投资…
Pradip Nawathe
5 hours ago
Instead of following others, India should have taken lead and done this on their own considering passenger safety..That would be an indication that Gt is caring for it''s citizens..! Anyway, Better late than never !!
考虑到乘客的安全,印度本应该率先采取行动,而不是跟在其他国家后面。那将表明印度政府关心公民…无论如何,迟做总比不做好!
Dinkar Jain
5 hours ago
Pls ground 320 NEO as well
同时停飞空客320NEO
Joe Thomas
3 hours ago
320 Neo has only engine issues in some Pratt and Whitney fitted models. There has not been any fatal accidents involving 320 neo. Engine trouble do not generally bring down an Aircraft as it can fly even on single engine.
空客320 Neo仅存在引擎问题,目前还没发生致命事故。引擎故障一般不会使飞机坠毁,因为即使是单引擎,飞机也能飞行。
Satinder Chadha
5 hours ago
Good decision. Safety cannot be compromised. What is surprising is how Boeing has been so careless regarding this issue. Boeing is supposed to be the safest plane. There also it appears CAs have started taking decisions.
做得好。安全不容妥协。令人惊讶的是,波音在这个问题上竟如此粗心大意。波音还被认为是最安全的飞机。
ronnie
5 hours ago
Human life is priceless and should be a first priority
生命是无价的,应该放在第一位
Krishna Mn
6 hours ago
DGCA has taken wise decision in banning Boeing 737 MAX . This Aircraft prooved beyond doubt on certain technical issues. Go nment should ban it completely to avoid any kind of issue.
印度民航总局做出了明智的决定,禁飞波音737 MAX。毫无疑问,这架飞机存在某些技术问题。政府应该全面禁飞,以避免事故的发生。
Vasna Pidit
7 hours ago
Good
很好
Naganara Simhan
7 hours ago
DGCA is late in doing this. It first issued some safety guidelines but had to give in after many other countries banned it. Passengers would have been thankful if India was first to ban the aircraft.
印度民航总局的行动有点晚了。它先发布了一些安全指南,在许多国家禁飞之后,它不得不做出让步。如果印度率先禁飞的话,乘客们会感激不尽的。
Rnujam Veraswamy
9 hours ago
Good. DGCA is live to ground realities. Safety and security FIRST.
很好。印度民航总局实事求是,安全第一。
vivek beri
10 hours ago
good thinking goog fore sight smart move
有远见,明智之举
Mayuk Dasgupta
12 hours ago
Finally a good decision by DGCA. Bottom line performance can''t be at the cost of innocent human lifes. If these crash happened in the USA, then Boeing would have have faced a more stricter action. It''s time to boycott such engineering flaws which jeopardize thousands of human life. These companies make billions and surprisingly can''t guarantee a safe transport and technology.
印度民航总局最终做出了明智的决定。底线是不能以牺牲无辜的生命为代价。如果这些事故发生在美国,波音公司将面临更严厉的制裁。
GURUPRASAD SARANGAMATH
12 hours ago
safety first
安全第一
Chandan Chhavi
13 hours ago
very good step.
非常好。