How railways got rid of all unmanned crossings, a year ahead of deadline
比截止日期提前一年,铁路公司是如何清除所有无人值守的道口的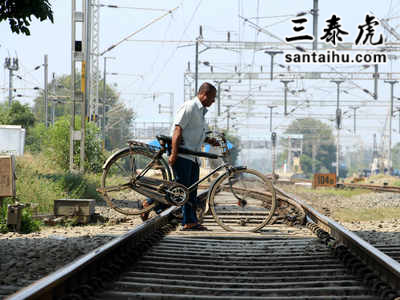 NEW DELHI: Indian railways did away with at least 11 of its thousands of unmanned level crossings every day during the past 10 months to eliminate these death traps.
新德里: 印度铁路公司在过去的10个月里,每天至少改造11个无人值守的平交道口,以消除这些死亡陷阱。
The last such crossing on broad-gauge lines was converted into a gated one in Allahabad on Thursday, the same day railway minister Piyush Goyal confirmed in his budget speech that these unmanned crossings were a thing of the past.
周四,在阿拉哈巴德,宽轨铁路上的最后一个无人值守的平交道口被改造成了一个封闭的道口。当天,印度财政部长皮尤什·戈亚尔在预算演讲中证实,这些无人值守的平交道口已经成为过去。
According to railway ministry officials, an accident on April 16, 2018 involving a school van at such a crossing on Kaptanganj-Thawe section in UP that claimed 13 lives was the turning point for putting the focus on quickly doing away with these crossings.
据铁道部官员称,2018年4月16日,一辆校车在北方邦Kaptanganj-Thawe路段的一个平交道口发生事故,造成13人死亡。自此人们开始关注如何快速清除这些平交道口。
"The ministry had told the Parliament these crossings would be a thing of past by March 2020. But work on a war footing was undertaken to complete the task earlier after the accident," said an official. The number of accidents at unmanned level crossings has been at an all-time low at only three during this fiscal as compared to 65 in 2009-10.
一位官员称:"铁路部门曾告知议会,这些平交道口将在2020年3月前成为历史。但是,在该事故发生后,为了更早地完成任务,他们进入了战备工作状态。"与2009-2010财年的65起事故相比,本财年无人值守平交道口的事故数量一直处于历史最低水平,仅为3起。
Sources said in most of the cases either mechanised or manual system of operating gates have been operationalised to stop vehicles from crossing the tracks when trains go past these spots. They added at some crossing, they have route relay interlocking system where the rail traffic flow is higher.
消息人士称,在大多数情况下,当火车经过这些道口时,机械式或手动式闸门系统将启动,以防止车辆在列车经过这些地点时穿越铁轨。他们补充说,在一些铁路交通流量更高的平交道口,他们安装了线路中继联锁系统。
Officials said the railways had zeroed down on four models to eliminate the crossings including merger with another level crossing by constructing diversion road, construction of subway or rail under bridge and manning. The last option was found to be most cost effective and less time taking. Building rail under and over bridges often require land acquisition and other permissions.
官员表示,为了清除平交道口,铁路公司集中研究了四种方式,分别是迂回道路;地下通道,.天桥;.派人值守。最后一种方式最具成本效益,耗费的时间最少。在桥下或桥上修建铁路通常需要征地以及获得许可。
印度时报读者评论:
译文来源:三泰虎 译者:Jessica.Wu
Aditya - 8 hours ago -Follow
this govt is working in every field ensure prosperity and safety of ppl of india but its bad luck of india ppl hrre dont want prosperity and safetly they want freebies.saaalli slave metality abhi tak gayi hi nahi.hope coming electiom dont bring back chors and looter.vote for bjp.god bless india
本届印度政府努力保障印度人民的安全,确保印度人能过上富裕的生活,不幸的是,印度人民不想富,只要免费的东西。希望即将到来的选举不会让曾经的剥削者再度上台。请投票给印度人民党,愿神保佑印度。
Vijay Bhatt - 8 hours ago -Follow
BJP is reqired for next 50 years
India will be world safest place to live
需要印度人民党再执政50年
印度将成为世界上最安全的居住地
Surendra Khanna - 8 hours ago -Follow
Congressmen should feel ashamed, if they have any human value in a corner of their heart, these people are cursed to nation, they are indirectly responsible for thousands of innocents. corrupt minsters like Lalu and Mamata appointed by corrupt family did nothing for poor people
国大党应该感到羞愧,这些人是国家的诅咒,他们间接造成了成千上万的无辜者遇难。腐败家族任命玛玛塔这样的腐败官员,对印度穷人毫无帮助。
paarth d - 6 hours ago -Follow
I am trying hard to think about the UPA days and I can''t recollect a single railway minister during that time who worked with such care and concern and at such attention to detail.
我正在努力回想国大党执政的那些日子,我想不起在那段时间里有哪位铁路部长有如此认真、如此注重细节。
ONE LINER Challenge - 5 hours ago -Follow
FING RAILWAYS IS THE MOST TOUGHEST PROBLEM DUE THE SHEER SIZE OF RAILWEAYS
AND MODI FIXED ALL PROBLEMS IN A JIFFY
铁路问题是最难解决的,印度铁路的规模太大。话虽如此,莫迪还是很快就解决了所有问题。
Eland Kumar - 6 hours ago -Follow
Gov does so much but we have so much rotten people... Yesterday they did a trial run of a new railway between Agra and Delhi and some people threw stones on it from outside, When so many people are just lousy, its hard -- how much can govt do?
政府做了这么多实事,但还有很多害群之马,昨天在阿格拉和德里之间的一条新铁路进行试运行时,他们朝铁路扔石头,这些人太坏了——政府还能怎么做呢?
Parbat Panwar - 6 hours ago -Follow
Till Modi is PM all likely hood of stop the corruption and puttying the cheat and corrupts behind bar,
莫迪当了总理,才遏制了腐败,并把那些骗子和腐败分子送进监狱。
Aneesh - 3 hours ago -Follow
from Rafale to Railways , Roads, electricity, make in india......there are more than 1000 examples of modi's good work ..........we all as a indian should clap at least once .
从阵风战机到铁路、公路、电力,"印度制造"计划,莫迪的政绩有上千个,我们印度人都应该为他鼓掌。
Chandra Deshpande - pune - 4 hours ago -Follow
The Third Rate Congress Government has left the thousands of lives in disarray in the last 65 years
.Nation is changing under NAMO
在过去的65年里,三流的国大党政府让成千上万的人生活在混乱之中
而在莫迪的领导下,国家正在发生变化。
Ravindran Nambiar - Puttur - 5 hours ago -Follow
once a dream now a reality.
曾经的梦想现在变成了现实。
Mahabali - Navi Mumbai - 1 hour ago -Follow
Good work by railway ministry.....now improving passenger safety should be the primary target....
铁路部门干得好… 保障乘客安全是首要目标……
nanksn - Planet earth - 6 hours ago -Follow
Another good job done by this govt..
这届政府又干了一件好事。
Manu - New Delhi - 7 hours ago -Follow
Most people don't care about these crossings. Everyday one can see people sliding under these crossings to get to the other side. Many shahrukh khans even slide their motorcycles and scooters also when the train is seconds away. And when they die, they blame there was nobody at the railway crossing!!!!
大多数人不把这些铁路平交道口当回事。每天我们都能看到人们从这些道口穿到另一边。许多人甚至在火车离他们不远的时候骑着摩托车穿过。等出人命的时候,他们就责怪平交道口没人值守!!
jasvir singh Parmar - 2 hours ago -Follow
A great accomplishment by Railways under Modiji. Need of the hour NDA government for another term.
在莫迪的领导下,印度铁路部门取得了巨大成就。这届政府应该连任。
chandrasekhara reddy Cheemalapati - 1 hour ago -Follow
Many people of the country were addicted to drugs administered by corrupt and dynastic congress governments.Require deaddiction theraphy to change their mindset.Otherwise how can we digest the getting of votes by the congress people in elections.
这个国家的许多人都热衷于让国大党统治,需要彻底改变他们的心态。让国大党拉不到选票。
Rajesh Singhal - 2 hours ago -Follow
Despite a large number of accidents at unmanned level crossings prior to 2014 were taking place but no step was taken to minimize the accidents. Let the days pass by being the motive of the previous government , the Congress. Today, good that the number of unmanned level crossings are being done away with and time will come soon when there would be no unmanned level crossings in the country.Good step taken by the Modi government.
2014年之前,无人值守的平交道口发生了大量事故,但国大党并未采取措施。如今,无人值守平交道口的数量正在减少,这是件好事。不久的将来,这个国家将没有无人值守的平交道口。莫迪政府迈出了很好的一步。
raji195020 - Secunderabad - 1 hour ago -Follow
Current railway minister is better than most of several decades n not pm actually
现任印度铁路部长比几十年来的大多数部长都好。
Sandeep Kumar - 3 hours ago -Follow
Piyush goel is one of the best performing ministers of Modi !
皮尤什·戈亚尔是莫迪政府表现最好的部长之一!