Gunmen loot Duronto Express passengers in Delhi
歹徒在德里抢劫特快列车乘客。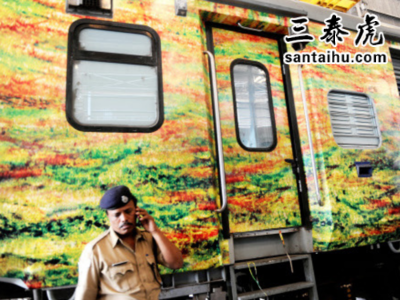 NEW DELHI: Passengers on board the Jammu-Delhi Duronto Express were robbed at knifepoint on Thursday by armed men, officials said.The matter came to light after a passenger filed a complaint through the railways' complaints portal.
新德里:官称,周四,查谟-德里特快列车上的乘客遭歹徒持刀抢劫。该事件是在一名乘客通过铁路投诉门户网站投诉后曝光
In the complaint, Ashwani Kumar claimed that passengers of B3 and B7 coaches of the train 12266 were targeted by the armed men when it neared the Delhi Sarai Rohilla station.
在投诉信中,阿什瓦尼·库马尔称,12266次列车B3和B7车厢的乘客在接近德里Sarai Rohilla站时遭到持械者袭击。
A Northern Railways official said the RPF has some lead in the matter and action will be taken against the culprits.
北方铁路公司的一名官称,印度铁路保安部队已掌握一些线索,将对罪犯采取行动。
"The Railway Protection Force (RPF) has initial leads in the matter. The culprits will be nabbed soon and stern action will be taken against them," a Northern Railway spokesperson said.
北方铁路公司的一位发言人表示:"铁路保安部队已掌握部分线索,很快将抓获罪犯,并将对他们采取严厉措施"
"As train number 12266, which stops only at its source and destination stations, was approaching the Delhi station, stopped at around 3:30 am awaiting signal, seven to 10 miscreants entered coaches B3 and B7 of the train," Kumar said.
He claimed that the robbers, who were carrying sharp-edged knives, threatened the passengers to handover their expensive items.
"They looted purses, cash, carry bags, gold chains, mobiles and many more items from multiple passengers," he said.
He claimed that the incident took place within 10 to 15 minutes when train stopped there.
"The irony is that neither staff nor security personnel were available there at the time of the mishap," the passenger claimed.
He said that the passengers tried to reach the train attendant and TT after the incident and found them after 20 minutes.
库马尔称:"12266次列车只在始发站和终点站停靠,大约凌晨3:30,当列车接近德里站等待信号时,7到10名歹徒进入了B3和B7车厢。劫匪手持锋利的刀具,威胁乘客交出贵重物品。他们从多名乘客那里抢劫钱包、现金、提包、金链子、手机和许多其他物品。事件发生在火车停候的10到15分钟内。讽刺的是,案发时那里既没有工作人员,也没有安保人员。案发后,乘客们试图求助列车乘务员,但20分钟后才找到他们。"
The complainant claimed that when he could not find the TT or the attendant, he contacted the Delhi Police after which an FIR was registered at the destination station.
投诉者称,找到乘务员之前,他联系了德里警方,随后在终点站报案。
"... The attendant told us that there was no security personnel available in the train. We are not safe even in AC coaches and imagine the security in sleeper class and general coaches where passengers enter the train even without tickets... ," Kumar wrote in his complaint
库马尔在投诉信中写道:"乘务员告诉我们火车上没有安保人员。我们就算是在空调车厢里也不安全,卧铺车厢和普通车厢的安全状况可想而知,这类车厢即使没有车票也能进入……"
印度时报读者评论:
译文来源:三泰虎 http://www.santaihu.com/46889.html 译者:Jessica.Wu
外文:https://timesofindia.indiatimes.com/city/delhi/gunmen-loot-duronto-express-passengers-in-outer-delhi/articleshow/67567689.cms
Arijit - 1 hour ago -Follow
why can't railway stations on India have security checks like airports. India is spending billions of dollars towards development and must not overlook this aspect.
为什么印度火车站不能像机场那样设安检?印度正投入数十亿美元发展资金,决不能忽视这一方面。
Allen - Calgary - 25 mins ago -Follow
I feel sorry for the plight of the people in India
我为印度人民的困境感到难过
Ranjan Kumar Indian - Lucknow - 30 mins ago -Follow
It appears to be a ploy. It appears that the train had been stopped intentionally. The robbers were ready with the arms. The definitely have friends working in the Railways.
这似乎是事先预谋好的。看来火车是故意停下的,强盗们准备了武器,他们肯定有朋友在铁路系统工作。
Selvi S - 1 hour ago -Follow
Why the train guards are not available, train service has to probe it
为什么印度火车上没有安保人员呢?列车服务部门必须对此进行调查
Akhil - New Delhi - 1 hour ago -Follow
This is all because of BJP go nment. There were no recruitment in RPF and other protection forces since past 5 years. As a result there is insufficient staff and unemployed people are resorting to crime.
这都怪印度人民党政府。自过去5年以来,铁路保安部队和其他保护部队没有招人。结果导致人员不足,而没工作的人又走上了犯罪的道路。
Ranjan Kumar Indian - Lucknow - 29 mins ago -Follow
The train had stopped at signal, awaiting clearance. May be it has been planned.
火车停下来等信号的时候发生的,也许这是策划好的。
Sushil Kumar - Mumbai - 34 mins ago -Follow
A clear case of involvement of railway staff.
这案子明显有铁路工作人员参与。
Kosopet - 47 mins ago -Follow
That's UP culture
这就是北方邦的文化。
Anil B - Gurgaon - 40 mins ago -Follow
Almost all trains stopping at Agra and Mathura face theft. GRP is also hand in gloves with these people.
几乎所有停在阿格拉和马图拉的火车都面临被抢的窘境。铁路警察局和这些人关系密切。
Vivek - 20 mins ago -Follow
there might be share of railway staff in theft
可能有一些印度铁路员工参与了抢劫
Sreeprasad shetty - Bangalore - 51 mins ago -Follow
Police and politicians good to eat bribes
印度警察和政客收了贿赂
Rajiv - 12 mins ago -Follow
Railway must give compensation for loss suffered by passengers and must recover it from Railway police as these are responsible for security and they have failed in their duty. Any lawyer willing to file PIL on behalf of sufferer ?
印度铁路部门必须赔偿旅客的损失,并向铁路警察追偿,他们对旅客的安全负有责任,但却没有履行职责。有律师愿意代表受害人提起公益诉讼吗?
Metal - INDIA - 20 mins ago -Follow
unemployment, massive population and soft law is are the main reasons. train passengers is soft target.
失业、人口众多和法律宽松是主要原因。列车乘客是好下手的目标。
Babu - 22 mins ago -Follow
Install CCTVs in each compartment and also attach one at every door outside of the compartment. At least there will be some lead even if the robbers cover their faces.
应该在车厢里的每个隔间都装上监控,隔间外的门上也安装一台,即使强盗蒙着脸,至少也会有点线索的。
Atilla Hun - www - 12 mins ago -Follow
Trains are being robbed in the Capital now. This is the new India
在印度首都,火车都遭到抢劫,这就是新印度
Ived - 17 mins ago -Follow
These are terrorists. In India, the police are not available where they need to be (even in high risk areas) unless it impacts a VIP.
这些都是恐怖分子。在印度,需要警察的地方却找不到警察(即使在高风险地区),除非影响到某个大人物。
Dr Neil Bazaz - 21 mins ago -Follow
BJP workers trying to gather funds for election
印度人民党的手下试图为选举筹集资金
Ajay - 36 mins ago -Follow
Definitely this looting has been done by green chaddis who are paid param brakes of Pappu so the whole blame could be put on Modij and BJP ,as LS polls are approaching ,Pappu and his stoogies are capable of doing these tipe of this
毫无疑问,这次抢劫是拉胡尔出钱叫人干的,而一切责任却都归咎于莫迪和人民党。大选将至,拉胡尔和他的手下总是制造事端。
Asish - 36 mins ago -Follow
Who are responsible?
Attendant,Railway Staff, Railway officials....another enquiry..results to be seen.
Dereliction of duty mostly at all segments, except a few dedicated persons..
谁应对此事负责?乘务员、铁路员工还是铁路官....等待调查结果。
几乎所有部门都玩忽职守,只有少数人矜矜业业。
Abc - India - 1 min ago -Follow
this is too common in Bihar route...
这在比哈尔邦的铁路线上太常见了……
Abe Lincon - Grave - 2 mins ago -Follow
This is the state of railways under MODIfied India. The goons have open power to do anything that they like. But when you have a Tadipar as a party president and rioter as Prime Minister, what else can you expect.
这是莫迪执政下的铁路状况,暴徒有权为所欲为。总理自己都是个暴徒,你还能指望什么呢?
Nk - New Delhi - 2 mins ago -Follow
Train journey is NOT safe , train food is not safe , train blankets are smelling. Where to go ?????
坐火车不安全,食物不安全,毯子有异味,我们应该何去何从?????
Rajaali - 4 mins ago -Follow
Oh its delhi police, headless chicken. What to expect, those who cant maintain law and order in the capital city and they want to rule the country
德里警察,跟无头苍蝇似的。那些在首都都无法维持法律和秩序的人,还想统治这个国家。
abhijit palit - 6 mins ago -Follow
Camera should be installed in all the coaches.
所有车厢都应安装摄像头。