China's third home-made passenger plane C919 completes first flight as part of Beijing's trillion-dollar plan to take on western aircraft firms
中国第三架国产客机C919完成首飞,北京斥资上万亿美元与西方飞机制造商较量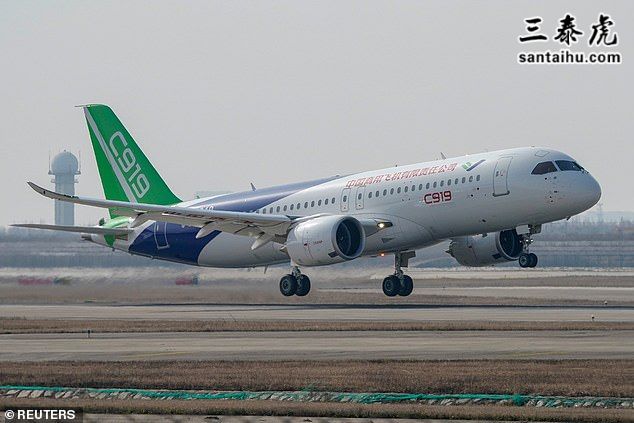 China's third home-made passenger plane completed its maiden flight today as the country moves one step closer to its trillion-dollar aviation dreams.
今天中国第三架国产客机完成了首飞,中国向其万亿美元的航空梦又迈进了一步。
The Chinese authorities are planning to replace all 6,000 to 6,800 of its western aircraft at a cost of around $1 trillion (£788 billion), and most of the replacements are expected to be the single-aisle made-in-China jet.
中国正计划斥资约1万亿美元(7880亿英镑),替换现有的6000-6800架西方飞机,而且大部分的替代品预计将是中国制造的单通道飞机。
Commercial Aircraft Corp of China (COMAC), a Chinese state-owned aviation manufacturer based in Shanghai, spent 11 years and $6.5 billion (£5 billion) developing C919, which has been lauded as China's answer to the Boeing 737 and Airbus 320.
中国商用飞机有限公司(COMAC),是一家中国国有航空公司总部设在上海,花费65亿美元(£50亿)历时11年研发C919,C919被誉为中国版的波音737和空客320。
COMAC is currently assembling three other C919 planes and all of them are expected to complete their first flights next year. It is also developing a wide-body plane, the C929, in cooperation with Russia's United Aircraft Corp.
中国商飞目前正在组装另外三架C919飞机,预计它们都将在明年完成首飞。该公司还在与俄罗斯联合航空制造集团(United Aircraft Corp.)合作开发一款宽体飞机C929。
The third narrow-body, twin-engine C919 successfully landed at the Shanghai Pudong International Airport at 12:45pm today after flying for 98 minutes, according to a social media statement from COMAC.
中国商飞在社交媒体上发表声明称,第三架窄体双引擎C919客机在飞行98分钟后,于今天下午12点45分在上海浦东国际机场成功着陆。
The first two C919s took to the skies for the first time on May 5 and December 17 last year respectively. Both of them are undergoing further flight tests in order to obtain flying certification.
前两架C919分别于去年5月5日和12月17日完成首飞,这两架飞机都在进行进一步的飞行试验,以取得飞行证书。
Sporting white, blue and green livery, the third C919 was manned by pilots Xu Yuanzheng and Zhang Jianwei.
第三架C919机身主要以白色为主,搭配蓝色和绿色,由飞行员徐远征和张健伟驾驶。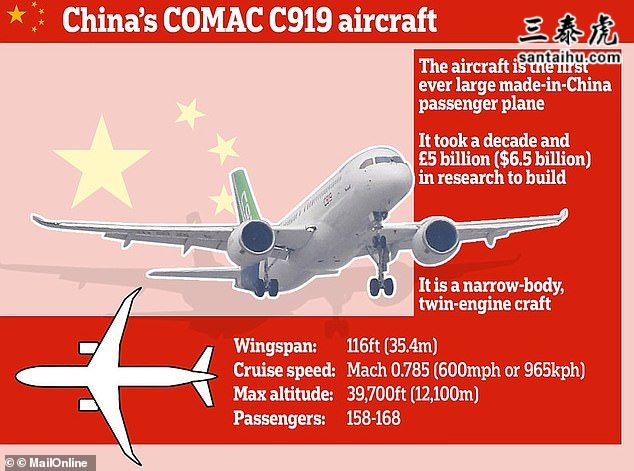 It took off at 11:07am from the fourth runway of the Shanghai Pudong International Airport. It also carried one observer and two engineers on board.
该飞机于上午11:07从上海浦东国际机场第四跑道起飞,机上还载有一名观察员和两名工程师。
COMAC said the plane completed 21 test points during the flight. It is expected to undergo further tests in Xi'an after today's flight.
中国商飞表示,这架飞机在飞行中完成了21个试验点。预计在今天的飞行结束后,它将在习安进行进一步的测试。
COMAC is yet to reveal more details of the maiden flight, such as the plane's height or speed. In May last year, the first C919 reached 10,000 feet with a maximum speed of 170 knots (196 miles per hour or 315 kph) during its maiden flight.
中国商飞尚未透露此次首飞的更多细节,比如飞行的高度或速度。去年5月,第一架C919在首次飞行中达到10000英尺,最高速度为170节(196英里每小时或315公里每小时)。
The C919 flight is Beijing's first step toward independence from Boeing and Airbus.
C919是北京摆脱对波音和空客依赖的第一步。。
China is a massive battleground for Boeing and Airbus, with the country's air travel market expected to surpass the United States by 2024, according to the International Air Transport Association.
根据国际航空运输协会的数据,中国是波音和空客的一个巨大战场,预计到2024年,中国的航空旅行市场将超过美国。
The aircraft has a flight range of up to 3,451 miles (5,555 kilometres), which means it can fly non-stop from Shanghai to Jakarta or from Paris to Montreal.
C919的航程达3451英里(5555公里),这意味着它可以从上海直飞雅加达或从巴黎直飞蒙特利尔。
It can fit 158 to 168 seats. In comparison, different models of Boeing 737 can seat 85 to 215 passengers; while an A320 can accommodate 100 to 240 people.
C919可容纳158到168个座位。相比之下,不同型号的波音737可容纳85到215名乘客,空客A320可容纳100到240人。
COMAC is yet to release the price tag of the jet, but a report by China National Radio predicted that C919 was likely to be sold at £33 million ($43 million), much cheaper than a Boeing 737 or an Airbus 320 which each cost around £62 million ($80 million) and £77 million ($100 million) respectively.
中国商飞尚未公布该飞机的售价,但中国国家广播电台的一份报告预测,C919售价可能达到3300万英镑(4300万美元),比波音737或空客320便宜, 波音737售价约为6200万英镑(合 8000万美元), 空客320售价约为7700万英镑(合1亿美元)。
International Air Transport Association estimated that 927 million people would travel to or from China by air in 2025 - compared to the 904 million passengers to and from the United States.
国际航空运输协会估计,到2025年,将有9.27亿人乘飞机往返中国,而往返美国的旅客人数为9.04亿。
英国每日邮报读者评论:
译文来源:三泰虎 http://www.santaihu.com/46777.html 译者:Jessica.Wu
外文:https://www.dailymail.co.uk/news/article-6535921/Chinas-home-passenger-plane-C919-completes-flight.html
Unreasonable Kant, scismsville, Svalbard And Jan Mayen, 2 days ago
If you had the money and motivation to build a car. Wouldn't you take one apart first and see how everything worked before starting? Of course they innovated and borrowed ideas.
如果你有资金也有动力去造飞机,你不防在开始之前先拆开一架看看一切都是如何运作的?借鉴创意,再自主创新。
SAMY Stone, greenock, United Kingdom, 2 days ago
Just as well that Germany and Japan are still restricted by wartime agreements limiting the type of aircraft they are allowed to build. Poor Old Britania can no longer compete with anyone.
德国和日本仍受到战时协议的限制,有些飞机不能造。可怜的老不列颠尼亚再也不能和任何人竞争了。
ll, ipswich, United Kingdom, 2 days ago
End of my flights with air China, eastern China and southern China airlines
我再也不会乘坐中国国际航空公司、东方航空公司和华南航空公司的航班。
The Captain, South Shields, United Kingdom, 2 days ago
A Chinese airliner ? I'd rather travel on the Hindenburg.
中国客机?我宁愿乘兴登堡号出行。
nick, bristol, 2 days ago
More counterfeit goods coming out way!
假冒伪劣产品层出不穷!
LERENARD, Love n Light, United Kingdom, 2 days ago
No need for expensive R&D when you can just hack and steal the technology.
只要会窃取技术,就不需要付出昂贵的研发费用。
Frankly, Sydney, Australia, 2 days ago
a decade and research to build ? - guessing mostly stolen from hacked US companies trade designs.
花了十年研制?-我猜大多设计是从美国公司窃取的。
Donald, Toronto, Canada, 2 days ago
In the six-abreast cabin category.....China has joined USA (Boeing 737), Russia (Tupolev Tu-204 amd Irkut MC-21) and EU (Airbus A320) in producing a comparable aircraft.....there is competition from only 4 other companies, so it will do well I think by grabbing a share of the market.
中国已经加入美国(波音737)、俄罗斯(图波列夫Tu-204 、Irkut MC-21)和欧盟(空客A320)的行列……这是只有4家公司的竞争,我认为通过抢占市场份额,中国的表现会不错的。
fcg, Riverland, Australia, 2 days ago
I wonder where they got the designs from. I don't suppose Huawei had anything to do with it.
我想知道他们的设计是从哪儿获取的。我认为华为与此无关。
Toxic0199, London, United Kingdom, 2 days ago
But its first flight was in may 2017?
首飞不是在2017年5月吗?
toxents, Shanghai, 2 days ago
If it is govt company, they will ensure quality. And if they will replace everything with it, you have no choice but fly with it if you travel in China, or you can just take the speed train (which is amazing btw) if u dont trust the plane quality.
如果是国企,会有质量保证。如果在中国旅行,别无选择,只能坐; 如果你不敢坐飞机,你也可以坐高铁(顺便说一句,高铁棒极了)。
zoltan, melbourne, Australia, 2 days ago
How's the UK aviation industry looking post Brexit?
脱欧后,英国航空业的前景如何?
Happening now in, Pyongyang, North Korea, 2 days ago
It's an Embraer-bus.
这是巴西航空的飞机
Mr_Anderson, London, United Kingdom, 2 days ago
It looks like a mini Airbus A350. I wonder if Airbus use Huawei network infrastructure?
看起来像小型空客A350。我想知道空客是否使用了华为的网络设备?
Kol, Here - or there, Heard Island And McDonald Islands, 2 days ago
reverse engineered, guaranteed... commie countries do that all the time..
逆向工程,他们一直都是这么干的。
Chris P Duck, Nottingham, United Kingdom, 2 days ago
Any information on the engines that power this aircraft?
有关于这架飞机的引擎的信息吗?
Mzungu, Sodden-on-the-Water, United Kingdom, 2 days ago
I for one will not be flying in any airplane 'made in China' and it looks like many others think the same. Who makes the engines?
就我个人而言,我不会乘坐任何"中国制造"的飞机,我想很多人都和我一样。引擎是谁造的?
Laliem, Anytown, United States, 2 days ago
Hardly a Chinese design. Western engines, avionics, etc. some structural components made there and assembled there. Without the critical components from the west that there is one massive paper weight.
几乎不是中国的设计。西方的发动机、航空电子设备等,只有一些结构部件在那里制造和组装。如果没有来自西方的关键部件,那就是个空纸盒。
Rhonda Shorrock, Mildura, Australia, 2 days ago
Hope it works better than some of the cars it makes.
希望这飞机比他们生产的一些汽车更好用。
Here_we_go_again, Manchester, United Kingdom, 2 days ago
And? If China wants to develop its own aircraft industry why shouldn't it? Let's see how well the C919 sells outside China against the Boeing 737 family, the Airbus A320 family and the Embraer E170 - E195 family........
为什么中国不能发展自己的飞机工业呢?让我们看看C919在中国以外的市场,和波音737系列、空客A320系列和巴西航空工业公司(Embraer) E170 - E195系列相比,表现如何…
dai2000, London, United Kingdom, 2 days ago
And every single part is copied from either a Boeing or an Airbus.
每一个零件都是从波音公司或空客公司复制过来的。
Tompolhaus, Hunstville, 2 days ago
I got to admit they have come far in 30 years when their first home built aircraft was a large kite with a coolie strapped under it.
不得不承认,30年来他们在飞机制造方面取得了很大的进步。
ndhillon79, Harrisonburg, United States, 2 days ago
not sure how I would feel about seeing Made In China on an commercial aircraft
在商用飞机上看到"中国制造"的标志,不知会作何感想。
eeyaw, sydney, Australia, 2 days ago
Yeah right they stole the shape of the planes from the west, sour grapes.
好吧,他们模仿了西方飞机的外形,吃不到葡萄说葡萄酸。
Allan K Preston, Manchester, United Kingdom, 2 days ago
Hand back your iPhone then, thats made in china too.
@g00gles101把你的iPhone也退掉吧,那也是中国制造的。
Catweazle, North Yorkshire, 2 days ago
If it ain't Boeing I ain't going!
除了波音之外,我都不坐!
southwest17, Lincoln, United Kingdom, 3 days ago
In theory, it ought to be reliable and safe, being as it`s built using knock off Western technology. However, being made in China, to their usual corner cutting standards, and using inferior electronic components
从理论上讲,这飞机应该是可靠和安全的,因为它是用西方技术建造的。然而,这些飞机是在中国制造的,按照它们一贯节省成本的标准,使用的将是劣质电子元件
Flyboy, Anywhere, United Kingdom, 3 days ago
Available in a Pound Shop, or Dollar Store near you!
你可以在附近的一元店买到!
LisaLAd, London, Morocco, 3 days ago
No airline of note will buy these planes.
没有一家知名航空公司会购买这飞机。
mr cactus, Birmingham, United Kingdom, 3 days ago
Technology stolen from Boeing !
从波音公司窃取的技术!
UK2RIR1918, Belast, United Kingdom, 3 days ago
Wow a Walmart airplane!
哇,沃尔玛就能买到的飞机!
yalapmitanga, watanka, United Kingdom, 3 days ago
So much on research? Who would have thought that copying other peoples designs would be so expensive?
研发了那么久?谁能想到抄袭别人的设计,成本也会如此之高
Its cold in here, Newcastle, United Kingdom, 3 days ago
Cheap Chinese copy
廉价的中国仿制品
CaptainKirk, London, United Kingdom, 3 days ago
Maybe after a decade or so they may have the quality problems solved.
也许十年后,他们的质量问题才能得到解决。
singh, Great Dunmow, 3 days ago
Though the air frame is Chinese made, most systems and engines are western, so really the plane is international though it is assembled in China.
虽然机身是中国制造的,但是大部分的系统和引擎都是西方制造的。所以虽然飞机是在中国组装的,但它确实是国际标准的飞机。
Roberts666, Chester, United Kingdom, 3 days ago
Wont be able to land in western airports without certification.
没有获得证书,就不能在西方机场降落。
Lychee2u, Sepang, Malaysia, 3 days ago
Airbus and Boeing will go bankrupt soon...
空客和波音很快就要破产了……
Yussif, Accra, Ghana, 3 days ago
Some people can be such an idiots, Chinese invented paper money, spoon,gunpowder and other things and you westerners never felt how fake they're........now you think everything made in your country is better but Chinese made is fake. foolish thought.
有些人可能是白痴,中国人发明了纸币、勺子、火药等东西,而你们西方人从来没有感觉到自己是多么的虚伪
Pienso, Atlanta, United States, 3 days ago
Wonder which company they stole the plans from?
不知道他们从哪家公司窃取了设计?
ryanrye, Reality, United States, 3 days ago
I don't trust in Chinese engineering or quality, they don't even have elevators mastered yet.
我信不过中国产品的质量,他们甚至还没有掌握制造安全电梯的工艺。
spanner30, London, United Kingdom, 3 days ago
has Donald threatened to shoot it down yet?
特朗普有威胁要把它打下来了吗?
paevo, USA, United States, 3 days ago
Do you board the plane using an escalator made in China?....
用中国制造的扶梯登机吗?
Assis, Landskrona, Sweden, 3 days ago
It sounds good, add more to the competition. In the past years China improved the quality and is doing very well in overall. For those negative people with bad comments against China, check inside your homes and see how many goods are made in China, Also I'm sure you are using smart phones or computers, check inside to find out how many components are made in China lol.
不错,增加了竞争。在过去的几年里,中国提高了质量,总体上做得很好。对于那些对中国有负面评论的人,看看自己家里有多少商品是中国制造的,我相信你们也在用智能手机或电脑,看看里面有多少零件是中国制造的,哈哈。
madmark111, Paris, France, 3 days ago
all the peopl saying they wont fly in any china made plane, go and take a look at every item in your house, nearly all Chinese and all very reliable, the fact is Chinese goods are better than British goods and 100 times better than any crap from the US, look at Airbus which has outsold Boeing in the last 12 years, Boeing has also hasd twice as many crashes as Airbus, Chinese competition is good for all
那些说不坐任何中国飞机的, 去看看自己家里的东西,几乎所有都是中国制造的而且非常可靠。事实上,中国商品比英国商品强,比美国的垃圾产品强100倍,在过去12年空客销量已超过波音,波音的坠机事故是空客的两倍,中国加入竞争对所有人都有利。
c5then, philadelphia, United States, 3 days ago
Looks like an Airbus.
看起来像空客飞机。