MUMBAI: A US-based firm develo a near-supersonic mode of onground passenger travel on Sunday signed an 'intent agreement' with Maharashtra to build a transport system between Mumbai and Pune which aims to bring down travel time between the two cities to 20 minutes from three hours. Virgin Hyperloop One's (VHO's) chairman Richard Branson, who is in Mumbai for the Magnetic Maharashtra summit, said the route for the hyperloop system will pass through the proposed Navi Mumbai International Airport. The fare is too early to decide, but will probably be close to airfares.
周日,一家美国公司与马哈拉施特拉邦签署一份" 意向协议书 ",计划建造孟买至普纳的超级高铁,力争把两地的通勤时间从3小时降至20分钟。
超级高铁将经过拟建的新孟买国际机场。
目前,票价还没定,价格可能接近机票。
"The hyperloop will reduce accidents. Teams are working to study the feasibility of the route," Branson said. Officials said the final feasibility study may be completed in six months, and construction of a test track can start in early 2019 and finish by 2021-end. If the tests are successful, it would take about four years to build the entire Mumbai-Navi Mumbai-Pune track.
超级高铁能减少事故。
目前,团队正在进行可行性研究。
有官员表示,最终的可行性研究也许会在6个月完成。施工将从2019年初开始,2012年底完工。
顺利的话,4年就能修好孟买-新孟买-普纳超级高铁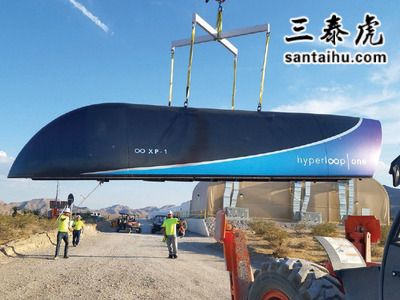 印度时报网贴翻译:
译文来源:三泰虎 http://www.santaihu.com/44291.html

Bhakt Number One
1764
Bhakt Number One - 1 hour ago
All possible only because of Modi ji...whereas scumgress would only be taking under the table cuts and keep the project on paper for 10 years before declaring it bankrupt due to cost overruns...vote for Modi in 2019!
Reply 99 48 Flag

没有莫迪,这些都是不可能的。

要是国大党,可能10年了还是停留在纸上

2019年大选,把票投给莫迪
Kameswaran Iyer
6083
Kameswaran - 1 hour ago

Hyperloop is the true giant leap forward...far better than bullet train. But the anti development opposition led by the Congo's and Commies will never allow the nation to take such a leap. They will keep citing farmer suicide, demo, GST etc and go ahead with their anarchist agenda.
Reply 61 18 Flag

超级高铁是一个巨大飞跃。

比普通高铁好太多了

就是国大党领导下的反对派会出来阻挠,不想看到国家进步。
Pradeep B
808
Pradeep B - 1 hour ago

Mumbai to Pune in 20mins , Pune to Hinjewadi phase III , 2.5 hrsð ð ð
Reply 14 2 Flag

孟买到普纳只要20分钟
Abaccus
692
Abaccus - Bombay - 2 hours ago

Will it have windows to spit-out paan...?
Reply 14 6 Flag

超级高铁有窗户吗,吃东西剩下的渣吐得出去吗
Truth Prevail
12682
Truth - Common Sense - 1 hour ago

Hyperloop is the way to go forward, much cheaper than bullet trains. Well done Modi, my only problem is those zopadpatti people who may start objecting if their houses needed to shifted for this project.
Reply 13 3 Flag

超级高铁才是出路,成本比普通高铁便宜多了

莫迪干得好

唯一担心的问题是,项目征地拆迁,人们会不愿意搬走
Paramasivan C
6848
Paramasivan C - 1 hour ago

The estimated cost of the route is around Rs 20,000 crore, which officials say works out cheaper than other forms of high-speed on-ground travel.

超级高铁估计造价大约2000亿卢比

印度官员说成本比普通高铁低。
Allen Pais
10842
Allen - 1 hour ago

They should name it Feku Express.
Reply 5 9 Flag

应该取名莫迪特快
Orchid Balu
1436
Orchid Balu - Chennai, India - 1 hour ago

If the Hyper Loop can travel faster and cheaper than the proposed Bullet train between Mumbai and Ahmedabad, the proposed bullet train project has already become a white elephant. For the cost of the bullet train project between M & A, we could cover almost 5 times the distance with the Hyper Loop.
Reply 5 0 Flag

既然超级高铁的速度和成本都比孟买至艾哈迈达巴德高铁低,那孟买至艾哈迈达巴德高铁修来干嘛。
knownunknownone
13374
knownunknownone - 1 hour ago

Modi is a corrupt Gujarati and he is aiding other Gujarati to loot India.
Reply 5 8 Flag

莫迪是腐败的古吉拉特邦人,他帮助家乡人洗劫国家
Taccs
Taccs - 3 hours ago

150 million travellers !!!!!!!
do we really have as many who will opt to shell out for airfare rates for such small distances ??
maybe for Mumbai - ahemdabad - Surat sector .....
but not for Mumbai - pune ??
hope the govt knows what it's doing.
Reply 5 3 Flag

1.5亿乘客!

那么短的距离,有那么多人会愿意支付飞机票价去坐超级高铁吗
knownunknownone
13373
knownunknownone - 51 mins ago

America is a world leader in technology, military, and in most respect. Who runs America? Whites. So they take credit for it. Naturally, if America were a third world country who would have taken the blame for it. American whites. India is a shithole. Who Runs India. Gujarati,.Marwari, Hindu Punjabi, Marathi Brahmin, Hindi speaking upper caste, Jain, and Tamil Brahmin. India is a shithole but these people behave like that as if India is a superpower and take no blame for India''s state of affair. ... Read More
Reply 4 4 Flag

美国的技术是世界最先进的。

谁统治美国?

白人啊

如果美国沦为第三世界国家,谁的责任?当然也是美国白人。

印度是一个屎坑,可是印度人拽拽的样子,搞得好像印度是超级大国一样。