China AI & Semiconductors Rise: US Sanctions Have Failed
中国人工智能和半导体崛起:美国制裁失败了
As we approach the 1-year anniversary on the October 7th China sanctions, it is abundantly clear that the export controls are failing. The Biden Administration's stated aim was to limit Chinese firms' ability to manufacture the highest end chips including those in AI and other technologies that could be used for nefarious purposes by the Chinese .
The PRC is rapidly develo Exascale supercomputing capabilities and has announced its intent to become the world leader in AI by 2030.
随着10月7日中国制裁一周年的临近,很明显,出口管制正在失败。拜登政府宣称的目标是限制中国公司制造高端芯片的能力,包括人工智能和其他技术中可能被中国人用于其他目的的芯片。
中国正在快速发展Exascale超级计算能力,并宣布计划到2030年成为人工智能的世界领导者。
These systems are being used by the china for its military modernization efforts to improve the speed and accuracy of its military decision making, planning, and logistics, as well as of its autonomous military systems, such as those used for cognitive electronic warfare, radar, signals intelligence, and jamming. Furthermore, these advanced computing items and "supercomputers" are being used by the PRC to improve calculations in weapons design and testing including for WMD, such as nuclear weapons, hypersonics and other advanced missile systems, and to analyze battlefield effects.
这些系统正被中国用于军事现代化努力,以提高军事决策、规划和后勤的速度和准确性,以及其自主军事系统,如用于认知电子战、雷达、信号情报和干扰的系统。此外,中国正在使用这些先进的计算项目和"超级计算机"来改进武器设计和测试的计算,包括核武器、高超音速飞行技术和其他先进导弹系统等大规模杀伤性武器的计算,并分析战场效果。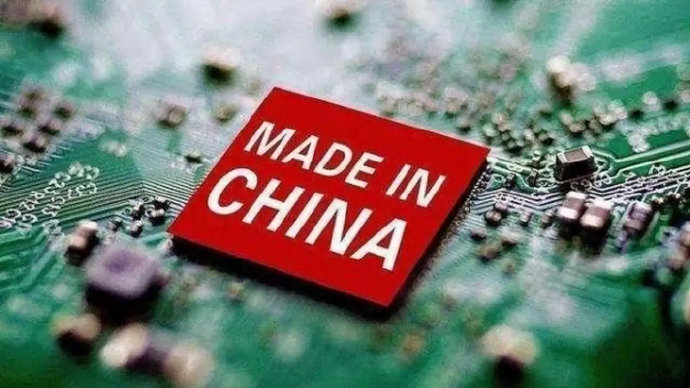 以下是美国reddit网民的评论:
nlaw0z
Maybe the key purpose of the sanction is to delay sub 5NM development in China?
I have a feeling that the main objective is to hemper the rate of growth of Chinese economy, not just send them back to stone age by starving them of electronics.
也许制裁的主要目的是延迟中国5纳米以下芯片的发展?
我有一种感觉,主要目的是阻碍中国经济的增长速度,而不仅仅是让他们芯片短缺,把他们送回石器时代。
Ducky181
It appears that the premise you argued and mentioned does not align with the United States government actions, and behaviour, rather it aligns more with maintaining technological superiority in duel military-civilian domains.
If the United States government true motive and aim was to starve them of electronics and reduce their economic growth, then they would impose a comprehensive compilation of mass sanctions targeting all critical and essential capital goods and components across the entire semiconductor industry in a manner that would mirror historical measures akin to those employed by Western nations against Soviet states during the exstence of the Coordinating Committee for Multilateral Export Controls (CoCom).
Furthermore, the United States government under the Department of Commerce—Bureau of Industry and Security (BIS) would not approve 94% of all export based licences for tech goods from the USA for Chinese companies that are listed within the Export controls entity list. Noting this, only 0.5% of all goods sold to China from the United States were based on products to companies that are listed in the export controls.
看来你所争论并提到的前提与美国政府的行动不一致,相反,它更符合在双重军民领域保持技术优势。
如果美国政府的真正动机和目的是让他们芯片短缺,降低他们的经济增长,他们将对整个半导体行业的所有关键和必要的资本货物和组件实施全面的大规模制裁,其方式类似于多边出口管制协调委员会(CoCom)存在期间西方国家对苏联国家采取的措施。
此外,美国商务部、工业和安全局(BIS)将不会批准94%的美国技术产品出口许可证,这些许可证是针对被列入出口管制实体名单的中国公司的。注意到这一点,从美国出售给中国的所有商品中,只有0.5%是基于出口管制中所列公司的产品。
hwgod
If the United States government true motive and aim was to starve them of electronics and reduce their economic growth
That's clearly the intention, but their economy is too big and intertwined with the US to go all the way. Besides, support from "allies" is already tenuous.
如果美国政府真正的动机和目的是让他们芯片短缺,降低他们的经济增长?
这显然是他们的意图,但中国的经济规模太大,与美国交织在一起,所以无法做到。此外,来自"盟友"的支持已经很弱了。
nlaw0z
Dude, it's most likely impossiblen to LITERALLY CONTROL AND DENY every single equipment related to sub 7nm processes.
The beauracracy itself is going to bring US down before it hurts China lol.
老兄,要控制每一个与7纳米以下工艺相关的设备是不可能的。
在打击中国之前,美国的官僚主义本身就会把美国打倒,哈哈。
BixKoop
Am I the only one who remembers dylan's rant on how a low yield crypto-mining chip meant that SMIC has overtaken Intel?
I don't think he's that stupid, just like last time. The alarmism is to create a sense of panic, so he's ho the article gets read by someone important so the complete cutoff sanctions he's been calling for get pushed forward.
我是唯一一个记得迪伦曾经就低产量加密挖矿芯片,意味着中芯国际已经超越英特尔而咆哮的人吗?
我觉得他没那么蠢,就像上次一样。危言耸听是为了制造恐慌,所以他希望这篇文章能被重要人物读到,这样他一直呼吁的全面切断制裁就能得到推进。
SemanticTriangle
Even with the lackluster export controls, this is a leading edge chip that would be near the front of the pack in 2021, yet was done with no access to EUV
Because 7N doesn't require EUV, only DUV and quad patterning. Chinese manufacturers still have DUV tools and their access to new tools was only partially restricted.
This is about as far as they go without either forking off on their own roadmap or develo a domestic soft xray lithography tool. Their 7N ramp will be somewhat hampered by availability of DUV
即使在出口管制乏力的情况下,这也是一款将在2021年接近前沿的尖端芯片,但在没有EUV的情况下完成。
因为7纳米不需要EUV,只需要DUV和quad patterning。中国制造商仍然拥有DUV工具,他们获得新工具的途径只是部分受到限制。
这是他们在没有制定自己的路线图或开发国内软x射线光刻工具的情况下所能做到的。他们的7纳米增长速度将在一定程度上受到DUV可用性的阻碍。
Yumewomiteru
I remember not long ago people we swearing that China is stuck at 28nm, so now the goalpost have moved to 7nm? Wonder where it will be in another 2 years.
我记得不久前我们发誓说中国将停留在28纳米,所以现在他们已经发展到了7纳米?不知道再过两年会怎么样。
bik1230
I remember not long ago people we swearing that China is stuck at 28nm, so now the goalpost have moved to 7nm? Wonder where it will be in another 2 years.
I remember those times too, but I also remember that every time someone made such an outlandish claim, others were quick to correct them that anything that can be done with DUV, like 7nm, would be reachable by China without too much trouble. People have been saying that SMIC would get to 7nm with DUV for years.
我也记得,但我也记得每次有人提出这样一个奇怪的主张时,其他人都会很快纠正他们,说任何可以用DUV做的,比如7纳米,中国都可以毫不费力地实现。多年来,人们一直在说中芯国际将采用DUV技术实现7纳米工艺。
PubFiction
Its also worth mentioning that the diminishing returns of smaller nodes makes it all less critical. China could just be perfectly fine with flooding the low end side of the market with not as good chips but having them be cheaper.
同样值得一提的是,较小节点的收益递减使其变得不那么重要了。中国可以完全接受低端市场充斥着不那么好的芯片,它们更便宜。
SemanticTriangle
If they develop an equivalent lithography technique to EUV, they should be at 3N or 2N, based on normal cadence. If not, then it is not clear how they can progress so far unless the current international roadmap missed something.
如果他们研发出与EUV相当的光刻技术,他们现在应该造出3纳米或2纳米的芯片。如果不能,不知道他们以后如何能取得进展。
woolcoat
28nm?!? But I thought they'd stall out at 40nm due to sanctions
28 纳米?我认为由于制裁,他们会在40纳米这个节点停滞不前
Zednot123
But I thought they'd stall out at 40nm due to sanctions
If they can't setup their own domestic immersion litho pipeline, that is where they would end up eventually (yes they would straight up lose capability with time in that scenario). Current DUV equipment they use for 7nm is dependent on the west exporting to them, and is set to be export restricted as well for a lot of items.
They can't build out or support immersion litho on their own (yet). Which means they are at a minimum restricted for exsting capacity until they can setup domestic production of equipment (which they will eventually most likely). Or at worst they start losing capacity as equipment can't be maintained (unlikely, but you never know).
我认为为由于制裁,他们会在40纳米停滞不前。
如果他们不能建立自己的国内浸没式光刻管道,那就是他们最终的结局(是的,在这种情况下,随着时间的推移他们会直接失去产能)。他们目前使用的7纳米DUV设备依赖于西方对他们的出口,而且很多项目也将受到出口限制。
他们还不能自己构建或支持沉浸式光刻。这意味着,在他们能够在国内生产设备(他们最终很可能会这样做)之前,他们至少会受到现有产能的限制。或者在最坏的情况下,他们开始失去产能,因为设备无法维护(不太可能,但谁也不知道)。
Yumewomiteru
wdym? You think China doesn't have nukes?
你想表达什么?你以为中国没有核武器?

nanonan
Hardly as far as they will get, they have plans for 5nm with DUV in the next year or two and are designing their own EUV systems.
他们计划在未来一两年内利用DUV生产出5纳米芯片,并正在设计自己的EUV系统。
Exxon21
isn't that like stupidly hard? IIRC the main reason Intel fell behind was they cancelled their EUV orders (they were originally one of the first in line for those machines IIRC) and tried doing 10nm using only DUV, which obviously backfired hard and probably ended up being one of the biggest mistakes they ever made.
英特尔落后的主要原因是取消了中国的EUV订单(这些机器的首批订单之一),并试图只使用DUV做10纳米,这显然是适得其反的,可能最终成为他们犯过的最大错误之一。
SmokingPuffin
However, the release of Huawei's new flagship chip on SMIC's N+2 (7nm) process, Chinese companies' continued importation of billions of dollars of advanced semiconductor manufacturing equipment, and acquisition of hundreds of thousands of powerful NVIDIA H800 & A800 chips, it is abundantly clear that the Commerce Department's standards were set at a level that will not ultimately inhibit China from breaking through the barriers set last fall.
Framing high sales of H800 and A800 to China as evidence of sanctions failure is bizarre. Those products are both gimped versions of H100 and A100 made explicitly to adhere to those sanctions.
然而,华为发布了采用中芯国际N+2 (7纳米)工艺的新旗舰芯片,中国公司继续进口数十亿美元的先进半导体制造设备,并采购了数十万功能强大的英伟达 H800和A800芯片,很明显,商务部设定的标准最终无法阻止中国突破去年秋天设置的壁垒。将H800和A800在中国的高销量作为制裁失败的证据是奇怪的。这些产品都是H100和A100的缺陷版本,明确遵守了这些制裁。
gonirad
How hard can you get sucked into Chinese propaganda to claim that China buying A/H800 cards is a sign that the sanctions are failing? Those are castrated versions of the original cards that adhere to the sanctions.
你怎么能被中国的宣传所误导,他们声称购买A/H800卡是制裁失败的标志?这些是原版的阉割版本,符合制裁规定。
BixKoop
He'd been calling for the US to take a hard line on China on r/hardware while he was an active mod.
Honestly, it's evident he's overhy everything on purpose because he wants the heavier sanctions, and wrap his preferred policies in a facsimile of something that passes as an analysis.
他一直呼吁美国对中国采取强硬立场。老实说,很明显他在故意夸大一切,因为他想要更严厉的制裁,并把他喜欢的政策包装成一份分析报告的副本。
PaleontologistSad870
not so long ago, the reason of US sanctions was because of the alleged human ri hts violations..
fast forward to today, now its about containment and stifle the progress of an adversary
plebs buy the narrative every single time
Plaza Accord 1985 never forgetti
不久前,美国制裁的原因是因为所谓的侵犯人*……
快进到今天,现在所做的一切都是为了遏制和扼杀对手的进步
民众每次都相信这种说法
永远不会忘记1985年的日本广场协议
upbeatchief
I wonder if the Chinese semiconductor aimes are mostly military or if they truly want a major slice of the cutting edge chips market?
China now has a 7nm process,that's a fact. What is not known is how much chips they can produce. Do they have the tools necessary to expand their lines and meet local demand. The mate 60 delivery times are odd you basically have to wait a month to get your phone even though it is a china only phone might mean the supply is very low.
我想知道中国的半导体主要是为了军事目的,还是他们真的想在尖端芯片市场上分一杯羹?
中国现在有了7纳米工艺,这是事实。目前尚不清楚他们能生产多少芯片。他们是否有必要的工具来扩大他们的生产线,满足当地的需求。mate 60的交货时间很奇怪,基本上要等一个月才能拿到手机,即使它只在中国卖,这可能意味着供应不足。
PubFiction
I think its honestly way more about civilian but the US has to have an excuse to do it. Hows it going to sound to the world if you are just like we are cutting them off because we want to win and we want them to lose in the capitalist game where we prove that capitalism is better than co sm by taking unfair advantages. Sounds pretty bad, but saying that they are making an army that's a threat and or supplying Russia to help kill the people of Ukraine sounds a lot more like something everyone can get on board with.
The problem with all of this is that it just proves to China that they need independence and once they get it they will flex on the US and other countries hard and things could get very bad.
老实说,我认为这更关乎平民,但美国必须找个借口这样做。如果切断和他们的联系,我们想赢,我们想让他们输,在资 本主义的游戏中,我们通过不公平的优势来证明zb主义更好,世界会怎么看?听起来很糟糕,但说他们正在组建一支有威胁的军队,或者为俄罗斯提供帮助,杀死乌克兰人民,这听起来更像是每个人都能接受的事情。
所有这一切的问题是,这只是向中国证明他们需要独立,一旦他们获得独立,他们将对美国和其他国家强硬,事情可能会变得非常糟糕。
DaBIGmeow888
What is not known is how much chips they can produce.
It's announced today they plan to sell at least 40 million Mate60 phones... up 20% due to high demand.
目前尚不清楚他们能生产多少芯片。
今天宣布他们计划销售至少4000万部Mate 60手机。由于需求旺盛,上涨了20%。
petepro
So they used the machine which wasn't under sanctions to make these chips so it means the sanctions failed. LOL. Nope.
所以他们使用了不受制裁的机器来制造这些芯片,这意味着制裁失败了。哈哈,不。
DaBIGmeow888
It means the US has no clue what's it's doing. The stated goal of stop further development at 14nm, but having a clear loophole where tools can be imported to achieve 7nm/5nm nodes.
The US sanctions are poorly designed and ineffective.
这意味着美国完全不知道自己在做什么。其既定目标是让他们在14纳米停滞不前,但有一个明显的漏洞,他们可以导入工具来实现7纳米/5纳米节点。 美国的制裁设计得很糟糕,也没有效果。
sultry_eyes
This is so interesting! Leading edge nodes! Espionage! Smuggling and getting around USA Sanctions.
This is just fascinating! Thanks for the analysis and read.
太有趣了!前沿节点!间谍!走私、绕过美国制裁。
diacewrb
However the secret sauce to AI is the data to train it up and China has a lot of it. It is one of the reasons why European AI firms struggle so much, there are strict laws about what you can and can't do with other people's data making training up their AI systems so much harder.
In terms of self-sufficiency then probably no. Before the sanctions they were self-sufficient at 90nm+, now if we are looking at potentially 7nm or even below with the Kirin 9000s chip, there seems to be varying claims whether that chip is 7nm or 5nm.
Even still the whole nm thing is largely a marketing term.
This is based on what is known to us. They are probably still working on stuff that has yet to be announced.
然而,人工智能的秘密武器是训练它们使用数据,中国有很多这样的数据。这也是欧洲人工智能公司如此挣扎的原因之一,对于你可以和不可以对别人的数据做什么,有严格的法律规定,这使得训练他们的人工智能系统变得更加困难。
就自给自足而言,可能他们还没有。在受到制裁之前,他们在90纳米以上的工艺上是自给自足的,现在如果我们看麒麟9000的7纳米甚至更低的工艺,该芯片是7纳米还是5纳米,似乎有不同的说法。
尽管如此,纳米在很大程度上还是一个营销术语。
Hunchih
This is what they call "playing the short game" and it has never backfired.
这就是他们所说的"短杆策略",而且从来没有适得其反。
Aleblanco1987
I don't understand this concept. Success would be to descalate and make more peaceful world.
I really hope china can transition to a during our lifetimes.
我不理解。成功应该是消除污染,创造更和平的世界。 我真的希望中国能在我们有生之年转型
DaBIGmeow888
The goal was never simply delay, it was to kill the industry at or below 14nm.
目标绝不仅仅是延迟,而是要扼杀使用14纳米或以下芯片的行业。
Simple-Sector6777
Should have just killed it directly.
应该直接扼杀