Why is it that Chinese mobile phones and Chinese fabricated chips are not a security threat to India but Chinese investment in industries are a threat?
为什么中国手机和中国制造的芯片不会对印度构成安全威胁,但中国在工业领域的投资却是威胁?
以下是Quora网友的评论:
জ্ঞানের ভান্ডার
The assessment of security threats related to Chinese mobile phones, Chinese-made chips, and Chinese investments in industries can be complex and context-dependent. Different countries, including India, may have varying concerns and policies regarding these matters.
对与中国手机、中国制造的芯片和中国投资相关的安全威胁的评估十分复杂,需要具体情况具体分析。不同的国家,包括印度在内,可能都对此有着不同的关切和政策。
1. **Chinese Mobile Phones and Chips:**
- Chinese mobile phones and chips, like those from other countries, are primarily assessed for their cybersecurity risks. There have been concerns in various countries about potential vulnerabilities, backdoors, or data privacy issues associated with some Chinese-manufactured devices.
- However, not all Chinese mobile phones or chips are considered security threats. Many Chinese manufacturers produce high-quality, secure devices that are widely used globally. Security concerns often focus on specific companies or products rather than the entire industry.
1. 中国手机和芯片:
与其他国家的手机和芯片一样,网络安全风险的评估主要是针对中国的手机和芯片进行的。许多国家都担心中国制造的手机设备存在潜在漏洞、后门程序或数据隐私的问题。
但并非所有的中国手机或芯片都被视为安全威胁。许多中国制造商生产的高质量、安全的设备在全球得到了广泛的使用。安全问题通常集中在特定的公司或产品上,并非整个行业。
2. Chinese Investments in Industries:
- Chinese investments in industries, particularly in critical infrastructure sectors, have raised national security concerns in several countries, including India. These concerns may include worries about foreign control over strategic assets, technology transfers, and potential espionage.
- Governments often scrutinize foreign investments to ensure they align with national security interests. They may impose restrictions or conditions on investments in sectors deemed sensitive.
2. 中国对工业领域的投资:
中国在工业领域的投资,尤其是在重点基础设施领域的投资,让包括印度在内的几个国家引发了国家安全担忧。这些担忧可能包括对外国控制战略资产、技术转让和潜在间谍活动的担忧。
中国经常审查外国投资,确保外国投资符合国家安全利益。中国可能对敏感行业的投资设置限制或条件。
It's important to note that each country conducts its own risk assessments and sets policies based on its unique geopolitical, economic, and security considerations. What one country perceives as a security threat may not necessarily be the same as another country's assessment.
In the case of India, the government has, at times, expressed concerns about certain Chinese investments in sensitive sectors and taken steps to regulate or restrict them to safeguard its national interests. These actions are often driven by a combination of economic, political, and security considerations.
值得注意的是,每个国家都会进行自己的风险评估,并根据各自的地缘政治、经济和安全考虑来制定政策。一个国家眼中的安全威胁可能与另一个国家不尽相同。
就印度而言,印度政府有时会对中国在某些敏感行业的投资表示担忧,并采取措施对其进行监管或限制,维护印度的国家利益。这些行动通常都是由经济、政治和安全方面的综合考虑所驱动的。
A S Narayanan
Both Chinese Chips and Investments are threat because of the huge trust deficit between the two countries! Chips because they could be bugged for spying and investments because of huge potential for extracting profit from Indian people when India Army is on an eyeball to eyeball confrontation along the Line of Actual Control with Chinese army in Ladakh.
THE BACKGROUND:-
中国的芯片和投资对印度而言都是威胁,因为两国之间存在巨大的信任赤字!当印度军队在拉达克与中国军队对峙时,就有可能被间谍窃听。
背景: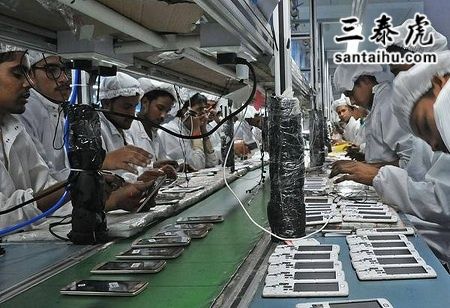 Now most of the Chinese mobile phone brands have been forced to manufacture in India ( like iaomi, Oppo, Vivo etc) and India has already become the second largest manufacturer of mobile handsets in the world !Chinese leadership perceives India as a likely challenger to its domination of the vast Asian continent, if given a free run ! China"s long term threat to India is real and it was George Fernandes, India's Defence Minister in Vajpayee government in 1998 who openly spoke to the media in country & world at large regarding the "string of pearls " strategy being followed by China to limit India's influence and contain it to the maxmum possible extent ( to just South Asia). China has been arming Pakistan with missiles, fighter jets and even nuclear technology for decades. Bangladesh has been given huge financial support for building infrastructure as part of Belt and Road Initiative ( Chittagong port was expanded and modernised) to get economic & strategic leverage with that country. Similarly Srilanka has been given huge loans and the Hambantota port has been leased by China for 99 years. Pakistan has always been on a mission to bleed India with a thousand cuts and encouraging its animosity with India serves China's aim of limiting India perennially to its squabbles with South Asian neighbours like Pakistan !
现在大多数中国手机品牌都被迫开始在印度本地生产(比如小米、Oppo、Vivo等),印度已经成为世界第二大手机生产国,中国认为印度可能会威胁到其在亚洲大陆的统治地位。
中国对印度的长期威胁是真实存在的。1998年,瓦杰帕伊政府的印度国防部长乔治·费尔南德斯公开向国内和全世界的媒体发表讲话,谈到中国正在用"珍珠链"战略限制印度的影响力,并在最大程度上遏制印度(仅在南亚地区)。
中国几十年来一直在用导弹、战斗机甚至核技术武装巴基斯坦。作为"一带一路"的一部分,孟加拉国在基础设施建设方面也得到了中国的巨大财政支持(吉大港得以扩建、升级)。
同样,斯里兰卡也得到了中国的巨额贷款,汉班托塔港被中国租用99年。巴基斯坦一直被利用来对印度制造麻烦,煽动巴基斯坦对印度的敌意,符合中国的目的。让印度被巴基斯坦等南亚邻国争执不断,难以脱身!
After Vajpayee government's ext in 2004, there has not been any worthwhile attempts to face the threat from China until the Modi government took over the reins of power in New Delhi ! Modi government inherited a tough legacy : The poor border infrastructure along the LAC with China was appalling , Defence modernisation was on the backfoot with even the Rafale aircraft deal being postponed due to lack of funds ! Government took a conscious decision to prevent China from making inroads into India and thus only items which the country essentially needs, have been getting imported until effective alternatives are available. However let's note that China is not a major manufacturer of most advanced chips. China imported US $600 billion worth of chips from other countries. China has spent and US$ 200 Billion over the last 20 years to master chip manufacturing but has failed !
2004年瓦杰帕伊政府下台后,一直到莫迪政府接管新德里政权,印度始终没能有效地直面中国的威胁!莫迪政府接受了一个烂摊子:中印实控线沿线破败不堪的边境基础设施令人震惊,国防现代化停滞不前,连阵风战机的采购都因缺乏资金而被屡次推迟!
印度开始有意识地阻碍中国进入印度,只有印度真正需要的物品才可以进口,同时寻找可替代品。但我们要注意,中国并不是一流芯片的主要制造商。中国从其他国家进口了价值6000亿美元的芯片。在过去的20年里,中国花了2000亿美元来研究芯片制造技术,但失败了!
CONCLUSION :
Giving a free run to Chinese investments at a time when our Defence forces are on an eyeball to eye ball confrontation with Chinese forces cannot simply be done at all ! India has a huge market and why at all should India offer access to our vast market to companies from China, which has always been trying to pin our country down and also claiming our territory in Arunachal Pradesh and Ladakh ? So while essentials would continue to be imported, China won't be given market access by India to profit from our people. This is a tit for tat by India. Meanwhile the resentment against China has been on the rise across the globe including among ASEAN nations who share land and sea borders with China and also among Western powers like USA, France , Briton, Italy etc. In the long run Chinese will have to come to their senses.
结论:
在我们和中国军队对峙的同时,让中国资本在印度自由奔跑是绝对不可能的!印度有巨大的市场,为什么印度要为中国公司提供进入印度广阔市场的机会?
中国一直试图压制印度,还声称"阿邦"(注:即我藏南)和拉达克是中国领土。所以,尽管印度会继续进口必需品,但不会给中国市场准入,让中国从印度人民手中赚到钱。
这是印度的针锋相对。与此同时,包括与中享陆地和海洋边境的东盟国家,以及美国、法国、英国、意大利等在内的世界各国对中国的不满情绪不断加剧。
从长远来看,中国必须清醒过来。
Chandravadan Trivedi
In the garb of investments by China in India, it has had the capability to thieve, spy, and influence the locals for its benefit. Even Chinese mobile phones and Chinese fabricated chips are a threat.
India and Indians have been convinced beyond any doubt that the Chinese can never ever be trusted. The Chinese machinations are for all to see and they are all as clear as crystal.
China has devasted the Economies of especially third-world countries and that's one reason why G20 deliberations had to include the point of "Debt restructuring by China".
That's the reason the Chinese wanted to have a plant in north India, but were flatly refused and instead were given a site in a state in Southern India.
中国在对印度投资的外衣之下,有能力为了自己的利益而偷窃、监视和影响印度人。中国的手机和中国制造的芯片都有可能成为威胁。
印度和印度人认定中国人绝对不值得信任。中国人的阴谋大家有目共睹,不容置疑。
他们摧毁第三世界国家的经济,这正是G20的议题必须包括"中国债务重组"的原因之一。
这也是为什么中国人想在印度北部建厂,但遭到断然拒绝,只能在印度南部邦拿到一个厂址。
Pravinchandra G Dhameliya
Not only Chinese.
All foreign investment in industries is a security threat.
They can destabilize your economy at will.
In case of China. Chinese industries are just extensions of .
China is not . Can use their investment as weapon against you.
Fresh example of economic terrorism.
We have seen in case of Russia.
Russia was thrown out of SWIFT system.
While Russia trusted SWIFT and was part of it since long.
So you needs to be very suspicious about any foreign lead economic system.
They can use it as weapon against you.
You never know.
不仅仅是中国人。
所有投资于工业的外国投资都是安全威胁。
他们可以随意破坏你的经济。
就中国而言,可以把他们的投资作为对付你的武器。
这就是新的经济恐怖主义。
俄罗斯的情况我们都看到了。
俄罗斯被踢出了SWIFT系统。
而俄罗斯一直信任SWIFT,长期使用这个系统。
所以你要对外国主导的经济体系保持警惕。
他们可以用它来对付你。
谁知道呢。
INDIA
Chinese investment in industries are a threat to oligarchs of India. In automobiles Chinese companies may displace exsting one. Historicaly kings and people welcomed migrants and later become indians. It is difficult to get hafta from Chinese businessmen.
中国在工业领域的投资对印度寡头构成了威胁。在汽车领域,中国企业可能会取代现有印度企业。历史上的国王和人民欢迎移民,后来形成了印度人。印度很难从中国商人那里得到好处。
Saurabh Kumar Singh
Related
Will banning cheap Chinese phones make India a handset-making hub?
禁止中国廉价手机会让印度成为手机制造中心吗?
No, not really, unless chip fabrication is set up in India,
No smartphone can be termed as completely manufactured In India, It's just assembled in India.
and the expensive Indian Branded smartphone that was previously sold in India was much lower quality than the current Chinese phones, this is because Chinese brands themselves were manufacturing smartphones for Indian brands and as per instructions from Indian brands they were manufactured with the help of poor quality materials that will not last long, after looking at the number of orders by India brand Chinese company eventually realised the potential of Indian Market and they decided to Cut out the middlemen and offer high-quality items in the Indian market to acquire the trust of Indian consumers, which is exactly what happened.
不,并不会,除非将芯片制造厂设在印度
没有哪种智能手机可以完全在印度制造,充其量只是在印度组装而已。
之前市场上昂贵的印度智能手机的质量远低于现在的中国手机,这是因为中国品牌为印度品牌贴牌生产智能手机,按照印度品牌的要求使用了劣质材料,所以不太耐用。印度品牌的订单数量让中国公司意识到印度市场的潜力,他们决定略过中间商,直接在印度市场提供高质量的手机来赢得印度消费者的信任。
This decision is both too late and too early, And it would be taken to help local brands compete with foreign brands, particularly Chinese brands.
It is too late because we have all experienced low-quality products and poor after-sales service from so-called "Indian Mobile Brands" (Made in China Indian Brand smartphones) and
too early because no Smartphone or mobile phone is or can be completely manufactured, designed, and then assembled in India.
The advanced Chip fabrication industry is not present in India because of the risk involved in this industry, so Chip fabrication Industry should be set up in India first,
you might be thinking about why chip manufacturing is important. the answer is the most expensive part or element of a smartphone is its processor !!
这一决定说早不早,说迟也不迟,它能帮助本土品牌与外国品牌,特别是中国品牌竞争。
说它迟,是因为我们都经历过所谓的"印度手机品牌"(中国加工的印度品牌智能手机)的质量低下和糟心的售后服务
说它早,是因为印度还不能完成智能手机的制造、设计和组装。
印度没有先进的芯片制造行业,因为这个行业风险较大,所以印度应该先打造芯片制造行业。
你可能好奇为什么芯片制造如此重要,而答案是智能手机最昂贵的部件或元件就是手机的处理器!!