At G20 close, PM Modi's message to UN: New global structure for new realities
G20峰会闭幕,莫迪总理向联合国传达信息:面对新的现实要有新的全球结构
NEW DELHI: PM Narendra Modi followed up on India's success at the G20 by immediately renewing the pitch for India's admission to the veto-wielding United Nations Security Council (UNSC).
印度在G20峰会上取得成功,莫迪总理立即再次呼吁让印度加入拥有否决权的联合国安理会。
Pointing to the four-fold jump in UN membership since it was set up 80 years ago, PM Modi said, "The number of permanent members in the UNSC remains the same. The world has since changed a lot in every aspect. Be it transport, communication, health and education, every sector has been transformed. These new realities should reflect in our new global structure."
莫迪总理指出,自80年前成立以来,联合国的成员国数量增长了四倍,但"安理会常任理事国的数量仍保持不变。无论是运输、通信、卫生还是教育,世界在各个方面都发生了天翻地覆的变化。这些新的现实应该在我们新的全球结构中有所反映。"
PM Modi's statement came at the 'One Future' session of the G20 Summit before he ceremonially handed over the presidency to Brazilian President Luiz Inacio Lula da Silva.
莫迪总理是在G20峰会"同一个未来"会议上发表这一声明的,随后他将轮值主席国位置正式移交给巴西总统路易斯·伊纳西奥·卢拉·达席尔瓦。
"It is necessary that global bodies reflect today's realities to lead the world towards a better future," the PM said, while also reminding his audience that it was nature's law that "those who don't change with time lose their relevance".
"全球性机构必须反映当今的现实,才能引领世界走向更美好的未来,"总理说,同时也提醒他的听众,这是自然法则,"只知道因循守旧就会落伍"。
PM Modi's reiteration of India's aspiration for a permanent seat on the UN Security Council at the conclusion of the G20 summit on Sunday is expected to carry better resonance in many capitals because of India's rising geopolitical stock as evidenced by its success in pulling off a consensus declaration at the G20 meeting.
莫迪总理在20国集团峰会结束时重申印度希望成为联合国安理会常任理事国,有望引发许多国家的共鸣,因为正如其在20国集团会议上成功达成共识宣言所证明的那样,印度的地缘政治地位不断上升。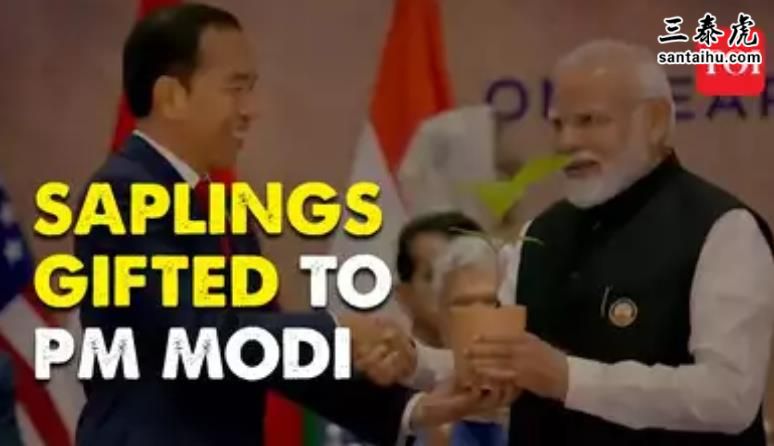 以下是印度时报读者的评论:
Valavanur Natarajan Kumar • 25662 • Chennai • 2 hours ago
With each passing day I realise that the persona of our respective PM Modiji is expanding and growing in aura. May his mission be successful and a golden path be set for future !
日子一天天过去,我们的总理莫迪的影响力越来越大。愿他的使命圆满成功,为印度的未来开辟一条黄金之路!
Guest • 7790 • Valavanur Natarajan Kumar • 2 hours ago
He is the first genuine leader this country has seen in a long time, I wish him atleast 4 more terms continuously in succession to give him time to truly transform this country into a global superpower Jai Hind Jai Bharat
他是这个国家这么长时间以来的第一位真正领导人,我希望他至少能连续连任四届,多给他点时间,把印度变成一个全球超级大国吧,印度必胜
User Sane • 23227 • Sanjay • USA • 6 mins ago
Try to feed hungry Pakistanis and then think of the world.
先喂饱饥饿的巴基斯坦人,再想想世界。
dibyendu panda • 2500 • dibyendu panda • 5 hours ago
nobody has a doubt about the nonprofessional vacant Rahul Gandhi or anybody like mamata can handle such International Forum. this RG is wagging the stick from SIDELINE without official congress RESPONSIBILITY. Pathetic
没有人怀疑,拉胡尔·甘地或像玛玛塔这样的人是无法应付这种国际盛事的。
CRM Sourabh • 4478 • SatishH H • 1 min ago
@$$holes like you can't even spell Bengalis and try to mock others in English..pathetic
你好像连孟加拉语都不会拼吧,还敢用英语嘲笑别人?
User Mama • 6784 • dibyendu panda • 59 mins ago
Why even mention Rahul Gandhi or even Gandhi Family....Sonia...Rahul...Priyanka..?????Do not reference them...they lose RELEVANCE......
为什么要扯上拉胡尔甘地或甘地家族....索尼娅,拉胡尔,普里扬卡??别Q他们......他们与此毫无关联......
SANJAY KHANNAH • 36835 • New Delhi • 4 hours ago
Modiji has elevated the stature of Bharat's International power and prestige to unprecedented heights. The coming generations will ever remain indebted to him for his pioneering visionary thinking and progressive actions.
莫迪把印度的国际实力和声望提升到了前所未有的高度。子孙后代将永远铭记他的远见卓识和进步行动。
SANJAY KHANNAH • 36835 • SANJAY KHANNAH • New Delhi • 1 hour ago
@ Nallamuthu. Soooo Sorry! But judging by the up votes my comments are getting ,one can understand who will return with the prize of '24 elections .
真对不起!但从我的评论获得的票数来看,人们可能已经选好24年选举的结果了。
Rohit Pande Troll Hunter • 22230 • Aam Aadmi • 1 hour ago
When India started voting based on G20?
印度什么时候开始根据G20来投票了?
Jagdish Madan • 59092 • Jagdish Madan • 3 hours ago
India was offered the UNSC seat twice - in 1950 and 1955; both times Nehru was the PM. He rejected the offers outright without any cabinet consultation. Seven decades on, India is still trying to correct that Himalayan Blunder committed by a self serving Nehru!
印度曾两次获得安理会席位—1950年和1955年;尼赫鲁两次都是时任总理。他没有与内阁进行任何磋商就断然拒绝了这些提议。70年过去了,印度仍在努力纠正自私的尼赫鲁犯下的错误!
J Rey • 23462 • Jagdish Madan • 2 hours ago
If this is true .. then this undoubtedly was the BIGGEST BLUNDER committed by MR NEHRU !
如果这是真的…无疑是尼赫鲁犯下的最大错误!
Ganesh Gurunathan • 8970 • J Rey • India • 18 mins ago
You are doubting because we were not taught history properly.
你会这样怀疑是因为我们学习的历史被修订了。
Ganesh Gurunathan • 8970 • Jagdish Madan • India • 19 mins ago
Nehru was a cunning politician who finished Subash Bose.
尼赫鲁是一个狡猾的政治家,他干掉了苏巴什·博斯。
Hridoy Baruah • 47092 • 7 hours ago
India's world leadership will be bound to be accepted by the world community.
印度的世界领导地位必将被国际社会所接受。
Anand • 2480 • Hridoy Baruah • 6 hours ago
Worlds largest de ocracy, 5th economy, soon to be 3rd economy, highest GDP in the world, in top 5 in Space research, 2nd after US in road infrastructure, top 5 in forex reserves, top 5 in world's military, top in inward remittance....if Bharat is permanent member of UNSC now then UN's legitimacy is in big question!!
全球最大的皿煮国家,第五大经济体(很快将成为第三大经济体),全球最高的GDP,太空研究跻身全球前五,道路基础设施排名世界第二,外汇储备排名前五,世界军事排名前五,汇入汇款排名第一....如果印度现在是安理会常任理事国,那么联合国的合法性就有大问题了!
Vijay • Anand • Mumbai • 5 hours ago
All with population of more than 140 Crore. Gross figures are bound to be good. Real thing is per capita figures. 128th in the World by per capita gdp. Equally bad in HDI index. 2nd in road infrastructure ? Are you joking? Standard of roads or length of roads? . By standard of roads we must be about 100th. What about China as far as Road length is concerned. In fact there is no need for these figures. When we go around India we know where we stand. But you will keep boasting
这些成就都是以超过14亿的人口计算出来的,总数肯定不错。但人均数据才是王道。印度的人均GDP居世界第128位。人类发展指数排名也很靠后。道路基础设施排名第二?你在开什么玩笑?你说的是道路标准还是道路长度?按照道路标准排名,我们应该排在100位左右。就道路长度而言,你把中国置于何地?事实上,这些数字都没必要提,我们在印度出门转转就知道自己几斤几两了,你们还有脸自夸。
Sanjay • 22 • Hridoy Baruah • 4 hours ago
Biden didn't open his mouth in India, went to Vietnam, did a press conference, and said he raised concerns his about human ri hts & free press in India with Modi.
拜登在印度没有发表讲话,他去越南后召开了一个新闻发布会,说他向莫迪提出了对印度人*和新闻自由的担忧。
Manoranjan Dutta • 57969 • 3 hours ago
What an irony that the UN permanent seat that was offered to India was gifted to China by Chacha Nehru not only grabbed our land through unprovoked war but resists India's entry into the UN Security Council.
本要颁给印度的联合国常任理事国席位被尼赫鲁拱手让给了中国,太讽刺了。中国不仅通过战争攫取了土地,还抵制印度进入联合国安理会。
UP SHENOY • 6664 • Manoranjan Dutta • 2 hours ago
Nehru is the main culprit of POK and Chinese Map of today
尼赫鲁是巴控克什米尔和中国地图的罪魁祸首
Subu Subramanian • 2575 • 2 hours ago
Modi made all Indians proud. Dynamic leadership and not Dynasty leadership.
莫迪让所有印度人感到骄傲。他是活力四射的领导,不是王朝领导。
Suma • Subu Subramanian • Bengaluru • 30 mins ago
Ho humm just another global meeting where leaders get together to eat and tell each other how wonderful they are. The common man still struggles to take care of his family. The rich are getting richer on the backs of the global poor in every economy of the world despite endless promises from wealthy foodies as they sip expensive wine and nibble off golden plates
这不过是又一场全球性会议,各国领导人齐聚一堂,商业互夸,而老百姓还要努力赚钱养家糊口。虽然富人做出了数不清的承诺,但世界上每个经济体的富人都是依赖穷人而活的蚂蟥。
Guest Login • 4 hours ago
ONE THING GOVERNMENT OF INDIA MISSED OUT WAS MAKING PAPPU PERFORM A COMODY SHOW. IT WOULD HAVE TAKEN THE TENSION AND MADE WORLD LEADERS LAUGH TO GLORY.
可惜了,印度政府没让拉胡尔上台表演一下喜剧秀。这绝对可以缓解紧张局势,给世界各国领导人逗个乐。
Jagdish Madan • 59092 • Guest Login • 3 hours ago
Pappu was busy with comedy shows in Europe.
拉胡尔正在欧洲忙着表演喜剧呢。
R Venkatesh Govind • 59960 • Jagdish Madan • Gurgaon • 1 hour ago
Only Modijee should be allowed to do comedy shows in Europe.
只有莫迪才能在欧洲表演喜剧。
Ayikousik • 91268 • Planet earth • 4 hours ago
This can only happen during Modi's tenure and we should push China to the wall and get this done..
这种盛事只会发生在莫迪任期内,我们应该把中国逼入绝地,实现这个宏愿。
Balram Rajak • 35490 • 3 hours ago
our PM is making his best efforts to make our life full of dignity as respected Bhartiya and responsible Bhartiya in the world.we are with you our bold leader Modi ji.Jai Bharat Jai Bharti Jai Bhartiya
作为世界上受人尊敬和负责任的印度人,我们的总理正在尽最大努力让我们印度人过上有尊严的生活。我们支持勇敢的领导人莫迪。印度必胜,印度必胜!
Pramod Patra • 50435 • Sambalpur • 6 hours ago
Modiji's approach towards new global structure is the need of the time for a better world.His perception is really praise worthy.
莫迪对新的全球结构的态度是打造一个更美好世界的时代需要。他的洞察力确实值得称赞。
Lion • 11 • 3 hours ago
India should do lobbying with all third world countries for desolving UN. UN is defunct body due to Veto clause.
Raise a new body with no veto clause. Only majority must rule with vote weightage.
印度应该游说所有第三世界国家解散联合国。由于否决权条款,联合国早已不复存在。
我们应该新建一个没有否决权的新机构。让多数票决定投票的权重。
Manu • 72463 • Lion • 2 hours ago
3rd world countries are poor and have no voice because the rich countries "rule" them.
第三世界国家很穷,没有发言权,被富裕国家"统治"着。
Vasaikars S • 69 • Vasai • 4 hours ago
DILDAR MODI JI GAVE US PRESIDENCY OF G20 TO BRAZIL BECAUSE MODI JI IS ORDERED US CANADA RUSSIA TO INCLUDE US IN UN SECURITY COUNCIL PERMANENT MEMBER NEXT YEAR. WE WILL BE UN SECURITY COUNCIL PERMANENT MEMBER BY 2025 FOR SURE UNDER MODI JI LEADERSHIP
莫迪把G20轮值主席国的位置给了巴西,因为莫迪已经下令美国、加拿大、俄罗斯必须明年让印度成为联合国安理会常任理事国。在莫迪的领导下,到2025年我们肯定会成为联合国安理会常任理事国