Countering China: India moves towards creating rocket force with more 'Pralay' missiles
对标中国:印度正努力用更多"普拉雷"导弹打造火箭军
NEW DELHI: In a significant step towards creating its own rocket force to thwart the threat from the northern frontier, India is planning to acquire around 250 more Pralay ballistic missiles.
The defence ministry is likely to order two more units of the Pralay ballistic missiles worth over Rs 7,500 crore, sources told news agency ANI.
"Two more units of the Pralay ballistic missiles are going to be acquired for the defence forces, which are on their way towards creating a rocket force including assets of all three forces," defence sources said.
In December 2022, the defence ministry had cleared a proposal to procure around 120 Pralay ballistic missiles, which will be deployed along the borders with China and Pakistan.
新德里:印度计划再采购约250枚普拉雷弹道导弹,又向着打造自己的火箭部队、挫败北部边境威胁迈出了重要一步。
消息人士告诉亚洲国际新闻通讯社,印度国防部可能会再采购两套价值超过750亿卢比的普拉雷弹道导弹。
国防部消息人士称:"印度将为国防部队再采购两套普拉雷弹道导弹,印度正朝着组建火箭部队的方向前进。"
2022年12月,印度国防部批准了采购约120枚普拉雷弹道导弹的提案,这些导弹将部署在印度和中国与巴基斯坦的边界线上。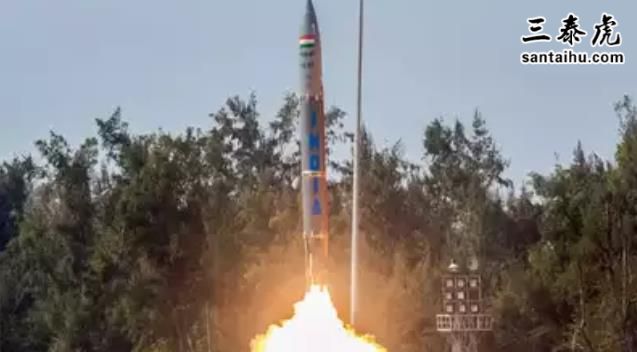 Work is also on to increase the range of these missiles by another few hundred kilometres to give a stronger capability to forces, the sources added.
Both China and Pakistan have ballistic missiles which are meant for tactical roles.
The missile developed by the Defence Research and Development Organisation is being further developed, the sources said.
A quasi-ballistic surface-to-surface missile, 'Pralay' can defeat interceptor missiles and has the ability to change its path after covering a certain range midair.
'Pralay' is powered by a solid propellant rocket motor and other new technologies. The missile guidance system includes state-of-the-art navigation and integrated avionics.
The missile would be first inducted into the Indian Air Force and would be followed by the Indian Army.
消息人士补充说,印度还在努力将这些导弹的射程增加几百公里,希望进一步增强部队的作战能力。
中国和巴基斯坦都拥有战术弹道导弹。
消息人士称印度国防研究与发展组织(ISRO)负责研发的导弹仍在进一步升级中。
"普拉雷"是一种准弹道地对地导弹,可以击败拦截导弹,并且能在空中行进一定距离后改变前进路径。
"普拉雷"由固体推进剂火箭发动机和其他新技术提供动力。导弹制导系统包括最先进的导航和综合航空电子设备。
该导弹会优先在印度空军内完成部署,随后再进入印度陆军。
以下是印度时报读者的评论:
Swapnil Rao•48001•10 days ago
Congratulations ISRO. Bharat right from Ancient times at forefront of Space Research. Its only after Violent Brutal Islamic Invasions that survival became prime and everything else took back seat. Now again Sanatan Dharma followers working hard to Regain Lost Glory
祝贺印度国防研究与发展组织。印度从古至今一直站在太空研究的最前沿。只有在暴力、野蛮的入侵之后,才把生存列为第一大事,暂时搁置其他发展。现在达摩的信众努力重拾昔日的荣耀。
Gopinath Krishna•7901• Ankush•10 days ago•Follow
And again you are trolled ! Remember that what all is now being possible is only and only because of right government. Else your UPA has only to eat money with scams !
你又上当了吧!记住,现在一切都有可能实现,只有一个原因:因为印度终于有了一个好政府。否则你们的团结进步联盟只能靠诈骗过日子!
Blindbhakt• Swapnil Rao•10 days ago
CONGRATULATIONS ISRO, founded in 2014 after Modiji came in to power. Khangress couldn´t even dream about ISRO.
祝贺印度国防研究与发展组织,它是在莫迪上台后于2014年成立的。这种机构国大党连做梦都不敢想吧。
Nutz Nutz•50135• Raj•10 days ago
thank Modi for setting up DRDO and ISRO, IITs and IIMs and creating Indian defence program after coming to power.
感谢莫迪上台后成立了印度国防研究与发展组织、印度理工学院和印度管理学院,并制定了印度国防计划。
Gopinath Krishna•7901• Nutz Nutz•10 days ago
There is a popular story. There was a servant who was hired for full day job. He used to sleep the whole day, and once in a while he used to do some work. Whenever asked for updates, he used to count those work which he did but remaining all days and weeks and months and years, he slept on duty. Nehru was like that...and people like you keep counting his minismal work instead of his sleep period, ignorance towards India and losses incurred.
有一个广为流传的故事。从前有一个人找了一份全天的工作。他常常整天睡觉,偶尔干点活。每次别人问他工作进展时,他就数一数他做了什么,但还是日复一日、周复一周、月复一月、年复一年地偷懒睡大觉。尼赫鲁就是这种人…而你们这样的人一直对他那些微不足道的工作念念不忘,对他睡懒觉、对印度的无知和造成的损失却绝口不提。
Sundhar S•13393• Nutz Nutz•Chennai•10 days ago
Good. If your family didnt approve these things what the use of talking about? And making full use of these institutions is like using the airforce in 1962. Hmm...
好。如果你的家人不同意,谈论这些又有什么用呢?我们既然有这些机构就要充分挖掘潜力,就像1962年的印度空军一样。
paarth• Raj•10 days ago
Modi is himself going to guide the rockets without him nothing is possible. Even your exams he will whisper the answers in your ears.
莫迪会亲自引导火箭,没了莫迪什么都不可能实现。就连考试,他也会在你耳边悄悄告诉你答案。
Alok Kumar•10736• Raj•10 days ago
Dhakkan.... (a) these news are posted by Godi media to project Modi as strong leader in eyes of dud people like you and (b) Modi is not bothered about China but his press posting these are either informing China or creating false hope..... All he can do is do Jhule Jhule with i in Ahmedabad and take photos... He's most dangerous PM in so far as Indian security is concerned
(a) 这些新闻是印度媒体发布的,目的就是要把莫迪塑造成你们这些笨蛋眼中的伟大领袖。
(b) 莫迪并不担心中国,但他的媒体发布这些新闻要么是给中国通风报信,要么是在制造虚假的希望.....
就印度的国家安全方面而言,他是最危险的总理。
KALI AMMA•25942• Kaliamma•Manchester•10 days ago
Why release all these sensitive information to the enemy? What are you trying to prove?
为什么要把这些敏感信息泄露给敌人?你们是想证明什么呢?
Anil•3931• Kaliamma•Rajkot•10 days ago
it is in a way deterrent for enemies to strike Bharat first. It is also a great tool for attacking a terror country.
在某种程度上,这是对敌人率先进犯印度的威慑,也是打击恐 怖主义国家的好工具。
Naturetruth Truth•7166• Kaliamma•10 days ago
While China and Russia have already deployed hypersonic missiles, with US trying to dev, Indians think talking of subsonic obsolete rockets are India top secret sensitive information.
虽然中国和俄罗斯已经部署了高超音速导弹,美国也在努力研发,但印度人却还觉得谈论老黄历的亚音速火箭是印度的最高机密信息。
Ankush•26741• Kaliamma•10 days ago
they want to prove that IT cell fools who got paid 2rs per comment are put to work..
他们想要证明,那些每条评论拿2卢比的IT傻瓜是有在干活的。
KALI AMMA•25942• Ankush•Manchester•10 days ago
Dude enough of your poppycock and cockamamie ranting and stay far away from the disillusioned sickular blokes!
老弟,你的废话和逼逼说太多了,远离那些幻想破灭的世俗主义分子吧!
Bonny Moraes•13781• Kaliamma•Goa•10 days ago
What has secularism got to do with it?
这和世俗主义有什么关系呢?
Ivan Wolf•30349• Kaliamma•10 days ago
Boast and brag are in the gens of Indians
自夸和吹牛都刻在印度人的基因里了
KALI AMMA•25942• Ivan Wolf•Manchester•10 days ago
Unfortunately;that is what the media seems to portray and demonstrate to the public at large!
可惜啊可惜,这似乎就是媒体想要对公众描绘和展示的内容!
North East• Kaliamma•10 days ago
China and Pak have even more detail informations! China had in the past alleged India is dishing out lesser weopon (Made in India) capabilities than these are capable off!
中国和巴基斯坦知道更多细节!中国以前就说过,印度生产的(印度制造)武器能力不如他们!
KALI AMMA•25942• North East•Manchester•10 days ago•Follow
India don't need bragging rights, as it slowly and surely becoming a robust and strong in both the economy and military sphere, Sir!
印度不需要吹嘘,因为印度在经济和军事方面都慢慢变得越来越强大了。
Krishna•44779• Kaliamma•10 days ago
This is information already in the public domain
这早就已经是公开信息了。
vivek agrawal•10293• Kaliamma•10 days ago
You really think these are sensitive information, and that media is the source for getting information... HAHAHA
你真的以为这些是敏感信息,以为媒体是获取信息的来源吗……哈哈哈
KALI AMMA•25942• Sandeep Negi•Manchester•10 days ago
Meaning the media is to blame for it!! You have unwittingly answered my question!LoL!
这意味着媒体应该为此负责!!你无意中回答了我的问题!哈哈!
N Renganathan•54362•Madras•10 days ago
good development. as usual media is bent upon giving too much details with photos. opposition parties , if elected will cancel such preparedness.
很好的进步。像往常一样,媒体总是通过图片提供了太多细节。反对党如果当选,要取消这种战前准备。
R Venkatesh Govind•46170• N Renganathan•Gurgaon•10 days ago
Opposition will not tom tom such sensitive defence information like BJP.
反对党不会像人民党这样,窃取高度敏感的国防信息。
Gulshan•488• N Renganathan•10 days ago
Sometimes information is given deliberately.
有时这种信息是故意披露的。
Guest•24210•10 days ago
This time china will weep.Simply fooling the world.
China never fought a war,neither they will fight.,reason,India, America all are war expertised
这次中国肯定要气哭了。他们只是在愚弄全世界。中国从没打过仗,也不会打。但印度和美国都是战争专家。
Ivan Wolf•30349• Guest•10 days ago
China never fought a war? You are excused since you were not born in 1950, nor in 1962
中国从没打过仗?我原谅你了,因为你不是1950年生人,也不是1962年生人。
Anoop Aggarwal•27876•10 days ago
We need to build rocket force which can completely destroy their major industrial cities in the event we are attacked by them so that they learn a lesson which they wouldn't forget for long time. This is the only way to tackle China which is bent upon to create trouble for all its neighbours.
我们需要打造一只火箭部队,这样的话只要他们进攻我们,我们就可以彻底摧毁他们的主要工业城市,这样他们才能得到毕生难忘的教训。这是对付中国的唯一办法,中国一心想着给邻国制造麻烦。
Piyush Kumar•10609• Piyush Kumar•Bangalore•10 days ago
Investing into indian defense industry has multiple benefits. First is the sovereign security - we don't have to look towards anyone in case of increased needs. And then there is economy - the money spent remains in the country only, circulating further in the domestic markets.
投资印度国防工业有多重好处。首先是保障了主权安全——如果需求增加,我们也不必指望别人。再来是经济问题——花出去的钱留在了国内,在国内市场进一步流通。
Ivan Wolf•30349• Sky Wlkinson•10 days ago
Current Indians are poisoned by lies of Modi and his gang. Congi done a lot for India: IITs, ISRO, 2 aircraft carriers for India navy, MIGs SUs BrahMos missiles, Tejas, Arjun tank. What has Modi done?
现在的印度人被莫迪及其团伙的谎言毒害不浅。国大党为印度做了很多:印度理工学院、印度空间研究组织、印度海军的两艘航空母舰、米格苏布拉莫斯导弹、光辉战机、阿琼坦克。莫迪做了什么呢?
aryan ray•58•US•10 days ago
Government's job should be simple. Let the army make all tactical decisions, and just cater to the requirements that army experts recommend, kee egoistic and unqualified politicians away from the decission making process. Modi government seems to have been more successful in this regard (kee their unqualified politicians away) compared to any previous Congress-led government.
政府的工作应该简单一些。所有的战术决定都由军队拍板,只需满足军队专家的建议,禁止自私和无能的政客参与决策。跟国大党领导的历届政府相比,莫迪政府在这方面(无能政客无权干涉)似乎更成功。