What do you think of the relationship between China and Vietnam?
你觉得中国和越南的关系怎么样?
以下是Quora网友的评论:
Richard M
Related
How exactly is the relationship between China and Vietnam?
中国和越南的关系究竟怎么样?
Not good. China has seized islands belonging to Vietnam, attacked and sunk Vietnamese fishing vessels, and stolen the fish out of Vietnamese waters. Historically, China supported the Khmer Rouge who started raiding Vietnam after killing 2 million of their own people. China inv ded Vietnam the year after that
China believes that Vietnam is a branch of Baiyue.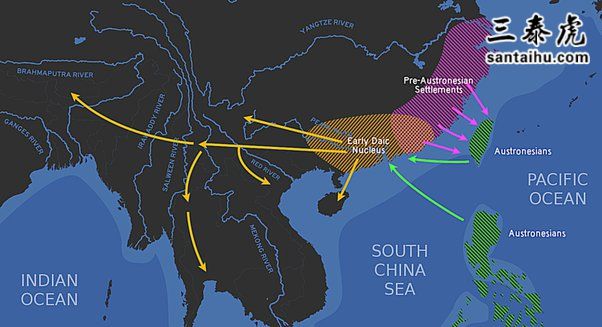 两国关系很一般。中国和越南曾经就岛屿争端发生冲突,中国袭击并击沉了越南渔船。历史上,中国支持红色高棉,而红色高棉在杀害了200万高棉人后袭击了越南。一年后中国教训越南
中国认为越南是百越的一个分支。
2. Once sweet
From 1945 to 1975, China and Vietnam were in a sweet period of cooperation.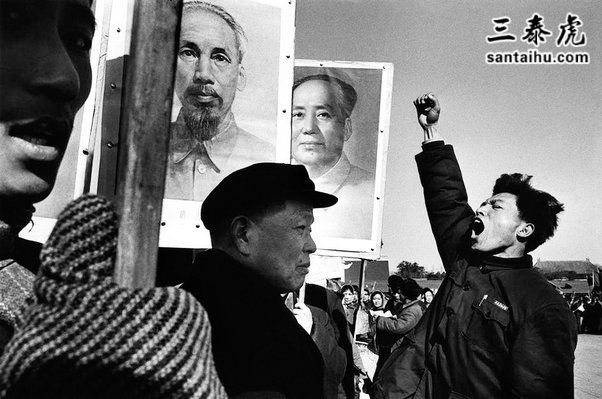 2.关系一度甜蜜
1945至1975年,中越互相合作,关系亲密。
The two sides jointly promoted c, and China and the Soviet Union jointly provided material and weapons assistance in the fight against the United States in Vietnam.
中苏为越南共同提供物资和武器援助,帮助越南抗击美国。
But after the Sino-Soviet border conflict in March 1969, china further clarified that the Soviet Union was the primary threat to China's national security.
Vietnam chose to follow the Soviet Union, which laid the fuse for the subsequent Sino-Vietnamese war.
但在1969年3月中苏爆发边境冲突后,中国认为苏联是中国国家安全的主要威胁。
越南选择追随苏联,这为后来的中越战争埋下了导火索。
3. Attack each other
3.交战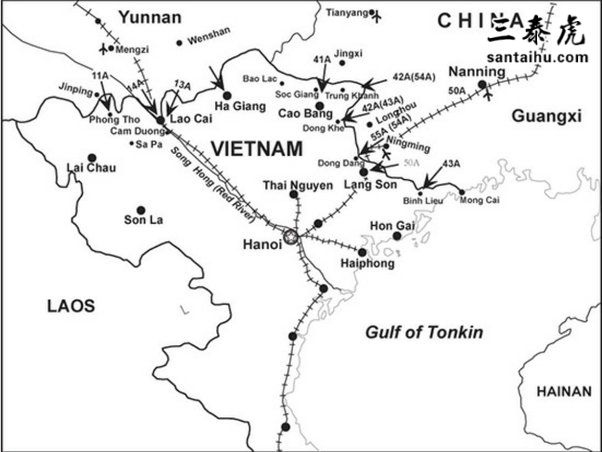 In 1978, Vietnam began to invade Cambodia with the support of the Soviet Union.
This war is actually the Soviet Union + Vietnam against China + Cambodia. The underlying factor is that the relationship between China and the United States has begun to ease, and China needs to prove its determination to resist the expansion of the Soviet Union's influence.
1978年,越南在苏联的支持下入侵柬埔寨。
这场战争实际上就是苏联和越南联手对战中国和柬埔寨。归根结底是因为中美关系开始缓和,中国需要证明自己抵制苏联不断扩大的影响力的决心。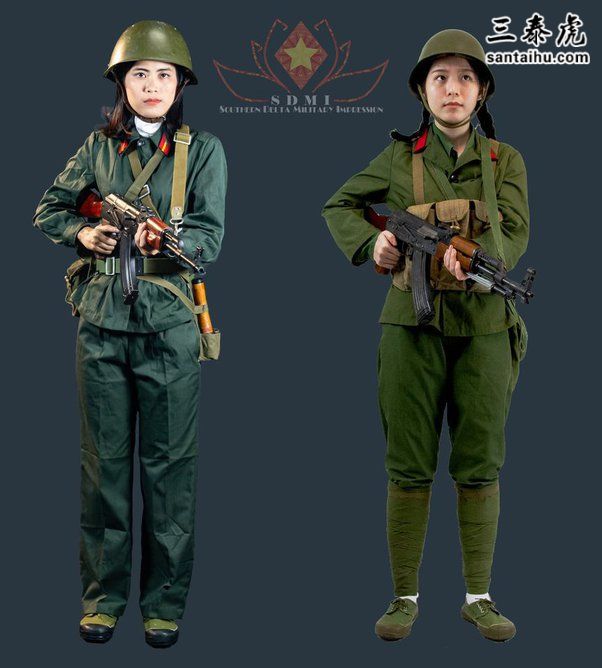 (Vietnam-Chinese soldier costume)
(越南和中国士兵的军装)
Although China and Vietnam both claimed to have won this war, in my opinion, neither of the goals has been achieved:
As Vietnamese troops remained in Cambodia until 1989, China was unsuccessful in its goal of dissuading Vietnam from involvement in Cambodia.
China demonstrated that the Soviet Union, was unable to protect its Vietnamese ally.
Vietnam's economic and social development and the goal of expanding its influence in Southeast Asia have been hit.
虽然中国和越南都声称自己打赢了这场战争,但在我看来,以下两个目标都没有实现:
越南军队在柬埔寨长期驻扎到1989年,中国未能成功阻止越南介入柬埔寨事务。
中国证明了苏联并无力保护其越南盟友。
越南经济社会的发展和扩大其在东南亚的影响力的目标遭到了打击。

But achieved part of the goal:
Vietnam successfully ousted Pol Pot and proved its influence in the region.
Through a war, it not only united all classes of Chinese society, but also allowed the army to be tempered again.
China and the United States have successfully established diplomatic relations and entered the honeymoon period.
但同时还是实现了部分目标:
越南成功地推番了波尔布特,并证明了自己在该地区的影响力。
通过这场战争,不仅让中国社会各阶层团结起来,也让军队再次得到了锻炼。
中美成功建交,进入"蜜月期"。
It can be seen from this that The Chinese people have been pragmatic since ancient times. They choose whatever is good for the country.
由此可见,中国人民自古以来就是非常务实的。他们只选择对国家有利的方式。
4. The new era
In an era dominated by global trade, although there are still some disputes between China and Vietnam, the two sides have taken a new step in economic cooperation.
The bilateral trade volume between China and Vietnam reached USD 133.09 billion in 2020, a year-on-year increase of 13.8%.
China is Vietnam's largest trading partner, as well as Vietnam's largest import market and second largest export market (after the United States).
4. 新时代
在全球贸易的背景下,中越之间虽然还存在一些争议,但双方在经济合作上已迈出了新的一步。
2020年,中越双边贸易额达1330.9亿美元,同比增长13.8%。
中国是越南最大的贸易伙伴,也是越南最大的进口市场和第二大出口市场,仅次于美国。
I have never been to Vietnam, but many of my friends and colleagues regard Vietnam as a vacation place.
According to my friends, the economically developed places in Vietnam are like China in 2000-2010, but the economically underdeveloped places are more like China in the 1990s.
My current goal is to drive to every major city in China (it is too big! I have only been to 47 Chinese cities now.)
Maybe next time I will set the destination of foreign travel as Vietnam.
虽然我没去过越南,但很多朋友和同事都认为越南是一个度假胜地。
据我朋友说,越南经济发达地区就像2000-2010年的中国,经济欠发达地区更像90年代的中国。
我现在的目标是驾车走遍中国的所有大城市(中国太大了!我现在也只去过47个城市)。
也许我下次出国旅行就会选择越南。
Tran Hwa
Relations between China and Vietnam are not very close, and personnel and economic exchanges between the two sides are also very minor! China has more than ten neighbors, with Vietnam in Common.
It is neither the greatest nor the most important, nor the rich and advanced!
Vietnam is no different from Laos, Cambodia and Thailand, just a Southeast Asian country!
中越关系并不太密切,双方的人员和经济往来也很少!中国有十多个邻国,大多数也跟越南接壤。
它既不是最大的,也不是最重要的,更非最富有、最先进的邻国!
越南与老挝、柬埔寨和泰国并没有什么不同,就是一个普通的东南亚国家而已!
The most important Vietnam news for most Chinese is the South China Sea Islands dispute between China and Vietnam. As long as the South China Sea is calm, Vietnam will not appear in the important pages of the Chinese media!
对于大多数中国人来说,关于越南的重大新闻是中国和越南之间在南海的岛屿之争。只要南海风平浪静,越南就不会出现在中国媒体的重要版面!
Simon Meri
Related
Is Vietnam related to China?
But the OP modified his/her question to avoid the problematic notion.
If I gather it right, you do expect to see the stuff that are related between these two countries, then once again as I always pointed it out the same, the following three categories are identical between the two, but beyond these 3 categories, there are nothing more to be related:
越南和中国有关系吗?
题主修改了他/她的提问来规避概念的错误。
如果我没理解错,你应该是希望看到这两个国家之间的共通之处吧,我还是要强调一下,这两个国家之间有三个相同之处,但除此之外就没有关联了:
-identical political system, and thus it impacts the ruling class and high culture class to shares the same standard behind, this is the case since feudal era till today, today SRV and PRC do share the same political system as well. The only time of Viet Nam that doesn't fall into this category, it was the ROV in South Vietnam.
-相同的政治制度,使得统治阶级和上层文化阶级遵守相同的行为规范,从封建时代一直延续到今天。今天越南和中国依然有着相同的政治制度,只有越南南部的南越曾经是个例外。
-Shenism, the system of folklore beliefs, both countries have a mass amount of followers who are default practitioners of this thing, the phenomenon of Ho Chi Minh worship, Kwan Kong worship, Trung Hung Dao worship and so on, are instances of Shenism.
-神教,这是一种民俗信仰体系,在两国都有大量的追随者,比如拜胡志明、拜关公、拜陈洪道等等。
-Both countries share Linh Nam culture, but it is a geographical factor that determine it to be a matter of fact, basically, the Linh Nam region of China and North Vietnam share this thing together.
-两国都有岭南文化,但这是地理因素决定的,从根本上说,中国的岭南地区和越南北部都有着相同的文化。
There is nothing else outside of the three categories above which can be related. The Chinese apologist love to hang on to the first category, especially to emphasize the Han script in ancient time, or the dress code, and do so to dismiss the entirety of the other stuff of both countries. Nobody should hang on to that kind of rant focus.
除了上述三点之外,两国没有其他关联了。中国喜欢抓住第一点不放,特别强调古汉字和服装样式,并借此完全忽视其他方面。我们无需理会这种论调。
Beasley
Related
How exactly is the relationship between China and Vietnam?
It's VARY complicated.
Today Vietnam is a neutral country it has good relationships and gets along with everyone country including the US and they have good relations with the European Union.
中越关系到底如何?
说起来很复杂。
今天的越南是一个中立国,和包括美国在内的每个国家都有着良好的关系,和欧盟的关系也十分良好。
Vietnam try's its best to remain neutral in almost EVERYTHING the US is Vietnam's 2nd largest trading partner and China is Vietnam's number 1 trading partner Vietnam has no military alliance with anyone right now Vietnam can be considered a develo country and it's the ONLY co unist country to have VARY Strong ties with the United States and the European Union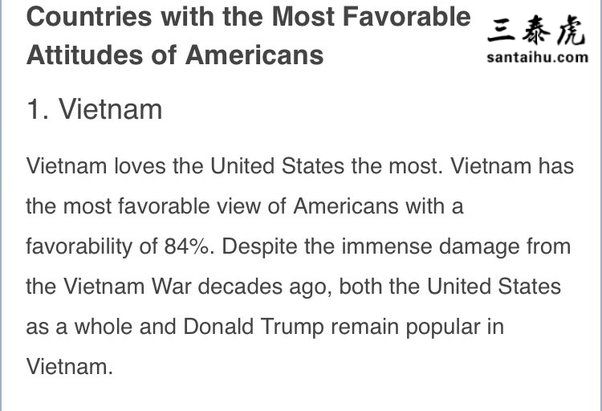 越南尽最大努力在几乎所有事情上都保持中立,美国是越南第二大贸易伙伴,中国是越南第一大贸易伙伴,越南目前没有跟任何国家组建军事联盟,越南可算是一个发展中国家,是唯一一个跟美国和欧盟都保持着密切关系的国家.
The Vietnamese people seem to like the US HOWEVER Vietnam also love Russia
today Vietnam and Chinas relationship is more negative and China and North Korea are the only 2 countries that Vietnam is having problems working with Vietnam is also losing one is it's closer friend Laos to China
越南人民似乎喜欢美国,不过他们也喜欢俄罗斯。
今天越南和中国的关系不亲反疏,中国和朝鲜是跟越南存在争端的仅有的两个国家,越南也失去了已靠向中国的昔日友国—老挝。
Shun Bot
Related
How exactly is the relationship between China and Vietnam?
Anytime you deal with a question like this, you have to remember that countries are not monolithic entities. China and Vietnam aren't individual people with just one brain.
中越关系究竟如何?
无论你何时遇到这样的问题,都必须记住国家并非单面体。中国和越南都不是只有一颗头脑的人类。
Vietnam's relationship with China breaks down like this:
Business and ruling class have great relations with China
Plebs have a largely negative view of China
越南与中国的关系是这样的:
商界和统治阶层与中国关系密切
百姓对中国有很强的负面情绪
This dynamic was deliberately created by the Vietnamese govt and ruling elite. The govt of Vietnam wants to trade with China, but it also needs to use China as a lightning rod for Vietnamese nationalism. After all, every govt needs an enemy nation for this purpose. China has Japan & the US, South Korea has Japan & China, Vietnam has China. Anti-Chinese sentiment is indispensable to preserving Vietnam's internal stability.
这种局面是越南政府和统治精英故意造成的。越南政府希望与中国开展贸易,但它也需要利用中国作为越南民族主义的避雷针。毕竟,每个政府都需要一个敌国。中国有日本和美国,韩国有日本和中国,越南有中国。反华情绪是维护越南国内稳定局势的不可或缺的因素。
Pundits tend to fixate on the territorial disputes between these two countries in the South China Sea. But these disputes are largely just for show on the part of Vietnam. The Vietnamese govt isn't stupid, they know that their navy stands zero chance against China in any kind of engagement. Thus there's no meaningful dispute. If China were to take an island, the Vietnamese won't be able to do much more than complain to the UN and Uncle Sam, and neither would care.
专家们更为关注这两个国家在南中国海的领土争端。但这些争端在很大程度上只是越南方面的闹剧。越南政府并不傻,他们知道他们的海军在跟中国对抗时毫无胜算。所以争议也仅仅是个争议而已。如果中国想要占领某个岛屿,越南人除了向联合国和山姆大叔抱怨外,完全无能为力,没有人会在意他们。
In some ways, this mirrors China's relationship with Japan. Economically, the two countries work great together, but politically Beiing benefits from using Japan as a target for nationalist fury. You might have noticed that anti-Japanese sentiment has been on the wane since 2018. That's because the US is now playing the role of hate doll for China, so Japan can take a break.
在某种程度上,这也是中日关系的映射。两国在经济上友好合作,但在政治上,中国把日本视作民族愤慨的靶子。你可能已经注意到,自2018年以来反日情绪慢慢减弱。这是因为如今美国成了中国的仇恨对象,日本终于得到了喘息。
South Korea plays this same game with Japan. But they have to keep it within limits since both countries are ultimately American vassal states.
韩国也和日本不对付。但因为这两个国家都是美国的跟班,他们必须适可而止。