Only Rahul Gandhi can challenge PM Narendra Modi: Rajasthan CM Ashok Gehlot
拉贾斯坦邦首席部长阿肖克·格洛特(Ashok Gehlot):只有拉胡尔·甘地才是莫迪总理的对手
JAIPUR: Jaipur chief minister Ashok Gehlot on Wednesday said that efforts continued till the last minute to persuade Rahul Gandhi to become Congress president because he is the only one who can challenge Prime Minister Narendra Modi and the BJP government.
"Only Rahul can challenge Modi...": Ashok Gehlot said on the day Mallikarjun Kharge took charge as Congress president. He further said that it was Rahul's desire that for once a non-Gandhi became the president of the party. However, till the last minute, efforts were made to make Rahul Gandhi the party president as only he can challenge Modi and the BJP government," said Gehlot.
Gehlot was in Delhi to attend the function where Kharge officially took charge of the party president at the Congress headquarters.
斋浦尔:首席部长阿肖克·格洛特周三表示,直到最后一刻,人们一直努力劝说拉胡尔·甘地担任国大党主席,因为他是唯一可以赢过莫迪总理和人民党政府的人。
"只有拉胡尔才是莫迪的对手……" 阿肖克·格洛特在马利卡晶·哈尔热就任国大党主席的当天说。他进一步说,拉胡尔希望让甘地家族之外的人成为该党主席。但直到最后一刻,人们一直在努力,希望拉胡尔·甘地担任主席,"因为只有他才能挑战莫迪和人民党政府。"

格洛特在德里参加了哈尔热于国大党总部举行的主席就职活动。
"The leadership that Sonia Gandhi gave for 22 years will always be remembered. We all had requested her in 1998 to take over as the party president, otherwise the party will be shattered. She took the challenge in the interest of the Congress party despite having language issues. After that, she was Congress president for 22 years and the governments were formed in 13 states at that time. She performed very well as a party chief that which no one can forget," added the chief minister who was initially the favourite for the post of president.
The chief minister also congratulated Mallikarjun Kharge and promised to work to strengthen the party.
"索尼娅·甘地(Sonia Gandhi)22年来的领导将永远被人们铭记在心。1998年我们请求她接任该党主席一职,否则该党将分崩离析。尽管存在语言问题,她为了国大党的利益还是毅然接受了挑战。此后,她担任国大党主席一职长达22年时间,当时13个邦都成立了政府。她作为国大党领袖表现得非常出色,这是任何人都不会忘记的。"首席部长补充道。
首席部长还祝贺了马利卡晶·哈尔热,并承诺将努力壮大国大党。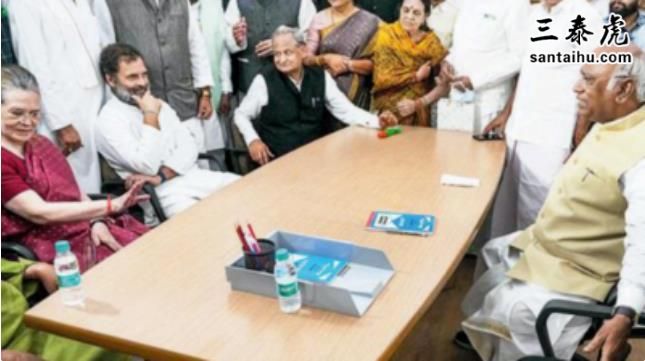 以下是印度时报读者的评论:
Aslam Khan•17336• Aslam Khan•1 day ago
Rahul Gandhi is incapable, inefficient, disorganized, egoistic and arrogant. He is not fit even for a chaprasi job.
拉胡尔·甘地无能、低效、没有条理、自负傲慢。他连办公室低级职员的工作都干不好。
Parichay Gupta•17036• Responsible Indian•11 hours ago
Even the GoI was so CONCERNED about the outage of WhatsApp service. Their entire PROPAGANDA Chain had to suffer.
印度政府都担心WhatsApp会崩溃。他们的一系列宣传都得玩完。
User Balakrishnan•22778• Responsible Indian•Location•2 hours ago
Goood. we must be using English script instead of Nagari.
不错不错,我们必须改用英语讲稿了
I am the Mirror•9530• Aslam Khan•5 hours ago
Aslam, it's shocking and bizarre how the Cartoon Rahul is repeatedly making a fool of himself! He looks for excuses everyday to bark against BJP and the PM! Congress is nothing but a sick joke!
Aslam,看着拉胡尔不断出丑,真是令人震惊,匪夷所思!他每天都找借口斥责人民党和总理!国大党就是个恶心人的笑话!
HAKEEMLALA•20106• Aslam Khan•4 hours ago
Personally, I wish RaGa to permanently be the choice of CONGRESS as PM, waiting in line with Mamta, Nitish, KCR, Kejriwal. May God bless him with a verrrry long life.
就我个人而言,我希望拉胡尔永远都是国大党选定的总理人选,跟马姆塔、尼蒂什、昌德拉谢卡尔·拉奥和柯内瓦尔一起排排坐。愿上帝保佑他长寿。
Siman•12985• Aslam Khan•13 hours ago
In india such people are elected in my opinion all the opposition CMs are like raga,
在我看来,在印度,这些人都是选举出来的,所有反对党的首席部长都跟拉胡尔一样。
User Balakrishnan•22778• Aslam Khan•Location•2 hours ago
well said. He did not even serve at the village panchayat level at any position to know how to serve. He was so arrogant that he did not take a job in the MMS cabinet lest he would fail and tarnish his image. Now the Gandhi clan cronies many of them old that they were part of the cabal that toppled Narasimha Rao from continuing his good work and hence paved the way for Modi to do the needed further reforms. These cronies of the Gandhi clan do not care for the nation and allow new leadership in the Congress party from the youths of india.
说得好。他连村务委员会的工作都没干过,压根不懂怎么做事。他太傲慢了,连辛格内阁的工作都不愿意接手,唯恐干不好,毁了自己的形象。现在,甘地家族的亲信中有很多人都已经老了,他们是把纳拉辛哈·拉奥推下台的黑手之一,为莫迪进行必要的进一步改革铺平了道路。甘地家族的这些亲信不关心国家,还允许国大党从印度年轻一辈中选出新的领导人。
vasudevan kunnath•80• Vasudevan Kunnath•1 day ago
Joke of the day
承包了我一天的笑点。
Gautam Shah•17754• vasudevan kunnath•1 day ago
It clearly and unambiguously confirms quality of other congi leaders
这清楚明晰地反映了其他国大党领导人的素质。
Responsible Indian•12531• vasudevan kunnath•22 hours ago
Rahul is the next PM. a perfect gentleman.
拉胡尔是下一任总理,他是一位完美的绅士。
R C Saxena•22• Responsible Indian•Pasighat•17 hours ago
He is retarded and his followers are super retarded.
拉胡尔反应迟钝,他的支持者就更是弱智了。
Pappu Trainer•27676• Responsible Indian•3 hours ago
Not in India, let Pappu G tries elsewhere. Anyway, Indian origin people can become head in state in many countries away from India.
别呆在印度了,让拉胡尔去其他国家试试。毕竟印度裔在印度以外的很多国家都成了国家元首。
User•14670• vasudevan kunnath•1 day ago
Yes, it sounds funny, but RG would do better because he is aware of his limitations. Megalomaniacs always end up hurting the nations they govern.
没错,听着太有意思了,但拉胡尔会比他们做得更好,因为他知道自己的不足。自大狂总会伤害他们统治的国家。
User V• User V•23 hours ago
Rahul Gandhi is the only capable leaders to get Congress vote for Modi.
拉胡尔·甘地是唯一有能力让国大党投票给莫迪的领导人。
I am the Mirror•9530• User V•5 hours ago
User V, your comment is not only Sarcastic but seems Realistic too. LOL!
User V,你的话不单够刻薄,还够真实!哈哈!
Aravindan Muthukaruppan•138•Kuala Lumpur•1 day ago
2022 great joke,,,dummy clown can conquer only the circus
这是2022的大笑话,小丑也就只能征服马戏团了。
Indian•12588• Indian•1 day ago
Does this boot licker even know what a Prime Minister of a country do?
这个马屁精知道国家总理是干什么的吗?
S K•24508• S K•23 hours ago
That's one of the absurd statements from Congress 2nd tier leadership...Ashok Gehlot is preparing for another ngs in the Congress at Centre after his ouster which is due next year...
这是国大党二级领导的荒谬言论之一…阿肖克·格洛特等着明年被罢免吧,他现在就开始准备国大党的另一轮投票了。
Bimal Kothari•19759•Mumbai•1 day ago
ha ha ha nice joke Gehlot ji. if so than why did Rahul Gandhi resign from the post after losing terribly the election. he didn't have guts to challenge MODI'JI
哈哈哈,格洛特真会讲笑话。如果真是这样,为什么拉胡尔·甘地在选举惨败后就辞职了?他压根没有勇气面对莫迪。
Proud India•188• Proud India•1 day ago
Challenge! Although anyone can challange anyone! But certainly, he can't defeat PM Modi or BJP at least for next 15 years!
挑战!虽然任何人都可以挑战别人!但可以肯定的是,他至少在未来15年内都无法击败莫迪总理和人民党!
evamiller•989• Proud India•17 hours ago
Rahul is still in diapers stage. By 2050 he can become an adult.
拉胡尔还穿着尿布呢。2050的时候才会长大成人
Prodyut Bhattacharyya•680• Prodyut Bhattacharyya•20 hours ago
If India ever gets Rahul Gandhi as PM that will be the worst historical day for India. It will be like Pakistan . Let us not ever venture out such thought/dream
如果拉胡尔·甘地成为印度总理,那绝对是印度历史上的至暗时刻。就像巴基斯坦一样。我们千万不能冒险尝试这种念头。
Reddy•22907• Reddy•1 day ago
BREAKING NEWS: RAHUL GANDHI BHARAT JODO YATRA ENTERS TELANGANA
突发新闻:拉胡尔甘地进入泰伦加纳邦。
P Sada•10042• P Sada•21 hours ago
every Indian knows that you are just a puppet to Gandhi family..... and RG is only a pappu good for nothing.
所有印度人都知道你就是甘地家族的一个傀儡.....拉胡尔就是个一无是处的混蛋。
User Mohanta•8856• User Mohanta•23 hours ago
If only Rahul Gandhi is capable of challenging Narendra Modi, it implies others including Ashok Gehlot are just useless. So why don't they resign from Congress?
如果说只有拉胡尔·甘地有能力挑战纳伦德拉·莫迪,那包括格洛特在内的其他人都是无用之徒。他们为什么不从国大党辞职呢?
Srinivas•15455• Srinivas•1 day ago
There is no leader in opposition to challenge Modiji. Modiji is majority of nationalists excepted nationalist and secular leader of India. Rahul gandhi is too small yet grow mentally politically.
反对党没人能英国莫迪。莫迪是大多数民族主义者的领袖。拉胡尔甘地太小了,政治上还太嫩。
William D##apos##Souza•4879• William D##apos##Souza•1 day ago
Then it will be, An educated vs uneducated. Then it will be like 2012-2014 economy vs 2022
受过教育的VS没受过教育的。
2012-2014年的经济VS 2022年的经济。
Nagendra Narayan•17243• Nagendra Narayan•5 hours ago
We miss Raoul. He is the biggest supporter of BJP while being in the opposition camp.
我们想念拉胡尔。在反对党阵营时,他是印度人民党最大的支持者。
Suryanarayana Krishnamurthy•30924• Suryanarayana Krishnamurthy•Bangalore•21 hours ago
He is absolutely right. The greatest fool can ask more than what the wisest man can answer. Rafool pappu zindabad.
他说得一点没错。最愚蠢的人想不通的问题远比最聪明的人能回答的还要多。
anup agarwal•10580• anup agarwal•21 hours ago
I thought Gehlot was a magician at some time, that he is a comedian is a good news as he can replace the now jailed Sidhu.
有时候我觉得格洛特是一个魔术师,现在看,他就是个喜剧演员,这真是一个好消息,因为这样的话他可以取代被监禁的西杜了。
People Voice•7135• People Voice•1 day ago
No matter who says the truth it must be accepted, biggest crisis facing the Congress party is that is not Rahul Gandhi's incompetence but the old leadership including you are not handing over power to the new generation. To understand Rahul Gandhi's popularity just watch the Bharat Jodo Yatra is being embraced by people across the country without consider caste, religion, race, country and language, and he is receiving an acceptance throughout the journey unlike any political leader in India in recent times.
无论谁说的是真,谁说的是假,我们必须正视一点,国大党面临的最大危机不是拉胡尔·甘地的无能,而是包括你在内的老一辈领导班子没有把权力移交给新一代。想知道拉胡尔甘地有多受欢迎,只要看看团结印度集会中,印度人民不分种姓、宗教、种族、地区和语言地支持他,他在整个集会之旅中获得了印度近代政治领导人都未曾得到过的接纳和认可。
Raj Kumar•9503• Raj Kumar•5 hours ago
Except for his surname, this man has no other qualification. Sadly, the servile attitude of his party members is solely responsible for making him believe that he deserves the top post.
除了甘地这个姓氏,这个人一点资格都没有。但可悲的是,他的党员们奴颜婢膝的态度让他相信自己真的配得上这个最高职位。