Military has lost 50 personnel in air crashes in 5 years
5年来,印度军方空难中损失了50人
NEW DELHI: Military aviation is innately risky with pilots often pushing their fighters, aircraft and helicopters to the limits to practise combat manoeuvres and low-level flying missions or carry out rescue operations and ferry supplies to forward areas in treacherous weather and terrain conditions.
The crash of the Indian Army's weaponised version of the indigenous advanced light helicopter (ALH), `Rudra', in Arunachal Pradesh on Friday, killing two officers and three soldiers, once again underscores the alarmingly high crash rate in the Indian armed forces.
Sources said the army, Indian Air Force and Indian Navy have suspended flying operations of the entire ALH fleet – over 300 such twin-engine choppers have been inducted since 2001-2002 – for at least a day to conduct technical and maintenance checks.
The court of inquiry will establish the exact reason behind Friday's crash. But the overall statistics are chilling. Over 50 military personnel have lost their lives in aircraft and helicopter accidents in the last five years.
军用航空飞行天生就有风险,飞行员驾驶战斗机、飞机和直升机,经常将其推到极限,在恶劣的天气和地形条件下进行作战演习和低空飞行任务,或进行救援行动,将物资运送到前方地区。
10月21日,印度军队的本土先进轻型直升机"Rudra"在印控"阿 鲁纳恰尔邦"坠毁,造成两名军官和三名士兵死亡,再次突显出印度武装部队惊人的高坠毁率。
消息来源称,印度陆军、印度空军和印度海军已暂停整个ALH机队的飞行行动——自2001-2002年以来,已有300多架此类双引擎直升机投入服役——至少用一天时间进行技术和维护检查。
调查法庭将确定昨日坠机的确切原因。但总体统计数据令人不寒而栗。在过去五年中,印度50多名军人在战机和直升机事故中丧生。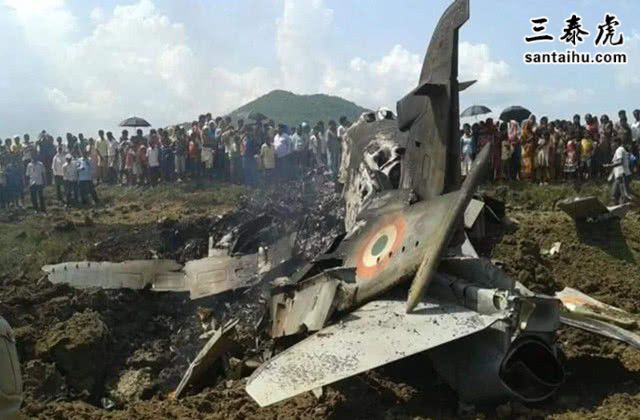 以下是印度时报读者的评论:
Kun
Why so many incidents under BJP rule? What did Modi ji do with PM cares fund? Only spending on MLA? Where is safety and growth after Shree Manmohan Singh ji rule? Why BJP not doing anything?
为什么在人民党统治下会发生这么多事件?莫迪的总理关怀基金怎么样了?
为什么人民党毫无建树
Anjan Kesh
We spent 8400 crores on luxury dreamliner jet for the pm so we don't have money for our armed forces.
我们斥资840亿卢比为莫迪总理购买豪华梦幻客机,现在没有经费拨给军队了
Mumbaiindian
Idiot.. You are speaking this because you hate Modi.. But that flight of pm will be used by all future pm... It is not modis private property.. . Pm's flight is symbol of nation.. If anything goes wrong with pm, irrespective of modi or whoever, loss to nation would be 100s of time of the flight cost.. So just don't write like illiterate for sake of writing
笨蛋,你讨厌莫迪才这样说!现在购置的总理专机,也可以服务以后的总理。这不是莫迪的私人财产
总理的专机是国家的象征
如果总理出了什么问题,不管是莫迪还是谁,对国家的损失会是100倍
User Singh
It was 6500 crores not 8400.
是650亿卢比,不是840亿卢比
Voxpopuli
The Dreamliner is American, and the choppers are Russian. Russia does not make good equipment, period.
梦幻客机是美国的,直升机是俄罗斯的。俄罗斯的东西不好,就是这样。
Hari Sud
Armed forces have bad priorities. They want to book the money for fighter jets, aircraft carriers etc., and pay no attention to basic flying machines like helicopter.
印度军队的优先次序搞错了。他们想为战斗机、航空母舰等留资金,却没有重视直升机等基本飞行装备
User
Something is not in order with our Indian Air Force. Either the fighter jets and choppers are too old, not serviced on time, faults not detected and many more.
我们的印度空军有些问题。战斗机和直升机老掉牙,没有及时维修,故障没有检测到等等。
Guest
They (military) understand it better. We are sure they are aware of the statistics and reasons! Sad for the lost lives!
他们(军队)更了解这一点。我们确信他们知道统计数据和事故原因!为失去的生命哀悼!
I am the Mirro
Guest, the quality of your comment is that of a 14 yr old kid! "aware of the statistic and reasons"! LOL! Btw, are you aware of the Standards in this country or not?
你是14岁的孩子吗?"了解统计数据和原因"!大声笑!顺便问一下,你知道这个国家的标准吗?
Definite
Only modi amit shah and jay shah life what mattets in this country
在这个国家,只有莫迪、阿米特·沙赫和杰·沙赫懂得什么才是最重要的
Eye Star
Absolutely. You hit the bulls eye
你说到点子上了
Eye Star
Feku's gift to the nation. Busy in " Aapna Seva Me " no time for "Desh Seva Mey" Be it migrant workers died on the street he was busy feeding peacock. Military lost their lives he is Busy traveling in Bullet Proof Limousin or Dreamliner for his own comfort in expense of public money
这是莫迪送给国家的礼物。工人死在街上,他都在忙着喂孔雀。
士兵失去了生命,他也忙于乘坐防弹豪华轿车或梦幻客机去旅行,挥霍公款,奢靡无度
Mark
High corruption. Make In India scam and Russian cheap are going to cause deaths and grief in the forces unfortunately. Rip brave soldiers sorry that politicians are not going to save you
太腐 败了。不幸的是,印度骗局,以及俄罗斯廉价武器,导致越来越多印度士兵命丧黄泉。安息吧。那些政客不在惜你的生命
Rajat Dogra
is anybody checking a simple thing called EMP?? Electromagnetic Pulse?? all such cases are always near the border...Please put some mechanism in all flying machines and see if there is EMP hitting the device unfortunately the black box does not have emp readers
..for the mear fact most crashes are happening near the border means something isn't it. also one cannot rule out if such a powerful device could be used from space through the satellite. recently USA found a magnetic kind of a small chip attached to its f35 aircrafts...one cannot trust the chinese. so please check and rule out this possibility of EMP
有人注意到一个叫做电磁脉冲的武器吗?电磁脉冲?这样的事故总是在边界附近发生
请在所有飞行器中安装一些机械装置,看看是否有电磁脉冲击中设备。
不幸的是,黑匣子没有电磁脉冲读取器
大多数坠机事件都发生在边境附近,肯定有猫腻。
也不能排除这样一个强大的设备是否可以通过卫星从太空中发出干扰。
最近,美国在f35战机上发现了一种磁性的小芯片
我们不能相信中国人。

Aj D
Most crashes happen there because most practices and uses of defence choppers happen at the border. And BTW these things keep happening everywhere. just this week a chopper crashed at kedarnath. Also Conoor where Gen Bipin Rawat dies was completely internal.
大多数坠机事故发生在边境附近,因为直升机主要在边境附近巡逻啊。
顺便说一下,事故无处不在。就在本周,一架直升机在基达纳特坠毁。
Pramod Patra
Such a larger number of accidents in the military aviation is a deplorable fact and needs to be remedied as quickly as possible. There should be proper maintenance and training to avoid any casualties.
军用航空事故如此频繁,是令人痛心的,应该尽快予以补救。应进行适当的维护和培训,以避免人员伤亡。
User Tutor
Classic example of make and then break in India.. sabke sath sabka vishwaash ko sab khalllaaash
这是印度制造梦想破灭的经典例子
Aj D
Would be interesting to see what excuse the extreme right wingers will be giving this time! I am sure they would again come in hundreds to support the govt talking about Chinese and American and previous Congress govt hand in this. They will leave no stone unturned to display present govt's innocence. They must be already onto it drafting their plans.
很有趣,看看这一次极端右翼分子会拿出什么借口!
他们将不遗余力地证明政府的清白。他们一定已经开始起草计划了
Hari Sud
Old and outdated helicopters to blame.
老旧过时的直升机,是罪魁祸首。
User SUNDARARAMAN
We lost the top most CDS Shri Bipin Rawat to a Heli-crash in recent past..... BJP regime is trying to rush up use of indigenous helicopters --- to show off politically that they have achieved a lot --
最近,我们在直升机坠毁事件中失去了CDS最高级别的比平拉瓦特将军,
印度人民党政权正努力加快服役本土直升机,以炫耀他们取得了很大的政治成就
Guest
Such type of incidents happens in a large country like India. Modiji has a very futuristic vision so no one should put question about that. These are all leftist people who are busy in ruining country's image. Such accidents happened in earlier also so that's not a big issue. Modiji will do his best to reduce it. It will take bit time so leftist people should keep their mouth close and watch Modiji's work.
此类事件发生在印度这样的大国。莫迪有一个憧憬未来的愿景,没人敢对此提出质疑。这些都是左翼人士,他们忙于破坏国家形象。
早些时候也发生过这样的事故,这不是一个大问题。
莫迪将尽最大努力减少这类事故。
这需要一些时间,
左翼人士应该闭上嘴,观察莫迪的作品
Uday Gokhalay
Technical Failure ? Human Error ?? What ??? O
技术故障?还是人为失误?
Rao Rao
India needs to investigate - !!
so many mishaps just cannot happen due to poor maintenance only/ Most Aircrafts are always tested for Fight worthiness before they take off anyway . INDIA PLS LOOK INTO THIS / JAI HIND !!
印度应该展开调查!
许多事故不是维护不善就会发生的。大多数飞机在起飞前都会进行适航性测试
I am the Mirror
The Court of Inquiry is an absolute Joke! Their reactions are the same after every Crash! One officer said, "The choppers should have obstacle-avoidance systems…" Oh really! What a smart idea! bUT does this idea crop up in their minds, ONLY after a Crash? IDIOTS! Even in the 1990s Army personnel had lost their lives in a Helicopter crash while flying to Bhutan.
调查法庭简直是个笑话!每次坠毁事故发生后,他们的反应都是一样的!一名军官说:"直升机应该有避障系统"哦,真的!多么聪明的主意啊!
这个想法是不是只有在坠毁事故之后才突然出现在他们的脑海中?笨蛋!
甚至在20世纪90年代,军队在飞往不丹的直升机坠毁中丧生。
Bharat is a place where people die like Flies and Ants in all kinds of Accidents! Since 1970s there has been at least 400 Mig Aircraft crashes. Can you believe that? And Road accidents are happening every day, literally. Selfie-deaths are also very, very common in Bharat. People drowning in Rivers or Ponds is also a daily occurrence.
自20世纪70年代以来,至少有400架米格战机坠毁。你能相信吗?
事实上,道路事故每天都在发生。
自拍死亡在印度也非常常见。人们在河流或池塘中溺水也是每天都会发生
No BS
Blame China ! Why not… it helps to hide our incompetence !
怪中国喽,为什么不帮助我们掩盖自己的无能!
Guest Login
Loss of precious lives is grieved Reasons are many I am confident that remedial measures are underway Reports of such incidents are not made public but I have reason to believe some incidents are "sabotages"
宝贵生命的丧失,令人悲痛!原因很多,我相信补救措施正在进行。此类事件的报告没有公开,但我有理由相信一些是"蓄意破坏"造成的
User Singh
Look there are 365 days in a year that is 1800 in 5 years. 50 lost in 1800 days is certainly not bad.
一年365天,5年1800天。1800天死50人还好啦
Proud Bhakt
Russian equipment is the best & most advanced. We should keep buying Russian hardware .
俄罗斯装备是最好和最先进的。我们应该继续购买俄罗斯的装备。
Veez VeezSouth
Why worry about enemy killing Indian troops. Bragging rights goes to India of how powerful the armed forces are. Maintenance is the problem. An Indian navy ship visited my country and a helicopter on board and I noticed wire holding the the tail flaps . I was shocked .
印度有权炫耀自己的武装力量有多么强大。维护是问题所在。一艘印度军舰访问了我的国家,军舰还有一架直升机,我注意到尾翼上的金属丝。当时我很震惊。
Voxpopuli
Really sad so many military personnel lost their lives like this. One thing is for sure, the military should seriously look into inducting choppers from Russia
真的很难过这么多军人丧生。有一点是肯定的,军方应该认真考虑是否还从俄罗斯引进直升机
Harish Subramanian
Airforce should help army train pilots
印度空军应该帮助陆军训练飞行员