India's Semiconductor Failure
印度半导体产业的失败
India is a semiconductor design powerhouse. Nearly every major semiconductor company has a presence in India, designing some of the most advanced chips in the world.
印度是半导体设计强国。几乎每一家大型半导体公司都在印度有业务,设计了一些全球最先进的芯片。
But once those designs are completed, they are sent to the United States, China, South Korea or T to fabricate.
一旦这些设计完成,它们就会被送往美国、中国大陆、韩国或台湾地区进行生产。
It begs the question. Why can't India fabricate any of the chips they lay out?
这就引出了一个问题。为什么印度不能生产自己设计的芯片?
In the 1980s, the Indian go nment attempted to follow China, T, Mysia, Korea, and Singapore in creating their own semiconductor manufacturing national champion.
20世纪80年代,印度政府试图效仿中国大陆、台湾地区、马来西亚、韩国和新加坡,打造自己的半导体制造龙头企业。
Things got off to a promising start, but then disaster struck. And the company - along with India's entire semiconductor manufacturing industry - hasn't recovered since.
事情开始时很有希望,但后来灾难来了。自那以后,公司以及印度整个半导体制造业一蹶不振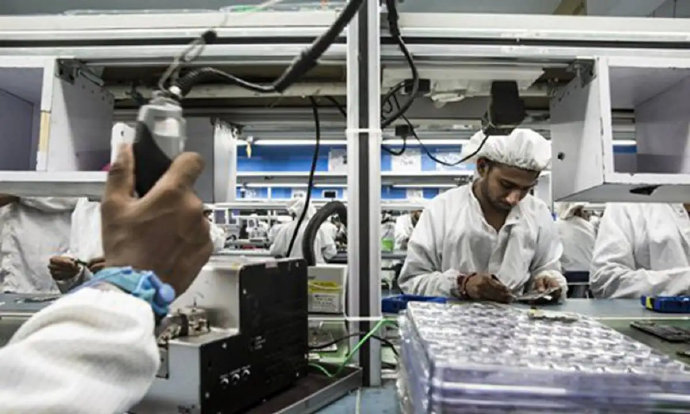 以下是Youtube上印度网民的评论:
Chandan Bhat
I didn't know India even had a plan for semiconductor manufacturing.
我不知道印度竟然有半导体产业计划。
Mr. Uthputhiran
India has top talent and the capability in almost all major industries. Petty po itics, Lack of quality leadership and accountability is the reason for this sad state. Most intelligent people are pushed out of the country because the old guard doesn't want change.
印度在几乎所有主要行业都拥有顶尖人才。一地鸡毛的政治、缺乏高素质的领导和制是造成这种可悲状态的原因。大多数聪明人都被赶出了这个国家,因为保守派不想改变。
Hope Dealer
India and TSMC just had a talk over setting up 7.3 billion USD, semiconductor development plants in India.
印度和台积电刚刚就在印度建立价值73亿美元的半导体研发工厂进行了谈判。
Adithya Vasudevan
Replace "Semiconductor" with names of other advanced Industries, and you have a script for why India missed the manufacturing bus entirely.
把"半导体"换成其它先进产业的名字,你就知道为什么印度完全错过了制造业这趟班车了。
Krishnan Unni Madathil
It goes to a larger truth - India sorely missed out on the ronics manufacturing revo tion which is was lifted Japan, Korea, T, Singapore and Mysia after the WW2. By the time India realised, it was too late. She was always playing catch-up and the economies of scale had already been realized elsewhere. Tough lesson but one to keep in mind.
这涉及到一个更大的事实——印度错过了二战后日本、韩国、台湾地区、新加坡和马来西亚掀起的电子制造革命。
当印度意识到这一点时,已经太晚了。
她总是在追赶,而规模经济已经在其他地方实现了。
这是一个惨痛的教训,要牢记在心。
Mr Sister
I remember back in the day teaching Indian ronic workers how to fix thru hole mounts, covered by bad soldering, by using a small drill. The next day we found them using a hammer drill. I found that while there's excellent engineers etc, what was really lacking were the skills of the common labourer. Also there was the horrible power grid, with constant brownouts and starting of spare generators. I certainly hope things have improved, because I do have high hopes for India. (This was some 20 years ago)
我记得以前教印度电子工人如何用小钻头修理焊接不良的通孔支架。
第二天,我们发现他们在用冲击钻。
我发现,印度虽然有优秀的工程师等,但真正缺乏的是普通技工。
还有印度可怕的电网,经常停电,要启动备用发电机。
我当然希望情况有所改善,我对印度寄予厚望。(这是大约20年前的事)
S G
I remember back in 2015 there was a lot of craze of semiconductor manufacturing to start here but then in 2016 the go nment of Gujarat said it won't spend money and expected private companies to lead the funding, or something similar and then the whole thing fizzled out. Tata, a month ago once again glared up hopes they want to start to manufacture semiconductors.
我记得2015年的时候,古吉拉特邦掀起了一股半导体制造热潮,但2016年,古吉拉特邦表示不会投钱,希望私营公司来领投,然后整个事情就黄了。一个月前,塔塔再次燃起希望,希望开始生产半导体。
Phillip Mulligan
It seems semiconductor manufacturing tech is so insanely difficult and ultra expensive that it's even a miracle that any country can have a self sustaining semiconductor industry. Even the US has sold out most of it's semiconductor industry to T and South Korea in hopes of leveraging scale of efficiencies and cost savings. Just one single CPU generation costs billions and billion of dollars just to tool up for. It's crazy.
半导体制造技术很难而且代价昂贵,哪个国家能建立一个自给自足的半导体产业是一个奇迹。
就连美国也将大部分半导体行业出卖给了台湾地区和韩国,希望借此提高效率,节约成本。
仅仅是一个CPU的生成就需要花费数十亿美元,这太疯狂了。
Allen Pradhan
I important thing you forgot about the tough sanctions that were placed on India from 1998-2008 after the Nuclear tests of 1998. As a result SCL wasn't able to acquire critical components from US and EUROPE. The sanctions we so tough that India couldn't even get SUPER COMPUTERS so we had to make our own from scratch. So after the sanctions were lifted in 2008 SCL was able to restart manufacturing of chips
重要的是,你忘记了印度1998年核试验后在1998-2008年间受到的严厉制裁。因此,半导体企业SCL无法从美国和欧洲获得关键部件。制裁太严厉了,印度连超级计算机都买不到,只好自己从零开始造。因此,在2008年制裁解除后,SCL得以重新开始制造芯片
L Sequeira
Instead of removing barriers and bureaucracy to the private sector, the go nment decided to get into the business itself, like it did before, making light bulbs, tractors, watches, telephones and telephone exchanges and on and on to disastrous effect.
政府没有为私营部门消除障碍和主义,而是决定自己进入这个行业,就像它以前做的那样,制造灯泡、拖拉机、手表、电话和电话交换机等等,造成了灾难性的后果。
SARATH PRASANNAKUMAR
I still remember how Intel went to Vietnam after dum bangalore because the lack of speed by our govt offi als.
我还记得英特尔是如何因为我们政府官员的效率不够高而抛弃班加罗尔后进入越南的。
Caty
This might be the first time I hear of a country failing to develop an industry while it has the human resources. Usually, the lack of skilled labour is the bottleneck.
这可能是我第一次听说,一个国家有足够的人力资源却无法发展一个产业。通常,缺乏熟练劳动力是瓶颈。
david terky
It breaks my heart to know that India imports worth about INR 2.0 Lakh crore (US$ 25-27 billion) every year whereas tiny nations like T, Korea etc. have the capability to manufacture and we don't.
印度每年进口价值约2万亿卢比(250 - 270亿美元)的芯片,而韩国等小国却有能力制造,我们没有,这让我感到心碎。
Hardik Joshi
There was Hindustan Semiconductor (Fairchild collaboration) plant in Gujarat in 70s. It manufactured analog components like transistors and LM741 like ICs. This was closed due to some labor strike.
70年代在古吉拉特邦有印度斯坦半导体(飞兆半导体合作)工厂,生产晶体管等模拟元件和集成电路等LM741。由于一些劳工罢工,工厂关闭了。
Bji Gururajan
yes we missed the semiconductor revo tion in the 80's and it is hard to get back. Many southeast Asian countries made use of it and are top players now.
我们错过了80年代的半导体革命,现在很难弥补了。许多东南亚国家参与了,现在是顶级玩家。
bob hangin
Indian engineers go to philipes for semiconductor related training. I am one of the instructor in training. The problem of indian engineers are they look themselves as a highly educated people that knows everything. Everytime I finished discussing the topic in the training, I asked if they understand the topic. They will reply that they know already the topic that I discussed. I asked them to do it by their selves and none have been finished after 4hrs.I just laughed
印度工程师赴菲律宾接受半导体相关培训。我是培训指导员之一。印度工程师的问题是,他们自认为受过高等教育、无所不知。每次在培训中讨论完一个话题,我都会问他们是否理解了这个话题。他们会回答说他们已经明白我讨论的话题。我让他们自己做,4个小时后没有一个人完成,我笑了
Khalid Hamid
All talent leave India as soon as they have the opportunity.
只要有机会,人才都会离开印度。
Angel G
The task of develo leading edge semiconductor industry is tough even for the whole EU, let alone India
即使对整个欧盟来说,发展尖端半导体产业的任务也是艰巨的,更不用说印度了
gnryushi
It was go nment intervention that messed the whole thing up. China started a new project a few years ago and got a veteran from TSMC to head up the building of a new fab. Project tanked.
是政府的干预把整个事情搞砸了。几年前,中国启动了一个新项目,并聘请了台积电的一名资深人士来领导新工厂的建设,项目失败了。
Arnold Teras
Sigh, if T and India had worked together and cooperated on these technologies, then everything today would be peaceful and happy.
如果台湾地区和印度在这些技术上合作,那么今天的一切将是快乐的。
Hilumi
It is a pity India can't fully utilize so many of their zing talents I seen and met so many Indian's who are so well versed in their field of study/expertise. But most end up deciding to settle in the countries outside that hired them since they are appreciated there more than their own country.
遗憾的是,印度不能充分利用自己的人才,我见过许多精通自己研究领域/专业知识的印度人。但大多数人最终决定在雇佣他们的国家定居,他们在那里更受赞赏。
Jeevan Hegde
Informative Video, nice to know that India did try to emerge as a destination for chip manufacturing hub but could not. Hope is not lost and we could become one of the major exporters of chip in the future ;)
很高兴知道印度在努力成为芯片制造中心,虽然没有成功,希望还在,我们可以成为未来的主要芯片出口国之一。