Delhi triple suicide: Room sealed with foils, suicide note affixed on wall
德里三人自杀:房间用箔纸密封,自杀遗书贴在墙上
NEW DELHI: Chilling details have emerged in the triple suicide case in Delhi's Vasant Vihar area where three family members were found dead late Saturday evening.
德里Vasant Vihar地区发生三人自杀案,令人毛骨悚然的细节已经浮出水面。周六晚上,一家三口被发现死亡。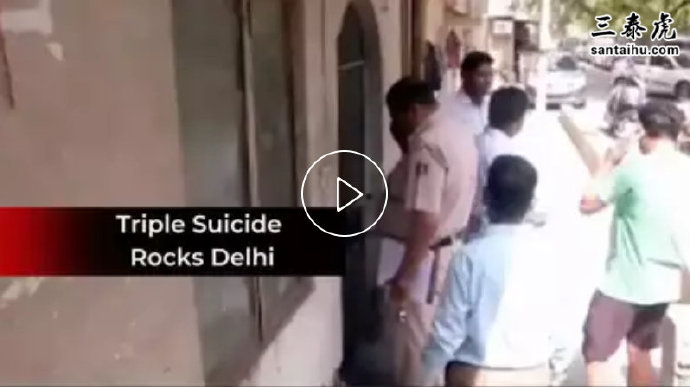 A 55-year-old woman and her two daughters aged 30 and 26 years were found dead at their House no.207, Vasant Apartment, Vasant Vihar.
一名55岁的妇女和她30岁、26岁的两个女儿被发现死在他们的住所,Vasant Vihar, Vasant公寓207单元。
The deceased, identified as Manju Srivastva (mother), Anshika and Anku, had turned their house into a gas chamber after sealing it from all sides.
死者身份确认为Manju Srivastva(母亲)、Anshika和Anku,他们把房子各个墙面密封,把房子变成了毒气室。
Deputy commissioner of police (southwest) Manoj C said a local resident made a PCR call at the Vasant Vihar police station around 8.55pm on Saturday stating that the said house is locked from inside and the people are not opening the door.
副警察局长(DCP)Manoj C说,周六晚上8点55分左右,一名当地居民给Vasant Vihar警察局打了电话,说房子从里面反锁着,没人开门。
The police immediately swung into action and the station house officer along with other staff reached the spot and found the doors and windows closed on all sides, and the flat locked from inside.
警方立即采取行动,派出所警官和其他工作人员赶到现场,发现门窗全关着,房间从里面反锁。
"The police managed to open the door and found that a gas cylinder was partially opened and there was also a suicide note," the DCP said.
"警方设法打开了门,发现煤气罐被打开了,还有一封自杀遗书,"DCP说。
As the police went further to check the rooms, they found three bodies lying on the bed, along with four small traditional angithis (coal fire).
警方进一步检查了房间,发现床上躺着3具尸体,还有四具传统的小煤炉。
The room was completely sealed with foils to prevent the fumes from the angithis leaving the room, making it impossible for the three women to escape the toxc fumes, just like a "gas chamber death".
房间用箔片完全密封,防止烟溢出,使三个女人无法逃离有毒烟雾,就像死在"毒气室"。
"Most likely they died due to suffocation," the senior official said. It was also learnt that the a few pages of the suicide note were affixed on the wall of the room, however, the police refrained to share the content.
"他们很可能死于窒息,"这位高级官员说。据了解,房间的墙上贴着几页遗书,但警方没有透露内容。
"The content and veracity of the note are yet to be verified and are still under investigation," the official said, adding the inquest proceedings have been initiated.
该官员表示:"纸条的内容和真实性尚未得到证实,仍在调查中。"他补充说,调查程序已经启动。
The preliminary probe revealed that the woman's husband, Umesh Srivastva, died in April 2021 due to Covid and since then the family was in depression as the mother, Manju, was bedridden due to illness.
初步调查显示,这名女子的丈夫乌Umesh Srivastva于2021年4月因患新冠死亡,此后,这家人一直处于抑郁状态,母亲因病卧床。
以下是印度时报读者的评论:译者:Jessica.Wu
DEEPAK SHARMA
Sudhanshuji,kindly do not blame Delhi Govt.It has nothing to do with the personal lives ofyou and me.Two daughters were grown up so where is the question of Govt. not hel comes in between. Lets talk rational. They must be mentally broken and shattered after the demise of their lone earner in the family . Lets not just write anything.
请不要责怪德里政府,政府与你我的个人生命无关。两个女儿都长大了,政府有什么问题?
理性一点。家里唯一挣钱的人去世后,她们一定精神崩溃了。我们不要乱写。
Kishore Kannan
Western model of independent nuclear lifestyle not suitable for India. No job is inferior, health issues are not something bad to talk about & get help.
西方的独立生活模式不适合印度。没有工作是次要的,谈论健康问题不是坏事。可以寻求帮助。
Not God
MOSI'S DIGITAL INDIA -- SHAME THERE ARE NO JOBS IN INDIA.. 17 MILLION INDIANS FLED INDIA AND WENT ABROAD SINCE MODI BECAME PM... SOME OF THEM ARE WORKDING IN CONSTRUCTION IN MIDDLE EASTERN COUNTRIES.. IN QUTTAR ALONE 6500 LABOURERS DIED BECASE OF POOR CONDITIONS,, THEY HAD NO CHOICE, THERE ARE NO JOBS IN MODI'S INDIA..
莫迪的数字印度——印度没有工作岗位,真可耻。自从莫迪当选总理以来,有1700万印度人逃离出国。他们中的一些人在中东国家从事建筑工作。仅在卡塔尔就有6500名工人死于恶劣的条件,他们别无选择,在莫迪领导的印度,没有工作机会。
Ramkishore Ayyagari
A lesson for all of us, unfortunately at the expense of this family. Look around you within your family, if anybody is affected and reach out and help them as needed. These mass family suicides were hitherto unknown in India
给我们所有人上了一课,不幸的是以这个家庭为代价的。看看你周围的家人,如果有人受到影响,伸出手去帮助他们。这种全家自杀的事件在印度闻所未闻
Worst Person Ever
Very saddening news. Only they know how they must be feeling during the last one year. Life can be hell sometimes. Heart broken but at least now there is no pain.
非常令人难过的消息。只有他们知道自己在过去一年的感受。生活有时就是地狱。心碎了,但至少现在没有痛苦了。
Partha Mohanty
Extremely sad for their helplessness
为她们的无助感到极度悲伤
0 0 • Reply • Flag
It is very sad what happened, but there are lessons to be learned from this tragedy. First, a father should not be the sole caretaker of the family affairs, his death left the rest of the family unable to fend for themselves. Not sure what the circumstances were around the family, but had the daughters, who are quite grownups, were allowed to mingle with society and taught to look after themselves, they would have gone out, found work and look after their mother and family affairs, instead of si ...
发生的事情令人非常悲伤,但我们可以从这场悲剧中吸取教训。
首先,父亲不应该是唯一养家糊口的人,他的死亡使家庭的其他成员无法照顾自己。
我不知道家里的情况如何,如果女儿们都已经长大成人了,可以融入社会,学会照顾自己,她们可以出去找工作,照顾母亲、养家
Citizen Welfare Desk
What happened to khejriwal's adn sishodia's promise of giving some million rupees to the family of Covid-19 deceased? That could not give them some security? May be it is just a political promise. So sad that politicians can play so much gimmick. It happens in national capital? central ministers are making their pockets full not offering any kind of facilities for common people afflicted with covid 19 killer.
德里首席部长和副首席部长承诺给新冠死者家人数百万卢比,给了吗?
不能给他们一些安全感吗?
也许这只是一个政治承诺。
可悲的是,政客们可以玩这么多花招。
这事发生在国家首都?
中央部长们不为感染新冠的普通民众提供任何设施,反而填满了自己的腰包。
Rukmanand Sharma
These werewithout adoubt, preventable deaths. Why is there nohelp availablefor familieslike these?
毫无疑问,这些死亡是可以预防的。为什么这些家庭得不到帮助?
Ani
Chinese covid long term impacts... Something beyond the obvious. Shame on everyone who is supporting China directly by buying chinese products.
新冠肺炎长期影响,超乎寻常。那些购买中国货的人直接支持中国,真可耻。
4 2 • Reply • Flag
They earn profits from viruses, test kits and hospitalizations. They make profit from Remdesivir, steroids and ventilators.
他们从病毒、检测试剂盒和住院治疗中获利。他们从瑞德西韦、类固醇和呼吸机中获利。
1 0 • Reply • Flag
everybody has their own issues.... seems like the husband/father was the sole bread earner and the family lost the hope after his death..... depression took over and they found themselves in a hopeless situation.... girls grown up..... maybe some doubts started cree in the mind of their mother or the fear of losing their mother as well may have forced the girls and mother to take their own lives.
每个人都有自己的问题....似乎丈夫/父亲是唯一挣钱养家的人,他死后家庭失去了希望.....抑郁袭来,他们发现自己处于绝望的境地....
女孩长大了……也许一些怀疑开始在他们的母亲的脑海中蔓延,或者可能是失去母亲的恐惧迫使女孩和母亲结束了自己的生命。
1 0 • Reply • Flag
The wife and daughters clearly appear to be sufferring from vaccine adverse events. But they have no place to go because money eating politicians want to suppress all adverse events.
妻子和女儿显然受到疫苗负面事件的影响。但他们无处可去,因为贪财的政客想要压制所有负面事件。
1 8 • Reply • Flag
This is what happens when Big Pharma funded politicians force people to take experimental vaccines with hidden trial data
大型制药公司资助的政客们强迫人们接种隐瞒试验数据的实验性疫苗
2 7 • Reply • Flag
God knows how many families are suffering due to the killer vaccines. We hear cases of heart attacks, strokes and thrombosis almost daily now.
天知道有多少家庭因为这种致命疫苗而遭殃。现在我们几乎每天都能听到心脏病、中风和血栓病例。
0 8 • Reply • Flag
They were mentally depressed because of the diseases caused by experimental covid vaccines. That is why the wife was unwell.The vaccines are dangerous.
他们因为实验性新冠疫苗引起的疾病而精神抑郁。这就是妻子身体不适的原因。疫苗很危险
0 10 • Reply • Flag
Stupids like you are vitiating the society. What the hell vaccine has to do with this tragedy. Were you born during riots? Which riots?
你这样的傻瓜是在诋毁这个社会。疫苗和这场悲剧有什么关系你是在骚乱中出生的吗?哪场骚乱?
2 0 • Reply • Flag
you are the best example of what happens if you do not take vaccine
不接种疫苗的后果,这就是最好的例子
5 1 • Reply • Flag
Never get admitted to hospitals for covid. They will kill you with remdesivir and steroids.
永远不要因为感染新冠而住院。他们会用瑞德西韦和类固醇杀了你。
3 8 • Reply • Flag
All of them killed by a media propagated fake pandemic.
她们都是被媒体传播的假流行病害死的。
1 25 • Reply • Flag
So sad. I pray for the departed souls.,Needs full investigation.
很伤心。我为死去的灵魂祈祷。要彻查。
14 5 • Reply • Flag
It's not possible by themselves. May be murdered.
这是不可能的。可能是被谋杀的。