India's Semiconductor Failure
印度半导体产业的失败
India is a semiconductor design powerhouse. Nearly every major semiconductor company has a presence in India, designing some of the most advanced chips in the world.
印度是半导体设计强国。几乎每家大半导体公司都在印度有业务,设计世界上最先进的芯片。
But once those designs are completed, they are sent to the United States, China, South Korea or Taiwan to fabricate.
一旦这些设计完成,就被送往美国、中国大陆、韩国或台湾地区进行生产。
It begs the question. Why can't India fabricate any of the chips they lay out?
问题来了,为什么印度生产不来他们设计的芯片?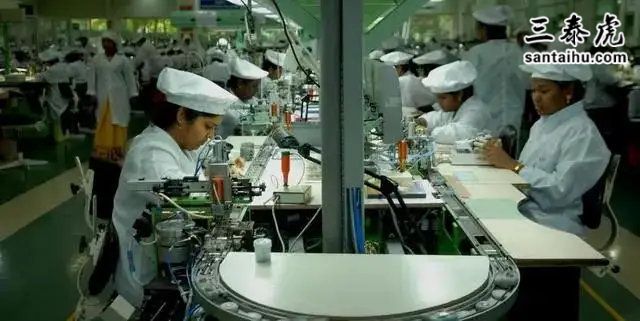 In the 1980s, the Indian government attempted to follow China, Taiwan, Malaysia, Korea, and Singapore in creating their own semiconductor manufacturing national champion.
上世纪80年代,印度政府试图效仿中国、马来西亚、韩国和新加坡,建立自己的半导体龙头企业。
Things got off to a promising start, but then disaster struck. And the company - along with India's entire semiconductor manufacturing industry - hasn't recovered since.
一开始很有希望,但后来灾难降临了。自那以后,该企业以及印度整个半导体制造业一直没有复苏。
以下是Youtube网友的评论:
Chandan Bhat
I didn't know India even had a plan for semiconductor manufacturing.
我不知道印度竟然有半导体产业计划。
Hope Dealer
What timing dude, India and TSMC just had a talk over setting up 7.3 billion USD, semiconductor development plants in India.
印度和台积电刚刚就在印度建立73亿美元的半导体开发工厂进行了谈判。
Mr. Uthamaputhiran
India has top talent and the capability in almost all major industries. Most intelligent people are pushed out of the country because the old guard doesn't want change.
印度在几乎所有主要行业都有顶尖人才和能力。但大多数聪明人被赶出了这个国家,保守派不想要改变。
Adithya Vasudevan
Replace "Semiconductor" with names of other advanced Industries, and you have a script for why India missed the manufacturing bus entirely.
把"半导体"换成其他先进产业的名字,你就知道为什么印度完全错过了制造业这条路了。
Allen Pradhan
I important thing you forgot about the tough sanctions that were placed on India from 1998-2008 after the Nuclear tests of 1998. As a result SCL wasn't able to acquire critical components from US and EUROPE. The sanctions we so tough that India couldn't even get SUPER COMPUTERS so we had to make our own from scratch. So after the sanctions were lifted in 2008 SCL was able to restart manufacturing of chips
重要的是,你忘记了1998年核试验后印度在1998-2008年间受到的严厉制裁。因此,SCL无法从美国和欧洲获得关键部件。制裁太严厉了,以至于印度连超级计算机都买不到,只好自己从零开始造。因此,在2008年制裁解除后,SCL得以重新开始芯片生产
Mannu Dwivedi
It really shame their is no indian reporter who cover indian plight of semiconductor industry
真丢人,没有印度记者报道印度半导体行业的困境
Krishnan Unni Madathil
It goes to a larger truth - India sorely missed out on the electronics manufacturing revolution which is was lifted Japan, Korea, Taiwan, Singapore and Malaysia after the WW2. By the time India realised, it was too late. She was always playing catch-up and the economies of scale had already been realized elsewhere. Tough lesson but one to keep in mind.
这涉及到一个更严重的事实——印度错过了电子产业革命,二战后日本、韩国、台湾地区、新加坡和马来西亚掀起了这场革命。当印度意识到这一点时,已经太晚了。她一直在追赶,而规模经济已经在其他地方实现了。这是一个惨痛的教训,但要牢记在心。
S G
I remember back in 2015 there was a lot of craze of semiconductor manufacturing to start here but then in 2016 the government of Gujarat said it won't spend money and expected private companies to lead the funding, or something similar and then the whole thing fizzled out. Tata, a month ago once again glared up hopes they want to start to manufacture semiconductors.
我记得在2015年,印度有半导体制造热潮,但在2016年,古吉拉特邦政府表示不会出资,并希望私营公司出资,然后整个失败了。一个月前,塔塔再次燃起希望,希望开始生产半导体。
Stephen Kong
I was surprised to hear one fire accident would destroy the entire semi-conductor industry? It does not sound convincing enough for me. Even in those days, chip companies would have multi-sites with backup operations and expertises exactly for this kind of eventualities.
听说一场火灾就能摧毁整个半导体行业,我很惊讶?
对我来说,这听起来不够有说服力。即使在那个时候,芯片公司也会在多个地点部署备份操作和专门技术,以应对这种可能发生的情况。
Phillip Mulligan
It seems semiconductor manufacturing tech is so insanely difficult and ultra expensive that it's even a miracle that any country can have a self sustaining semiconductor industry. Even the US has sold out most of it's semiconductor industry to Taiwan and South Korea in hopes of leveraging scale of efficiencies and cost savings. Just one single CPU generation costs billions and billion of dollars just to tool up for. It's crazy.
半导体制造技术是如此的困难和成本昂贵,一个国家能建立自给自足的半导体产业,简直是奇迹。就连美国也将大部分半导体行业出售给了台湾地区和韩国,希望借此利用规模效益和成本节约。仅仅是一代CPU就需要花费数十亿美元。这太疯狂了。
Saptarshi Sarkar
As an Electronics and Communication Engineering student, this is really heartbreaking
作为一名电子与通信工程专业的学生真是感到心碎
Karthik Sathyanarayanan
It's an immense tragedy.
这是一个大悲剧。
L Sequeira
Instead of removing barriers and bureaucracy to the private sector, the government decided to get into the business itself, like it did before, making light bulbs, tractors, watches, telephones and telephone exchanges and on and on to disastrous effect.
政府没有为私营企业消除障碍和官僚主义,而是决定自己进入这个行业,就像它以前做的那样,制造灯泡、拖拉机、手表、电话和电话交换机等等,结果造成了灾难性的后果。
Balaji Gururajan
yes we missed the semiconductor revolution in the 80's and it is hard to get back. Many southeast Asian countries made use of it and are top players now.
信息丰富,是的,我们错过了80年代的半导体革命,现在很难找补了。许多东南亚国家利用了这次集会,现在是顶级玩家。
Khalid Hamid
All talent leave India as soon as they have the opportunity. As long as there is burgeoning problem such as corruption, weak judiciary and law enforcement, unemployment, bureaucracy and lack of political will at the top India's growth will be at snail pace with major inequality.
只要有机会,所有人才都会离开印度。只要存在腐败、司法和执法薄弱、失业、官僚主义和高层缺乏政治意愿等问题,印度的增长就会因严重的不平等而缓慢。
gnryushi
It was government intervention that messed the whole thing up. China started a new project a few years ago and got a veteran from TSMC to head up the building of a new fab.
是政府的干预把整个事情搞砸了。几年前,中国启动了一个新项目,并聘请了台积电的一名资深人士负责新工厂的建设。
Manish Vyas
Indian government and TSMC are in talks to bring manufacturing to India. Let's see if this will work out.
印度政府与台积电正就制造业引入印度进行谈判。让我们看看这是否可行。
Sunny
TATA is step into semiconductor manufacturing, finally a good sign!!
塔塔正进军半导体制造业,是个好兆头!
capmidnite
I wonder why Indian had customs duty on fab equipment? Typically such duties are to protect domestic makers of such equipment. Which don't exst in India, I believe?
我想知道为什么印度要对工厂设备征收关税?
这种关税通常是为了保护此类设备的国内制造商。我想在印度没有这类制造商
Tanishq bhaiji
Indian companies can spend enormous amounts of money but they need guaranteed gains.
印度公司可以投入巨额资金,但他们需要有保障的收益。
Bryan Smith
It took EIGHT YEARS to reopen after the fire. That shows a massive lack of urgency. You can't run any business, if it can't recover from setbacks.
火灾发生后8年才重新开放。这表明政府极度缺乏紧迫感。如果你不能从挫折中恢复过来,你就经营不来任何业务。
Strong Challenger
If you want something said, ask India.
If you want something done, ask China.
如果你想听点什么,去问印度。
如果你想做点什么,去问中国。
Sailesh Mohanty
Just today i got the news that Taiwan's TSMC is going to invest 7.5 BILLION DOLLARS for setting up SEMICONDUCTOR FACTORIES..i hope Indian govt get the requisite expertise and Try to promote indigenous SEMICONDUCTOR MANUFACTURING Players to step up and ultimately HELP INDIA BECOME SELF-RELIANT!!
就在今天,我得知台积电将投资75亿美元在印度建立半导体工厂,我希望印度政府先掌握必要的专业知识,努力促进本土半导体制造企业的发展,最终帮助印度自力更生!
V M
Funny thing is....many Indians working in these fields in other countries
有趣的是……很多印度人在其他国家从事这行
BT20MEC047 Jeet Bhakta
"Failure is the first step towards sucess" - Albert Einstein
"失败是迈向成功的第一步"——阿尔伯特·爱因斯坦
Yen River
I have worked with Indians engineers when Ericssons was still manufacturing in Australia. They are very smart individuals. Just like the Chinese, they think outside the squares.
当爱立信还在澳大利亚生产时,我曾与印度工程师共事。他们是非常聪明的人。就像中国人一样,他们跳出固有的思维模式。
Pumpkin Eater69
Indian government wasted too many opportunities
印度政府浪费了太多机会