A week after farmers' deaths, Union minister's son arrested
农民死亡事件发生一周后,联邦部长的儿子被捕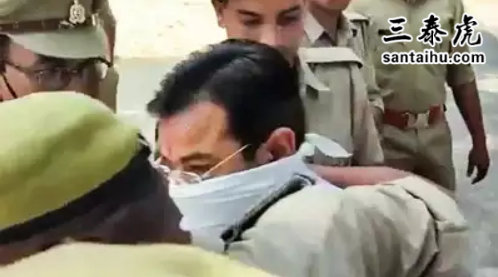 LAKHIMPUR KHERI: After nearly 12 hours of intense interrogation by the special investigation team (SIT) on the Lakhimpur Kheri violence in which he has been accused of killing four farmers, Union junior home minister Ajay Mishra Teni's son Ashish was arrested late on Saturday night. Ashish had skipped summons by the SIT on Friday, after which a second notice had been issued asking him to appear.
联邦部副部长Ajay Mishra Teni的儿子被控在Lakhimpur Kheri暴力事件中杀害四名农民,在特别调查小组(SIT)对他进行了近12个小时的紧张审讯后,Ashish于周六晚间被捕。Ashish在周五的时候无视法庭的传唤,之后法庭又发出了要求他出庭的通知。
"He has been arrested for not cooperating with the investigation and giving evasive answers," DIG Upendra Agarwal, who is heading the SIT, said on Saturday night.
调查小组负责人Upendra Agarwal周六晚上说:"他被捕的原因是不配合调查,并给出了含糊的回答。"
Around 10.30am, Ashish entered the Lakhimpur Kheri crime branch office by the backdoor, escorted by over 10 cops. He was accompanied by two lawyers, Avdhesh Kumar Singh and Jitendra Singh. Ashish had been asked to appear at 11am in the second notice put up outside his house on Friday. "My client has come with video evidence to show he wasn't there (the site of the killings) that day," his counsel Singh said in the morning. They also reportedly presented 12 affidavits of people saying Ashish was not at the Banbirpur violence site that day.
上午10点30分左右,Ashish在10多名警察的押送下,从后门进入了犯罪调查科的办公室。陪同他的有两名律师。Ashish被要求按照周五上午11点寄到他家的第二份通知出庭。上午他的律师Singh说:"我的当事人带来了视频证据,表明他那天不在(杀人现场)。"据报道,他们还提交了12份证词,说Ashish那天不在暴力事件现场。
As internet services were suspended again, police from neighbouring districts had been called to Lakhimpur Kheri and SSB jawans were deployed. BJP workers from across the district converged at the office in Lakhimpur city. Security around the district jail and the collectorate was suddenly stepped up in the evening.
由于互联网服务再次中断,邻近地区的警察被调到Lakhimpur Kheri,并部署了士兵。来自各区的人民党工作人员聚集在人民党办公室。到了晚上,地区监狱和收税处的安保突然加强了。
When asked if it was preparation for arrest, ADG (law and order) Prashant Kumar had earlier in the evening told TOI that he "didn't know". He added, "Local police have taken their own decision to maintain law and order." A senior offi al from the administration, however, said the security was in place to prepare for both scenarios. "Whether he is arrested or not, we are ready for both. We have ensured required security to maintain law and order. The decision on his arrest rests with the SIT," the offi al told TOI.
当被问及是否在为逮捕做准备时,行政长官Prashant Kumar晚上早些时候告诉《印度时报》,他"不知道"。他补充说,"当地警方已自行决定维持法律和秩序。"不过,政府的一名高级官员表示,安保措施已经到位,为这两种情况做好了准备。"无论他是否被捕,我们都做好了准备。我们确保了必要的安全以维护法律和秩序。。"
Around 11pm, Ashish was finally arrested. Police were preparing to take him before a remand magistrate at the time of filing the report.
晚上11点左右,Ashish终于被捕。发文时,警方正准备把他带到法官面前。

以下是印度时报读者的评论: 译者:Jessica.Wu
PRG G
Kindly Google Rakesh Tikait networth... It's $11 Million. He's richer than most of the middle class Indians and he calls himself a farmer. So are the so called farmers presting - they are the rich folks who are just creating noise to bring the go nment down. The real farmers are busy working on their farms not bothered with this so called farmer agitation. Jaago India Jaago!!
搜索Rakesh Tikait,他的净资产是1100万美元。他比大多数印度中产阶级都富有,他自称为农民。所谓的农民在抗议,他们是富人,故意在捣乱的。真正的农民在他们的农田里忙碌着,没空参加抗议。
Sarat Chandra
BJP leaders so cruel, power-hungry and liars. BJP leaders have become more cruel and harsher than British rulers. Due to so much of corrupt money and power, they have become arrogant, and mowing down farmers from behind , sitting in their luxurious SUV cars!!
人民党领导人是如此的残忍、渴望权力,太能撒谎了。印度人民党领导人变得比英国统治者更加残酷。为了权力和金钱,他们变得傲慢自大,开着他们豪华的越野车撞倒农民!
Rv
govt should show some se and arrest that tikat and that guy who killed the drivers..let law be the same for all
印度政府应该拿出点骨气,逮捕凶手,法律对所有人一视同仁
mandeep singh
Lol .... are you day dreaming....
哈哈,你在做白日梦吗?
Amrik Singh
Ha Ha !!!! Hundreds of people saw him there and Bhartiya Jumla Party says, he was not present there.
哈哈!数百人看到他在那里,人民党还说他并不在那里。
Manoj
His Dad should be immediately sacked from his position for lying about his whereabout at the time of the in dent. BJP should lead by example and not support people like him.
应该立即撤他父亲的职,因为他隐瞒了事发时儿子的行踪。人民党应该以身作则,不要支持像他这样的人。
Ekdesi
Good job! There should be no discrimination and law should take its course.
干得好!法律应该一视同仁。
kurnal
His father is still a minister. How? Modi needs to wake up
他父亲仍是部长?莫迪要醒醒了
Sarada P Sntaray
In our country, you like it or not, law is different for different people.
在我们国家,不管你喜不喜欢,法律因人而异。
User mohanty
Why this murderer is given so much prection. If he is innocent and was not present while the in dent then why was he absconding till the second notice of SIT.
为什么这个杀人犯得到这么多保护。如果他是无辜的,事发时不在现场,那为什么他在接到第二份通知之前还在潜逃。
Feku Takla Gadda Bhogi
Kill this animal
杀了这个畜生
News Uncensored Cannot Be Purchased By Po iticians
Asap
越快越好
Prasannan Nambiar
Internationally the image of India takes a beating when people running the country themselves try to shield their ministers who give provocative es leading to cold blooded murders. We are making a mockery of our country's judicial and police sy em. A common man gets thrown into jail even without valid charges.
印度的国际形象受到了影响,领导国家的人试图保护那些发表煽动性演讲导致冷血谋杀的部长们。我们是在嘲弄我们国家的司法和警察系统。即使没有正当的指控,一个普通人也会被扔进监狱。
Birendra Mohapatra
In a country if the attitude of the son of a Home minister towards police and law of sdthe land is like this only God can save this country.
在一个国家,如果一个部长的儿子对警察和法律的态度是这样的,那只有神才能拯救这个国家了。
Feku Chor
Feku will prove that this criminal was in foreign offi al vacation at the time of accident. He will walk scot free because all eye witnesses would somehow meet with "accidental deaths" before court hearing.
莫迪会证明这个罪犯在事故发生时正在外国度假。他将被无罪释放,所有的目击者都会在法庭听证会前遭遇某种"意外死亡"。
Sarma V S
Where he is lodged,he will get 5 star hel facilities. Thanks to his dad.
无论他关在哪里,他都会得到五星级酒店待遇。多亏了他的老爸。
kurnal
Our indian prime minister has been missing and ignoring farmer's prest.. hes kee quite because his big corporate buddies have put duct tape on his mouth.. county is raging in fire while PM ignore and acts like all is good..
我们的总理失踪了,无视农民的抗议,他保持沉默。这个国家水深火热,而印度总理却视而不见,表现得好像一切都好。
User Blalock2
no bail for him CHRAGED HIM IN TERRORIST ACT
不得保释,指控他犯有恐 怖主义罪行
Eye Star
No body above law including Feku and Taku.
Stringent action action needed to give justice to the victims
没有人可以凌驾于法律之上,包括莫迪
严惩不贷,为受害者伸张正义
Vinod
Modi Go nment completely ruined India. its time People to react and throw this go nment into dustbin to save themselves and for their future survival.
莫迪政府彻底毁了印度这个国家。人们是时候做出回应,把这个印度政府赶下台,拯救自己。
Tandav
Hang him ASAP..
尽快把他绞死。
kahoharami
Nope Release him
不可能,会放了他