Economy AC 3-tier fares fixed! Indian Railways may run new coaches from Sept; check details
经济型空调3级车厢定价!印度铁路公司或从9月开始运营新列车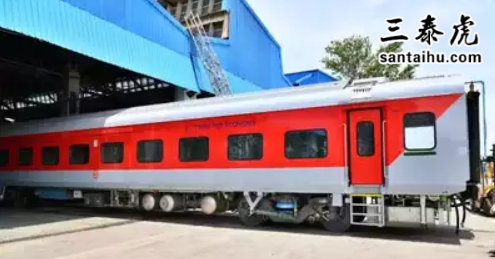 Economy AC 3-tier fare: Indian Railways has fixed the tariff for its new class of air-conditioned travel at 8% less than AC 3-tier. "The new class of travel will usher an era of affordable air-conditioned travel with premium features. The fares for Economy AC3 are 8% less compared to the esting AC 3 tier class," Rajesh Dutt Bajpai, Executive Director (IP) at Ministry of Railways told TOI. "As production picks up these new coaches will be attached in various Mail/Express and Superfast trains," he added.
经济型空调3级车厢票价:印度铁路公司将新型空调列车的票价定为比空调3级列车低8%。"旅行将迎来一个价格合理、配备高级功能的空调出行时代。经济型AC3的票价比现有的AC3级车厢低8%。"
他补充说:"随着生产的增加,这些新车厢将用在各种邮政、特快列车和超高速列车上。"
The first Economy AC3 tier coach will be fitted in the special train 2403/04 Prayagraj-Jaipur Express under the North Central Railway and will start running from September, a source told TOI.
消息人士对《印度时报》说,首批经济型AC3车厢将安装在北中央铁路的2403/04 Prayagraj-Jaipur 特快专列上,将于9月开始运行。
Economy AC 3-tier fare details:
According to a Ministry of Railways circular accessed by TOI, passengers opting for berths in the the new Economy AC 3 tier coaches will have to pay 2.4 times the base fare of the sleeper travel in Mail/Express trains. The base fare for up to 300 kilometres of travel will be Rs 440 and will go up as distance increases. The base fare for the mamum distance slab of 4951-5000 kms will be Rs 3065. While the base fare changes every few kilometres after the 300 km distance mark, below are some salient tariff details. Other charges such as reservation fee, superfast charge, GST as applicable for AC3 classes will be levied separately.
经济型AC3车厢票价详情:
根据铁道部通告,选择新经济型AC 3级车厢卧铺的乘客将需要支付邮件、特快列车卧铺基本票价的2.4倍。300公里以内的基本票价是440卢比,随着距离的增加,价格还会上涨。4951-5000公里的最大里程基本票价是3065卢比。虽然基本票价在300公里里程后每隔几公里就会变化。其它如订位费、超快费、消费税等适用于AC3级的费用将另行收取。
Normal Child fare rules will apply as applicable for the esting AC3 coaches in Mail/Express trains. The Concession/Free Complimentary passes shall be at par with the esting 3rd AC coach of Mail/Express trains. Normal cancellation and refund rules for the AC 3-tier class will be applicable here as well. Additionally, all other terms and conditions such as downgrading of AC 3-tier to CC class, bulk booking etc will be similar to the AC3 travel rules for Mail/Express trains.
普通儿童票价规则适用于邮件/特快列车现有的AC3车厢。优惠/免费赠票将与现有的邮件/特快列车3级空调车厢相同。AC3的正常取消和退款规则适用于此。此外,所有其他条款和条件,如AC3级降为CC级,批量预订等将类似于AC3邮件/特快列车旅行规则。
以下是印度时报读者的评论: 译者:Jessica.Wu
Ponraj Abraham
For the last 7 years we have been reading, watching and hearing many things about railway just for forgetting, nothing is meterialising. Last week I was travelling by 02141 LTT-PPTA III AC the toilet was in awkward condition and was big gap between the door and the latch.
在过去的7年里,我们一直听到、看到很多关于铁路的消息,但没有什么实质性进展。上周我乘坐02141 LTT-PPTA III AC的时候,厕所的状况很糟糕,门和门闩之间的缝隙很大。
Reddy
1.6 billion POPULATION (500 million ILLEGALS). India is gutter garbage country(totally failed) only good in POPULATION PRODUCING FACTORIES. TWO CHILD.
16亿人口(5亿非法移民),印度是垃圾国家(完全失败了),只有生孩子给力
aaaa bbbb
Base fare is 300₹ including everything it roughly comes to 400 wah bhai. You should have instead told the full price. Paste the MRP rate yaar. Instead of telling public to do mathematics
基本票价是300卢比,加上其他费用,大概是400卢比,应该告诉我们全价的,而不是让公众去算
Guest Login
However good the coaches may be but the pan chewing public and an inefficient staff can make it look years old within 6 months.
不管车厢有多好,但不爱护公物的公众,工作人员不用心维护的话,车厢在6个月内会看起来像旧的。
Piyush
That is why governmemt encouraging private sector for partnership.
所以政府鼓励私企参与进来。
Fossil By Then
Cleanliness?? Hygiene?
干净吗?卫生吗?
kailashk Kr56
Substantial improvement
有了实质性的改善。
Raj
The single greatest thing that happened to our country is Modi, Gadkari and BJP. I will be eternally grateful to them for saving us from a wretched and miserable estence under the Kongroaches for 65 years.
我们国家最伟大的是莫迪和人民党。我将永远感激他们,他们把我们从国大党65年统治下的悲惨生活中拯救出来。
Sasank Patra
every govt is announcing for modernization of railway but it is more over making the public fools. One thing the govt is doing perfect is that increase of fares at regular time with out any additional services.
每届印度政府都在宣布铁路现代化,但更多的是把公众当傻瓜。政府做得很完美的一件事是,在没有任何额外服务的情况下,定期提高票价。
Optimistic Bhartiya
great initiative and innovation
主动创新
Abhi
Currently while booking tickets, I saw in few of long route trains, sleeper class is showing heavy waiting list, while AC Class is running either empty or seats are easliy available. Why this happening? I believe it is due to people are not able to afford AC Coach prices in present time so they are prefering to travel in sleeper only. And think about the time when sleeper class coaches will be reduced!
目前在订票的时候,我看到在一些长途列车上,很多人买不到卧铺车厢的票,而空调车厢要么是空的,要么有很多座位。为什么这样?
我认为这是由于人们目前买空调车厢的票,所以他们更喜欢坐卧铺。卧铺车厢什么时候能降价啊!
Ashis Biswal
very good initiative
非常好
Jagannathan Vathoolam
Hat's off to Mr. Modi team. Defenitely Rly is improving at a steady pace. Public should be more consience in maitaining hygene in the compartments.
向莫迪先生的团队致敬。毫无疑问,印度铁路正在稳步进步。市民应更自觉地保持车厢内的卫生。
SAURABH RAI
it needs to be less than 35% of the base fare.indian railway only fool public.
价格必须低于基本票价的35%。印度铁路只会愚弄公众。
Jigyasu
Good to see some progress in the railways too.
很高兴看到印度铁路也取得了一些进展。
EXPERT OION
P0tty less toilets less soiled has always been a dream on trains. Its very rare to find.
火车上有更整洁的厕所一直是个梦想,这是非常罕见的。
Biju J A
Happy
开心
postacomment
And look where Air ticket rates are going?? That initiative to connect small towns; does that even make any sense. Can a middle class family even dream of flying economy class one way say in less than 5K. Mr. Jhunjunw's budget travel Airlines seems to be the only hope!! Hope he is not after money but to only see his fellow countrymen fly more with affordability.
看看机票价格的走势
一个中产阶级家庭能梦想在5公里以内就能坐上经济舱吗?
Jhunjunw先生的廉价旅行航空公司似乎是唯一的希望!
希望他不是为了钱,而是看到他的同胞们在负担得起的情况下多坐飞机。
Dutta Pawle
Make separate coaches for males and females as cases of harassment inside trains is on the rise.
由于火车内的性骚扰案件呈上升趋势,为男性和女性设置不同的车厢。
shree Krishna Shukla
By increasing the train speed, travel time is reduced so there should be increase in number of seats for CC class;
Why should one pay for AC Sleeper just for 4-5 hours journey that will take you upto 700Km?
提高列车速度,旅行时间就能减少,所以CC级的座位应该增加
为什么4-5小时700公里的旅程要做卧铺呢?