Mumbai: Woman detained for killing husband with lover, burying body inside house
孟买:一名女子因伙同情人谋杀丈夫而被拘留,将尸体埋在屋内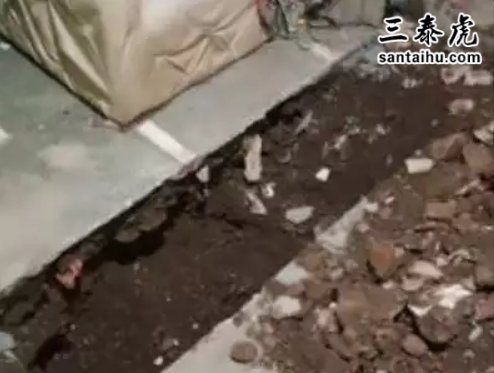 MUMBAI: A 27-year-old woman was detained on Tuesday for conspiring with her boyfriend and killing her husband, before burying his body inside their house at a Dahisar chawl.
孟买:周二,一名27岁的女子因与情人合谋杀害自己的丈夫被拘留,他们将尸体埋在位于Dahisar chawl的家中。
A fresh layer of cement on the kitchen tiles alerted the police. Till late on Tuesday, police were still excavating to retrieve the body which had been placed in a gunny bag before burying. The murder was committed 11 days ago.
厨房瓷砖上抹了一层水泥,引起警方的注意。直到周二晚些时候,警方仍在挖掘掩埋前装进麻袋里的尸体。谋杀发生在11天前。
Shahida Shaikh, the accused, lived with husband, Raees, 28, at Khan compound in Dahisar's Rawalpada. The couple had been married for nine years and have two children.
被告Shahida Shaikh和28岁的丈夫Raees住在Dahisar's Rawalpada的大院。这对夫妇已经结婚9年,有两个孩子。
On May 21, Shahida approached the Dahisar police station and compned that her husband had gone missing. She said that he never returned from the garments shop that he worked in. When the police started making inquiries in Khan compound, a different picture emerged. The police found out that Shahida was having an extra marital relationship with a young man, Amit Vishwakarma, from the neighbourhood. Vishwakarma, a security guard by profession, had vanished since May 21-- the same day that Shahida reported her husband missing. The police made inquiries with Shahida but she gave evasive responses.
5月21日,Shahida来到警察局报案,说她的丈夫失踪了。她说他去了他工作的服装店后再也没回来过。当警方开始在他们居住的院里进行调查时,发现新情况。警方发现Shahida和一个住在附近的年轻人Amit Vishwakarma有婚外情。Vishwakarma是一名职业保安,他从5月21日起失踪,就在同一天,Shahida报案说她的丈夫失踪了。警方向Shahida询问,但她闪烁其词。
"On Tuesday, a police team carried out an inspection of Shahida's house. They found it odd that some tiles of the kitchen were covered in a fresh layer of cement. When asked about it, Shahida stayed mum. The team then decided to pull out the tiles and examine," said additional commissioner Dilip Sawant.
警官Dilip Sawant称:"周二,一队警员对Shahida的房子进行了搜查。他们发现厨房的一些瓷砖上抹了一层新的水泥,这很奇怪。当被问及此事时,Shahida保持沉默。搜查小组决定挖开看看。"
After initial digging, the police found a huge hole in the ground. Shahida then allegedly admitted to the crime. "On May 20, after Raees reached home from work, Vishwakarma strangled him with a nylon rope with Shahida's help. Her children were asleep at the time. Later, the body was packed in a gunny bag and the two removed tiles in the kitchen to dig a hole to bury the body. They replaced the tiles with a fresh coat of cement in the end," said an officer.
经过初步挖掘,警方在地上发现了一个大洞。Shahida随后承认了罪行。5月20日,丈夫Raees下班回家后,在Shahida的帮助下,Vishwakarma用尼龙绳勒死了他。那时她的孩子们正在睡觉。后来,尸体被装进一个麻袋里,两个人把厨房里的瓷砖移开,挖了一个坑,把尸体埋了起来。最后他们在原来的位置抹了一层水泥。
Shahida cms she distracted the children, when they woke up due to the noise, by plonking them in front of the television and turning up the volume. But the police believe the children might be knowing more and could have been threatened into silence. Multiple police teams are hunting for Vishwakarma. Shahida told investigators that the two were keen to live together and therefore plotted to eliminate her husband.
Shahida称,孩子们被噪音吵醒后,她把他们扔在电视机前,并把音量调大,从而分散了他们的注意力。但警方认为,孩子们知道的可能更多,并可能因为受到威胁而保持沉默。警方已派出多支小组伍追捕Vishwakarma。Shahida告诉调查人员,两人渴望住在一起,因此合谋杀了她的丈夫。
以下是印度时报读者的评论:译者:Jessica.Wu
Shobitro Chatterjee
Hang both of them till death. Hopefully the children will have a better life.
把他们俩绞死,希望孩子们能过上更好的生活。
Muzzys Are Begairaat
what a re gion. man can give triple tq in seconds but woman can't do the same to husband.
男方可以"三声离婚",但女方却不能对丈夫这样做。
Asad Akhil Sayed
Assssssssssssholeeeeeeed indian
混蛋印度人
Dinesh kumar
I don't understand,how can people think that they will kill someone and Police will not come to know about it ? Now,they will have to spend many years in jail.
我不明白,为什么有人以为自己杀了人能瞒过警察呢?
现在,他们将不得不在监 狱里度过许多年。
Feku
Why, Feku killed so many people in Godhra and Pulw - did anything happen to him?
莫迪在戈持拉和普尔瓦马杀了那么多人,他怎么啥事也没有?
Vijay Desikan
She went to the police even before the cement had dried on her kitchen floor? How dumb is she?
厨房地板上的水泥还没干,她就去报警了?
她是有多蠢?
sander roy
Her husband is murdered and her lover is missing or gone too. Not a happy ending.
她的丈夫被谋杀了,她的情人失踪了。这不是一个幸福的结局。
Subu Subrnian
Not expected.
万万没想到
Dilip Vig
simple divorce procedure could have saved life of the man
简化离婚程序本可以救这男的一命的
Muzzys Are Begairaat
muzzy woman can't give triple tq. what a shame. husband can so it in 3 seconds. what a cult
女方不能三声离婚,男人可以,真无耻
Shaikh
Yes she can get divorse or seperatiion by way if KHULA if she doesnt want to stay,
如果不想过了,她可以离婚或分居
Shasti Brata
This is indeed sad, In her youthful indiscretion she has brought dishonor to her noble fa th, misery to herself, and extreme hardships for her children who played no role in the matter. Hope she and her boyfriend get exemplary punishment, though it will be nothing ...
真的很可悲,给她自己带来了痛苦,给她的孩子们带来了极大的苦难,而这些孩子们在这件事上是无辜的。希望她和她的情人受到惩罚
chor modi
she should have asked for the divorce
她本该提出离婚的
dharmesh thakkar
No mercy just hang both of them.
绞死他们两个,不可饶恕
Manish R Sinha
Good. Now spend the rest of your life in jail.
现在他们就在监 狱里度过余生吧。
Suratprakash Rao
Shahida's real name was Savita. If you do a sin you have to pay. Law of nature.
如果你犯了罪,你就得付出代价,这就是法律。
newlearn
if she had basic education she would have gone for divorce, if the case is really that simple!
如果她受过基础教育,她就会去离婚,如果情况真的这么简单的话!
Prameedula Sadanandam
kill them both without any mercy and handover the children to Child welfare dpt for their better future.
毫不留情地他们俩,把孩子交给儿童福利部,为了他们更好的未来。
Uttej Parekh
Women are violent
女性
Mumbaikar
Spare of thought for the two innocent children...why kill someone to achieve love of someone..shame
想想那两个无辜的孩子…为什么为了另一个人的爱而杀人,可耻