Delhi has 3rd highest share of 15-year-old vehicles in India
德里车龄达到15年的车,数量全国第三。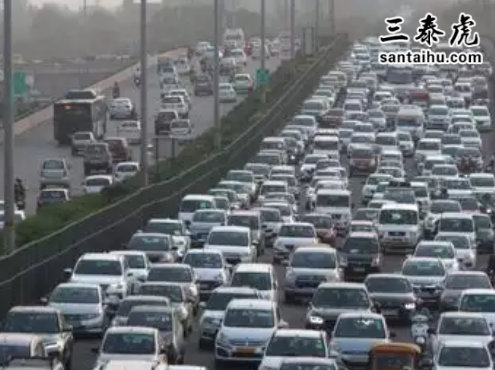 NEW DELHI: Delhi has nearly 50 lakh registered vehicles that are over 15 years old and the national capital has the third-highest share of such vehicles in the country. Moreover, 70% of these are more than 20 years old. Karnataka tops the list among states with appromately 70.1 lakh 15-year-old plus vehicles, followed by Uttar Pradesh having nearly 56.5 lakh such vehicles, according to go nment data.
新德里:德里有近500万辆使用年限超过15年的车辆,数量排全国第三。此外,其中70%的车龄超过20年了。根据政府数据,卡纳塔克邦拥15年车龄以上的汽车大约701万辆,位居各邦之首,北方邦这一数据为565万辆。
The details submitted by Union road transport minister Nitin Gadkari to the Parliament last week show that at least four crore vehicles registered across states are more than 15 years old and nearly 50% of these are older than 20 years. The actual number would be more since this number has been collated from the digitised vehicle data from the central vehicle registration database of Vahan 4. Moreover, the centralised data doesn't include the details of three big states - Andhra Pradesh, Madhya Pradesh and Telangana.
联邦道路交通部长Nitin Gadkari上星期向议会提交的细节显示,全国至少有4000万辆注册车辆的车龄超过15年,其中近50%车辆的车龄超过20年。实际会更多。此外,该数据不包括三个大邦——安得拉邦、中央邦和特伦甘纳邦。
The details of these vehicles become important in the light of the go nment's announcement to mandatorily de-register old vehicles - 15-years-old commercial and 20 -years-old personal vehicles - if they fail to pass the fitness test from June 1, 2024.
政府宣布,从2024年6月1日起,车龄超过15年的商用车和车龄超过20年的私家车未能通过检验,则将被强制注销。
In its bid to discourage people to hold on to their old vehicles, the go nment has started taking a series of steps including the move to formulate guidelines for imposition of "green tax" on older vehicles by states and UTs. The road transport ministry has circulated the proposal to states and UTs for their comments. It has also issued draft notifications to increase the charges for renewal of registration of personal vehicles and fitness renewal charges for commercial vehicles which are over 15 years.
为了人们不继续驾驶旧车,政府已经开始采取一系列措施,包括为各邦和联邦属地制定对旧车征收"绿色税"的指导方针。道路运输部已将该提案分发给各邦和联邦属地,征求他们的意见。此外,委员会亦已发出通知草案,提高私家车续办登记的费用,以及超过15年的商用车的合格证续办费用。
印度时报读者的评论:译者:Jessica.Wu
Ram bhakt
Many 25 year old Hondas and Toyotas are still operating in USA and many people like those over newer vehicles. It is the condition (including emissions) of a vehicle and not its age that should determine its usage. Current economy is already a drag on middle class people and businesses; many may not be able to purchase new vehicles.
在美国,很多车龄超过25年的本田和丰田仍在开,相比新车,很多人喜欢这类旧车。是否还能开,看的是车辆的状况(包括排放量),而不是车龄。
当前的印度经济低迷,已经拖累了中产阶级和企业,许多人可能买不起新车。
Raw
I hv SUV bought in 2010 not even crossed one lakh km till now but my friend bought three years before crossed 1.75 lakhs km. which one need to be replaced? Don't create bullshi laws calculating years of vehicle & it need to be calculated no of KM it runs cos that kind of engine only pollutes more.pollution is mostly from cabs & cargo trucks carrying over weight and old go nment owned bus running without maintanence.
我在2010年买的 SUV到现在还没跑到10万公里,我朋友在3年前买的车,跑了17.5万公里。哪一辆车需要换?
不能只看车龄,要看行驶里程。污染主要来自出租车和载重卡车,以及没有维护的旧公共汽车。
Piyush Kumar
Not everyone can afford a car every 10 years.
不是每个人都有那么多钱,能每隔十年换一辆车。
Laxmi Pandit
Indians have no money to periodically buy new vehicles. The gt must recognise this fact and give substantial tax reliefs to replace old vehicles.
印度人没有钱购买新车。政府必须认识到这一事实,并为替换旧车提供大额税收减免。
Anil Mehta
Does anyone in the go nment or the so called learned people know that how much pollution is created when manufacturing a new vehicle
政府人员或者所谓的专家知道造一辆新车会产生多少污染吗?
Tridip K Pal
Why not allow to replace the old engine with a new one. Old vehicles in rural areas are used primarily for commercial uses to earn livelihood by common man. Please be careful. It may be an unintended surgical strike on the economy.
换一个新引擎不行吗?
农村地区的旧车是生产工具,谋生之用。
请三思
Jay Boro
Seems like modi is getting some omlette from auto companies
看来莫迪从汽车公司那里得了一些好处
Deepak
provide good roads and donot allow any vehicle on road which is having pathetic broken body and also emit black smoke
改善路况,不允许破车和排放黑烟的车上路
A C
Go nment is not taking strict action ag inst the car owners.
政府没有对车主采取惩罚措施。
Sanjoy Pandey
A concrete action plan is required to destroy all vehicles with higher emission.
我们需要一项具体的行动计划,销毁所有排放量高的车辆。
shelendra chauhan
Mandatory call back of20 yrs old vehicle
强制召回20年车龄的车
Indian
The question is, if it is done by Auto manufacturing companies to get this bill passed.
问题是,是否是汽车公司推动报废法案的颁布?
Pratik Kubal
this scra policy should be made compulsory for every one after 5 year this way our automobile sector will boom
这种报废政策应该在5年后强制实行,这样我们的汽车行业就能蓬勃发展
The Professor
why shouldn't you be made to buy a car every year instead.....
那你每年换车吧
Notorious
If one person has 15 years old vehicle and he don't want to continue with it what are the options he had.
如果一个人有一辆开了15年的车,他不想继续开了,他有什么选择?
Pratik Kubal
he should give the car to BJP
献给人民党
Indian
Delhi is a polluted place and people should consider buying new cars if they have enough money. But forcing them and putting them into financial burden is not . As I understand there are some incentives provided to reduce the burden.
德里污染严重,如果有足够的钱,人们应该考虑购买新车。但强迫他们卖掉,是不对的,会给他们造成经济负担的。据我所知,有一些激励措施可以减轻负担。