China's intelligent greenhouse enters trial operation
中国智能温室进入试运营阶段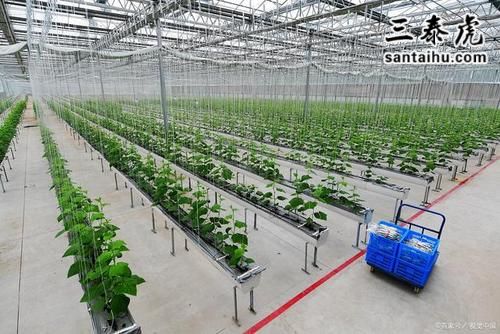 以下是youtube网友的评论:
译文来源:三泰虎 http://www.santaihu.com/p/52267.html
Ocean Breeze
For a moment, I thought it's happening inside a space station. Way to go, China!
有那么一刻,我以为这是一个太空站呢。中国,干得好
EL Norton
World should work together
全世界应该共同努力
Tr
We are facing a zero sum game mentality from some Western po itical ca ps. They still playing hegemon game of past centuries.
西方阵营还抱着零和博弈心态,他们还在玩过去几个世纪一直在玩的霸权游戏。
SickneSyd
BBC: China incarcerates millions of plants in ca ps!
BBC:中国强迫数百万株植物生长啊
K C Koay
This is a good one! I can't help laughing..
说得好,我忍不住笑了
Sun Flower
Don't be surprised if bbc actually say it. Hahaha
BBC要是真的这样报道,你还别惊讶
Tyler Waxman
Cooool
酷毙了
Discover China
These greenhouse should be established in other parts of the country(especially in urban areas)to cope with food shortage problems
Using traditional ways to grow crops shouldn't be used in modern times~
这些温室大棚应该建在其他地方,特别是在城里,缓和粮食短缺的问题,使用传统的方式种植作物在现代不适用
Bung Kusi
It should be put in 'ring 2' of the city.
The closer it is to resi ntial is the better
Lesser cost to transport.
应该把放在城市的"二环"。离居民区越近越好,交通成本低
annoyed aussie
This the most ridiculous comment I have ever seen you make, ok you start paying $10 a kilo for rice and wheat if you want no traditional agriculture, I will stick to my grown on land wheat and rice. For high value crops it might make sense.
这是我见过你做过的最荒谬的评论,好吧,如果你不想要传统的农业,你就等着花10美元买一公斤大米和小麦,我去坚持种植小麦和水稻。对于高价值作物来说,也许你说得是对的
Bung Kusi
@annoyed aussie
This is more suitable for a food that perishable quick. As it will be placed near consumer. Such as cabbage, carrot, tomato, string beans.
更适合易腐烂的食物。比如卷心菜、胡萝卜、西红柿、菜豆
Nick
This must be at least 100% more efficient than traditional farming in temperate climates, as there is no off season and removes weather/ecological variables. This is the future!
在温带气候下,这种耕作方式的效率至少要比传统耕作方式高100%
这样就没有什么过季的问题,也避免了天气和生态的影响。
这才是未来的农业
Harold E.
There is a Chinese guy living here in Alberta, Canada who is building solar heated greenhouses to grow tomatoes and other vegetables. He is showing other people how he built them and they seem to be working really well. WE have very rich soil here but the cold winters are a real challenge.
有一个住在加拿大阿尔伯塔省的中国人,正在建造太阳能温室大棚,种植西红柿和其他蔬菜。
他向其他人介绍他是如何做的,似乎运行得非常好。
我们这里的土壤肥沃,寒冷的冬天是个问题。
Albert Leung
And then China will pass the technology to poor countries to help them alleviate poverty.
然后,中国会把这个先进的种植技术转让给贫穷国家,帮助穷国扶贫。
Speicherkanal
Good luck in Africa. They will never learn...
祝你在非洲好运,他们是学不会的
Speicherkanal
@King Lee
China does the same mistake as Europe did in Africa. You think you can help them develop but it won't work.
中国在非洲犯了欧洲国家同样的错误
你们以为可以帮助非洲发展起来,其实不然。

King Lee
@Speicherkanal You're looking at ths the European way. Africa get its own speed, and all it's asking for is to be left alone. China understands this because all its history was asking to be left alone. The only one that doesn't understand leave me alone are the Europeans.
你是用欧洲的眼光看问题的。非洲想保持自己的发展速度,不希望被干扰。
中国明白这一点,唯一不明白的是欧洲人。
Michael Sha
@Speicherkanal except europe ensl ved africa and instituted go nment mandated racism while essentially stealing their whole continent... very different
欧洲国家以前奴 役非洲国家,扶持傀儡政府
ghunghun1
@Speicherkanal Holy shit. Just because somebody is in Africa does not mean they are colonizing Africa. Europeans were murdering and enslaving and selling Africans. China is doing absolutely none of that. Are you, like studying postmodernism in America or what?
去非洲,并不就是去殖民啊
欧洲人之前屠 杀非洲人,奴 役非洲人,贩卖非洲黑奴。
而中国人可没有做这些啊
Speicherkanal
@ghunghun1
So the Chinese are in Africa to "help" them?
照你这么说,中国人是去非洲帮忙喽
Lu
like how China passed the vaccines to the develo countries. Good job, China!
中国给发展中国家送去了很多疫苗,干得好
Speicherkanal
@Lu
But not for free. Chinese never do something for free and you know that best.
不是免费送的啊,中国人从来不会白白帮你的,你最清楚这一点。
Lu
@Speicherkanal No one do things for free, welcome to the adults world. At least China is willing to give out at an affordable price and give other countries hopes for survival from the deadly vir s.
至少中国疫苗物美价廉啊,帮助其他国家抗击疫情
konsul2006
Insane scale. So impressive! Good luck with the production.
这规模也太大了吧,真厉害!
Gao Ip
Just wondering if one day these technologies can be shared with the poorer countries and provide food and jobs for their people.
我只是想知道,以后这些技术是否可以与贫穷的国家分享,让这些国家的人民也能吃饱饭,有活干。
M MORE
I read in one article that china Big tech company like Alibaba, Huawei, etc are focusing using AI to farming.
Could this be their project
我看过一篇文章,说的是华为等中国科技巨头正把人工智能应用到农业。这是他们的项目吗
1 world 1 love
Soon the go nment will do a research of a 150 - 200 yrs of investment to create 1 hectare of land become 25 -30 floor of building just to farming & they'll call it "modern farming" ?
很快就会进行一项历时150-200年的研究,划出1公顷土地,建25-30层的建筑,用于农业,他们会称之为"现代农业"。
John Himal
A beautiful scene to behold! Great
多么美丽的景色啊
Leo J
something of this scale will almost never happen under a demecratic sy em. they will debate endlessly which takes the credit, and who to blame if it goes wrong.
在其他国家,这种规模的项目几乎是不可能的,没完没了地争论,到底是谁的功劳,如果出了差错,又该怪谁。
Strauss Wong
The hope for solving food shortage problems.
粮食短缺的问题有希望解决了
Star 1
if it is a solution for any chances to solve food shortage and also create jobs opportunity. why not...
如果这能解决食物短缺,还能创造就业机会,那干就是了
Ganon01 Ryan Outsen
Woah that's incredible huge!
哇塞,这也太大了吧
Sebin Sebastian
Technology another level
Minerals in these products are not a concern.
另一个层次的技术
xsoireg
Man this is the real deal
伙计,这是真的吗
Megan McLaughlin
looks very inefficient.the chinese work hard but lack severely in creativity.
看起来很低效。中国人工作努力,但严重缺乏创造力。
Megan McLaughlin
@Allen Clw haha you cant farm tomatoes the same way you make cell phones.this approach to farming is laughable.you are the shortsighted one impressed by shiny plastic and metal.
哈哈,你不能像生产手机那样种植西红柿。这种耕作方法很可笑。你是一个目光短浅的人,被高大上的塑料大棚吓到了
Happy Oldman
@Megan McLaughlin , I can see a jealous of Chinese achievements and become a Chinese hater. It is so obvious even I am not a Chinese.
你是嫉妒中国人的成就了,把自己活成了反华分子
我不是中国人,都看出来了
Allen Clw
@Megan McLaughlin Sorry Kumar.
Don't want to waste my time with someone who most likely believe that the Earth is flat.
You have a good day.
Don't forget the tin foil hat before you step out outside the house
对不起,库马尔。我不想把时间浪费在一个相信地球是平的人身上。祝你愉快。出门前别忘了带上锡纸帽
Gerry Ramos
Awesome
真棒
CH JM
I think they should look at ways to develop & prome such greenhouse project by growing crops vertically in tall buildings due to limited & expensive land costs in the cities
城市里寸土寸金,他们应该想办法在建筑里垂直种植作物,进一步开发和推广这样的温室项目
--
absolutely agree, it looked ridiculous that there is only 1 single plant per area, such inefficient use of space
完全同意,每个区域只种植一种作物,看起来很荒谬,空间利用率太低了
forjw2 google
future farm tech = quality food = higher yield = no more hunger
未来的农业技术=优质食物=更高的产量=不再饿肚子
Ao Naga
I am sure this will be applied on the moon. They have already declared a joint moonbase with Russia. I just hope everything is done at China speed so that I can see it
这个技术会应用在月球上。他们中国已经宣布与俄罗斯联合建立月球基地。我只是希望这个也会是中国速度,这样我有生之年就能看到了
Steven X
China should build a lot at Taklkan Desert where there is a lot of sun shine. This kind of agriculture doesn't use a lot of water. The underground water is enough. Use abundant solar power over there to control the indoor environment and lighting. Perfect match!
中国应该在阳光充足的塔克拉玛干沙漠建这样的温室项目。不需要很多水的。地下水足够了。利用充足的太阳能,控制室内环境和照明,堪称完美!
John Hoy
Once this smart greenhouse has proved successful, it could be mass produced for domestic
use and for export. Agricultural production then becomes industrial production.
一旦这种智能温室项目获得成功了,就可以大规模推广。农业生产就变成了工业生产
Relax Bear
Amazing. Next project will be on Mars.
真棒,以后可以应用到火星上
marie sandal
will china and russia build this kind of scientific research on the moon?
中国和俄罗斯会在月球上搞这种科学研究吗