Family life in rural China | Handmade noodles | 1st Vlog from Jilin
中国农村的生活,手工面,来自吉林的第一个视频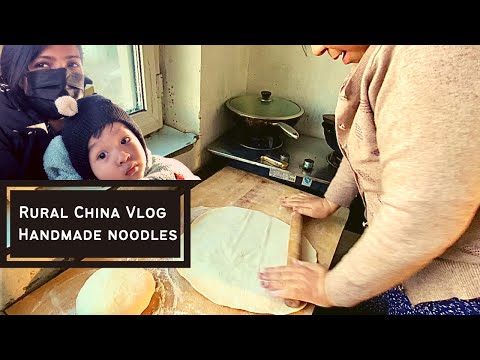 以下是youtube网友的评论:
Ruchi in China
For new viewers, this place is a small rural town in Jilin province of North-east China which is one of the coldest places in China. It also happens to be my parents-in-law's home.
这个地方是中国东北吉林省的一个农村,是中国最冷的地方之一。也是我公公婆婆的家
Mou Bhattacharyya
Chinese wine reminds me of kahwa or karha. Also fresh rice noodles are like idiyappam for breakfast.
中国酒让我想起了卡瓦酒。新鲜的米粉就像我们印度早餐吃的idiyappam
Karki Sunil
Hope india and china come togther and rule the world agaist west...
希望印度和中国团结起来,一起对抗西方
smiley
Marrying in china living there wow ....u r so cool u accepted life as it came wud luv to hear ur story how u met him
在中国结婚并定居中国。哇,你太酷了,我喜欢听你的故事,你是如何遇见他的啊
modi jai
It's warm in the house, cold outside
房子里面很暖和,外面很冷
Albie
I love Chinese people. They are very humble. Their activities reflect their maturity, they have much better understanding. I would love to see more and more chinese men mingling with other western women. Because China and other western people have much developed mind and maturity. Love for this Chinese mom and son.
我爱中国人。他们为人谦逊。从他们的行为,可以看出他们成熟。
我希望看到越来越多的中国男人和其他西方女人混在一起。中国和其他西方国家人的思想成熟多了。
gmw
Its really good to see at the public places there r no unwanted posters of leaders showoff which is the biggest prblm in India which mess up our steet beauty. It also shows Chinese ppl have grt respect for themselves
很高兴看到中国公共场所没有到处张贴海报,在印度到处都是,大煞风景。这也表明中国人很尊重自己
Life in China-DiptiMali
I have seen many places in China but thanks to you I get to see rural China.Ivan is ofcourse very cute but he looks cuter in his the winter cap.
我在中国去过很多地方,多亏了你,我现在看到了中国的农村
Shai Beauty
Nice Chinese in-laws and family
很不错的中国婆家
Jacinata Saldanha
Love your Vlogs Ruchi. It's always zing coz we get to the love, food and culture of our good neighbors in China.
Wonderful people and caring sharing is so very good.
God Bless your family. Odin's parents are so kind loving generous and most importantly they care for you.
如琪啊,我喜欢看你的视频。太令人惊讶了,我们了解了友好邻居中国的食物和文化。愿上帝保佑你们的家人。奥丁的父母很善良,有爱心,慷慨,最重要的是他们很关心你啊
Thames Shylock
I like this snow shoveling machine.
我喜欢那台铲雪机。
Subhadra Mahanta
You've such a lovely loving family, almost everyone dreams to have such in laws, lots of well wishes to you and your family
你的婆家太好了,几乎每位女孩都梦想能嫁入这样的婆家啊
Bhawana Gautam
It sounded very cute when you said odin's mom as your mom
你叫婆婆"妈妈"的时候,很可爱啊
JaatRaj577
Hello didi how are you i hope you are doing great and having good time with your family and alots of love from India
你好吗?我希望你过得好,和你的家人一起度过美好时光,来自印度的爱
Ruchi in China(播主)
I am doing great. These are vlogs from last month. I am in Shanghai now. I have to post very frequently to catch up
我很好。这些是上个月拍的视频。我现在在上海。
Snake Productions
ruchi di ur this vlog is really intresting ...plz show us some more village life of china if its possible in this cold weather like fields, farmers something like that if possible
可以的话,请多向我们介绍中国乡村生活,比如中国农田的景色,比如中国农民的生活
2.5 Travellers
Rural China is such a beauty...get so much connected with your videos.......still watching......love from 2.5 Travellers
中国农村真是太美了
ghost of solomon
Great episode! It's "打卤面"(DALU noodles means with all kinds of gravy).
这个是"打卤面"
SHRUTI M
Such a lovely environment.
Loved it.
环境太好了,我喜欢
Dash Sunil
Great to see your Mom in law
She is adorable.
很高兴见到你的婆婆,她很可爱。
Vinay Malwiya
Chinese family culture ko dekh ke bahut achchaa lagaa. China has rich culture of values, family, society and community. We Indians are going in opposite direction.
中国重视价值观、重视家庭,丰富的文化。我们印度人正走在相反的方向
Hitisha Waghela
India also has a rich culture after all richest culture
印度也有丰富的文化
Vinay Malwiya
@Hitisha Waghela Our country had rich culture, but not now. We could not sustain it. Let us be realistic.
我们的国家曾经有丰富的文化,不过那是以前。我们无法维持下去。让我们现实一点
Senior Tourists
Many communities in South Asia have 4-5% DNAs of the region comprising of Jilin province, Korea and Vladivostok.
南亚许多人的基因有4-5%来自吉林省、韩国和海参崴。
who cares
hmm may be thats why many places in North India and north east Indians looks kind of like half Chinese? I dont know. may be they are from other ethnicity like, Yunnan.
也许这就是为什么印度北部和东北部很多人看起来像中国人?
也许他们来自其他民族,比如来自云南
learner
@who cares most of them are tibo burmese speaking people which falls under sino Tiban language family.
他们中的大多数人说藏缅语,属于汉藏语系。
Vaishnav chauhan
Hey precfo , my hole family love watching ur blog ... & ur healthy diet we love you
嘿,我们全家人都喜欢看你的视频。
Ruchi in China(播主)
Thank you so much! Good wishes to your family!
非常感谢!祝福你的家人
bandna kumari
I must say . your mother in law is great. Still so active.
不得不说,你的婆婆很棒。还是那么活跃啊
Jayjeet Chakraborty
Impressive,............to be fair and frank I don't see much of cultural dissimilarity between us Indians and them. Well, I guess they had a point when they said China is a melting pot of Cultures. It's happy to see family-oriented cultures still being valued whereas in India families are breaking up although both the countries are said to be known by the virtue of their glorious history and rich culture that one co-ested for the history that mankind has known.
令人印象深刻。坦率地说,感觉我们印度人和他们之间没有多少文化差异。
嗯,我想他们说中国是文化的大熔炉是有道理的。很高兴看到以家庭为导向的文化仍然受到重视,而在印度,家庭正在破裂,两个国家都以光荣的历史和丰富的文化而闻名
Gabriel X
really into the handmade noodles, way better than machine made .
手工面条,比机器做的好吃得多了
VIVEK SINGH
Please share the recipe of noodles only how to make it
面条是怎么做的,能分享下配方吗
3D ART
After seeing Chinese healthy food ....my prospective change
看了中国的健康食品后,我的观点改变了
Subway group of learning
Thanks a lot Ruchi di for uploading this vlog so fast and also showing us rural China..
谢谢如琪向我们介绍中国农村
Capricorn Star
Loving the Jilin vlogs . Keep them coming Ruchi. Enjoying a peek into life as it is in the Chinese countryside . Wonderful in laws and beautiful family.
如琪,继续分享,你让我们一窥了中国农村生活,美满幸福的一家人
bandna kumari
Those noodles are like my grandma's hair.
那些面条看起来像我奶奶的头发。
who cares
Hmm Chinese people are really nice it seems from your videos.
从你的视频来看,感觉中国人很不错啊
Ipsita Dutta Roy
Didi, cook Indian food for them sometimes, or take jiju to an Indian restaurant sometimes.
偶尔为他们做印度菜,有时带他们去印度餐馆吃一顿呗
Min Chan
I love china and it's people too much. One day i will come to China to meet you and your family. Stay healthy and happy
我非常喜欢中国。总有一天我会去中国看你们的。祝健康和快乐
Pritish Sarkar
We your subscribers want to know your love story . And how you met to Odin ??then how you get married?? We wnna know
你和奥丁是如何遇见的? 如何喜结连理的?我们想知道
Meenu Saxsena
Hello ruchi... Make taste them indian food also we'll love to see a vlog "eating Indian food"
如琪啊,也让他们尝一尝印度菜啊,就来一期"吃印度菜"的视频吧
Dilli-2-Tokyo
Wow it's still so cold there
哇塞,那边还是很冷啊
Ruchi in China(播主)
It is close to Japan
那边靠近日本呢
Faiza Nawaz
Amazing vlog ruchi thank u for bringing us the precious values of chinese culture
如琪啊,感谢你向我们介绍中国文化的宝贵价值
Bhaskar kumar
Can I see a video on how Odin and how both of you fight please it's a request happy women's Day
能不能让我们看看你和奥丁是怎么打架的啊。拜托,这是一个小小的请求。
祝三八妇女节快乐
Daddy Ji
wow great insight to traditional chinese household
哇,让我们对中国传统家庭有了深刻见解
Amit Ranjan
Dear India Pls Learn from China in each and every sector they are 5 decades ahead
亲爱的印度,请向中国学习,他们每个领域都领先我们印度50年啊
machchar ching
What job does your husband do that he gets so much free time??
你丈夫做什么工作的啊,怎么这么闲
Snehlata Kumari
Me and my mom likes your video
我和妈妈都喜欢看你的视频
subhashree patra
Do odin family tried Indian food?
你婆家有吃过印度菜吗?
SHRUTI M
What is the name of the pce!!
这里是哪里啊
Ruchi in China(播主)
It is a village in Jilin China
是中国吉林的一个村子
renu raj
Can you make your husband talk please
能不能让你丈夫说说话啊
Hitisha Waghela
How did ur parents react when u told them I wanna marry a Chinese guy nd u went to a whole new different country
如琪啊,当你说你要嫁给中国人,并去中国生活的时候,你父母是怎么反应的
Ruchi in China(播主)
Very happy
他们非常开心啊
mike whatever
empty streets!!
街道空荡荡的啊
Tony Ding
who will stay in -20 environment.
零下20度呢,谁会呆在外面啊