MoD clears 118 'improved' Arjun t ks among Rs 17,000 crore worth of procurement proposals
印度国防部批准总额1700亿卢比采购提案,其中包括118辆改良版"阿琼"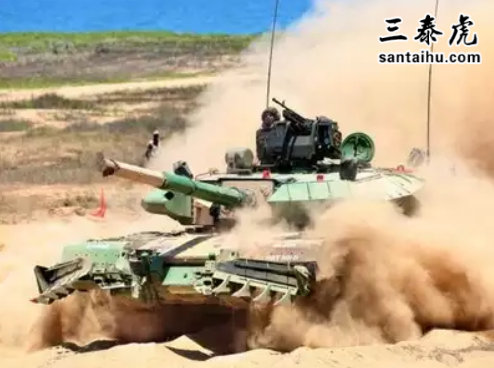 NEW DELHI: The defence ministry on Tuesday cleared some new and old acquisition proposals collectively worth over Rs 17,000 crore, which included the procurement of 118 Arjun Mark-1A main-battle t ks for Rs 8,379 crore.
新德里:星期二,印度国防部批准了总额超过1700亿卢比的采购提案,其中包括采购118辆"阿琼"Mark-1A主战,价值837.9亿卢比。
The contract for the "improved" Arjuns, which will be inked later this year after the Cabinet Committee on Security's final nod, will be the second such mega deal for home-grown won sy ems in recent times. In the biggest-ever indigenous military deal, the Rs 47,000 crore contract for 83 new Tejas fighters was signed on February 3.
改良版"阿琼"的合同将在内阁安全委员会最终批准后于今年晚些时候签署,这是近年来第二笔此类国产武器的巨额交易。有史以来最大的一笔本土军购交易是于2月3日签署的采购83架"光辉"战机的合同,总额4700亿卢比。
The 118 Arjuns, which will add to the first 124 such t ks inducted by the Army well over a decade ago, have 71 "upgrades" for better firepower, mobility, prection and endurance, as was earlier reported by TOI.
十多年前印度陆军首批引进了124辆"阿琼"。此次采购的118辆"阿琼"进行了71项"升级",具备更强大的火力、机动性、防护性和耐力。
The Army, in dentally, has now also ordered emergency procurement of 27 M4 wheeled armoured vehicles under a Rs 178 crore contract inked with the Pune-based Bharat Forge company of the Kalyani group.
此外,印度陆军还与Kalyani集团的巴拉特锻造公司签署了总额17.8亿卢比的合同,紧急采购27辆M4轮式装甲车。
On Tuesday, the defence acquisitions council (DAC), chaired by minister Rajnath Singh, also issued directions that all capital procurement contracts, other than design and development cases, should be concluded in two years.
星期二,国防部长拉杰纳特·辛格主持的国防采购委员会(DAC)也发布了指令,要求所有采购合同,除了需要设计和开发的项目,应该在两年内完成。
印度时报读者的评论:译者:Jessica.Wu
chamook craftss
Scamgress is kicking it's heels in disgust. If at it was in power . It would have procured through quattarochi m , Michel m of Agusta , through vadra shell company and secretly signing back door MoU with !
国大党原地踏步,如果是他们,会通过中间人的公司进行采购,并秘密与签署谅解备忘录!
Rational Corp
The Arjun Tank and LCA Tejas, are Congress initiatives. Although both are mostly failures. Arjun Tank is too heavy and costs more than t ks like Russian T90.
阿琼和光辉战机是国大党启动的项目,尽管两个项目都失败了。阿琼太重了,比俄罗斯T90更贵。
major sbm
Great news. The faster we commence manufacturing armsamemnts, arms, ammo, the vast number of missile sy ems and a lot more within the country using the industries in the private & public sectors, the lesser the dependence on foreign countries in times of need. Moreover, local design and manufacture will strengthen our industries, create numerous specilist jobs, allow local industries ot thrive and strengthen the nation;s economy as well as the armed forces.
好消息。我们越快开始生产武器、弹药、导弹系统,对外国的依赖就越少。此外,推动本土设计和制造,加强我们的工业,创造大量的工作机会,让本土工业蓬勃发展,增强国家的经济和军事实力。
Quhesobi
It shows again that Feku, aka Surrender Modi, has failed on each and every aspect. Our Army knows very well that the Arjun MBT project is nothing but a total failure. Arjun was outdated even before it entered service. Furthermore, it cannot be deployed at all to mountainous regions like Ladakh, Do-m and A Pradesh.
这再次表明莫迪在每个方面都失败了。我们的军队非常清楚,阿琼项目完全失败了。阿琼在服役前就已经过时了。此外,它根本不能部署在拉达克、洞 朗等山区。
India elephant
India can cm world heaviest t k honor in Arjuns. One missile from a drone will knock it out cold or rather burning hot.
阿琼是全世界最重的,印度可以以此为傲了,无人机发射的一枚导弹就能干掉它。
Indi arms
is displaying and impressive show of its drones, missiles,, etc at the 15th International Defense Exhibition and Conference (IDEX) in Abu Dhabi, UAE. India boasts about its missiles, t ks, so much, why not try to make a show there?
在阿联酋阿布扎比举行的第15届国际国际防务展上,展示了令人印象深刻的无人机、导弹等。印度吹嘘自己的导弹和有多牛,为什么不在那里展示一下呢?
Human
Go for anti t k missiles and drones and railguns etc. Tanks are good but getting outdated in latest warfare.
去买反导弹、无人机和轨道炮吧。不错,但已经过时了。
Abhijit Sharma
This t k is so heavy that it can't move properly. God bless Indian Army.
这太重了,行进速度不快。愿神保佑印度军队。
chamook craftss
Yes actually t k should be very light . When enemy artillery fires on in it should fly away in thin air .
是哦,实际上应该做得轻点。当敌人向它开火时,可以腾空飞走。
eu
t ks are important in ground warfare to counter enemy infantry troops, blockades and provide support to friendly troops.
在地面战中,将发挥举足轻重的作用,可以对抗敌军步兵,可以进行封锁、支援友军。
kSingh
India cannot make worthwhile arms without making plans to upgrade industrial technology.
如果不制定工业技术升级计划,印度就造不出有价值的武器。
Bharat Sharma
Arjun t k was good for the time Indira Gandhi started this due to her extreme focus on Atma nirbhar Bharat but in today's time of drones same design will not work .
阿琼在英迪拉·甘地时期是不错的,但在无人机时代就不行咯。
Majordrkishor Sahu
TANKS, FIGHTER JETS, APC ETC. SHOULD BE IN THOUSANDS NOT IN HUNDREDS. OLD WEAPONS MAY BE SOLD TO FRIENDLY COUNTRIES TO EARN SOME REVINUE.
、战斗机等应该以千为单位买,而不是以百。旧武器可能会卖给友好国家,可以换点钱。
Faiyaz Ansari
Leaders making money with defens
领导人通过国防采购赚钱
Amitosh Kumar
Arjun Tanks are loved by critics and our enemies, but still Indian Army has doubts regarding the same. Hope after Arjun Mark 2 is developed and If Army orders it in large numbers, India will become self reliant at least when Tanks are concerned.
阿琼受到评论家和敌人的喜爱,但印度军队对此仍持怀疑态度。希望阿琼Mark 2 研制成功后,如果印度军队能大量订购,至少在方面,印度能自力更生。
Sanjoy Pandey
It is good to see that defence is now focusing more and more on 'Made in India' arms and ammunition.
很高兴看到国防部门越来越关注国产武器和弹药。