Shanghai VLOG #3 daily vlog | Mall | Indian tea
我在上海的生活,印度茶。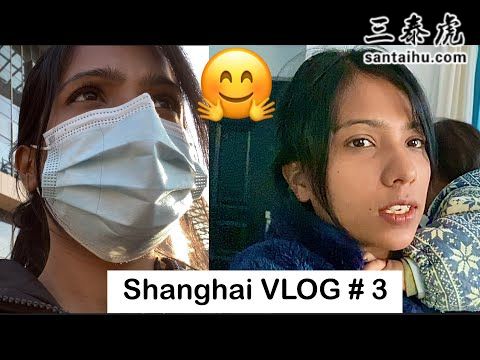 以下是youtube网友的评论:
Romona Persaud
Hi ruchi,i am an Indian living south America continent,,i also married a Chinese man and we have a daughter she's 7months old,my husband hometown is shenyang,i never visited china,hopefully when my daughter is older I'll go,i really like your videos love from south America
如琪啊,我是一个生活在南美大陆的印度人,我也嫁给了中国男人,我们生了一个女儿,7个月大了,我丈夫的家乡是沈阳,我从来没有去过中国,希望当我的女儿大一点的时候我能去,我真的很喜欢你的视频来,自南美的爱
Tiwary priti vlog
Waw
You are so lucky
哇塞,你好幸运啊
Romona Persaud
@Tiwary priti vlog thank you
谢谢
Mona Narwani
Hi Romina r u from guyana?
层主啊,你是在圭亚那吗
Jabida Shaikh
There are alot of Chinese people living in Suriname and Guyana.
苏里南和圭亚那有很多中国人。
Vinny Gao
Guyana's first presi nt is a Chinese and Indians there were transported by the British to be ch labour .
圭亚那的首任总统是华人,而当地的印度人是当年被英国送去充当廉价劳动力的。
Jabida Shaikh
@Vinny Gao as far as i know there was never a c in Guyana. The Indians that were brought to Guyana Suriname they had a contract to work there. They had the choice to go back to India. Some returned.
据我说知,圭亚那从来没有出现过华裔总统。
那些被带到圭亚那苏里南的印度人,他们签了合同在那里打工的。可以选择回到印度。一些人回来了
Romona Persaud
Guyana's first presi nt was of Chinese ethnicity,so yes the first ever presi nt was a Chinese man his name is Authur chung
圭亚那的第一任总统是华裔,也就是说第一位总统是华人,他的名字叫做亚瑟·钟
Jabida Shaikh
@Romona Persaud ok..i will look that up. I am from Suriname
好吧. .我会查一下的。我来自苏里南
Romona Persaud
@Jabida Shaikh ok...i went to Suriname earlier this year,Suriname is a nice country
我今年早些时候去了苏里南,苏里南是个不错的国家
Inderjeet Kalsi
I am surprised to see the cleanliness of this country
这个国家太干净了,我很惊讶
Meena Dhareshwar
Thanks for the video. I was happy to hear you speak some Chinese today. I am also Indian learning Chinese. I hope that you will learn Chinese soon. Ivan is such an adorable baby.
谢谢分享视频。很高兴今天听到你说一些中文。
我也是印度人,也在学中文。我希望你能很快学会中文。伊凡真是个可爱的孩子
bf C
OMG, you live near my house, and my son goes to the mall every week to learn calligraphy and painting. I recommend a place to play nearby called Thames Town, in Songjiang New Town.
天啊,你住的离我家很近,我儿子每周都去商场学书法和绘画。我推荐附近一个叫泰晤士镇的地方去玩,在松江新城。
Jacinata Saldanha
China with Ruchi. It's so good to watch. Getting to know this friendly nation through you.
Thank you.
如琪啊,中国不错,很高兴通过你来了解这个友好的国家。谢谢你!
jithry pr
I really love ur videos. From Ker, India
很喜欢看你的视频,我来自印度喀拉拉邦
Hashim Jutt
China is so beautiful country wwoooww
I want to come China love from Pakistan lahore
中国这个国家太美了,我来自巴基斯坦拉合尔,我想去中国
raghu vinay
falling in love with china again n again. if learning cantonese/mandarin is ez iam sure china is best place for abroad compared to s.korea, japan may be. though iam manga lover n love japan, japan has issues like high cost of living, small land n high rents, strict work culture n overtime working etc
我一次又一次地爱上了中国。
如果学广东话和普通话很简单的话,我觉得跟韩国、日本比起来,中国更宜居。
虽然我是漫画爱好者,也很喜欢日本,但日本生活成本高、土地面积小、租金高,还有严格的工作文化和加班等问题
Ruchi in China(播主)
I would definitely choose China over Japan and S Korea because I am used to living in big homes and villas since birth in India and It is even cher in China to afford a home like that. I also don't like to pay a fortune to buy a fruit. I guess this kind of life is possible in Jn if you already have money and live in outskirts. Korea has a lack of acceptance for different people and beauty standards. Also there is a scandal after scandal with authorities and po iticians and not an ideal place for women with a lot of pervs placing cameras everywhere. The punishment for crimes is outrageously less. It think China has a good bnce for a normal person . There are no strict beauty standards . In the north, healthy women are seen as more beautiful. Also , there is more equality for men and women at workplace. In many regards, women are more privileged than men. And of course the cultures of Japan and S Korea were borrowed from China so there is no lack of original culture if that's what you are looking for.
让我选,我肯定会选择中国,而不是日本和韩国。我出生在印度,就惯住在大房子和别墅里,在中国住得起这样的房子。
我也不喜欢买水果还要那么贵。
我想,如果你已经有钱了,而且住在郊区,这种生活在贾兰是可能的。
韩国对其他国家的人接受度不高。还闹出一个又一个关于政客的丑闻,不是一个理想的宜居之地,甚至有很多变态到处放置摄像头去偷窥。
对罪犯的惩罚是骇人听闻的
我觉得,普通人去中国生活更适合。
在北方,健康的女性是美丽的。男性和女性在工作场所更加平等。在许多方面,女性甚至比男性享有更多的特权。
当然,日本和韩国的文化是从中国借鉴来的,如果你想要体验原创文化的话,去中国正合适
Tanishka Singh
@Ruchi in China okay but pervs are everywhere
好吧,哪里都不缺少变态
Ruchi in China(播主)
@Tanishka Singh yes true but S korea definitely has more safety issues for women as a whole. Somehow China surpassed both Japan and S Korea I don't know why. I have seen beautiful women with shorts walking the streets and no guy even glances. Check out videos of sexy cyborg, a chinese youtuber. She walks the streets in broad daylight in a bikini and no guy even looked at her. That is a level of self control that guys have that can't even be seen in the western countries. I don't know why though. Perhaps the long time porn ban or something else. Whatever it is, I found it very shocking. I will tell you a secret .Even though Chinese people follow a lot of Korean fashion and kpop, China and Korea are like India and Pakistan. A lot of Chinese guys think that Korean guys are too perverted and abusive towards their partners. Many people who have lived at either places would agree. But I can't generalize. I think most guys in Korea are decent and traditional.
是的,没错。总的来说,韩国女性面临的安全问题肯定更多。不知何故,中国超越了日本和韩国,我不知道为什么。
我见过穿着短裤的漂亮女人走在街上却没有男人看她一眼。看看youtube的中国用户sexy cyborg的视频吧。她在光天化日之下穿着比基尼走在街上,甚至没有男人看她一眼。这种自我控制水平在西方国家是看不到的。我也不知道为什么会这样。
不管是什么,我都觉得很震惊。
我告诉你一个秘密。尽管中国人很关注韩国时尚和韩国流行,然而中国和韩国就像印度和巴基斯坦一样的关系。很多中国男人认为韩国男人太变态,虐待伴侣。许多在这两个地方生活过的人都会同意这一点。
我不能一概而论。我认为大多数韩国男人都是体面和传统的。
Paragons
@Ruchi in China it's true. Been to Japan, the country has very little compassion and empathy on others even for their kind. Fruits are so expensive (strawberry would cost $15 usd, melon is 80 usd). Meanwhile, min wage is around 5usd per hr yet daily expenses are literally the same as usa. I wouldn't choose Tokyo for living, it's a city with so many robots and lack of friendly folks. You cannot even get a free cup of water from 7-11, cannot even enter any place without buying anything. I would choose osaka (living standard, environment and friendliness pretty much like my country Australia). Kyoto is a downtown place, i doubt there are enough jobs for everyone but it's a chill place to hang out.
是真的。我去过日本,这个国家的人对他人几乎没有同情心。水果太贵了(草莓15美元,甜瓜80美元)。
而最低工资大约是每小时5美元,日常开支几乎和美国一样。我不会选择在东京生活,东京是一个有很多机器人的城市,缺乏友好的人。
你在7-11便利度喝不到一杯免费的水。
我会选择大阪,生活水平、环境和友好程度非常像我的国家澳大利亚
Sahana Bhatt
china is really really lovely wonderful place..
中国真的是一个好地方啊
Jeanie Angela
Great daily life video, hope to have a chance to experience Indian culture from amen, China
很棒的日常生活视频,希望有机会在中国厦门体验印度文化
Sathwika Yeluguri
Can you show us how to make Chinese food recipes
你能教我们做中国菜吗
Shweta
ruchi di you make china look so tempting to me...i definitely wanna visit china if not live there
如琪啊,看了你的视频后,我觉得中国对我很有吸引力啊。如果不能定居中国,我也想去看看
Aziz Khan Mehar
Chinese people are so good Love from India
中国人太好了,来自印度的爱
William who
this channel has surpassed its origin purpose,bring more understanding of two great nations.hope someday will see Chinese doing vlog in idian to show us a real India
这个频道已经超越了原本的初衷,让我们更加了解了中印这两个伟大国家
Agam Gupta
China looks very convenient na ruchi
中国看起来生活很方便啊
Ruchi in China(播主)
Very very convenient.
非常方便
sudip rai
Hi ruchi good to see u againa. I also like chaina and chinese food bcoz i use to work in macau . I can speak cantonese few but not mandarin.
如琪,很高兴又见到你了。以前我在澳门工作,我也喜欢中国,也喜欢吃中国菜
我会说一点广东话,不会说普通话
L V
Are you celebrating Chinese New year or spring festival with your family and in laws in Jilin ... the feel is different in small towns or villages
你是否在吉林和家人一起过春节?
在小城镇或乡村过年感觉就不一样
Prashant Chettri
Hie Ruchi,
Why Chinese have so good skin ?
如琪啊,为什么中国人的皮肤这么好啊
Ruchi in China(播主)
Genetically they have less pores for oil a d sweat which makes their skin seem like glass. Also, they eat a lot of natural gelatin which has collagen for young looking skin.
基因啊,他们的孔里油脂和汗液较少,皮肤看起来像玻璃一样。
此外,还吃了大量含有胶原蛋白的天然明胶,使皮肤看起来光滑细腻。
mike whatever
what car was it in begng of ur video? was it Tesla ? looks pretty cool.
你视频开头的那辆车是什么?
是特斯拉吗?
看起来很酷。
J
I heard she said it's BYD Han
她说是比亚迪汉
Kunal Gupta
Hi Ruchi, great video... I am working for MNC firm based on Shanghai.. my team is planning to move me in Shanghai, once the flights and visas resume from India to China.. can you make video about cost of living in Shanghai also the tax sy em in China vs India.. that would be helpful for Indians planning to move to China as it will help us for negotiation with companies
如琪,我在一家总部设在上海的跨国公司工作。一旦印度到中国的航班恢复,公司计划派我去上海总部工作。你能拍一个关于上海生活成本以及中国和印度税收制度的视频吗?
这对即将被派往中国的印度人有帮助,有助于我们与公司谈判
Ruchi in China(播主)
Yes that's a great Idea. I will do it when I start living there in my own house. Right now I am in jilin
好主意。等我住进上海自己的房子,我就会安排。现在我在吉林
Kunal Gupta
@Ruchi in China you can interview them or gather information with them and share with us..
PS- I will probably move before July, therefore such info would be highly appreciated.
你可以采访他们,收集信息,并与我们分享。另外,我可能会在7月之前搬家,非常感谢
Peace World
@Kunal Gupta As far as I know, if you have two children and parents older than 60, and you are living with rental houses or housing loan, your yearly income after deductions with social insurances and public housing fund is less than 12,6000 rmb, then you are free from taxation. And if it is 16,2000 rmb, then the outstanding 36000 is taxed with 3%, which is 1080. Which means monthly sry after deductions with social insurances 13500, you need pay tax 90 each month.
据我所知,如果你有两个孩子,父母年龄在60岁以上,并且你的住房是租来的或者是贷款买的,你的年收入扣除社保和公积金后少于126000元,那么你是免税的。如果是162000元,那么36000元的部分是按3%征税,即1080。也就是说每月扣除社保后的工资13500,你每个月需要交税900元。
Braj Kishor Sharma
Wwoooooow. sanghai is very beautiful and you are also
哇塞,上海太美了,你也很美
ching ak
its nice to see.. china is a beautiful country
中国是一个美丽的国家