Farmers' rally: Tractor parade turns Capital raid
农民集会:拖拉机演变成突袭首都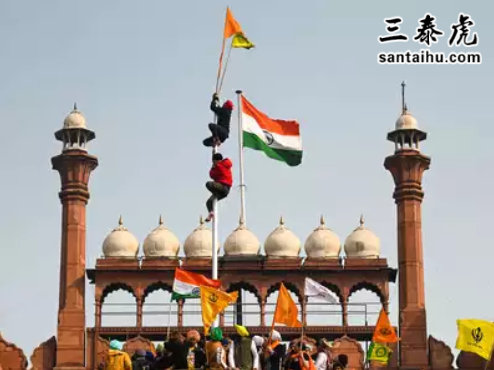 NEW DELHI: The script had been read out and the red lines drawn, but nothing went as planned when the farmers took out their tractor rally on Tuesday. A dash to the heart of Delhi on speeding tractors that rammed barricades and even threatened to mow down policemen, widespread vandalism and destruction of public property and prolonged clashes with the cops marred a two-month-long peaceful agitation on the farm laws. This was capped with the unfurling of the Sikh re gious flag, Nishan Sahib, at Red Fort even as cops were battling the presters in the foreground.
新德里:星期二,农民们未按计划进行拖拉机,超速行驶的拖拉机冲进德里市中心,冲撞路障,甚至威胁要撞倒警察,大肆破坏公共财产,与警察发生冲突,违背了长达两个月的关于农业法案的和平的宗旨。这一幕以在红堡插上锡克教旗帜(Nishan Sahib)为高潮,而警察正在前方镇 压者。
The leaders who had promised a peaceful march and should have reined in the hotheads did the disappearing act and the volunteers who were supposed to keep the rally on course were not be seen anywhere. This was a pyrrhic victory, bitter harvest of what turned out to be a rudderless agitation when it came to hitting the streets.
承诺和平的领袖本应控制冲动的行为,但他们却销声匿迹了,而那些本应保持集会正常进行的志愿者也不见了踪影。这是一场得不偿失的胜利,是一场毫无目标的骚动,功亏一篑。
Police showed extraordinary restraint as use of force ag inst farmers was never on the table during discussions amongst the brass. However, this strategy landed over 120 cops in the hospital, half of them with severe injuries. A few are critical and in ICU. A farmer driving a tractor dangerously crashed into barricades near ITO and died on the spot.
警方表现出了非凡的克制,在讨论中,从未提议对农民使用武力。然而,这一策略致使120多名警察受伤住进了医院,其中半数伤势严重,有几个情况危急,住进了重症监护室。一名驾驶拖拉机的农民撞上ITO附近的路障,当场死亡。
Ignoring the schedule of 12pm to 5pm that had been agreed upon for the tractor rally, the presters at Singhu and Ghazipur borders had begun challenging the cops as early as 6.30am. They soon began making attempts to break through the barricades. This was even before the Republic Day parade had begun. By 8am, the barricades at Singhu were down and 45 minutes later, Tikri too had been breached. The tractor rally was on, still on course.
在Singhu和Ghazipur边界的者无视约定的下午12点到5点的拖拉机集会时间表,早在上午6点半就开始挑衅警察,很快就开始试图突破路障。共和国日阅兵马上就要开始。上午8点,Singhu的路障被拆除,45分钟后,提克里也被攻破。拖拉机集会仍在进行中。
By 10am, around 6,000-7,000 tractors had entered Delhi, cocking a snook at police and violating virtually all mutually agreed terms and conditions. When this group reached Mukarba Chowk on G T Karnal Road around 10.40am, it insisted on moving towards Central Delhi, instead of going on the predesignated route. The cops tried to reason with them but the farmers, led by Nihangs on horses carrying swords and kirpans, charged at police and broke several layers of barricades between Mukarba Chowk and Sanjay Gandhi Transport Nagar. The presters were teargassed and mild force used but to no avail.
上午10点,大约6000至7000辆拖拉机进入德里,对警察不屑一顾,几乎违反了双方同意的条款和条件。这群人在上午10点40分左右到达G T Karnal路上的Mukarba Chowk时,他们坚持向德里市中心挺进,而不走预先指定的路线。警察试图劝诫他们,但农民们在骑着马、手持短刀和剑的军鳄的带领下冲向警察,并冲破几层路障。警方使用了催泪瓦斯,但没有任何效果。
Reacting to the day's developments, police commissioner S N Shrivastava said, "The time and the routes for the tractor rally were finalised after several rounds of meetings. But the farmers drove their tractors off the routes and before the fixed time, leading to vandalism in which many police personnel were injured."
针对当天的事态发展,警察局长S N Shrivastava说:"拖拉机集会的时间和路线是经过几轮会议后确定的。但是农民们的拖拉机驶离了路线,恣意破坏,导致许多警察受伤。"
"Public property has also been dged. I appeal to the presting farmers not to indulge in violence, maintain peace and return through the designated routes," he added.
"公共财产也遭到破坏。我呼吁的农民不要付诸,应维护和平,沿指定路线返回。"他补充道
印度时报读者的评论:译者:Jessica.Wu
OldAndCynical
The agitators deserve the strictest punishment.
煽动者应受到最严厉的惩罚。
nsbharwani
Ot is understandable if the Delhi police cannot take action ag inst the violators specially those who replaced the flag on the Red Fort. But WE THE PEOPLE OF INDIA ask you to please publish the list of those people who dared to commit such an act, we will take care of them.
德里警方不能对违规者采取行动,尤其是那些更换红堡国旗的人,这是可以理解的。但请你们公布那些胆敢犯下这种行为的人的名单,我们印度人民会处置他们。
ssaratchandran
They are no famers, they are hooligans and motivated po itical activists determined to cayse havoc in the capital at the behest of nefarious supporters. The go nment had bent backward to accomodate their sekfish demants and their demand to march on the Republic day giving specif routs. They abused their fre m and created the ruckus and injuries.
他们不是农民,他们是、是有动机的活动家,受他人指使在首都掀起浩劫。政府竭尽全力满足他们的要求,批准他们在共和国日的。他们滥用自由,制造骚乱,造成了破坏。
NayaBhrat
These thugs from Haryana and Punjab have exaggerated feelings of self-worth , they feel if they don't grow grains then India will starve.
这些来自哈里亚纳邦和旁遮普邦的徒以为自己了不起,他们觉得如果他们不种田,印度人就得挨饿。
Ajeet farswan
Stupid and lawless people! y gt is tolerating so much. give them the reply in the language they understand.
愚蠢、无法无天!
政府对他们太宽容了,教训他们!
Ashok Kth
Now most Indians are 100% sure that these are anti national Goons..
现在大多数印度人100%肯定这些人都是反国家的徒。
Jitendra Jain
In the name of prests the farmers are testing the patience of delhi police and go nment , they want ugly to happen , and thats their moto, beware they are not farmers , they cannot be farmers , impossible !
农民们以的名义在考验德里警察和政府的耐心,他们希望印度政府出丑。他们不是农民,不可能是农民!
Simon Roger
no farmer will destroy his tractor if it is bought with his own money. These te rorts must be eliminated
如果拖拉机是用自己的钱买的,农民不可能会毁掉。必须消这些分子
Gorge Timberlake
These extremist should be punished for insulting nation's pride Tiranga.
这些极端分子应该受到惩罚,他们侮辱了国家的尊严。
Amit
True face of KHALISTANI te rorts. Time to teach this BOGUS funded farmers a hard lesson.
哈利斯坦分子的真面目暴露了。是时候教训这些冒牌的农民了。
Lalit Sadhwani
What should police do when farmers become te rort and destroy own country property.
shoot
当农民成为了分子,破坏自己国家的财产时,警察该怎么办?
击毙
Subir Paul
These are not Farmers , these are 3rd class Gunda's. In the name peaceful rally doing violence.
他们不是农民,他们以和平集会的名义进行活动。
Kesh Ma
This is really sad day for the country. The so called farmers have shown their true colors. If these were real farmers then they would've taken the discussion with gt seriously. I'm ashamed that I supported these prest in the initial days.
对这个国家来说,这真是悲哀的一天。这些所谓的农民暴露了他们的真面目。如果这些人是真正的农民,他们就会认真与政府谈判。我为自己在最初几天支持这些活动而感到羞愧。
Om Soni
Hundreds of crores spent in one day on diesel and other logistics by so called farmers..if our farmers have so much wealth then gt should consider binginging them into tax net !
这些所谓的农民开着拖拉机,油钱都要几千万卢。如果我们的农民真这么有钱,那政府应该考虑把他们纳入征税范围!
Duck
Put in jail the leaders of the farmer rally, rioting farmers and other instigators. Give exemplary punishment for destroying public property and injuring policemen and security personnel. Jai Hind
把煽动农民集会、农民暴乱的所谓领袖关进。对破坏公共财产、伤害警察、保安人员的,严惩不贷。印度必胜!