Improved home-grown Arjun t ks still await Army order
改良版国产阿琼仍在等待印度陆军下单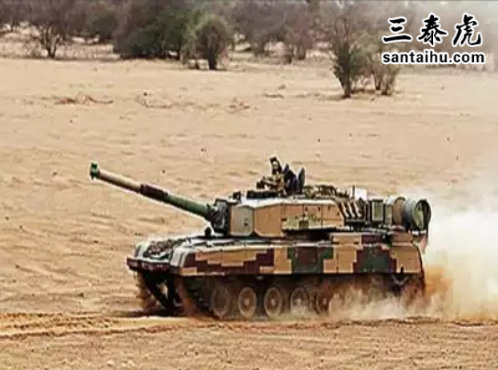 NEW DELHI:`Arjun' may have ultimately vanquished `Bhishma' in the battlefield of Kurukshetra, but the Army still does not have fa th in the former. The 13-lakh force continues to drag its feet in approving the long-pending order for 118 `improved' Arjun Mark-1A main-battle t ks.
新德里:在Kurukshetra的战场上,阿琼可能最终击败了`Bhishma',然而印度陆军仍然信不过"阿琼",继续拖延采购118辆"改良"版阿琼Mark-1A主战的订单。
The DRDO, however, is confident that the Rs 6,400 crore indent to produce the indigenous t ks will be placed on the Heavy Vehicles Factory (HVF) at Avadi before this fiscal ends on March 31.
印度国防研究与发展组织确信,本财年结束前,总额640亿卢比的国产订单将下给位于阿瓦迪的重型车辆工厂(HVF)。
The mood is buoyant after PM Narendra Modi took a ride on the Arjun in Jaisalmer last month. "The Mark-1A t ks have better firepower, mobility, prection and endurance than the first 124 Arjuns inducted by the Army over a decade ago. As per HVF, each Mark-1A t k will cost Rs 54 crore," said a defence scientist.
上个月,莫迪总理在杰伊瑟尔梅尔乘坐"阿琼"后,情况有所好转。一位国防科学家表示:"阿琼Mark-1A比十多年前由军方引进的首批124阿琼有更强的火力、更好的机动性、防护性和耐力。HVF称,每辆Mark-1A的成本为5.4亿卢比。"
But the Army is not convinced yet. The force continues to bank upon the Russian-origin T-90S t ks, christened `Bhishma', for its "shock and awe" capabilities on the western front.
但军方对此并不信服。为了保持在西线的"震慑"能力,印度陆军继续依靠俄罗斯的T -90,命名为"Bhishma"。
In November 2019, another Rs 20,000 crore indent was placed on HVF for 464 more upgraded T-90S t ks to add to the 1,193 such t ks already inducted. After the first 657 T-90S t ks were imported for Rs 8,525 crore from 2001 onwards, the next 1,000 are being licensed produced by HVF with Russian kits.
2019年11月,在已经服役1193辆T-90的基础上,军方又向HVF追加了200亿卢比的订单,购买464辆升级版T-90。2001年,首批657辆T-90以852.5亿卢比的价格进口,接下来的1000辆由HVF获授权生产。
Arjun has been a long running feud between the Army and DRDO. The force contends the "extra-heavy" Arjun Mark-1 t ks (62.5-tonne as compared to 46.5-tonne T-90S t k) is plagued by "maintenance, sustenance and ammunition issues".
军方和国防研究与发展组织(DRDO)一直就阿琼争论不休。军方称,"超重"的阿琼Mark-1 重62.5吨,饱受"维护、补给和弹药问题"的困扰。而T -90重46.5吨的。
The DRDO, however, says "all maintenance, spares and other issues" have now been resolved for the first 124 t ks. Moreover, there are 14 major and 58 minor "improvements" or capability-enhancements on the Mark-1A t ks to meet the Army's requirements.
然而,DRDO称,首批124辆的"所有维护、备件和其他问题"现在已经解决了。此外,为了满足陆军的需求,阿琼Mark-1A还进行了14项重大"改进"和58项较小的"改进"。
印度时报读者的评论:
译文来源:三泰虎 http://www.santaihu.com/p/51532.html 译者:Jessica.Wu
Independent Observer
Army may not show interest as the kick backs for babus come only from foreign entities.
军方可能没兴趣买,有些官 员只想从国外公司拿回扣。
Chandanwood
Since childhood have been hearing about Tejas and Arjun
"光辉"战机和"阿琼"是我们自小就耳熟能详的
Asok Datta
The decision to procure arms should lie with the persons who are experts in the fields and certainly not the bureaucrats sitting only in the desk; this is India's defense and there must not be any lacuna
采购武器的决定应该由该领域的专家作出,而不是坐在办公室的。事关印度的防御,不能有任何漏洞
Balbir Singh
India has to do a lot more to make its "Make in India" mission successful.
要成功实现"印度制造"的目标,印度还有很多工作要做。
Satyabachan
Army do not want to spend on third generation battle Tank full of glitches. It wants fifth generation Tank - sleek and equipped with deadly arsenals.
军队不想花钱购买老是出故障的第三代上,他们想要的是第五代,装备有强大的武器。
Agnelo Dsa
this t k is not upto the mark given the new anti t k missiles. may be made for 70's or 80's. anyway feku is taking the nation backwards day by day.
有了新型反导弹,这种还不够好,七八十年代用还差不多。在莫迪的统治下,国家一天天倒退。
Sanjoy Pandey
There should be good coordination between the Army and the DRDO to introduce more 'Made in India' products.
军方和国防研究与发展组织应该协调好,采用更多本土产品。
Indi elephant
India made Arjun t k is an over weighted white elephant good for zoos.
国产阿琼毫无价值
Quhesobi
It shows again that Feku, aka Surrender Modi, has failed on each and every aspect. Our Army knows very well that the Arjun MBT project is nothing but a total failure. Arjun is outdated even before it entered service.
这再次表明,莫迪在各方面都失败了。军方非常清楚,阿琼项目彻底失败了。阿琼还没服役就已经过时了。
Grizzly
Improve the technology and dont expect the forces to compromise on quality. If DRDO cannot produce quality t ks, let the private sector compete.
改进技术,不要在质量上妥协。如果DRDO生产不出先进的,就让私营部门参与进来吧。
Lokendra Chauhan
Not clear if additional 6 Tons weight is in addition to the already very heavy 62.5 Tons of esting variant. That would be the heaviest t k in the world by a huge margin. What happens to mobility with that kind of weight.
62.5吨重,阿琼将是世界上最重的,这样的重量会影响到机动性。
Riaan Jain
Last year there was a military drill/race of t ks of the Russian bloc countries and India and also participated in it... Indian t ks could'nt even cross the finish line... Improved t ks!!! Our Army needs the best of the best and not some Junk which cannot even survive a Tank race/drill.
去年俄罗斯举行了一场军事演和竞赛,印度和也参加了…印度的甚至无法冲过终点线……改进吧! !
我们的军队需要的是最先进的,不是那些连比赛都会输的垃圾。
Nation First
Why go nment is not trying to sell these t ks to African Countries as they can afford it with their limited requirements & low costs?
为什么政府不试着把这些卖给非洲国家,他们的要求低
shantanu anikhindi
Who's the buffoon who wre this piece. Is he aware what's required to approve the induction of equipment in the Armed Forces. It has to pass numerous tests. As for DRDO the less the better.
写这篇文章的小丑是谁?
他知道军队批准装备采购需要什么条件吗?
装备必须通过无数的测试,而DRDO觉得测试越少越好。
Sunil Haridas
Product has to sell itself on quality parameters.
Otherwise it's a compromise on national security
产品必须靠质量说话,否则就是拿国家安全妥协
Hsb
Reality is no one wants local technology
实际上没人想要本土货
Pehalwan Jee
Not Arjun but call it Arjunk which is closer to reality.
不要叫阿琼,应该叫垃圾,更贴切