Our way or the highway: Farmers say they're ready to camp through winter
印度农民称准备好冬天在高速上扎营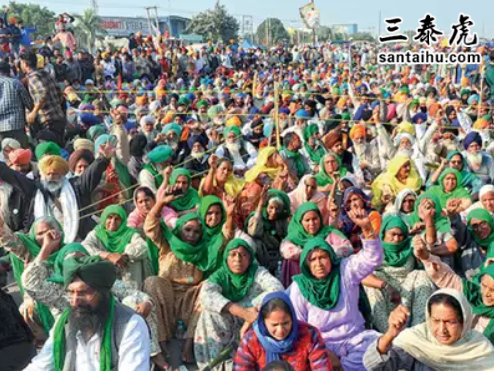 NEW DELHI: The third day of the blockade at Delhi's five major borders saw more tractor-trolleys pouring into the capital from Singhu border, extending the already long line of vehicles on Delhi-Chandigarh highway for several kilometres.
德里:在德里五条主要边界被封锁的第三天,越来越多的拖拉机、手推车从Singhu边界涌入首都,使德里-昌迪加尔高速公路上的车辆拥堵又延长了数公里。
On Sunday, the farmers said they were prepared to camp for a long period, possibly even spending the winter on the borders if their demands were not met. Farmers' groups said some would be sent back home after 11 days, following which others would arrive with more essentials.
星期日,这些农民说,他们准备长时间扎营,如果他们的要求没有得到满足,他们甚至可能在上面过冬。农民组织表示,一些农民将在11天后被送回家乡,之后其他人将带着更多必需品返回。
"We won't budge until the Centre listens to our demands. We sat for 40 days in Punjab, but the Centre didn't pay any heed to us. The same thing will happen if we move to Burari," said Nirmal Singh, a farmer from Gurdaspur. He added, "Sending some people back home after 11 days will ensure more supplies are brought and farmers will not tire out in the cold. We will not vacate this highway."
来自古尔达斯普尔的农民Nirmal Singh说:"除非中央听取我们的要求,否则我们不会让步。我们在旁遮普静坐了40天,但中央根本不理会我们。"
他补充说:" 我们让一些人在11天后回家,去取更多的物资,这样农民们不会忍饥挨饿,我们不会离开这条高速公路的。"
While free langar was being served by Delhi Sikh Gurudwara Management Committee on one side of the road, the other carriageway housed thousands of trucks. As TOI took a long walk down the highway, farmers could be seen cooking meals and taking a nap on mattresses. Most trucks had been filled with essential items, including speakers for music.
新德里锡克教古鲁瓦拉管理委员会在公路一侧提供免费餐食,另一边的行车道上停放着数千辆卡车。农民们在高速上做饭,在垫子上睡觉。大多数卡车装满了必需品,包括用于播放音乐的扬声器。
Gurdyal Singh, another farmer from Gurdaspur, said each group had rations to last them several months. "We have made these tractors and trucks our homes for the time being. We are comfortable and won't move until the new farm laws are repealed," he added.
另一位来自Gurdaspur的农民Gurdyal Singh说,每组人都有足够吃几个月的口粮。"我们暂时把这些拖拉机和卡车当作自己的家。我们很放心,在新农业法被废除之前,我们不会回家。"他补充道。
Each member of the various groups, most being from the same village, had been assigned a specific task, including washing utensils or clothes.
不同小组的成员大多数来自同一个村庄,都被分配了一项具体的任务,包括清洗餐具或衣服。
印度时报读者的评论:译者:Jessica.Wu
Boycott
Surprisingly these so-called-farmers have lot of resources!
令人惊讶的是,这些所谓的农民拥有大量的物资!
Satishkomal Dhawan
Deserve no sympathy at all, ()since they are subjecting innumerable commuters to ransom nd (2) when the go nment is willing to negotiate, thos goondagardi should not be tolerated at all, they cant dictate their terms to go nment, it will set a very wrong precedent; coersion, if required, must be used to restore law and order.
这些农民根本不值得同情,他们不能向政府发号施令,否则会树立一个非常不好的先例;
如果有必要,必须采取强制措施来恢复秩序。
Dev Shabong
They are not poor farmers , the have earned lakhs or crores that why they can sit without work
他们不是贫穷的农民,他们挣了数十万卢比乃至上千万卢比,才可以不用干活,坐在那
Gaana User
Punjabi farmers have been disproportionately benefitted by Gts MSP scheme. New farm laws aim to bring equality among the farmers of all states in terms of Gt subsidies. This is what these greedy so called farmers can't digest.
旁遮普的农民从政府的MSP计划中获得了很多好处。新的农业法旨在使各邦农民在政府补贴方面实现平等,这些贪婪的农民无法接受。
Rajesh Shenoy
Why should farmers from only one state ruled by opposition Congress should create ruckus.
为什么只有反对党国大党执政的邦的农民制造骚动呢?
Harish Kathpalia
Delhi not ready to let these presters
sit here. Their prest is yet another face of te rorm. Congress directky linked with the te rorts. We see no poor farmers among these presters. it is a sponsered game.
德里不准备放任这些者堵在路上的。他们的是主义的一种表现形式。国大党与分子有直接联系。这些者中没有贫穷的农民。这是有人在幕后操控的。
Ashok Kumar Lal
Supreme court should ban road shows and prest rallies till cororna problem is brought under control . on one hand prime minister is appealing to keep social distance .
在新冠疫情得到控制之前,最高法院应该禁止集会,总理仍在呼吁保持社交距离。
Vinod Kumbar
gt should be aware of khalisitani people in this group of farmer's supported by Pakistan and
政府应该意识到这些农民受到巴基斯坦和的支持
Rahul Singh
In Delhi there is a fine of Rs2000/- for not wearing mask.
在德里,不戴口罩会被罚款2000卢比。
Sanjeev Nandwani
another form of te roring the people and de acy . why can't they discuss with goverment and not te rorm the people
这是人民和的新形式。为什么他们不和政府谈判?
X Y
Hope they have brought toilets along with water.
希望他们带了马桶和水。
Anil Mittal
Worst things os closing the highways whatever be the reasons.
堵塞高速公路是最不能接受的,不管是出于什么原因。
jksinghchelsea jksinghchelsea
It has taken 6 months of rigourous planning by ISI hand in glove with Congress supported by think t ks to instigate and organise these prests.
在智库的支持下,三军情报局与国大党密切合作,经过了6个月的严格计划,才煽动并组织了这些活动。
India First
Undermining legislation through paid agitations is opposition's way of creating anarchy
反对派煽动破坏立法,制造混乱
sanjay kumar singh
The middle-men , the dls are masquarading as farmers
中间商假装成农民
Rajesh Sachdev
why doesn't Supreme Court take suo motu action on this given the pandemic
疫情期间搞这种,最高法院为什么不采取行动?
Revres Yxorp
Gt should not give in to this blackmailing.Stop all support to these people. Let them die without water.
政府不应该屈服于这种胁迫。断了他们的供给,让他们渴死