Trai: India lost 1.7 crore mobile subscribers in lockdown months
印度电信管理局:在实施封锁的几个月里,印度手机用户减少了1700万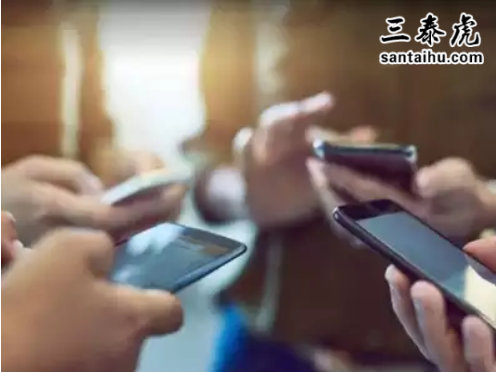 BENGALURU: The number of wireless (mobile) subscribers in India shrank by 1.7 crore to 114 crore in the months that had a nationwide lockdown — April to June — and was yet to reach the pre-April level even by the end of August, despite new additions reported in the two months after June.
班加罗尔:在4月至6月实行全国封锁的几个月里,印度的无线(移动)用户数量减少了1700万,至11.4亿。尽管在6月后的两个月里有新增用户,但截至8月底仍未达到4月前的水平。
The decline in the June quarter is largely because of a dip in urban subscribers — rural subscriptions actually increased. While rural subscriptions increased in July also, they dipped in August. Urban users increased in both the months.
第二季度的下降主要是因为城市用户减少,而农村用户实际上有所增加。尽管农村用户在7月份也有所增加,但8月份有所下降。在这两个月城市用户均有所增加。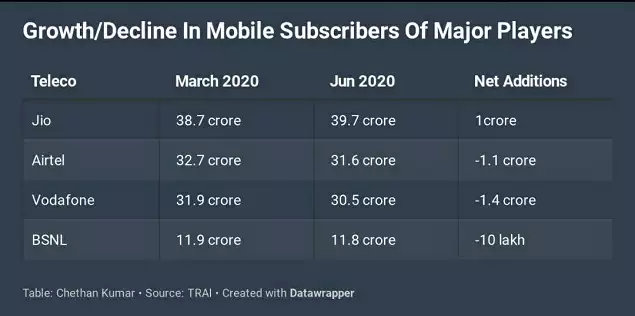 Neil Shah, vice president (research), Counterpoint Research, said: "The major factor was the return of migrant workers to their hometowns and villages, a lot of them stopped recharging their mobiles. Also, the lockdown had an impact on many low-income group families whose mobile usage dipped resulting in a decline in subscription. However, I think that things would improve from September onwards as things get back to normal."
Counterpoint research副总裁尼尔·沙阿称:"主要原因是农民工返乡,很多人不再给手机充值。此外,封锁对许多低收入家庭也产生了影响,他们的手机使用减少,导致用户数量下降。不过,我认为,随着一切恢复正常,情况会从9月份开始好转。"
According to the Telecom Regulatory Authority of India (Trai), the number of total wireless subscribers decreased to 114 crore (1,140.71 million) at the end of June from 115.7 crore (1,157.7 million) at the end of March 2020.
根据印度电信管理局(Trai)的数据,移动用户总数从2020年3月底的11.577亿下降到6月底的11.4071亿。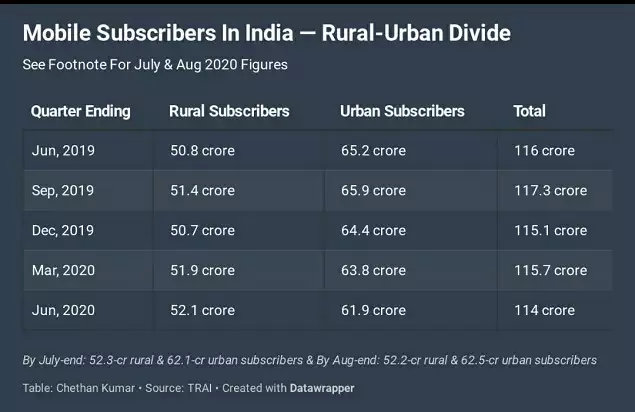 The quarterly decline rate was 1.47%, and the net decline recorded during the quarter was 1.7 crore (17.04 million) subscribers. Wireless teledensity in the country decreased to 84.38 at the end of June from 85.87 at the end of March. Wireless teledensity is the number of connections per 100 people.
本季度下降率为1.47%,用户净减少1704万。全国无线电话密度从三月底的85.87下降到六月底的84.38。
Separata data for the next two months show that in July the number of subscribers marginally increased to 114.4 crore (1,144.18 million) in July and further jumped to 114.7 crore (1,147.92 million) in August. However, the number is still not comparable with pre-April levels.
接下来两个月的数据显示,7月份用户数量小幅增至11.44亿(11.4418亿),8月份进一步跃升至11.47亿(11.4792已)。然而,仍无法与4月份前的水平相比。
Reliance Jio was the only operator to add more subscribers in the June quarter, but its net addition wasn't enough to offset the subscribers lost by other big players. Airtel, Vodafone and BSNL together reported a reduction of more than 2.6 crore subscribers — MTNL also saw a decline — while Jio added one crore new subscribers.
信实Jio是唯一一家在6月当季新增用户较多的运营商,但其净新增用户不足以抵消其他大型运营商流失的用户。Airtel、沃达丰和BSNL的用户减少了2600万,MTNL的用户也减少了,而Jio的新用户增加了1000万。
印度时报读者的评论:译者:Jessica.Wu
Dilbag Rai
When the pocket is empty as there is no earning due to lockdown restrictions it is but natural that crores of Mobile subscribers will decrease.
因为封锁限制,人们没了收入,口袋空空,手机用户自然会减少。
News Uncensored Cannot Be Purchased By Politicians
Stop these villagers from UP and Bihar entering Maharashtra they want to live their village life and mentality and criminal life in the city as well
阻止北方邦和比哈尔邦的村民进入马哈拉施特拉邦,他们在城市犯罪,回农村过好日子
Ranjan Thimpu
May be Voice communication is Less but Data consumption must have increased as people are working from home as Well as Students doing remote learning activities :O
大家在家里工作、学习,可能语音通话更少了,但流量消耗肯定增加了
Serenity
Many have renewed it by now.
现在很多人已经重新用上了手机
Godfather Senior
In practical terms, it was those who had two or three numbers with them surrendered the extra one. In many case where persons had many numbers actually returned to retain only one number. Otherwise, the number of persons having mobile phone never reduced but only the number who had more than one that is reduced. Of course, few lakhs of persons who could not afford did lose their numbers due to no income to pay for the bills.
实际上,是那些有两个手机号的人停用了多余号,只保留了一个号。用户人数并没有减少,只是那些拥有超过一个手机号的人减少了。当然,也有很多因为没有收入而付不起话费的人被停机了。
Tony Stark
Any plans from Jio to give away free recharge for 3 months to these 1.7 poor people??
Jio有没有计划为这1700亿穷人免费充值3个月话费??
Pappu Pass or Fail
Does it means 1.7 cr lives lost on Covid!!??
这是否意味着新冠病毒夺走了1700万人的生命?
Toi Subscriber
mostly who had multiple connections forced to optimise their expenditure that caused lost subscriptions
大多数拥有多号的用户停了多余的号,导致用户人数减少
AT Indian
When the story is written on 18th November, why figures are reported for Apr june aug sep only. Why not till date?
报道是11月18日发布的,为什么只报告4-6月,8-9月的数据。为什么不到截稿日期呢?
Tsr The Urbanist
It is the reduction of fictitious and duplicate connections and not reduction of genuine users
实际用户没有减少,只是多号用户减少了
Leon Fernandes
OMG !!! How????
天啊,怎么回事?
Monica
This is terrible!
太可怕了
Truth Wins
Another factor to this might be people went for stable Broadband wireline connection due to their increased net usage. Secondly, those who had multiple sims reduced it to 1 sim that provided stable connection to their house.
可能是由于网络使用增加,人们选择了稳定的宽带有线连接。其次,那些拥有多张sim卡的用户停了多余的号,只保留了一张。
Nimi Shah
IPeople should only spend money in necessary item. Stop spending money on Luxury.live a simple life .
人们应该把钱花在必需品上,不要把钱花在奢侈品上,过简单的生活。
Adolf Hitler
As the WHO said poverty and unemployment will rise globally
正如世界卫生组织所说的,全球贫困和失业人数将上升