Thousands of marauding monkeys terrorise Indian city with attacks on tourists and farms
成千上万的猴子威胁印度城市,袭击游客和农场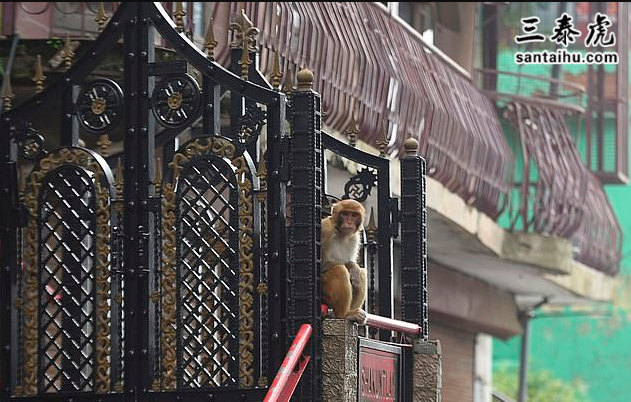 Thousands of monkeys are terrorising an Indian city with frequent attacks on tourists and farms after sterilisations and illegal poisonings failed to stop them.
成千上万只猴子正威胁着印度城市西姆拉,绝育手术和非法毒杀都未能阻挡猴子袭击游客和入侵农场。
Most of the macaques in Shimla, Himachal Pradesh, left the city for the countryside to look for food during India's nationwide coronavirus lockdown.
在印度全国封锁期间,喜马偕尔邦西姆拉的大多数猕猴离开城市到乡下寻找食物。
But the monkeys have returned to bully inhabitants and snatch grocery bags as lockdown restrictions have eased.
随着封锁限制放松,猴子们又回来欺负居民,抢夺食品。
Up to 50 troops of hungry monkeys now prowl the former colonial British summer escape in the Himalayan hills.
目前,有多达50群饥饿的猴子在这避暑胜地徘徊。
The city of 160,000 people has long been a major draw for tourists seeking to avoid India's summer heat but food waste they leave behind has become a magnet for the macaques.
长期以来,这座拥有16万人口的城市一直是吸引游客来此避暑的主要景点,游客留下的食物残渣吸引了这些猕猴。
Nand Lal, 46, showed his wounds from one altercation with the animals this month, which required multiple anti-rabies injections afterwards.
现年46岁的Nand Lal展示了他在本月与猴群发生争执时留下的伤口,之后他还多次注射了抗狂犬病疫苗。
She said: 'I was passing a group of monkeys when the dominant male suddenly attacked me and three others piled in.
她说:"我路过一群猴子时,一只公猴子突然袭击了我,另外三只猴子也冲了过来。"
'Luckily I could grab a stick and fight them off. I had bruises all over my face and head. I was bleeding from a bite on my back.'
"幸运的是,我抓住一根棍子,把它们击退。我的脸和头都青肿了。我背上被咬了一口,血流不止。"
'People are very scared and they don't know what to do,' according to retired High Court judge Kuldeep Chand Sood, who pointed to a bite in his leg inflicted as he sat reading on the terrace of his home.
退休的高等法院法官库尔迪普•昌德•苏德说:"人们非常害怕,不知道该怎么办。"他指了指自己腿上的咬伤,那是他坐在自家阳台上看书时被猴子咬伤的。
Speaking at his home in the macaque-infested Sanjauli district, he said: 'I was just going through my book when suddenly a big monkey attacked and bit me.'
他说:"我当时正在看书,突然一只大猴子袭击了我,咬了我一口。"
Many Sanjauli homes now have metal cages over their terraces and windows to keep out the invaders, who have even been known to steal from refrigerators.
现在,许多家庭的阳台和窗户上都安装了防护网以阻挡这些入侵的猴子,这些入侵者甚至还会从冰箱里偷东西。
Shimla government wildlife officer Rajesh Sharma said garbage bins overflowing with food attract the animals.
西姆拉政府的野生动物官员拉杰什·夏尔马说,满是食物的垃圾桶吸引了猴子。
Improving rubbish collection has meant 'the monkeys are finding it harder'.
垃圾收集改善后,猴子更难找到食物。
She said: 'But their habits are the same. They now try to snatch any packet they see in anyone's hand.
她说:"但是它们的习惯是一样的,看到任何人手里的任何东西都想抢。
'If they don't find it, they try and bite someone.'
"如果它们找不到食物就会咬人。"
While Hindus consider monkeys sacred, the government has now declared the animals can be killed if they threaten property.
虽然印度人认为猴子是神圣的,但政府现在宣布,如果猴子威胁到财产安全,可以杀死它们。
Official extermination campaigns are yet to be launched, but farmers have illegally poisoned hundreds of the animals.
官方的灭猴行动还没有开始,但是农民已经非法毒死了数百只猴子。
In Shimla and other towns in the state, the authorities have sought to sterilise the monkeys in a bid to bring numbers down.
在西姆拉和该邦的其他城镇,当局试图对猴子进行绝育,以降低它们的数量。
About 157,000 of the animals have been sterilised across Himachal Pradesh in recent years, in what one expert said was the 'only way' to bring the problem under control.
近年来,喜马偕尔邦大约有15.7万只猴子做了绝育手术,一位专家说,这是控制问题的"唯一办法"。
But monkey catchers say the animals are increasingly wise to their tactic of leaving bananas and bread in cages to trap them. Mr Sharma said: 'When a monkey is caught, it alerts the others.'
然而,抓捕猴子的人认为这些猴子变得越来越聪明,通过把食物放在笼子里来引诱抓捕已令它们有所警惕,"当一只猴子被抓时,它会警示其他猴子"。
英国每日邮报读者的评论:
译文来源:三泰虎 http://www.santaihu.com/p/51178.html 译者:Jessica.Wu
valenciano, Alicante, Spain
Massive cull is required
应该进行大规模宰杀
SonOfTheWest, Paradise, United Kingdom
Of Indians?
杀印度人吗?
Yomammi Bin Fartin, London, United Kingdom
Wow, that headline's a bit strong. Oh, sorry, it's about India. I thought it was referring to Philadelphia.
哇,这个标题有点夸张。说的是印度,我还以为是指费城呢。
Harriet_UK_, Kings Lynn, United Kingdom
Shouldn't keep cutting down their trees then
他们不应该一直砍树,侵占猴子的栖息地
Tizzledrop, Elgin, United Kingdom
If you left your window open in Malaysia the little beggars would wreck the house by the time you got home so cute not
在马来西亚,如果你把窗户开着,等你回到家的时候,你会发现猴子把房子弄得乱七八糟了
faithnomoreish, Dublin, Ireland
They were doing that 20 years ago when I was there. Robbed a banana right out of my hand
20年前我去过那里,猴子抢了我手里的香蕉
Anglo-SaxonLad, Manchester , United Kingdom
Aren't they considered 1 of the 2.3m gods out there?
猴子不是印度230万神中的一员吗?
Evertonkenny, Endoftheworld, United Kingdom
Cull?
进行选择性宰杀
Yippyyea, Anywhere, United States
You'd think they'd feed them food with birth control in it.
他们应该给猴子吃绝育食物
Anti Theist, Deathlehem, United Kingdom
they even work in gangs, tricking people, amazing really.
这些猴子拉帮结伙,甚至会骗人,太神奇了
Thebigness, NYC, United States
What are they "protesting?"
猴子在"抗议"什么?
Hiboy, Peterborough, United Kingdom
Maybe it's because of human encroachment that these animals have no natural food source left to eat. No one has mentioned that.
也许是因为人类的入侵,导致这些动物在森林里找不到食物吃。
Crockagator, Your mind, United States
Is India out of bullets or something?
印度没子弹吗,不会开枪射杀吗?
JTLondon, London
They're probably "sacred".
在印度,猴子是神圣的
Texasgirl77, San Antonio, United States
They are looking for food, I hope they bite a couple of r.apists while they are at it!!
猴子在找食物,我希望它们在找食物的时候能咬几个强奸犯!!
Mediamike, Nowhere, Canada
1in 5 American women are r.ape.d, according to your own CDC. You have your own problems to deal with, don't worry about Indians.
五分之一的美国女性遭到强奸,管好你们自己的事情,不要操心印度人。
SON OF LEEDS, Leeds, United Kingdom
Rifle please.
用枪射杀
Tophuggles, London, United Kingdom
India is gonna India.
印度就是印度
The Raven89, Silver Spring, United States
We've been having this issue in almost every major metropolitan city in the US since May.
自五月份以来,这个问题在美国几乎每个大城市都存在。
welshbob , Cardiff , United Kingdom
Time for a cull
是时候进行选择性宰杀了
dazzasp, Wirral, United Kingdom
Yes... of the humans
是的,不过对象是人
Sudeep, Mumbai, India,
They are revered animals in India. They only bite outsiders.
在印度,猴子是受人尊敬的动物。它们只咬外来人。