India, Japan finalise pact for cooperation in 5G tech, AI and critical information infra
印度和日本敲定了5G技术、人工智能和关键信息基础设施的合作协议
NEW DELHI: India and Japan have finalised an ambitious agreement that provides for cooperation in 5G technology, artificial intelligence and an array of other critical areas as the two strategic partners vowed to further broadbase their ties including in the Indo-Pacific region.
新德里:印度和日本敲定了一项雄心勃勃的协议,将在5G技术、人工智能和其他一系列关键领域开展合作。这两个战略伙伴誓言进一步扩大两国关系的基础,包括在印太地区。
After a meeting between external affairs minister S Jaishankar and his Japanese counterpart Toshimitsu Megi in Tokyo on Wednesday, it was announced that Japan agreed to be the lead partner in the connectivity pillar of the Indo-Pacific Oceans' Initiative (IPOI).
印度外长苏杰生和日本外务大臣茂木敏充星期三在东京举行会议后宣布,日本同意成为"印太倡议"(IPOI)互联互通支柱的主要合作伙伴。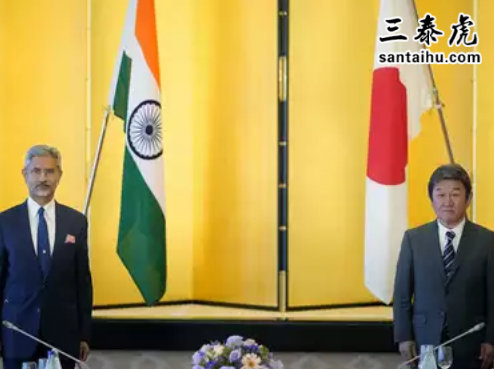 The IPOI is an India-backed framework aimed at making meaningful efforts to create a safe and secure maritime domain in the Indo-Pacific
"印太倡议"是印度支持的框架,旨在为在印太地区建立一个安全的海域做出有意义的努力。
Jaishankar, in a tweet, said further expansion of India-Japan collaboration in third countries with focus on development projects also figured in the 13th India-Japan foreign ministers' strategic dialogue.
苏杰生在推特上表示,进一步扩大印日在第三国的合作,重点关注发展项目,这也是第13次印日外长战略对话的议题。
"Recognising the increasing role being played by digital technologies, the two ministers highlighted the need for robust and resilient digital and cyber sy ems and in this context, welcomed the finalisation of the text of the cybersecurity agreement," the Ministry of External Affairs (MEA) said.
印度外交部表示:"认识到数字技术发挥作用的日益重要,两国部长强调了建立稳健数字网络系统的必要性,在此背景下,对网络安全协议文本的最终敲定表示欢迎。"
"The agreement promes cooperation in capacity building, research and development, security and resilience in the areas of Critical Information Infrastructure, 5G, Internet of Things (IoT), Artificial Intelligence (AI), among others," it said.
外交部称:"该协议促进了在关键信息基础设施、5G、物联网(IoT)、人工智能(AI)等领域的能力建设、研发、安全和适应力方面的合作。"
The 5G is the next-generation cellular technology with download speeds stated to be 10 to 100 times faster than the current 4G LTE networks.
5G是下一代蜂窝网络技术,据称其下载速度比目前的4G LTE网络快10到100倍。
In their talks, Jaishankar and Megi deliberated on a broad range of areas including maritime security, trade and investment, manufacturing, connectivity and infrastructure and reform of the United Nations, the MEA said.
外交部称,在会谈中,苏杰生和茂木敏充就海洋安全、贸易和投资、制造业、互联互通和基础设施以及联合国改革等广泛领域进行了讨论。
"They emphasised that a free, open and inclusive Indo-Pacific region must be premised on diversified and resilient supply chains; and in this context, welcomed the Supply Chain Resilience Initiative between India, Japan, Australia and other like-minded countries," the MEA said.
外交部称:"双方强调,一个自由、开放和包容的印太地区必须以多元化和弹性供应链为前提;在这种情况下,欢迎印度、日本、澳大利亚和其他志同道合的国家之间的供应链弹性倡议。"
It said the two ministers also concurred that the Indo-Pacific has acquired greater salience in recent times and underscored the need for India and Japan to work together for the benefit of the region.
两位部长还一致认为,印太地区最近变得更加突出,并强调了印度和日本为该地区的利益而合作的必要性。
以下是印度时报读者的评论:
译文来源:三泰虎 http://www.santaihu.com/p/51002.html 译者:Jessica.Wu
Prem Thakkar
One more tight slap to ..
又给了一记耳光…
Salman Shah
one more plan on paper
又多了一个纸上计划
Ram
Goid thing and came out from Non aligning motto of Congress is obsolete. Never trust border sharing countries like Pak, , Nepal, Bangladesh.All these are volatile.
做得好,国大党的"不结盟"政策过时了。永远不要相信巴基斯坦、、尼泊尔和孟加拉国这样的共享边境的国家,这些国家都反复无常。
Shambhu
need Hard Action to punch those pokey faces & throw them n their Ch Products OUT ! Keep the game on, Hurt them Economically & Diplomatically. Wish to see them being isolated n shunned Worldwide
需要采取强硬的行动来打那些愚蠢的的脸,把他们的廉价产品挤出市场!
继续在经济和外交上打击他们。希望看到他们在世界范围内被孤立和冷落
The Nationalist
Back to 80s , where we have tight relationship with JAPAN . No one knows about Chines product at that time .
在80年代,我们与日本关系密切,当时没人知道货。
Indian
is strong militarily and economically but it's definitely not invincible. With a united sustained front, too can crack!!
在军事和经济上都很强大,但绝对不是不可战胜的。大家统一战线吧!!
Gangulyabh
Good move.
做得好。
Frankenstein Monster
only thing is that we should go for economies of scale.
我们应该追求规模经济。
Brownie Inki
Japanese products have REAL QUALITY and are ORIGINAL....unlike which are duplicated and COPIED....
日本产品都是原产,质量高…不像货,都是山寨的…
Dilip Kumar
I was always wondering why we did not align ourselves with Japan in Electronics and opted for in various modren sy em fully knowing dirty behaviour of ....
我一直想知道为什么我们不在电子产品方面和日本合作,反而在各种现代化系统上选择,我们完全了解的行为……
Prateek Singh
Japan has such a small population but is still so technologically advanced. Same is true for countries like France, Germany, Israel. We produce millions of scientists and engineers but most of them are very mediocre.
日本人口很少,但技术却很先进。法国、德国、以色列等国也是如此。我们培养了数以百万计的科学家和工程师,但其中大多数都很平庸。
Godfather Senior
1000 times better than spywares. Yet, India should do a lot more R&D in the IT sector to improve the sector as well as to reduce the foreign dependence.
比间谍软件强1000倍。然而,印度应该在IT行业加大研发力度,以促进行业进步,同时减少对外国的依赖。
Pni Kumarasamy
Hope India be a world leader in shortest time.
希望印度在最短时间内成为世界领袖。
Parthasarathy M Annaswamy
Japan has been India's friend from Netaji Subhash Chandra Bose's time, before Independence.
从印度独立前开始,日本就一直是印度的朋友。
dibyendu panda
India now have an impetus and OBLIGATION to NOTCH UP its RESEARCH AND DEVELOPMENT that can match and CONTRIBUTE in the joint VENTURE with that of JAPAN
印度现在有动力和义务提高自己的研发水平,使自己能够在合资企业中作出能与日本相提并论的贡献
Anthony Morais
Under Modi, many countries want to be friends with India because they know that under him India will stand up for what is and not shy away because of fear or even some ve bank pressure.
在莫迪的领导下,许多国家都想和印度成为朋友,因为他们知道,在莫迪的领导下,印度将坚持正义,而不会因为恐惧或压力而退缩。
Bablu Bachar
Good decision by modi go nment. is the most unfa thful country. Boycott in all sectors. It is a high time for India to choose fa thful and guaranty-warranty partners.
莫迪政府做出了明智的决定。是最不忠的国家,我们应该在各个方面抵制。印度是时候选择忠诚的合作伙伴了。
Ishita S
We must collaborate with companies like Sony, Samsung for 5G technology .. Every attempt must be made to eliminate Huawei ..
我们必须与索尼、三星等公司合作开发5G技术
Bijay
All the developed countries should put together their efforts to develop 5G and other new generation technologies and boycott technology altogether.
所有发达国家应该一起努力开发5G和其他新一代技术,一起抵制技术。
Guest
Japan USA Aussie r better than naughty neighbours
日本、美国、澳大利亚比我们那些没规矩的邻国好
Harendra Sengar
India must work closely with Japan on technology front
印度必须在技术方面与日本密切合作
HappyTimes User
Good decision taken by both the countries. Hopefully this will strengthen our diplomatic relations with Japan.
两国做出了正确的决定。希望此举将加强我们与日本的外交关系。
Neu Trans
Well done Modi
做得好,莫迪