Northeast Delhi violence: Have to confront Umar Khalid with '11 lakh pages of data', say cops
德里东北部暴 力事件:警方称,不得不拿出"110万页资料"与奥马尔·哈立德对质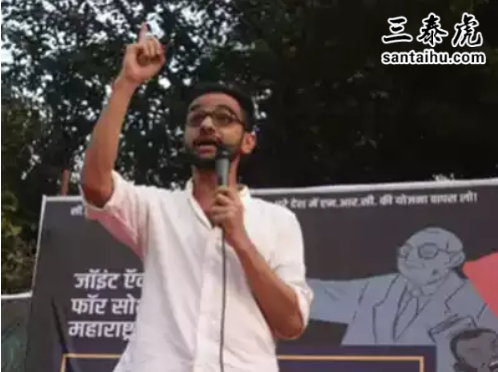 NEW DELHI: Former JNU student Umar Khalid was on Monday sent to 10 days in police custody after he was arrested on Sunday in connection with an Unlawful Activities Prevention Act (UAPA) case related to the violence in northeast Delhi in February this year. Police told the court that they had to confront him with 11 lakh pages of data.
新德里:因与今年2月德里东北部的暴 力事件有关,周一前尼赫鲁大学学生奥马尔·哈立德被警方下令拘留10天,他于周日被捕。警方对法庭表示,他们不得不拿110万页资料与他对质。
Khalid, through his counsel Trideep Pais, opposed the remand application stating he wasn't even present in Delhi during the relevant time and the remand plea didn't disclose anything that deserved even one day of custody.
哈立德通过其律师特里迪普·派斯反对还押申请,称在相关时间里他甚至都不在德里,而且还押申请也没有披露拘留原因,哪怕是拘留一天也要说明原因。
Khalid was appearing before the court through videoconferencing.
哈立德通过视频会议出庭的。
Additional sessions judge Amitabh Rawat observed in his remand order that the investigation in the present case of conspiracy behind the Delhi riots was continuing. He said he had taken into consideration the nature of the case and role of Khalid that had surfaced so far regarding the conspiracy and his involvement in anti-CAA/NPR/NRC protests with the support of several radical groups and organisations that had led to the riots.
法官阿米塔布·拉瓦特在还押令中表示,对德里骚乱背后的阴谋的调查仍在继续。他说,他已经考虑到这起案件的性质,以及哈立德到目前为止所扮演的角色。哈立德参与了反CAA/NPR/NRC的抗议活动,并得到了几个激进团体和组织的支持,这些团体和组织制造了骚乱。
He pointed out that custodial interrogation had been sought for confronting Khalid with technical data as well as other material that had come up during the investigation. "I deem it fit for having an effective and proper investigation to allow the present application for seeking police custody of the accused for a period of 10 days," he said in his order.
他指出,为了用技术资料和调查期间发现的其他材料对付哈立德,要求对其进行拘留审讯。他在命令中表示:"为了进行有效和适当的调查,准许警方拘留被告人10天的申请,我认为这是恰当的。"
Police had moved their plea through special prosecutor Amit Prasad, who told the court that Khalid had to be confronted with data running into 11 lakh pages. Responding to this, Pais said: "This (remand) application doesn't even say they want to confront him." Underlining his point that the grounds for seeking remand were vague, Pais asked what was this technical data that police wanted confront his client with. He also referred to two occasions — first in July and then on Sunday — when Khalid was summoned by police and interrogated for five hours and 12 hours, respectively.
警方通过特检察官普拉萨德提出了申请。普拉萨德向法庭表示,哈立德必须面对多达110万页资料。对此,派斯回应说:"这该还押)申请甚至没有提到要和哈立德对质。"他强调要求还押的理由是模糊的,派斯问警方,想要与他的当事人对质的技术资料是什么。他还提到哈立德曾被传唤两次,第一次是在7月,然后是在上周日,分别被审讯了5个小时和12个小时。
"Where is the crime, where did he say go and protest? What do they want from him in 10 days? This is a case where people have publicly said that they were pressured to give a statement," said Pais. "There is no accusation of non-cooperation. Why can't this application disclose something that shows it deserves even one day of custody?" Pais told the court that earlier there had been an attempt on Khalid's life.
派斯说:"他犯了什么罪?他什么时候煽动了抗议?警方想在这10天拘留期间从他身上得到什么?在这个案件中,人们公开表示,他们是迫于压力而发声的。不合作不应受到指控。为什么不披露拘留他的原因呢?"佩斯告诉法庭,早些时候有人试图杀害哈立德。
Countering Pais, Prasad submitted that under UAPA, the agency wasn't bound to make disclosures as allegations were sensitive in nature.
普拉萨德反驳说,根据UAPA法案,警方没有义务披露拘留原因,因为指控的性质是敏感的。
The prosecution's submissions, recorded in the order, claimed that Khalid gave provocative speeches at various places and appealed to the Muslim community to block roads and other public places during US President Donald Trump's visit on February 24-25, 2020."Names of some more suspects have also cropped up and the above-named accused is required to be questioned at length about those suspects to obtain their exact particulars for further investigation," the court was informed.
检方称哈立德在多个地方发表挑衅性演讲,并呼吁社区在美国总统唐纳德·特朗普于2020年2月24日至25日访问期间封锁道路和其他公共场所。法院获悉:"又出现了更多嫌疑人的名字,要求对上述被告人进行详细讯问,以了解其具体情况,以便进一步调查。"
The court directed the DCP concerned to make proper arrangements for Khalid's safety, addressing the apprehension expressed by his lawyer.
法院指示有关DCP为保证哈立德的安全作出适当的安排,消除其律师的忧虑。
印度时报读者的评论:
译文来源:三泰虎 http://www.santaihu.com/p/50816.html 译者:Jessica.Wu
Ajit Leo
Separatist like Umar Khalid is growing because of the support they get from Communists and Congress party. Whatever anti-India activities they do the Communists and Congress come to support them. The persons or groups, who instigate riots, killing, desecrating worshipping centres and plundering private and public properties should be eliminated and should not approach the court.
由于得到国大党的支持,像奥马尔•哈立德这样的分*分子越来越多了。无论他们发起什么反印度的活动,国大党都会支持他们。那些煽动暴乱、杀人、亵渎神明、掠夺公私财产的个人或团体,应直接处死,不用向法院起诉。
Ahmed Abbas
He has spread hate speech.
他散布仇恨言论。
Indian
India is one country where anti nationalist like khalid get support from political parties to get votes.
在印度,像哈立德这样的反国家主义者都能得到政党的支持…
Indian
He shld beaten till death... We want to take revenge of our young CBI person that lost live in riots... Kill him
打死他…为在暴乱中丧生的年轻人报仇…杀了他
Rupali Duggal
He is 100% guilty, this is not voice of decent, this is voice of anti-national
他100%有罪,他是反国家的。
Som Kumar
Only in India such criminal traitors survive, reason, they get votebank support from some prominent national parties. Indian friends must identify these traitors.
只有在印度,这些叛徒才能逍遥法外,因为他们得到了一些全国性政党的支持。印度人必须认清这些叛徒。
Rop Hod
Anti-nationals and communals like Umar Khalid, get support of like minded parties such as Congress,.
奥马尔·哈立德这样的反国家分子得到了国大党的支持。
SCL Premi
This guy will die trying to read and understand 11 lakh pages of data. A good punishment for a criminal traitor like him.
要看110万页的资料,对像他这样的叛徒来说,这是很好的惩罚。
Manu R
This criminal should never ever see daylight, because if he does, he will become a "hero" and create more trouble.
不要让这个罪犯重见天日,否则他就会成为"英雄",制造更多的麻烦。
gopal goshala
No investigation. No prosecution. No wastage of Time & money on such raskals & traitors. FINISH THEM OFF IN ENCOUNTERS.
不要调查,不用起诉。不要在这些无赖和叛徒身上浪费时间和金钱。看到就枪毙。
Bharat
Such people are a shame on the religion they believe in and a curse on the country they live in. The harshest punishment is warranted
这些人让他们信仰的宗教蒙羞,他们是对国家的诅咒。必须严惩!
Timepass
Now who says JNU people do not study ? 1.1 million pages are surely a lot to study ! He should be given a PhD alongwith life sentence.
谁说尼赫鲁大学的学生不学习的? 110万页啊,确实能学到很多东西!应该授予他博士学位,判无期徒刑。
Chinese Are Idiots
He's a very clever bigot who uses public against national interests. I hope due to evidence he is made to rot in Jail
他是个非常聪明,偏执己见的人,利用公众利益来反对国家利益。有了这些证据,我希望他烂在简狱里
chetumadhu10
Find out who are his handlers.
要找出训练他的人
muthu n s
Many BJP leaders made violence instigating speeches and no action
许多人民党领导人发表煽动暴丽的演讲,却没有对他们采取行动
Priya Saxena
Such traitors must be thankful that it's Delhi n not UP. Otherwise no case, no trial. Directly the ultimate justice !! N such parasites deserve only such treatment.
这些叛徒应该庆幸的是,这是在德里,而不是在北方邦,否则就不用立案,不用审判,直接处死了!这样的寄生虫只配被这样对待。